If it's true you are what you eat, then this week I'm a delicious combination of tea, scones, cake and muffins. The sugar crash after my tea tour of London will be tremendous. But it has been fun.
A bit of a tea (and cafe, and cake) lover, and having already visited London a couple of times and ticked off most things I wanted to see, I dedicated my most recent trip to discovering and enjoying a wonderful British tradition: tea and cake. As I said in the first part of this little quest, I'm not following or creating a "best of" or "must-see" list of London's tea houses. I simply visited places that sounded interesting to me. There were so many more that fitted that criteria than what I could manage in four days so I suspect this will be continued….

Drink, Shop & Do, Kings Cross
I don't know why I bothered with any pre-trip research because I keep stumbling across little gems anyway. Drink, Shop & Do was a recommendation on a map I picked up at the hostel. I was headed in that direction for lunch so I popped in for morning tea. Again, it's not one I would have found on a walk around the neighbourhood, but it's definitely worth hunting out. There are couple of things that set DSD apart from the other places I've visited. For a start – everything is for sale. Everything. From the cup you're drinking from to the seat you're sitting on. The cafe's other claim to fame is the "do" part of the name. It hosts regular activities including pin-up girl make up sessions, Lego robots and papier mache monster mash evenings.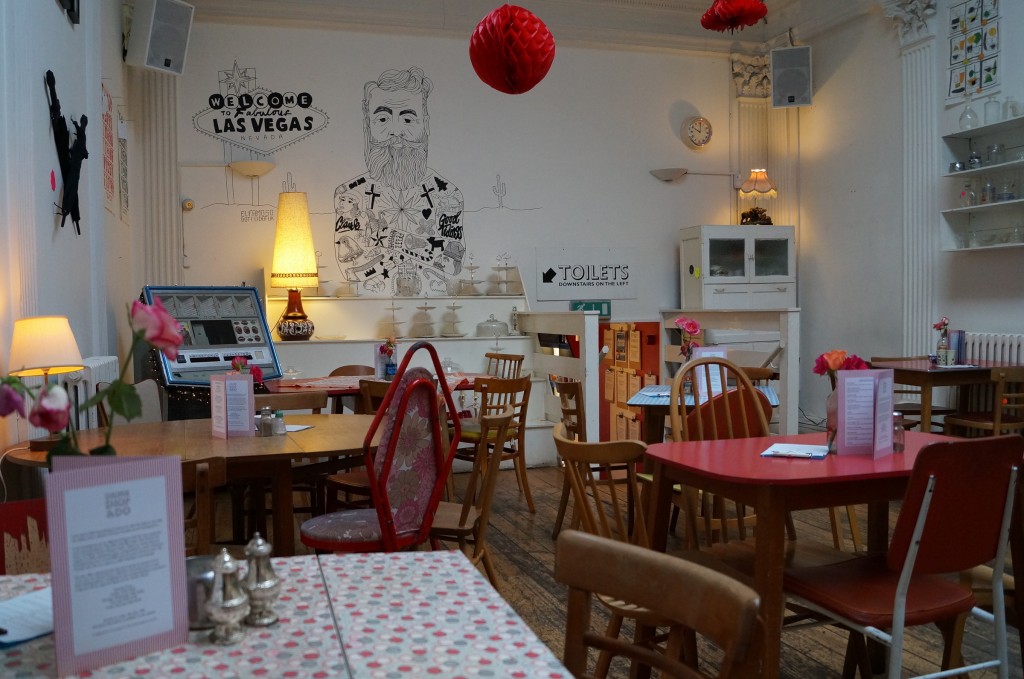 What it's like: This place is seriously cool. As if the mention of a Lego robot evening didn't already tell you that. It's all very retro – mismatched chairs, tables, cups and sauces, an emerald counter and furniture I'm sure was picked up at a garage sale my grandparents held a couple of decades ago. Roses sit in milk bottles on the tables and the salt and pepper shakers are different on nearly every table. Early in the morning there was just a couple of customers, but I could see this turning into a very hip, funky hang-out in the afternoon and evening.
Menu: The lunch menu, which I didn't sample, featured an interesting selection of stews, salads and an Israeli couscous. The cakes were impressive and I settled on a slice of the vegan pumpkin and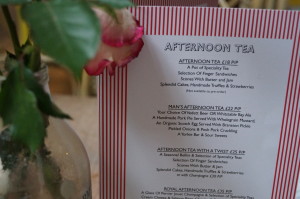 coconut – delicious. The afternoon tea menu includes one for men that features beer, pork pie and scotch egg. There is also a good cocktail menu for DSD kicks on until about midnight. There is a good selection of teas: black blends, green, rooibos and honeybush and herbal. I chose the Windsor Castle – a mix of Assam and Darjeeling.
Loved: That a tea cup filled with sweets is a menu item. Brilliant idea!
Didn't love quite so much: A couple off less-sweet choices would have been good for the morning, but it was either cake or lunch.

Ottolenghi, Islington
For a local's perspective on places to go I tweeted Londoner Jayne Gorman, the author of several websites and blogs including 40 before 30. She replied her local favourite was Ottolenghi in Islington. It isn't a tea house, but it sure is somewhere to go for cakes. I met a friend here for lunch and arrived in time to see the breakfast menu. Toasters were placed on the table next to the customers so they could cook their own toast. As a person who HATES cold toast, I think this is the best idea ever.
What it's like: The front window is filled with the most amazing backed treats and two mountains of meringues. Then there are humongous plates of salads. My jaw dropped at the sight of it all. A sleek white table runs down the centre of the dining area (yay for communal seating) and there's some smaller tables for two on the side. It's very modern and very popular. When we left about 1.30pm, there was a 30-minute wait for a table.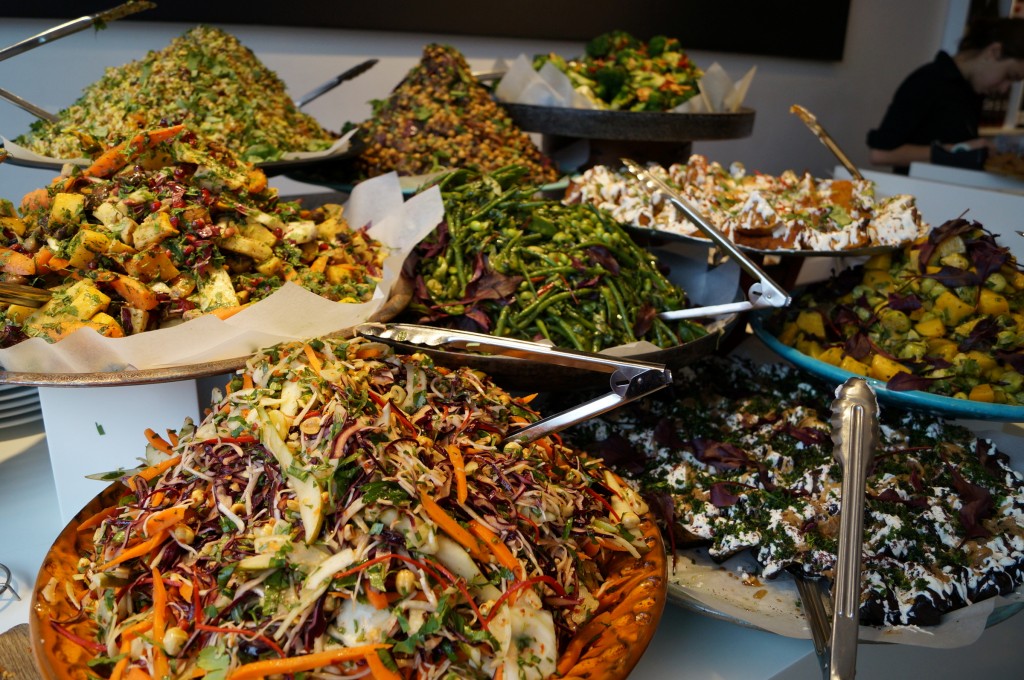 Menu: The day's menu included some amazing salads, soups, pastries and some "main meals" including grilled salmon, roast beef and spiced chicken. I should have taken more notice, but I was a little overwhelmed by the choices. I chose a plate of three salads and a bread basket. I think one salad was Brussels spouts and yellow beetroot, another was roasted root vegetables and the third was broccoli with chilli and garlic. We couldn't not have something sweet so the plum and frangipane crumble got devoured! I chose a simple Teapigs English Breakfast tea.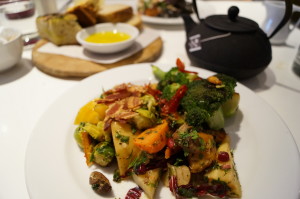 Loved: The lunch menu was dated – I don't mean it was old; I mean it had the date at the top and changes daily. Ottolenghi takes its food very seriously and it shows. As much as I loved the menu we had, I'm excited to return someday and see what else they have.
Didn't love quite so much: A better tea selection would be nice. While it isn't a tea place and doesn't pretend to be, with such a great range of cakes and pastries, some lovely teas to accompany them would be perfect.

Yumchaa, Camden Town
If there was any part of London I'd least expect to find a place like Yumchaa, it's Camden Town. But turn right at the intersection of crazy and bizarre and you'll find the stylish and minimalist Yumchaa. Yumchaa has several stores and is a regular at a few of the cities markets, making it a bit like Starbucks for tea enthusiasts – an image that isn't helped by the free wifi and sea of laptops and tablets in the cafe. This place was marked on the same map that led me to Drink, Shop & Do and I hadn't intended to visit it, but after walking for hours and ending up in the neighbourhood, I needed a little rest and a cuppa.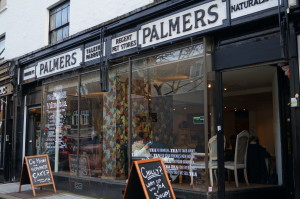 What it's like: The exterior sign may advertise monkeys and talking parrots (it's a former pet store), but inside it's all laptops and talking hipsters. The store has a very crisp and modern look, with the exception of a few big chairs and couches thrown in. Little samples of the teas are set out on the front counter so you can smell them before you order and there are quite a few signs explaining Yumchaa's tea philosophy, which includes saying no to tea bags.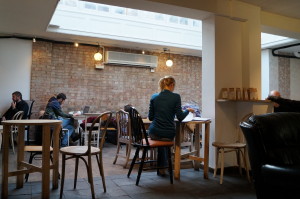 Menu: I only had tea (Wanderlust – a  Chinese green tea with apple, almond and cinnamon), but it took a lot of strength to resist a slice of the Nutella and banana cake. There were sandwiches too and quite a few baked treats. The tea selection wasn't massive, but it did have a good mix of traditional and more creative black teas, green teas, rooibos and even white teas, which I rarely see on tea menus. All the teas were loose leaf and the server also advised me how long to let it steep.
Loved: After a few hours of walking, sinking into the comfy leather couch felt amazing. It was a place I could have spent hours writing, reading or surfing the net. It really is a tea-lover's Starbucks and I don't mean that as a bad thing. It's nice to have a place where you can order one cup of tea and sit in peace for an afternoon and take advantage of free wifi! Many places with more "character" don't welcome that so much.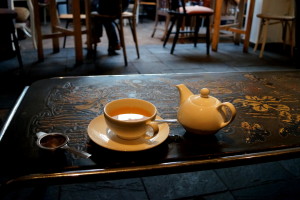 Didn't love quite so much: Everything I liked about Yumchaa's similarities to Starbucks are also reasons I won't be rushing back. It isn't a place I'd be excited about visiting and I wouldn't pick it as somewhere to catch up with a friend. Just as I wouldn't make a coffee date at Starbucks or a meet someone for lunch at Subway.
This isn't the end of my tea quest. Know a place I should visit? Doesn't have to be in London. Leave a comment below.