I have a love/hate relationship with city life – something I realised all over again when I moved back to Vancouver. But one thing I most definitely LOVE about living in a city is the choice of cafes.
Vancouver is home to a lot of coffee shops and the majority seem to be chains. I have nothing against places like Starbucks, JJ Bean or Waves, but I'm drawn to places with more character and an authentic feel. Luckily for me, there's plenty of those here too.
Culprit
I've written before about Vancouver's health obsession and Culprit in Kitsilano is a perfect example of that. Soy and almond milk is standard, EVERYTHING is gluten free and most of the menu is also dairy free with some vegan options thrown in too. None of these is the reason I cross the city once, if not twice, a week, to while away my afternoon in this little cafe tucked around the corner from 4th avenue. Firstly the coffee is incredible. I'm no coffee connoisseur but I've drank enough of it around the world to know when I'm onto a good thing. Secondly, all the treats in the display case are as good as they look. I can personally vouch for every single dairy-free item that comes out of Culprit's tiny kitchen, of which there are roughly 11. Yep, I've tried everything that doesn't have cheese in it! There's not a lot of seating and the tables are often filled with laptops and textbooks (I'm certainly guilty of the former), but no matter how busy it gets inside the atmosphere is always chilled. Alternatively, grab something to go and make the five-minute walk to Kits Beach.
Great for gluten free and dairy free cinnamon buns on weekends. Yes they exist.
Culprit • Address: 2028 Vine St, Vancouver V6K 3K1 • Phone: 604 730 0133 • Website: www.culpritcoffee.com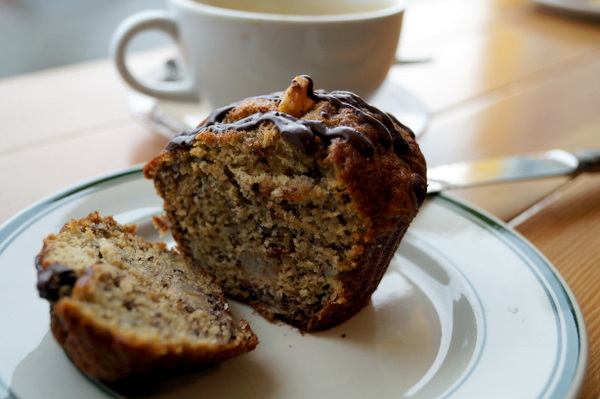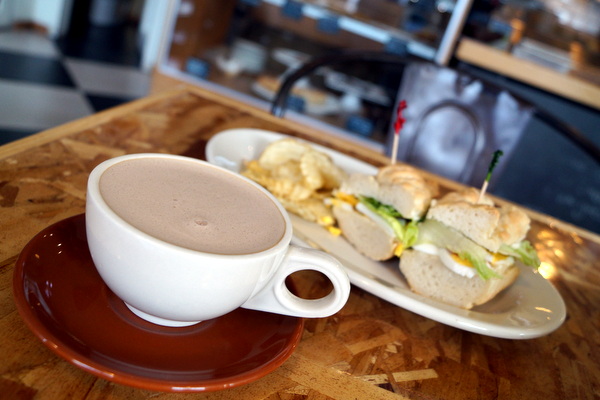 Revolver Coffee
Some cafes turn coffee into an art form; at Revolver it's more of a science. At first I found the detailed menu of exotic coffees and laboratory-esque array of glass brewing equipment intimidating. On my first visit I stammered at the cashier something along the lines of "um, I just want a latte", but relaxed when I realised it was OK I didn't know (or care) about the difference between the Columbian blend from the roasters in Calgary or the Ecuadorian blend from San Francisco. Although this is the kind of place that makes me wish I cared about such things. One menu item that interests me is the Tasting Flight – a selection of three coffees to taste – but I reckon the experience would be wasted on me. Despite my lack of bean brains, I still love the coffee and I find it easy to zone out here. Oh and did I mention there's a communal table in The Archive, Revolver's additional seating area and retail space next door? I'm such a fan of that!
Great for really, really good, expertly brewed, these-guys-know-their-sh#t kinda coffee.
Revolver • Address: 325 Cambie St, Vancouver, V6B 1H7 • Phone: 604 558 4444 • Website: revolvercoffee.ca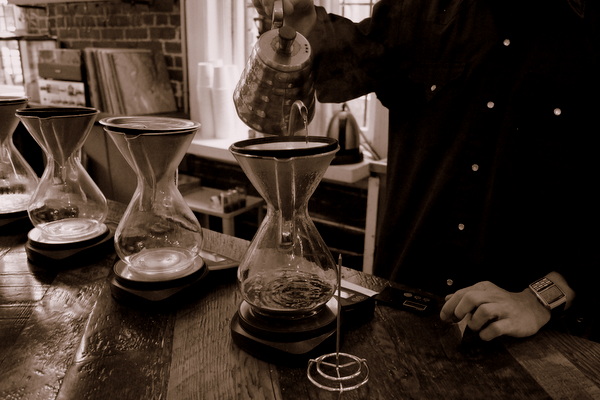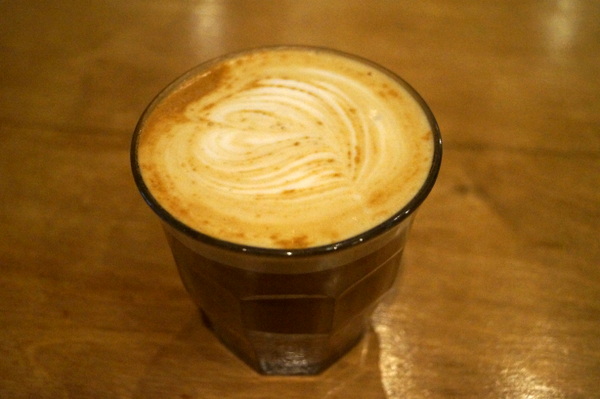 The Naam
The Naam is something of a Vancouver legend. It's open 24 hours, cheap, has great food and is crazy busy if you visit at the wrong time. Despite the opening hours, I've only ever been here for breakfast and only ever during the week so I don't have the join the queue down the street for a table (they don't take reservations). Plus on weekdays there's a breakfast special for $5.95 – two pancakes, two eggs and vegetarian sausage! How can you go wrong with that? Exactly. The service here isn't amazing, but I love the menu. It caters for everyone, well except meat eaters. The interior of the cafe is pretty rough around the edges, but the retro atmosphere is legit – the Naam has been in Kits for about three decades.
Great for a really delicious and cheap breakfast.
The Naam • Address: 2724 West 4th Ave, Vancouver, V6K 1R1 • Phone: 604 738 7151 • Website: www.thenaam.com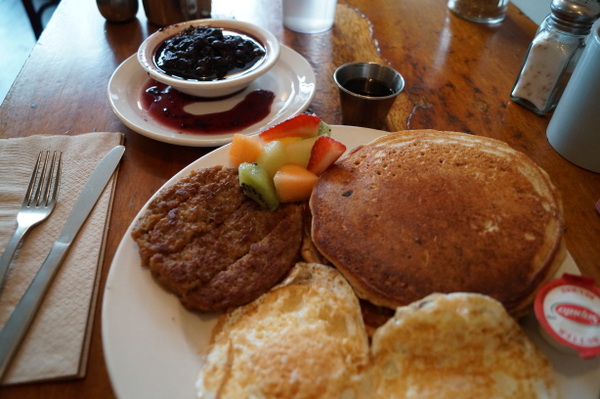 Finch's Tea House
I was drawn in by the desk lamps in the window and the carnations on the tables. Quaint, geeky and most definitely my kind of place. I wasn't wrong. Finch's is a recent discovery of mine and it took just one visit to become my favourite lunch spot in the city. I loved the beautiful cursive handwriting on the blackboard menu, the globe hiding in a corner above the window, the flower baskets hanging from above with green leaves flowing down, the vintage stereo in the corner and the books stacked above the entrance. It's such an enchanting cafe. And then there's the sandwiches. Incredible. I had a baguette with prosciutto, lettuce, tomato, oil and balsamic vinegar and I traded the edam cheese for avocado (excellent decision!) and I couldn't eat it fast enough. The next time around I added pear as well and could barely fit the sandwich in my mouth to take a bite.
Great for a sandwich to remember.
Finch's Tea & Coffee House • Address: 353 West Pender, Vancouver • Phone: 604 899 4040 • Website: www.finchteahouse.com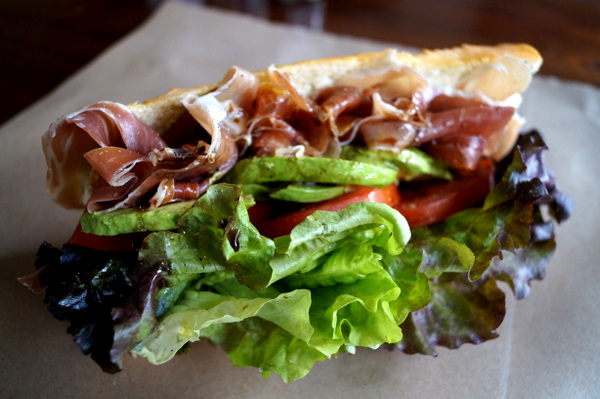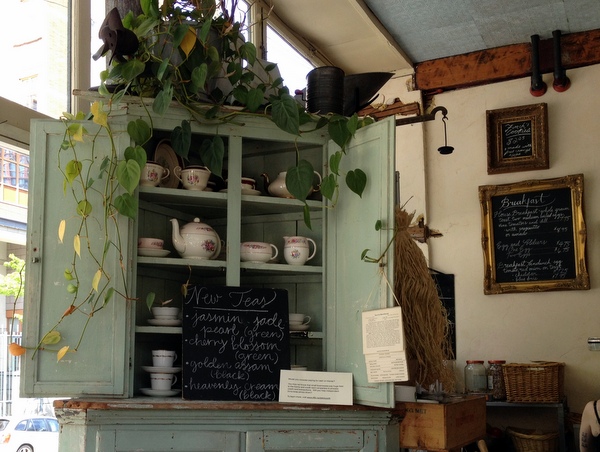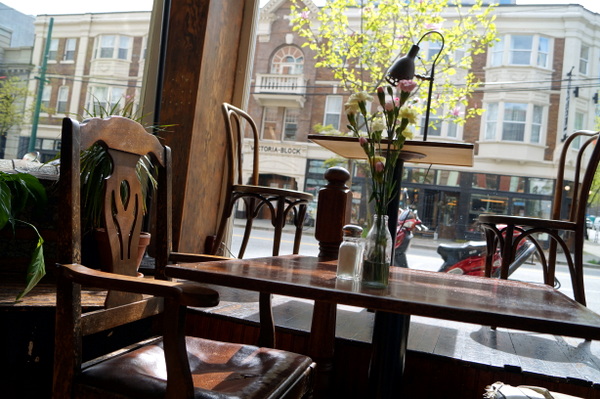 Secret Garden Tea Company
In the interest of full disclosure, you should know I used to work here. Yes this travel blogger moonlights as a server. Does that mean I'm biased when I tell you it's one of the best cafes in Vancouver? Perhaps. Does that I'm mean wrong? Nope. The Secret Garden is the place for tea in Vancouver. In fact, it became my measure for every tea shop I visited in the UK and I never found one as good. The Secret Garden is the whole package: an extensive tea selection (there's more than 50), excellent sweets and a great lunch and breakfast menu too. Usually cafes offer one or maybe two of these – but very, very rarely manage all three.
I fell in love with this place the day before my job interview when I popped in for lunch to see what I might be getting myself into. I adored the vintage tea cups, the cute cosy keeping my little tea pot warm, the beautiful teacups and knick knacks on display and the fact that even after my lunch I could manage dessert because most of the treats are bite size.
My favourite teas (and there's been plenty of research) are the Plum and Cottage Pear, Vanilla Almond, Kambaa, and Creamy Caramel Rooibos and for desserts I usually choose the Rocky Road, Raspberry Crumble Bar or Linzer Cookie. My favorite muffin is Banana Butterscotch (Saturday's only) and the scones are incredible.
Secret Garden Tea Company • Address: 5559 West Boulevard • Phone: 604 261 3070 • Website: secretgardentea.com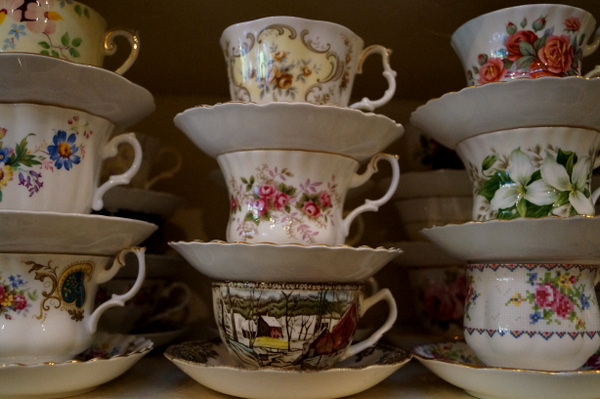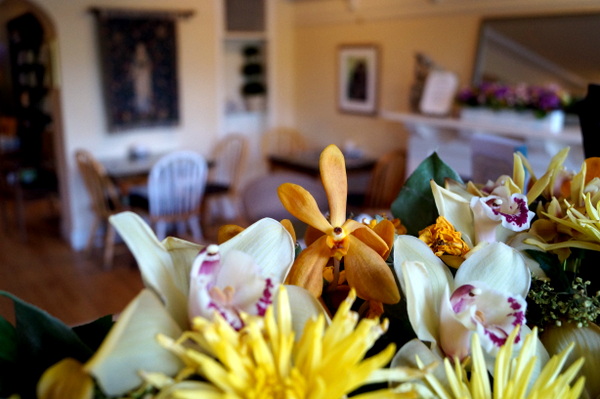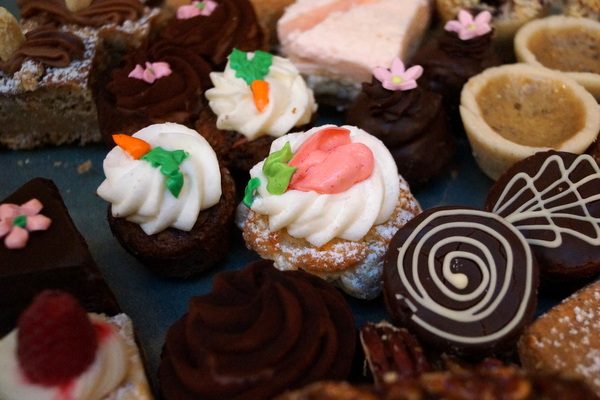 Arbutus Coffee
The unassuming building that houses Arbutus Coffee was built in 1907 and was a small grocery in a former life. Now it's home to one of the most relaxing cafes in Vancouver. It's on Arbutus St and 7th Avenue – a few blocks up from the bustle on 4th Avenue. Every other building around it is residential so aside from the little bit of traffic, there isn't much to disturb you.
There is a lunch menu (although I've never tried it) and lots of cakes and treats (although I haven't tried them either). So what do I come here for? Peace.
Arbutus Coffee is the place to bring a book and sit outside under a tree with a cup of tea.
Arbutus Coffee  • Address: 2200 Arbutus St, Vancouver • Phone: 604 736 5644 • Website: Facebook page only.