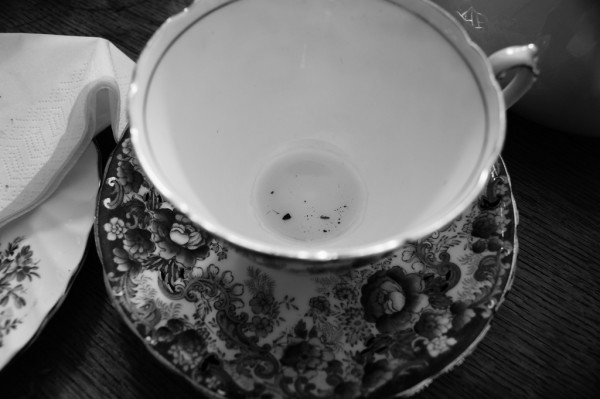 What would a visit to a British city be without indulging in a cuppa? It's been a few months since my tour of some of London's tea houses and although whisky might be a more fitting beverage in Glasgow, I thought I'd see what the city had to offer.
I was impressed.
This isn't a "best of" list, although a couple of these places probably feature on such compilations. In no particular order (but starting with my favourite) here's where I indulged my passion for tea in Scotland's largest city: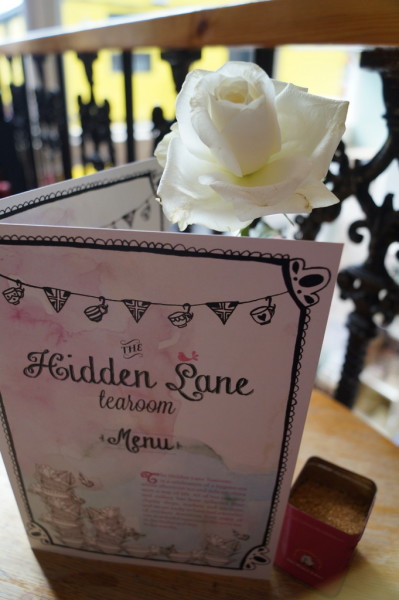 The Hidden Lane Tea Rooms
Hidden Lane is a bit of a find itself – it runs off Argyle St and is home to a record shop and photography store as well as the Tea Rooms and gallery. The tea rooms sit at the end and once inside, you feel a world away from everything and anything. Turns out (if the Yelp reviews I looked up later are any indication) this place isn't really hidden at all. It is a very popular and highly recommended place for lunch and tea, and with good reason.
What it's like First impression? My, that is a lot of vintage tea cups crammed into a relatively small space. But they are really very pretty. The tea room is small – about four tables downstairs, with another seven or so in a small upstairs loft-like area overlooking the area below. Despite the limited space, it doesn't feel cramped. Cosy, yes – but not at all cramped. It's cute and girly – floral wall paper and decorations, tea cups everywhere and dainty ornaments scattered about. But the ladies taking afternoon tea with their girlfriends shared the space with some all-male tables, so the décor can't be that overwhelming.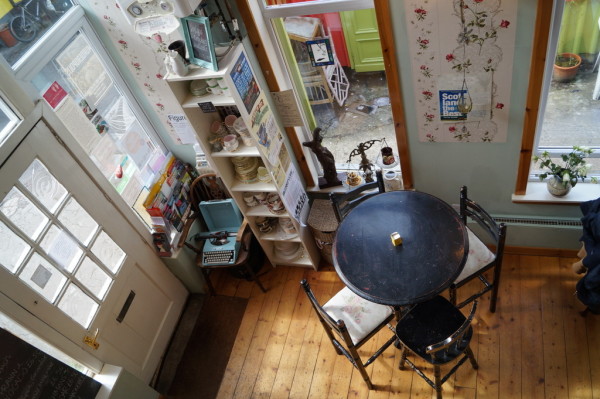 Menu In short – good, tasty home cooking. The breakfast menu is toast, eggs and pancakes and the lunch dishes include a variety of soup and sandwiches. There was pate and stew on the specials menu. The homemade sweets included a delicious chocolate cake with cream cheese icing layered through it; coffee and walnut cake; vegan lemon loaf; chocolate and Bounty slice; mojito cupcake; and apple, date and coconut slice. Those indulging in afternoon tea get a selection of smaller sweets, which on the day I visited included mini Victoria sponge, vanilla cupcake, brownies and scones, and mini sandwiches.  The tea menu offered the standard selection of black and fruit teas, but also featured a special Hidden Lane spice blend and some "cocktails" including a London Fog (earl grey, vanilla and steamed milk), Turkish apple tea and a couple of other creations.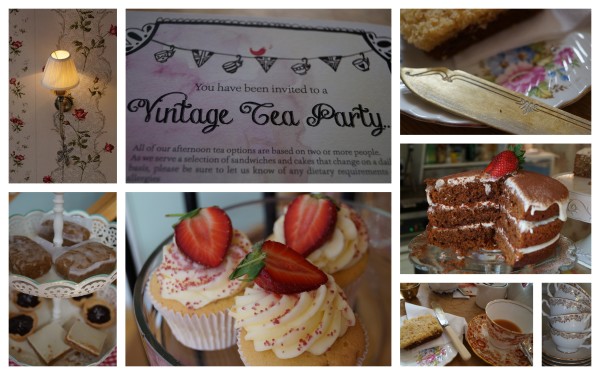 Loved None of the cakes or slices had any labels on them so I got told what everything was….by the person who baked most of it. You just can't beat that! Also, it was really reasonably priced. My friend and I got four cakes and slices to share, plus two teas and left absolutely stuffed for £13. Oh and the typewriter by the door. I just love typewriters.
Didn't love quite so much While I was served quite quickly, the waitress took a long time to reappear after my friend arrived. But once she did, everything ran smoothly. A minor complaint really.
The Hidden Lane Tearoom • Address: Unit 8 Argyle Court (The Hidden Lane!) 1103 Argyle Street, Glasgow G3 8ND • Phone: +44 14123 74391 • Website: http://thehiddenlanetearoom.blogspot.nl/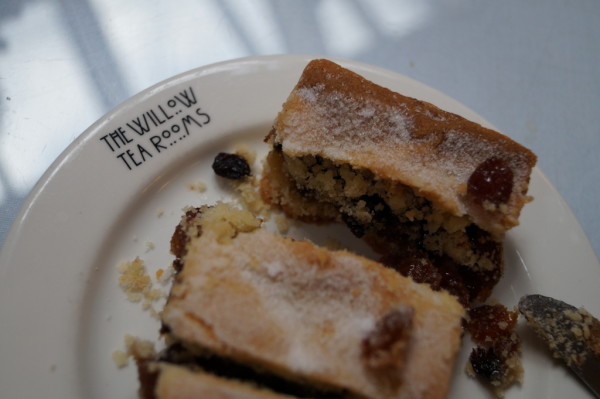 The Willow Tea Rooms
The Willow Tea Rooms are famous for two reasons. Of the four popular tearooms opened by Kate Cranston in the 1900s, the Sauchiehall cafe is the only one left in its original location and bearing any resemblance to what it once was. The other appeal is that the tearoom was entirely designed by Charles Rennie Mackintosh, a now-acclaimed Scottish architect, artist and designer. It is the latter that draws in the masses to the white building in Glasgow's central shopping precinct. There is a second café on Buchanan St, next door to the building that once housed another of Miss Cranston's tearooms, but the tearoom that exists there now opened in 1997 – although a lot of effort has been made to keep the same style of the original Buchanan St store.
What's it like? "Back in the day", The Willow Tea Room was where Glasgow's finest gathered for tea. Admittedly, a lot has changed – including the business being closed for a while and later renovated to recapture the style it once had – but there's no need to dress up for tea here now. The tearoom was once four stories, but now just the tea gallery and a restored version of the Room de Luxe remain. Unfortunately, on my visit, accessing the tea rooms required crossing through the downstairs jewellery store that was in the process of a closing down sale. Not a great start to afternoon tea.
Menu? As far as afternoon tea traditions, the Willow Tea Rooms has definitely let go of the past. The experience of afternoon tea almost seems an afterthought. The cafe now does breakfast and lunch – and it's those offerings that take up most of the menu. The tea selection isn't that exciting (I chose the CRM Signature tea and found it to taste like every other Assam I've ever tried) and the treats – while tasty – were nothing to get excited about.
Loved Charles Mackintosh certainly had flair. If you visited a tea house in any other part of Britain designed at the same time, none of them would look anything like this. British teahouses are often so traditional, but the Willow shows off art deco themes with a splash of the Japanese influences Mackintosh was so fond of.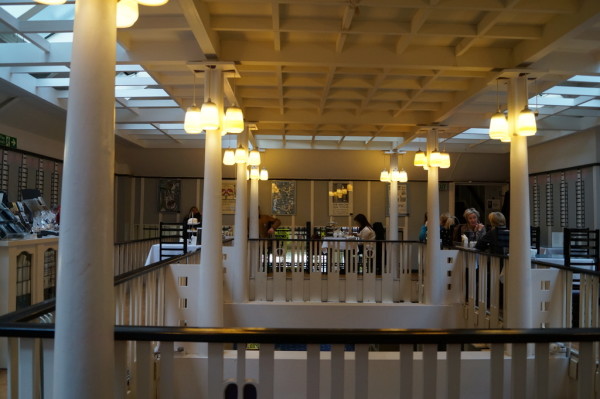 Didn't love quite so much So much effort has been put into recreating an experience here, but it fails on so many levels. The tacky gift shop in the tea gallery and the unimaginative sweets are just the start. I had high hopes for a great afternoon tea experience, but this was really lacking. Apparently 150,000 people visit here every year. I'm sure I'm not the only one to leave disappointed. If you just want to see Mackintosh's work, visit the Glasgow School of Art instead.
The Willow Tea Rooms• Address: 217 Sauchiehall St  Glasgow G2 3EX • Phone: +44 14133 20521• Website: http://www.willowtearooms.co.uk/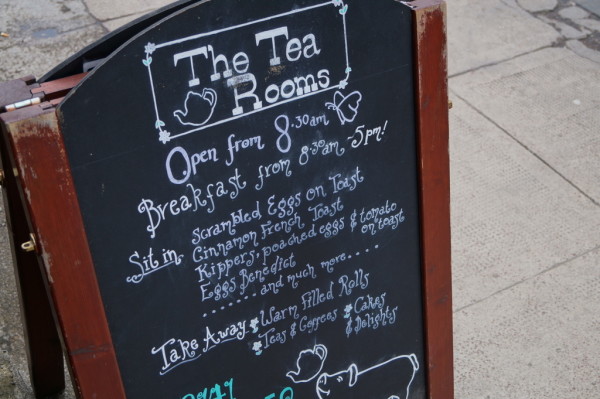 The Tea Rooms at The Butterfly and the Pig
Mentioning I was going to have tea at The Butterfly and the Pig caused some confusion with my friend. "That's my local," she said. And she wasn't referring to her local tea shop. The Butterfly and The Pig is best known as a bar and nightclub. But that all takes place in the basement. Above that sits The Tea Rooms – one of Glasgow's most popular tea houses.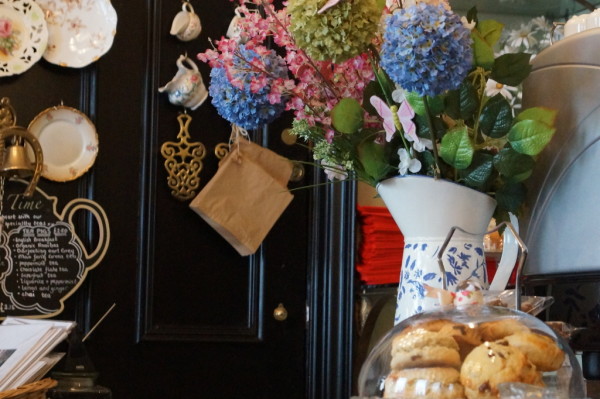 What it's like The vintage look that so many tea houses strive for is so often done badly, but here every detail fits with the theme: the wine bottles sitting in a deep, retro basin, the brass house numbers nailed behind the counter holding the bills for the corresponding tables; the white cloths thrown over the tables with the odd embroidered flower in the corner.  Everything just works – especially the handwritten tea and cake menus brought to the table on small chalkboards. This is definitely the kind of place where women will dress up, pin a fascinator in their hair and "take tea". But the atmosphere is generally inclusive: in the morning there were a couple of laptops out and from the sounds of it, business meetings taking place.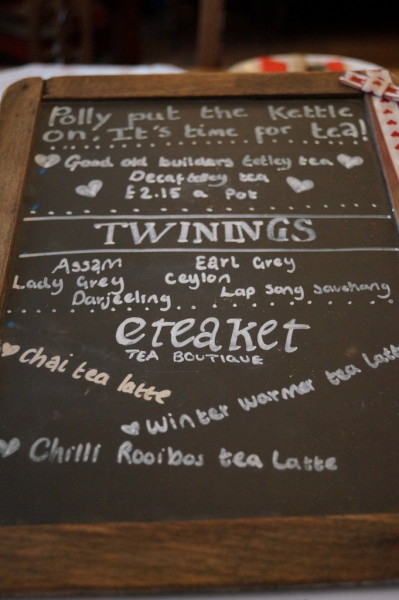 Menu As well as its afternoon tea offerings, The Tea Rooms offers a well-priced and varied breakfast and lunch menu. Breakfast includes Scottish porridge, eggs and bacon etc. Lunch features soups, sandwiches, salads etc. – standard cafe fare, but done well and presented on vintage china. There is a display case at the front of the store with some incredible looking cakes and some other goodies such as scones and meringues at the counter. After 5pm the cafe starts a High Tea menu, explaining that High Tea (not afternoon tea) was traditionally a larger meal. This menu includes fish and chips and frittata served with tea and cake.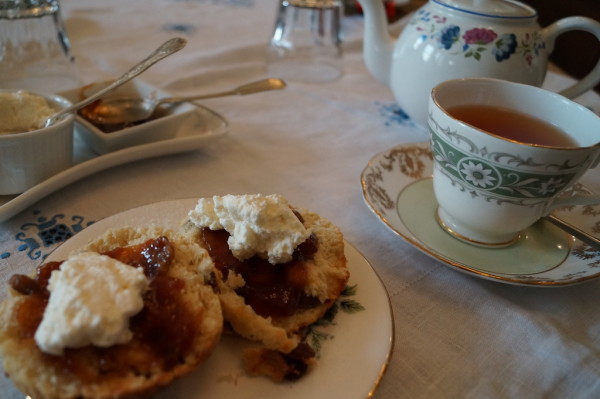 Loved The rhubarb jam served with my fruit scone was amazing. It came with whipped cream that had the faintest trace of black seeds from the vanilla pod stirred through it. I ordered a pot of Tetley tea, which was big enough to get almost four cups out of. The atmosphere was really cosy. Although I imagine this place gets pretty busy, I think I'd always feel comfortable here reading a book or catching up with a friend.
Didn't love quite so much The tea menu wasn't inspiring. It was mostly Teapigs or Tetley (both available in supermarkets), although there were some from Eteaket, a tea shop in Edinburgh. Also, there's a giant TV screen in the main room. It's the only thing that looks out of place and it's too big to ignore.
The Butterfly and the Pig • Address: 151 Bath St, Glasgow, G2 4SQ • Phone: +44 14122 17711 • Website: http://www.thebutterflyandthepig.com/thetearooms/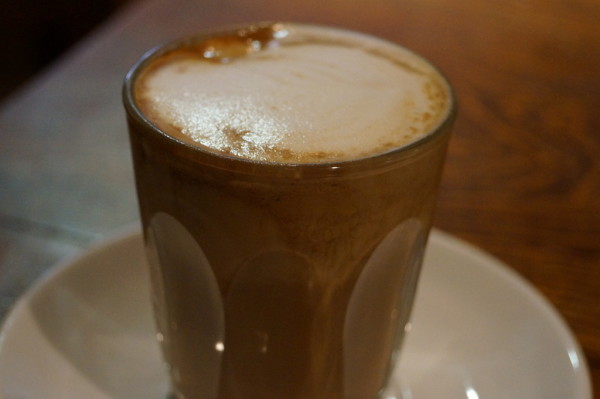 Artisan Roast
This isn't a tea place, but then coffee drinkers are people too, so it deserves a mention. Especially since I made the effort to go here twice during my three-day visit to Glasgow.
The University of Glasgow really sets the feel of the West End. The area is dominated by cheap eats, bars and cafe tables crowded with laptops and text books. But sometimes it's nice to switch off. Enter Artisan Roast. There are two more Artisan Roasts in Edinburgh, but I stumbled on the Glasgow cafe at Gibson St, just around the corner from the uni, at the edge of Kelvingrove Park.
What it's like? At 4.30 on a Monday afternoon, Artisan Roast had a fair share of people in it, as did most of the other cafes on the street. But the tables in AR weren't dominated by solo customers with laptops. Even from outside it was clear this was a social place. People were talking. Seating is split over two levels and the staircase, which runs up the middle, also acts as a good barrier between tables on the lower level creating a sense of intimacy.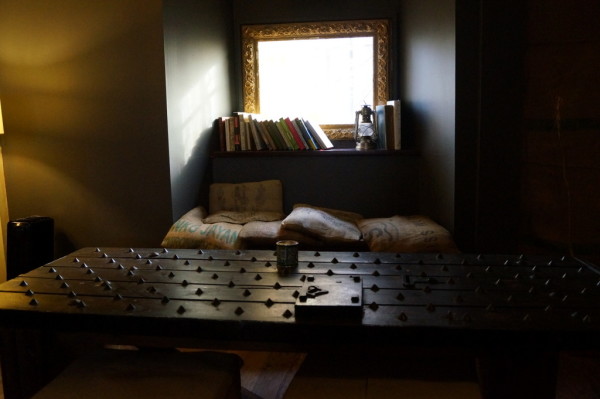 I sat at a bench at the bottom of the stairs. In front of me was a stack of boardgames including Scrabble and a small lamp at the end that lit my book perfectly. The table behind me was a door in a previous life and I loved the little row of books on the window sill and the old Lyle's Black Treacle tin holding the demerara sugar on the table.
Menu? Artisan Roast is a true coffee house so ordering tea on my first visit went a little against the grain. I returned the next morning for a coffee and understood what all the fuss was about. Best latte I've had in a loooong time. There's a good selection of treats at the counter. I chose a small vegan chocolate, almond and rose cake, although the cocoa and pistachio meringue was tempting.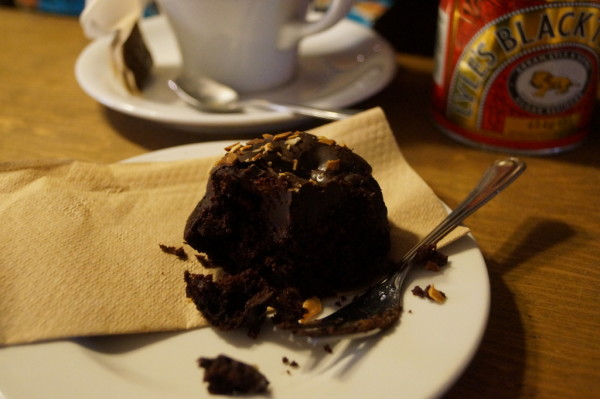 Loved There's no debit or credit card facilities or wifi. For many that's probably an inconvenience, but I think it says a lot about a business when it doesn't offer standard cafe facilities and still fills every seat. The focus is on the coffee and the service. As it should be. (If you desperately need wifi, apparently a signal from a neighbouring cafe can be picked up at the front tables and there is a cash machine across the road for those who aren't carrying coin).
Didn't love so much This is getting pretty nit-picky, but my only complaint is the loose sugar bowls. I added a teaspoon of sugar to my coffee, stirred it around, licked foam off the spoon and then realised I needed to add more sugar. I wondered how many people end up in the same situation and dip their licked spoon back in the sugar bowl? (For the record, I just shook a little more in.)
Artisan Roast • Address: 15-17 Gibson St, Glasgow, Lanarkshire G1 28 NU • Phone: +44 77764 28409 • Website: http://www.artisanroast.co.uk/