It's a while since I shared a list of my five favourite cafes in Europe and many, many cups of tea and coffee have been drunk and lots of cakes eaten since then. As my time in Europe comes to a close (I'm off to Canada next month) I thought I'd share five more cafes you should check out on your travels.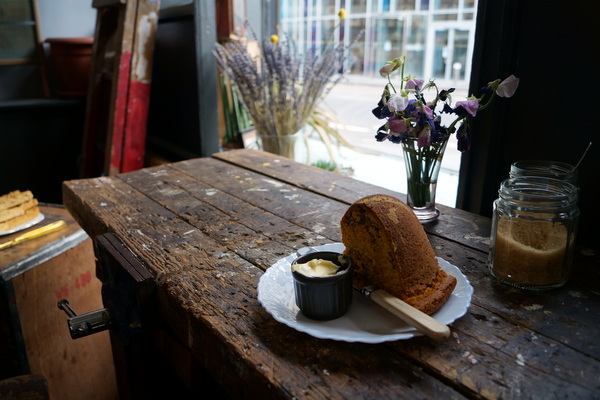 Lovecrumbs, Edinburgh
I walked by Lovecrumbs several times on my way to and from my favourite bookshop in Edinburgh before I found time to walk in and take a seat at an old workbench with a vice attached at one end. I struggle to find the right word to describe this place. Cool? Funky? Off-beat? Perhaps random. It's the only café I've been to where I've drunk tea from a thermos while seated at an old piano. There is so much to love about Lovecrumbs – the cushion-packed window seat, the old cupboard doubling as a cake display and of course the cakes themselves. You don't come to Lovecrumbs after lunch, you come here instead of lunch. It's a popular café among locals, but that doesn't detract from the atmosphere. I felt very comfortable parked here for a few hours with a cup of tea, cake and a book during August, Edinburgh's busiest month.
Great for the best cakes in Edinburgh. Perhaps the world.
Lovecrumbs • Address: 155 West Port, Edinburgh EH3 9DP • Website: www.lovecrumbs.co.uk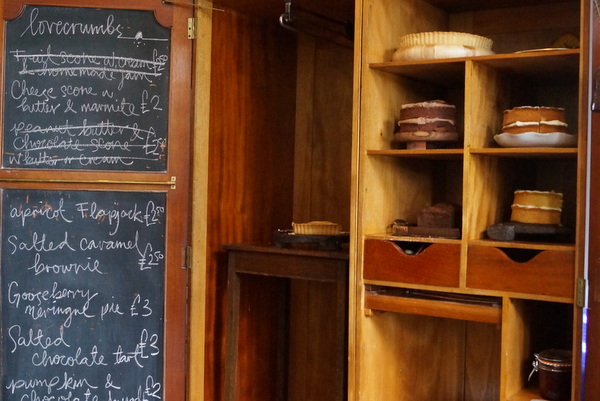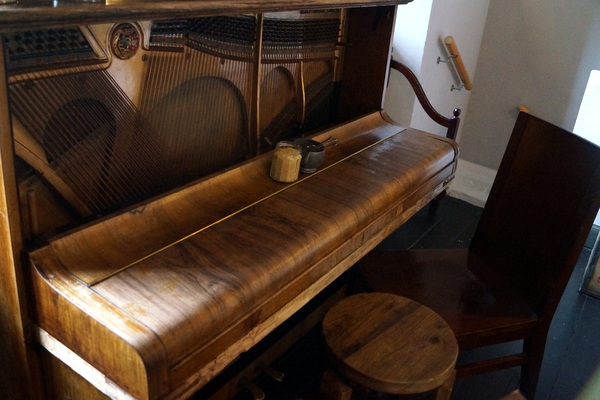 Pois Café, Lisbon
If you want coffee and cake in Lisbon, you will never have to walk far. There are cafes everywhere. This is true of Portugal, not just its capital. But Pois is a little something different. Take the décor for example. It actually has some. There's big old tables, comfy arm chairs and art, books and magazines all over the place. Then there's the menu. Instead of a display case full of ready-to-eat sandwiches and egg tarts, the Pois offers all-day brunch, sandwiches, salads and daily specials. I chose the soup of the day (tomato, fennel and honey), which cost just €2.50. My friend tried one of the daily specials, a delicious stir fry. We loved the place so much we went back a second time when we walked past it again at lunchtime.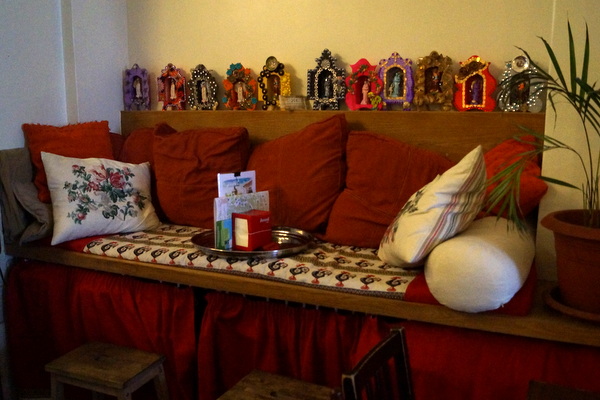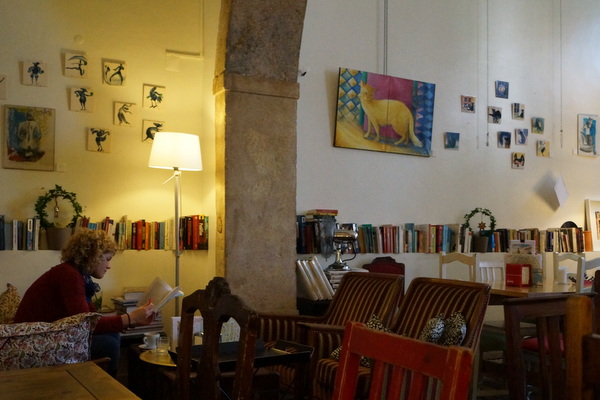 Great for more atmosphere than your standard Portuguese café.
Pois Café • Address: Rua de São João da Praça 93, Lisbon • Website: www.poiscafe.com
Cosmo, Barcelona
When I posted my first article on cafés in Europe I asked for suggestions. Jessica from Hola Yessica recommended Cosmo in Barcelona. At the time I didn't anticipate being back in Barcelona for a long time – I'd visited two years ago and there was no reason for me to return. But life (especially travel) is full of surprises and while planning a trip to Portugal with a friend I suggested we swing by Barcelona. (To Australians, everything in Europe is close enough to just "swing by" to). So we did. And thankfully I remembered Jessica's suggestion.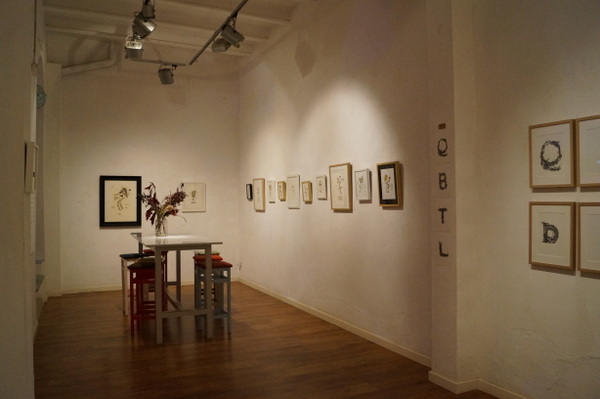 Cosmo was exactly the kind of place I love to go. It's a gallery as well as a café, has really friendly staff and a very chilled atmosphere. My friend and I both ordered sandwiches and couldn't believe what we ended up with. They were huge! But not huge enough for us to turn down a slice of chocolate cake for dessert. This was another place we loved so much we returned again before we left. Look for the toilet sign hanging from the roof in the middle of the café the displays whether the toilet is busy or not – just like on a plane.
Great for a delicious, cheap and filling lunch away from Las Ramblas.
Cosmo • Address: Carrer d'Enric Granados, Barcelona • Website: www.galeriacosmo.com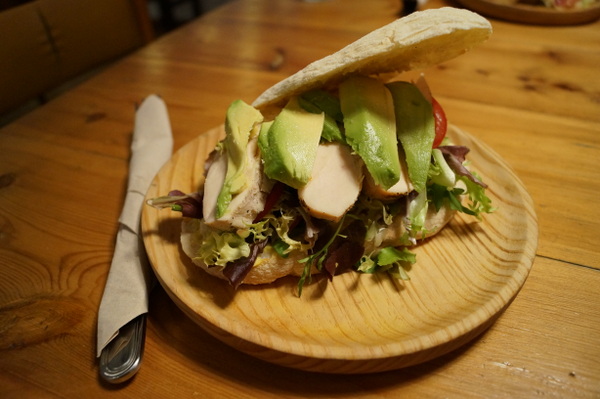 KB Cafeshop, Paris
This place nearly made the cut in the last list (it was just nudged out by La Chambre aux Oiseaux) so it definitely needs to be included now. I read about Kooka Burra on David Lebovitz's blog and it seemed a nice change of scene from the Parisian cafes I tired of two years ago. Also, it's an Australian café, which is something of a trend in Paris lately. When I visited in February I found it so refreshing to 1: chat to someone from my side of the world (a Kiwi girl from the same town my Dad was born in), and 2: have an amazing coffee! I've had some great meals there too: lentil soup, a salad topped with pomegranate seeds, and some muesli for breakfast. I fitted in very well when I took my laptop along to get some work done.
Great for an expat hangout that doesn't serve Fosters.
KB Cafeshop • Address: 53 Avenue Trudaine, Paris • Facebook page here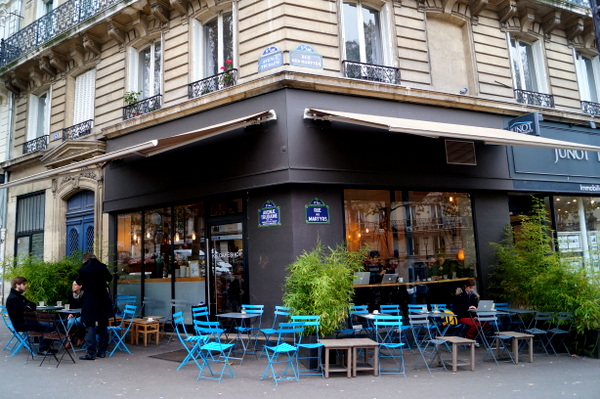 Cherry Beans Coffee, Istanbul
Cherry Beans only just scrapes onto this list geographically, but it's in Beyoglu on the European side of Istanbul so we're all good. Turkey is another country with a fun café culture – I spent many an hour sipping Turkish coffee or strong black tea, often with strangers who invited me to join them. I found Cherry Beans after walking up a lot of steps from Karakoy to Galata Tower. Being a little hard to find it's a lot more peaceful than the places closer to Istiklal St. There's no shisha pipes here, but if you arrive at the right time there's freshly baked gingerbread men. I ate mine head first.
Great for a coffee in Istanbul that you can add milk to.
Cherry Beans Coffee • Address: Bereketzade mah. Greenhouse Sok  10, Galata-Beyoglu, Istanbul • Website: cherrybeancoffees.com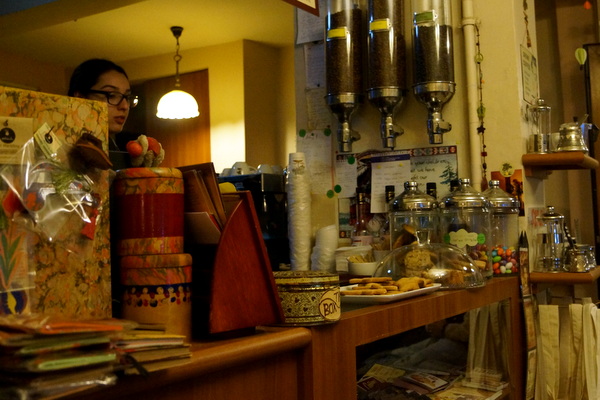 Got any more great cafe suggestions? Leave a comment below.