When my UK working visa finished in July, I planned to spend two or three months travelling in Europe. Then a friend booked flights to visit me in November. One text message had extended my trip by two months. Instead of being back in Canada and working by late October, I would now be travelling in Europe for five months.
It's the kind of trip some people spend years saving for, but I didn't have that kind of time. I couldn't earn any more money than I'd already budgeted, so the only thing I could do was to make it last as long as possible.
And that's how I ended up in Eastern Europe.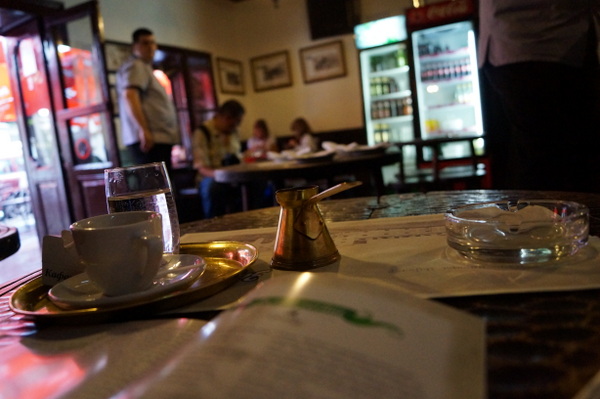 I'd love to say I was drawn to exploring the history and character of former Yugoslavia, but at the time it was purely a money decision. It would be cheap. How cheap? I had no idea. While that region of the world (along with parts of Asia and South America) is regularly touted as very budget-friendly place to travel, everybody has different ideas of what they consider "cheap" and "budget". When someone says a destination is cheap, it's hard to know what exactly to expect.
Many parts of Eastern Europe, particularly in the Balkans, are still off the beaten track for mainstream tourists and there's not a lot of information available for people planning to travel there. It's just one of the many quirks of being a tourist in Serbia and an issue I confronted when planning my own trip and budget.
Hoping to save future tourists the same dilemma (and also to make sure I stuck to my budget) I kept track of my expenses while I travelled through the Balkans and Turkey.
The prices are what I paid in September 2013 and are listen in RSD – Serbian Dinar. I've converted the price into Euros and Australian Dollars based on the exchange rate in March 2014, but make sure you check the rate at the time of your trip.
Accommodation
During my three weeks in Serbia I paid for 10 nights of accommodation (I CouchSurfed the rest of the time). I booked my first three nights at a hostel in Belgrade from the UK, but the rest of my accommodation was organised at short notice – usually while I was en route to the destination.
Four nights in a hostel in Belgrade: 5500 (1375 per night)
I stayed in an eight-bed dorm at Montmartre Hostel. The hostel is in a safe area and walking distance from Kalemegdan, the bohemian quarter, the sleek shopping street of Knez Mihajlova and the Republic Square. It took me about 15 minutes to walk to the hostel, with my luggage, from the train and bus station. The hostel was small, but clean and comfortable. Breakfast was included. (€48/$71 for four nights; €12/$17 per night)
One night in a guest house in Knjaževac: 2250
I couldn't find any up-to-date information about accommodation in Knjaževac in English when I looked online before I visited, so I was in the hands of the woman at the tourist information office. She suggested the guesthouse Milošev Konak and called the owner for me. I had a private double room ((in the photo above) with an ensuite, TV and mini fridge and a cooked breakfast in the morning. The owner spoke poor English, but we managed. (€19/$29)
One night in a hostel in Užice: 1370
At the beginning of the summer Užice didn't have any hostels. When I visited in September it had two! Times are a'changin in Serbia. I stayed in a huge seven-bed dorm at the Little 15 Hostel in Sevojno, which is a short taxi ride from the city of Užice. I booked my stay with Andres (the owner) by email on my way to the hostel, but the hostel is now listed on most hostel booking sites. The cost included dinner and breakfast. (€12/$18)
Four nights in a guesthouse in Nova Varoš : 9625
I had a private room with two single beds and shared a bathroom. I had breakfast on my first morning, but opted to cook my own for the rest of my stay. I had dinner each night, and it was usually a two or three-course affair. During my stay I also took a tour on the Uvac Canyon with two of the other guests. Because I paid for the accommodation, meals and tour all together I don't know how much this was worth on its own, but a friend later stayed at Vila Vilovi and was told it would cost her €60 to take the tour alone (it was cheaper for me because there were other guests). (€84/$124)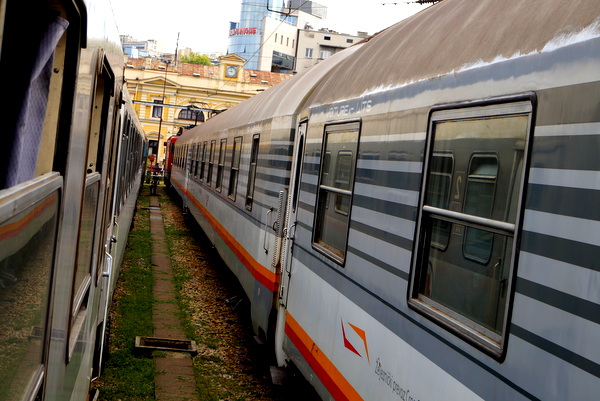 Transport
Most cities in Serbia are well connected by bus. Some bus companies are better than others. I usually travelled with Niš-ekspres (Niš Express), which is apparently one of the more expensive options. The buses were in good condition and clean. The same can't be said for the trains. I travelled by train between Belgrade,  Užice, Prijepolje and later into Montenegro. It was slow, dirty and rarely on time. I felt comfortable using taxis, although in most cases I had a local either help establish the price before my trip or in the taxi with me. I used a taxi three times while staying near Nova Varoš and got charged the same price for the same trip each time.
Bus
Sometimes I bought my ticket at the bus station, other times it was from the driver directly. If you buy from the counter there will often be an extra fee, so it's cheaper to buy on the bus if that's an option. (Notice the price difference between my trips between Niš and Knjaževac. The first ticket was bought at the ticket counter at the bus station in Niš. The second was bought on board when I left Knjaževac.) You will also be charged to store any luggage under the bus and you pay the guy who's putting it under there.
Belgrade airport to city centre: 300 (€2.5/$4)
Belgrade to Gornji Milanovac: 1050 + 40 for luggage (€9+0.35/$13+0.50)
Kragujevac to Niš: 950 +50 for luggage (€8+0.45/$12+0.65)
Public city bus in Niš: 50 (€0.45/$0.65)
Niš to Knjaževac: 600 (€5/$7.80)
Knjaževac to Niš: 500 (€4/$6.50)
Public city bus from Niš to Niška Banja: 70 each way (€0.60/$0.90)
Niš to Belgrade: 1135 + 50 for luggage (€9.90+0.45/$14.70+0.650
Prijepolje to Nova Varoš: 140 (€1.20/$1.80)
Nova Varoš to Prijepolje: 140 (€1.20/$1.80)
Train
I caught the train on the Belgrade to Bar Railway. The entire trip takes about 12 hours if done in one go and costs about 3450 (€30/$44). I broke the trip up and stopped several times on the way. I either bought my ticket at the station or on board. There seemed to be no difference in price. Sometimes the ticket included a supplement depending on the type of train.
Belgrade to Valjevo: 384 (€3.35/$5)
Valjevo to Užice: 484 (included a 100 supplement.) (€4.20/$6.30)
Užice to Prijepolje: 484 (included a 100  supplement.) (€4.20/$6.30)
Prijepolje to Kolašin: 533 (I'm not sure if this included a supplement.) (€4.65/$7)
Taxi
Taxis are cheap enough for even the locals to use regularly. I used them to travel around cities and also for longer trips when there were no buses.
Taxi to Niš bus station (about 10 minutes through the city): 150 (€1.30/$1.95)
Užice train station to Little 15 Hostel in Sevojno (about 10 minutes): 380 (€3.30/$5)
Sevojino to Mokra Gora (45 minutes): 2200 (€19/$28.50)
Nova Varoš to Vila Vilovi (10 minutes): 500 (€4.30/$6.50)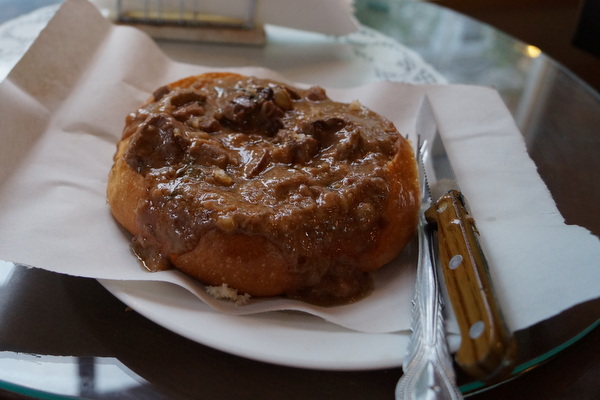 Food
This is a harder cost to break down because although I kept track of how much I spent on food, I didn't list what I was eating.
All up I spent 14,500 (€126/$188) on eating out, groceries to cook with, snacks and coffee. There was a lot of coffee. None of it was good.
An espresso at a cafe usually cost about 80 (€0.70/$1)
A glass of wine in a cafe in Belgrade cost 400 (€3.50/$5)
Dinner in Belgrade could be as cheap as 200 (€1.70/$2.60) for goulash in the bohemian quarter or Serbian "grill" (expect some sort of grilled meat served like a hamburger or kebab).
A cob of corn from a street vendor was 100 (€0.80/$1.30)
Burek for breakfast was usually about 70 to 100 (€0.60-€0.80/$0.90-$1.30)
A bottle of water was about 40 (€0.35/$0.50)
But it really depends on where you go. At "?", one of Belgrade's more touristy eateries, a chicken and vegetable casserole, drink and coffee cost 1320 (€11.50/$17). At what the woman at the Knjaževac tourist information centre considered the town's nicest restaurant I paid 910 (€8/$11.80) for a meal of grilled chicken, fries, salad and a Coke.
In an effort to eat somewhat healthily (there's only so much burek and grilled meat I want to put into my body) I often bought my own food from a supermarket, including bread, sliced ham, fruit, vegetables, nuts and water. In Belgrade I spent 570 (€5/$7.40) at the supermarket to buy enough food to eat for two days while I was camping at the World Testicle Championships. A bag of potato chips or chocolate bar usually cost about 80 (€0.70/$1).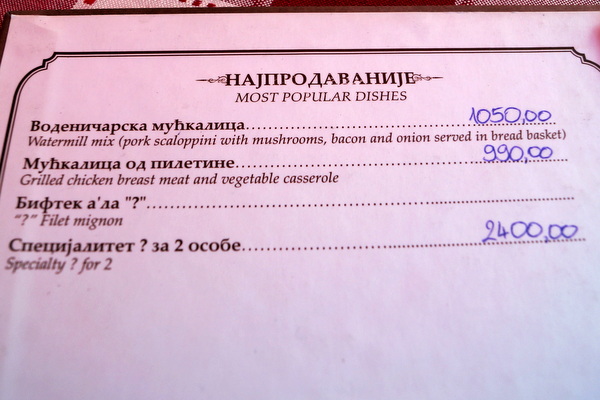 Sightseeing
In three weeks in Serbia I visited very few attractions. Because I CouchSurfed a lot, I spent most of my time hanging out with my hosts and less time in museums or at historical sights. But here's a list of what I did do and what it cost.
Belgrade Military Museum: 150 (€1.30/$1.95)
Skull Tower, Niš: 150 (€1.30/$1.95)
Šargan Eight railway, Mokra Gora: 600 (€5.25/$7.80)
Drvengrad Village, Mokra Gora: 250 (€2.20/$3.20)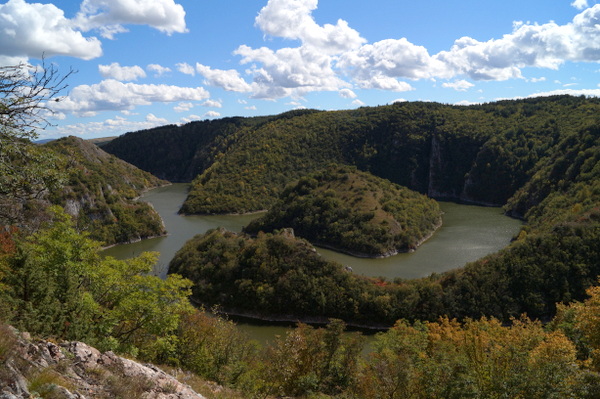 Tips for getting the best value in Serbia
Travel like a local – Local restaurants and transport are cheap because it has to be if Serbs are going to afford it. The average monthly wage in the country is about €300 euro so expenses have to be affordable. If you want the best deal, just ask locals for advice on where they go. At "?" – Belgrade's oldest pub – I definitely paid tourist prices for lunch. It was the most expensive meal I had in Serbia and not very good.
Don't rely on internet research -Many businesses that you'd expect to advertise online – don't. There will always be more accommodation options in a town or city than Google will tell you about. Ask the local tourist information office to call around for you, or just show up and see what's there. The options I did see online were always a lot more expensive than what I found once I was in the town.
Talk to people – The Serbs are friendly folk so get chatting and see where it leads. Ask your guesthouse owners if they can suggest somewhere to stay in your next destination. Or the best place to go for dinner. Most locals will also give you an idea of what you should expect to pay and so you'll be prepared in the rare event somebody tries to rip you off.
My personal budget
I had a budget of 3100 per day (€27/40) for Serbia. I'd simply divided my savings by the length of time I would be travelling, so I didn't know how realistic it would be until I arrived. While I was conscious of my budget I found it was more than enough for how I like to travel – especially when I was CouchSurfing.
In 21 days I spent about 50,000 (€435/$650), which works out to be about 2400 a day (€20/$31) so I finished up my time in Serbia under budget.
Have you travelled in Serbia? What advice do you have for other travellers in the country?