I love exploring new places by just walking in them and of all the cities I've done this in, none have been so full of surprises as Berlin. You could fill days and days here and not set foot inside a building.
Walking around the city is like immersing yourself in a history book – a really beautiful one. But that's not why I loved Berlin so much. What transforms Berlin from just another pretty, history-drenched European city into an exciting, colourful hub is its art.
It's impossible to miss. It decorates old buildings, sidewalks, outdoor furniture, walls, fences, railway stations – it's everywhere. I stumbled across this just walking around: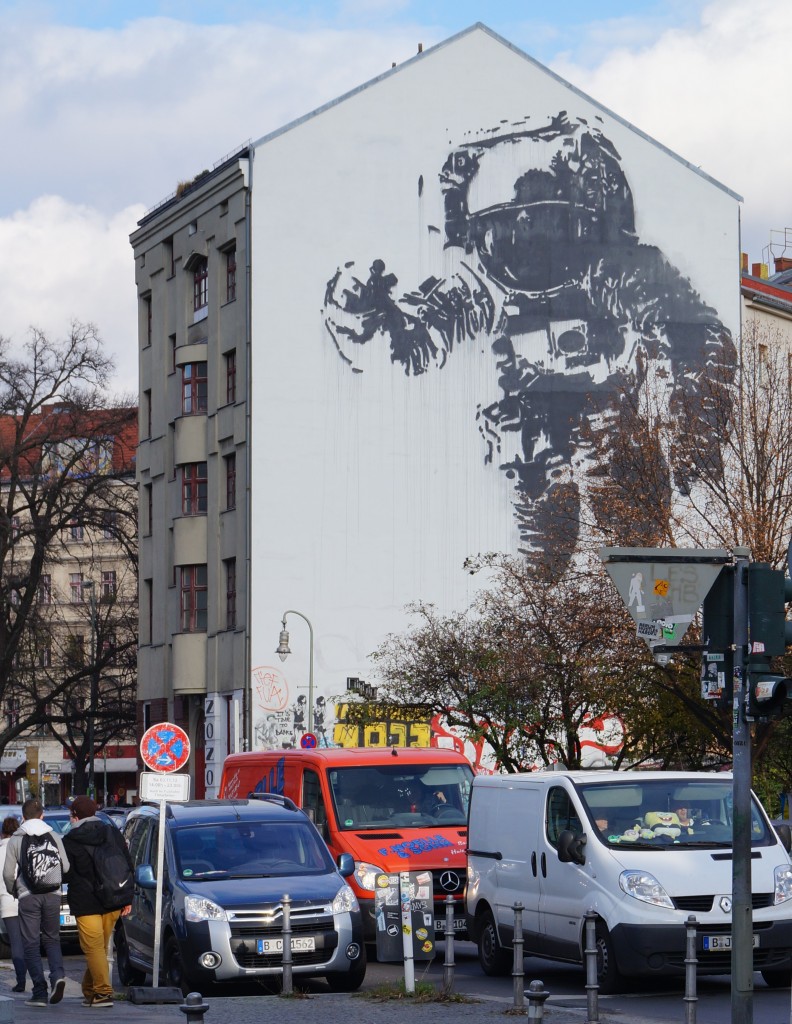 Early in my trip I visited Tacheles – an abandoned building converted into an artist's squat. I'd seen pictures of the interior and wanted to see for myself, but it was closed. I found out later city officials shut it down a few months ago. Apparently there is some covert access although I'm not sure I'd want to risk it.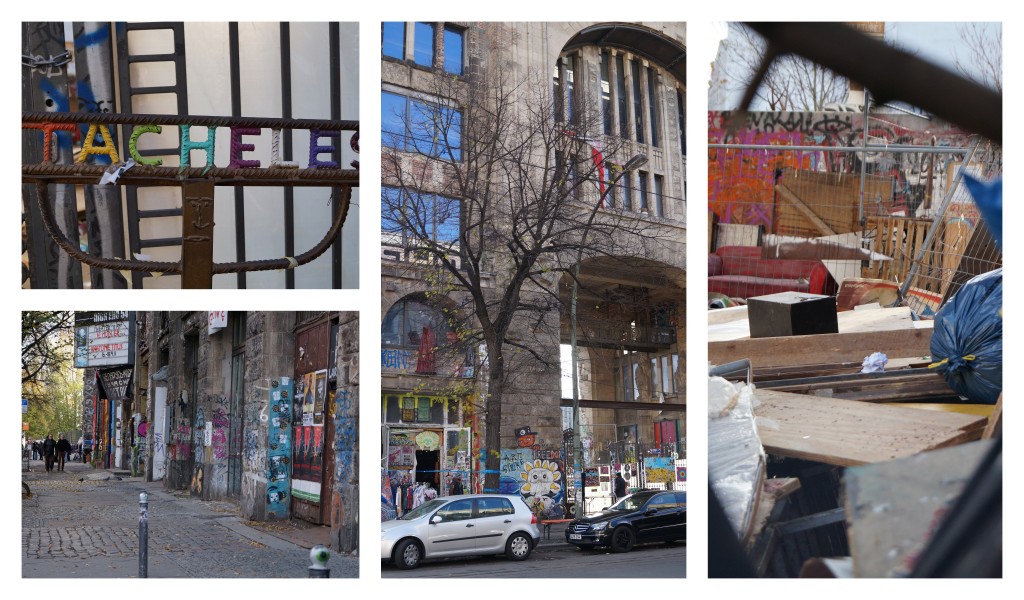 But a walk around Prenzlauer Berg – one of the more trendy and tourist-friendly neighbourhoods – revealed similar buildings. In many other cities the tagging and graffiti over every surface might seem dirty and scrappy. But here, it's part of the city. Especially in East Berlin where freedom of expression was denied for so long. For those trapped behind the wall, this was their outlet. Their message. That urge to put their emotions and feelings out there is now so engrained in the people here. Berlin is still enticing artists from all over the world.
Case in point, my British expat tour guide Penny. She's an artist and came to Berlin for it's art scene. I considered doing a street art workshop, but decided I am all to aware of my lack of artistic talent and opted for just a tour with Alternative Berlin.
Neighbourhoods such as Oranienstrasse and Hackescher Markt are like open-air galleries, but there's so much to know and learn about this culture. Penny took us to the Turkish neighbourhood, Kreuzberg.
It wasn't long before we were walking down Oranienstrasse, which was where I found Cosmonaut/Astronaut earlier in the week. Having Penny there to explain what I was looking at made Berlin's colours all the more brighter. There were so many things I'd walked passed just two days earlier – eyes open and camera ready – and hadn't noticed. And if I had noticed them, I hadn't understood the signifance.
The giant astronaut I'd found before turned out to be one of Berlin's best known pieces. Victor Ash's Cosmonaut-Astronaut was commissioned as part of a street art program. It's often confused with the work of UK street artists Banksy (a mistake made even by some art tour guides). The work isn't even a stencil piece – which it's Banksy's trademark. The technique used to create it has more in common with the Sistine Chapel. Two days earlier it was just a giant astronaut on the side of a building.
The tour was a mixture of education about graffiti and street art (they aren't the same thing), checking out some great pieces around the city, visiting some galleries and even an African beach community, YAAM. The latter was due to be closed down the day we visited. It's a waterfront property and unfortunately money has trumped what the community has going on there. I was surprised it was still open when we were there given the impending eviction.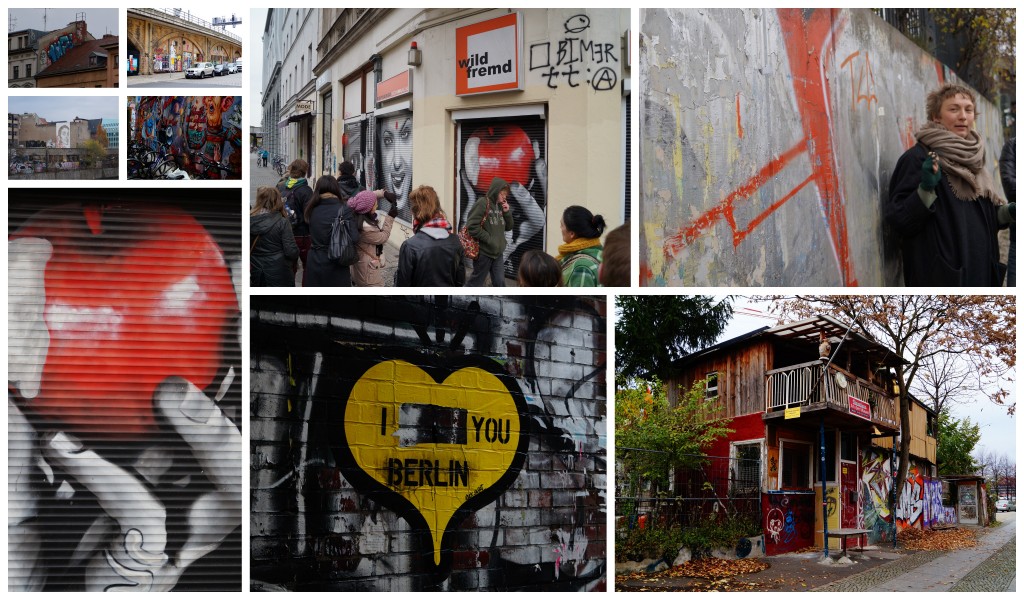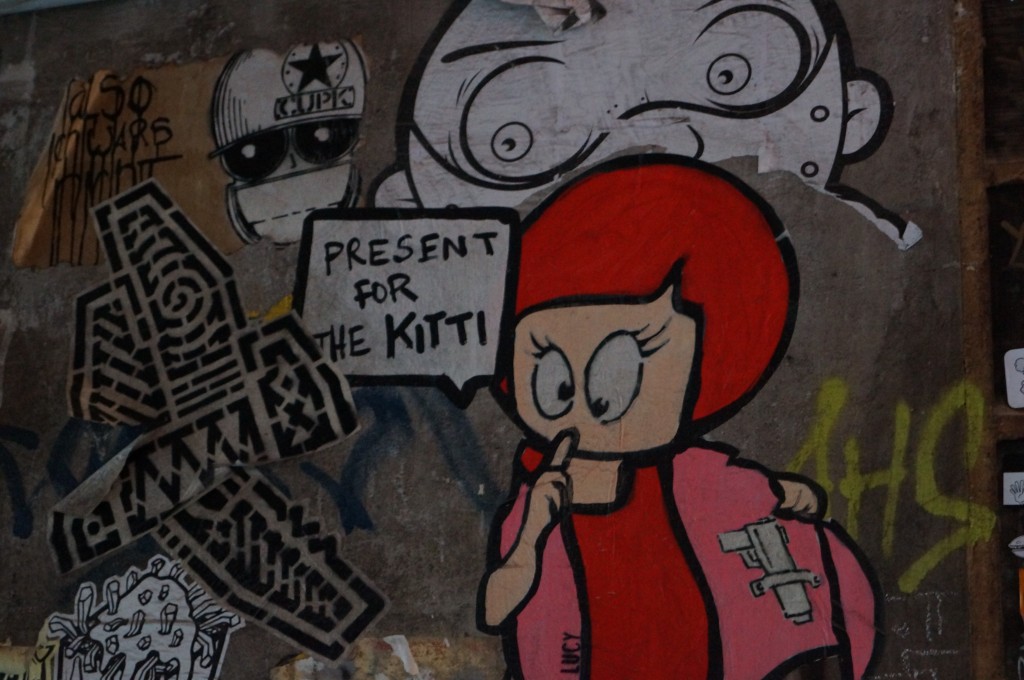 The street art tour finished with Little Lucy (above) in an alley near Hackescher Markt. The artist, El Bocho, has done his own take on a Czech cartoon called Little Lucy. In the cartoon, Lucy loves her cat. In the street art, Lucy is always trying to kill her cat. Bocho has gone so far as to hang up stuffed cat toys in a noose around the city.
The tour was over, but Berlin's had so much more to show me.