Europe has a fabulous cafe culture. Just look at Paris where sitting at small table, sipping an espresso and watching the world go by is a thing!
Back home, a cafe is somewhere you go because you want coffee, or wifi, or lunch with a friend. But in Europe it's more of an experience – although there's still coffee and wifi.
Travelling can be exhausting and while I love the randomness of it – sometimes I hate it. Sometimes I crave routine and familiarity.
For me, I get this at cafes. It doesn't matter where I am, but by sitting down, reading a book, writing and drinking tea, I could be anywhere. I relax and I can chill out more than I will anywhere else. It's my meditation.
I had this habit when I was in Australia. I enjoyed sitting down with a pot of tea and a newspaper and killing a few hours and I loved it when a friend was late for a coffee date and I could spend some time people watching. But since I started travelling, this routine has become more important and meaningful.
One of my favourite memories from my time in Vietnam was sitting outside at a cafe in Saigon reading a three-day-old edition of The Weekend Australian over breakfast. I read the paper and people watched and just enjoyed the moment. It was a break from the crazy motorbikes on the road and wandering for hours.
I spend far too much of my food budget in cafes around the world, but I have found some lovely places. I thought it was about time I shared them with you.
My favourite cafes in Europe

Books & Brunch, Bruges
Feel free to look at the books or even read on of them at your table or in one of our seating areas. You don't have to drink anything but the joy of a good book is augmented by a good coffee or a cup of tea.
The above was written at Books & Brunch and may just be the best thing I've ever read on a menu. The name was always going to drag me in, but this got me to stay. Books and brunch might just be two of my favourite things. I found the cafe while walking in Bruges with no destination in mind – just following the streets and turning corners at random. It's well away from the Markt. Actually there was hardly anything else around. The walls were bookcases filled with second-hand books customers can buy, or just read while they're in the store. I had some tea, a bowl of homemade broccoli soup and wrote postcards.
Great for escaping the crowds in the markt.
Books and Brunch • Address: Garenmarkt 30, 8000 Brugge • Website: www.booksandbrunch.be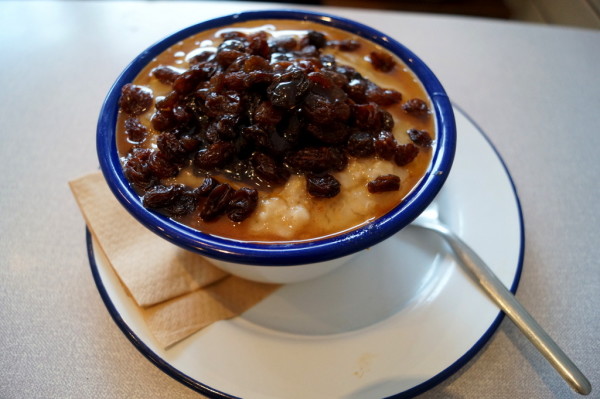 Milk, Edinburgh
I can't own this discovery. I wanted to try some new places in Edinburgh so turned to Google, which revealed this cafe as one of the best in the city for breakfast. It was about a 20-minute walk from the city centre and there isn't much in the area that would pull most visitors out this way. But it was worth it. There aren't many tables, but most customers seemed to get takeaway. I can vouch for the breakfast and the lunch. The roast chicken and rosemary, and tomato pesto sandwich looked so good I got one to take away for later. And the porridge with honey, raisins and fruit compote was delicious! It was also pretty cheap. My porridge, latte and sandwich was less than £8. What I really loved was hearing the waitress chat to the regular customers. "How was your holiday?" "Oh you're back on day shift" etc. When I'm travelling, I'm usually doing things that other travellers are doing so it was nice to get a glimpse of normal working Edinburgh life.
Great for a cheap and cheerful breakfast or picking up some lunch for later.
Milk • Address: 232 Morrison St, Edinburgh EH3 8EA • Phone: +44 13162 96022 • Website: www.cafemilk.co.uk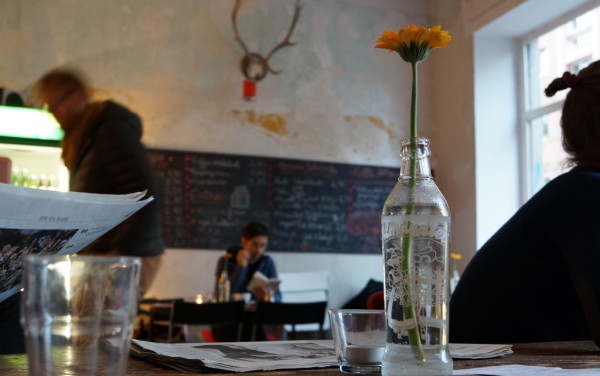 Marketta, Berlin
I visited some great cafes in Berlin – it was full of them. While I also recommend visiting Beletage and Factory Girl, it was my morning in Marketta that reminded me of that time in Vietnam and the reasons behind my cafe ritual. I sat by a fireplace at one end of a large table I shared with what I presume were German businessmen (judging by the suits). There was no English menu so I just pointed at some delicious freshly made bread thing on the counter for breakfast and read my book. I couldn't understand a word of the conversations around me, but I loved listening to the language and wondering what they were talking about. It was also really peaceful. The autumn weather in Berlin had been fickle, I'd done a lot of walking and after this trip I was starting a new job. Over the hour or so I spent here I felt myself recharge. I can even feel myself relax a little at the mere memory of it.
Great for being mistaken for a local.
Mark Etta • Address: Linienste. 41, 10119 Berline – Mitte • Phone: +49 30247 23503 • Website: www.marketta.de

La Chambre aux Oiseaux, Paris
While I love the Parisian cafe culture, I don't particularly like Paris cafes. The food is never exciting – I'd rather pop into a boulangerie or patisserie – the coffee is always expensive, the locals smoke and if it's a place worth being, it's crowded and loud. Without knowing about my penchant for cafes, my CouchSurfing host in Paris recommended a place near her house. "It's not like a normal Paris cafe though," she warned. Instead of the little round tables and chairs so synonymous with Paris, La Chambre aux Oiseaux had old arm chairs and couches. I sat at an old sewing-machine table and kept tapping the little peddle at the bottom. The menu was also a lot different to most cafes in the city – I had homemade vegetarian lasagne. But it was spacious, quiet and a little quirky. I loved it.
Great for escaping the ridiculously overpriced and smoke-filled tourist traps also known as traditional Parisian cafes.
La Chambre aux Oiseaux • Address: 48 Rue Bichat, Paris, 10E• Phone: +33 1401 89849 • Website: lachambreauxoiseaux.tumblr.com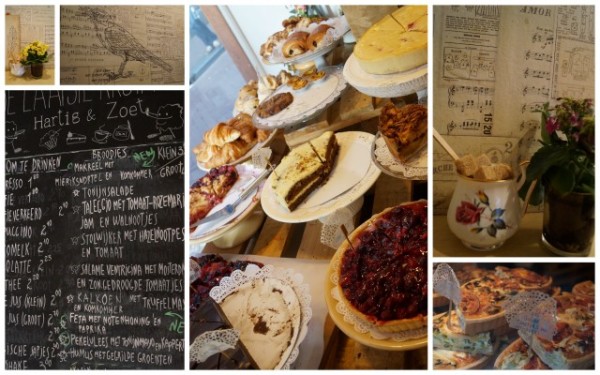 De Laatste Kruimel, Amsterdam
Think coffee shops in Amsterdam and I guarantee a place like De Laatste Kruimel will not come to mind. For a start the colour scheme isn't Jamaican-inspired yellow and green and the brownies aren't laced with cannabis. I challenge anyone to walk past this place and not go in. It would take a strong-will to ignore the window display of cakes, scones, pastries, sandwiches and quiche slices. I had just eaten dinner when I found De Laatste Kruimel hiding down a narrow street, but nothing was going to stop me from finishing every crumb of my rhubarb and strawberry cake. There is so much to like about this cafe – the sheet music as wall paper, the homemade jam for sale cute teacups on display. I only had time for that one piece of cake, but I recommended it to some friends who went in for lunch and they loved it too.
Great for a change from the "other" coffeeshops Amsterdam is so well known for.
De Laatste Kruimel • Address: Langebrugsteeg 4, Amsterdam • Phone: +31 20423 0499 • Website: www.delaatstekruimel.nl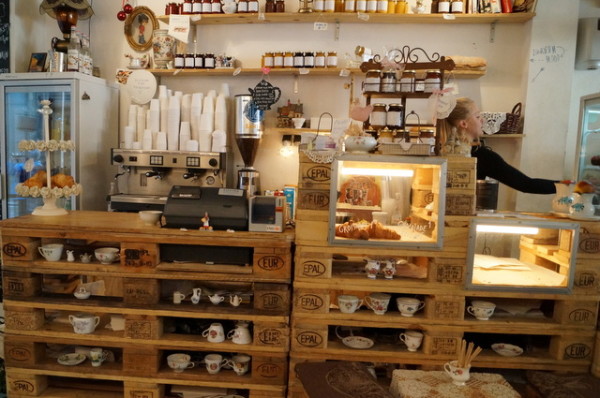 Have you discovered a great cafe while travelling? Share it below