Every time I visit Paris, I fall in love with it a little bit more. But it wasn't love at first sight. There are people for whom Paris holds a special draw. It's one of the cities to see in the world. But it wasn't like that. I've visited Paris for several reasons, but never because it was Paris.
My most recent trip here – my fourth visit – was different. After three summer visits, I wanted to see the city in winter and roam the streets without sweating. Also, a friend from Canada had recently moved here, so Whitney was to become my tour guide.
Both of these motivations directly led to my best trip to Paris yet. In just three days, my little crush turned serious. I often wonder about the sense in revisiting a place when there is so much to discover elsewhere, but Paris has become a city I will keep returning to throughout my life.
So how did Paris win me over?
It wasn't just one grand gesture. It was three days of walking, exploring and discovering a side of Paris I hadn't seen before. Actually, several sides of Paris. I can't take credit for any of the following discoveries. They were wonderful suggestions from the people who also made this trip so great.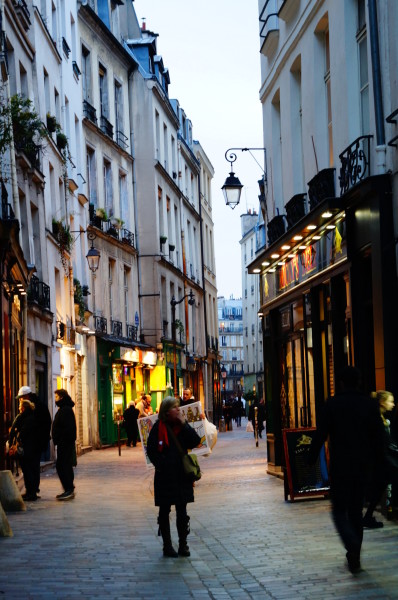 Le Marais
I've always sort of thought of Paris as one big city. I appreciated that its different neighbourhoods offered different experiences, but previously, it had all blurred together to create the image I had: one of landmarks, cafes and overpriced coffee. When people talk about the various arrondissements, I've never really tuned in. I've only ever thought of them as a geographical reference. But since it wasn't 30+ degrees and I didn't have to worry about my poor Taswegian skin melting in the sun, I spent more time walking through Paris than all my other trips combined and felt the atmosphere and characteristics of the different arrondissements a lot more than I had before.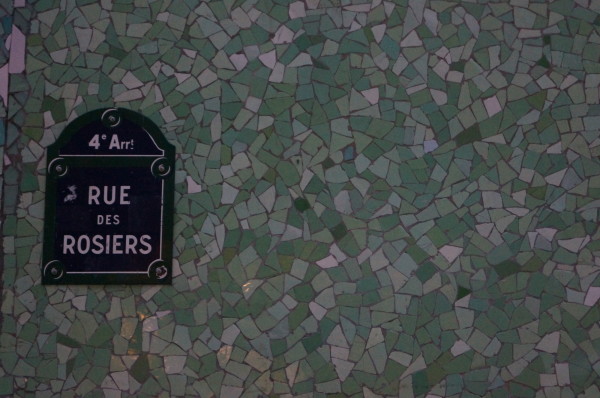 By the end of my trip I had a favourite. Le Marias. Whitney introduced us when I met her at the St Paul metro stop. The scene outside the metro didn't excite me, but once we started walking through the narrow side streets of the Jewish Quarter, my interest pipped. The area had an edge to it. Falafel vendors and vintage clothing stores were not something I'd associated with Paris – and I loved it.
I popped into a couple of the vintage stores (Coiffeur and Free 'P' Star) and was really impressed at the prices. I didn't buy anything because I was travelling very light, but there were some great finds.
Parisian food that isn't French
Before I got to Paris I was so excited about eating French food again. I rarely buy croissants or a pain aux raisin outside France because they are never as good and it's part of the fun of visiting. And while I did enjoy some French treats, including my first taste of croque monsieur and homemade galletes courtesy of my very wonderful CouchSurfing hosts, the culinary highlights of this trip weren't unique to France.
It started on my first night, when Whitney and her boyfriend took me to an Ethiopian restaurant, Godjo, in the 5th (Rue de l'École Polytechnique). I really enjoy Ethiopian food. What's not to love about a dish you eat with your hands? Paris has a large African population, but it would never occur to me seek out something other than traditional French food. I'm really glad we did. The food was great and a lot cheaper than duck l'orange or lobster bisque at some French bistro.
The following night I met my CouchSurfing hosts, Anne and Remy, and had dinner at Marcel, an modern Indian restaurant across from the Canal St Martin (Quai de Jemmapes in the 10th). Living in the Lakes, my choices for eating out range between a Sunday roast at the pub or fish and chips from the local chippie. It's safe to say I was VERY keen for some different flavours.
Nearly every great dining experience I had came from a recommendation from someone. A link in a post on Ashley Abroad led me to a recommendation by David Lebovitz to visit the Kooka Boora Café (Rue des Martyrs in the 9th),  a café run by Aussie ex-pats. My Kiwi (so almost Aussie) waitress recommended the lentil soup and one of the best latte's I've had in a while.
Anne told me about a cafe near their house, La Chambre aux oiseaux (translation, The Bird Room). The café on Rue Bichat in the 10th turned out to be just my sort of place and made a mean vegetarian lasagne. I would have sampled one of their cakes, but shortly after lunch I met Whitney at Helmut Newcake (also on Rue Bichat) and devoured a huge piece of chocolate cake. Disappointingly, the gluten-free café made no other reference to the brilliant photographer Helmut Newton.
While introducing me to Le Marais, Whitney  told me to ignore the guide-book favourite falafel shop (apparently it's very overrated) and instead we got an insanely tasty lunch (still falafel) a few doors down and ate them while walking along the River Seine.
I'm always going on about the benefits of making connections and talking to anyone and everyone and all of these amazing meals were just more examples of that.
Deyrolle
Downstairs, you wouldn't suspect a thing. Unless you wondered why the front window of a gardening store had a display of animal skulls. The fun begins upstairs. Deyrolle isn't exactly an unknown in Paris and I'm sure it's in the guidebooks, but in a city that offers so much, I'm equally as sure most visitors scan over this in favour of less, um, bizarre, sights.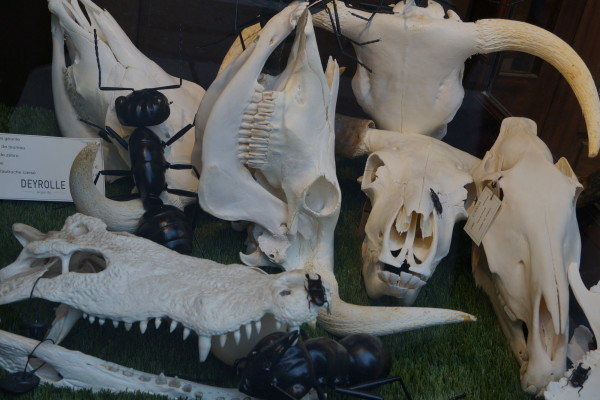 Photographs are prohibited and I'm not sure my description can do it justice, but to put it simply, the second floor of Deyrolle is a taxidermy store. And if you are thinking or stuffed dogs and rabbits and cats etc, you're right. But then throw in the odd cow, lion, zebra, and even a polar bear. The last room houses assorted creepy crawlies and a really beautiful butterfly collection. It's somewhat disturbing and incredibly fascinating.
It you want to see something different, this is definitely the place. If you want to see animals, go to the zoo.
Deyrolle: 46 Rue du Bac in the 7th. Metro: Rue du Bac.

Promenade Plantee
Parisian architecture is gorgeous. Me writing that just now is probably a waste of space because who doesn't know that already? Walking through the city I was rarely looking at what was around me. I kept looking up. At one point I remember thinking "I wish I was a giant so I could see Paris from the second floor up". Street level did nothing for me compared to the virgin building above it.
So when Whitney told me about an old raised railway line that had been converted into a walkway, I knew I would love it.
Promenade Plantee starts near Bastille, and I doubt you'd find it if you weren't looking for it. The entrance is an inconspicuous staircase and suddenly you're above the street and staring down a wide walkway and vine-covered arches. This really would be a sight in spring when all the flowers are in bloom, but some early cherry blossoms gave us some nice colour.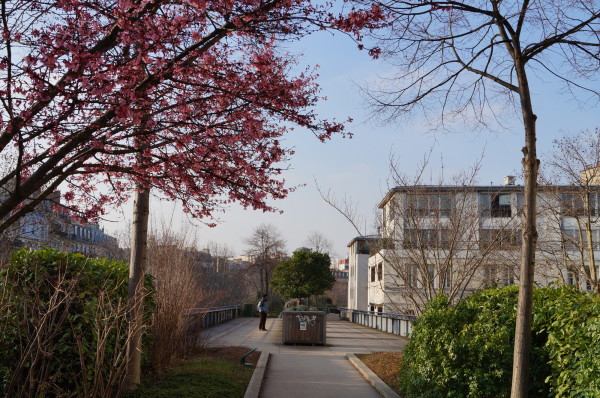 The walkway itself is almost 5km and follows the old Vincennes railway line. It's often hard to see the street without leaning over the edge a bit. Instead you see the beautiful buildings of Paris in one of the best ways I can imagine. You also get a peek into the odd apartment and let's be honest, who doesn't find that amusing.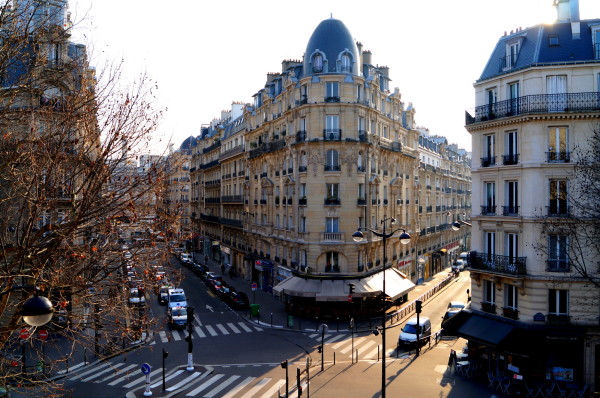 We kept walking all the way to Château de Vincennes, which sits outside what would be considered "Paris". Considering we'd started in the 10th arr near Canal st Martin it was a long walk, but we were rewarded with an almost desserted Château at sunset.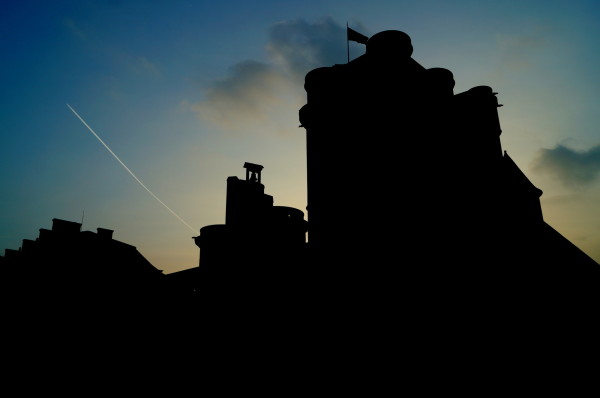 A big thank you to Whitney and my lovely CS hosts for their suggestions and company.