A couple of weeks ago, I met a friend for coffee and he handed me a copy of Graham Greene's A Quiet American. "I thought you might like it to read it," he said. At the time, I knew nothing about the book, other than there was a movie with the same name. Turned out the movie is based on the book. I know…duh! But like I said, I knew nothing about the book.
This week, I got around to reading it. A few pages in I was hooked. A book about a foreign correspondent in Vietnam? Yep, this was my kind of story. Reading the book naturally got my thinking about my trip to Vietnam. It was in 2009 and before I started this blog.
Vietnam was a place I'd longed to go, for a number of reasons. 1. It was cheap. That appealed when I was a struggling student and as a new homeowner in 2009, it appealed even more. 2. My Dad fought in the Vietnam War and that's always made me curious about the country my barely-out-of-his-teens father was called up to fight for.
In a few weeks Australia and New Zealand will celebrate ANZAC Day (Australia and New Zealand Army Corps). The date, April 25, marks the landing of Aussie and Kiwi troops on the beach at Gallipoli in Turkey in World War I and the subsequent battle that claimed a lot of lives. The day itself is now a wider acknowledgement of all troops who have fought and served for Australia and New Zealand.
ANZAC Day is important to me so with that approaching and inspired by my recent reading, I thought I'd look back on my two weeks in Vietnam.
My favourite photos from Vietnam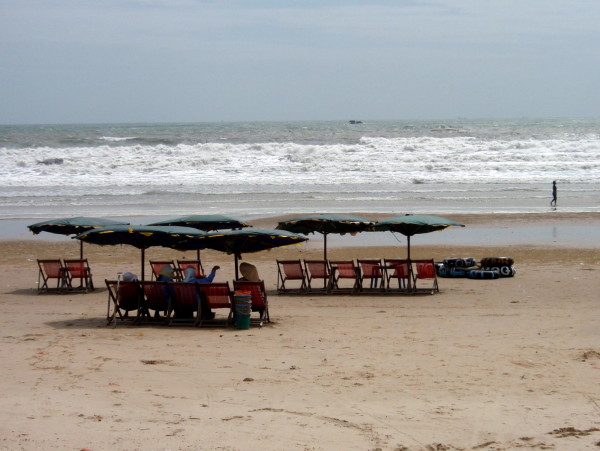 The beach at Vung Tau
Vung Tau is a two-hour hydrofoil from Saigon along the Saigon River and into the South China Sea. Two things brought me here. At the time a friend from Tassie was living there and working at one of the huge shipyards the peninsula city is known for. Vung Tau was also a base for Australia troops during the war, and the place my Dad was stationed was not far away. The city has plenty of beaches, but most were pretty deserted in November except for a few local women.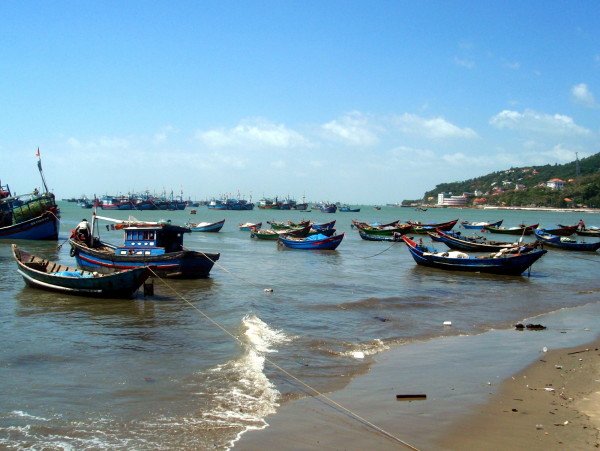 The boats at Front Beach
From the shore of Vung Tau's main beach, the army of boats looked like a scene from Pirates of the Caribbean. It's a port city so there were boats everywhere. At the time there didn't seem to be much movement. A couple of workmen here and there, but largely the boats just sat there, rising and falling with the waves.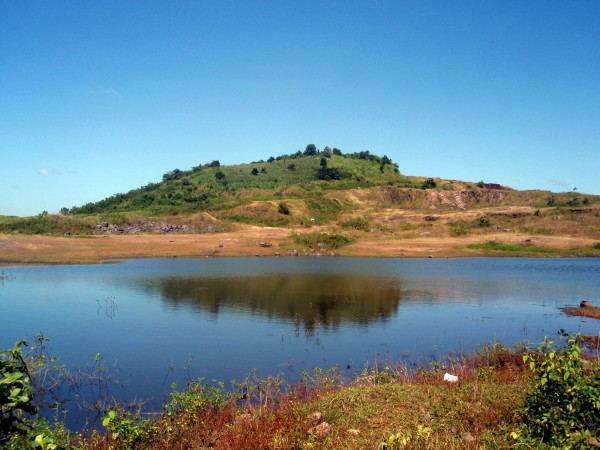 Nui Dat
From Vung Tau, riding Chinooks, to the dust at Nui Dat I'd been in and out of choppers now for months. But we made our tents a home, VB and pinups on the lockers And an Asian orange sunset through the scrub.

And can you tell me, doctor, why I still can't get to sleep? And night-time's just a jungle dark and a barking M16? And what's this rash that comes and goes, can you tell me what it means? God help me, I was only nineteen.
That's a verse from I was only 19. If you don't know the song then I'm guessing you're not an Aussie.
The picture above is taken at Nui Dat. It's where my Dad was stationed for most of the time he was in Vietnam. There's nothing there now. The only way I could identify it was I'd seen photos of his and maps that showed this hill. A guy at a bar in Vung Tau was able to organise a driver for us so I could come out here. I hadn't expected to see anything of significance, but it was a place I wanted to go. It was so peaceful, but then of course it is…now. It's in the middle of nowhere!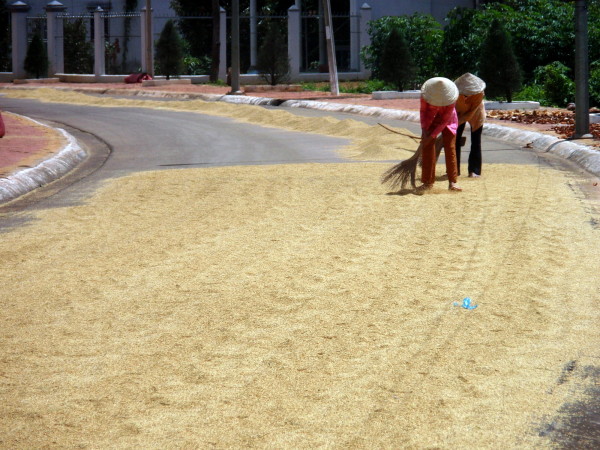 Drying rice on the road
The next time you have some rice, think of this photo. This is how they dry it. The grains are poured onto the road to dry in the sun. And yep. That's car tyre tracks running all over it. Mmmmm, tasty!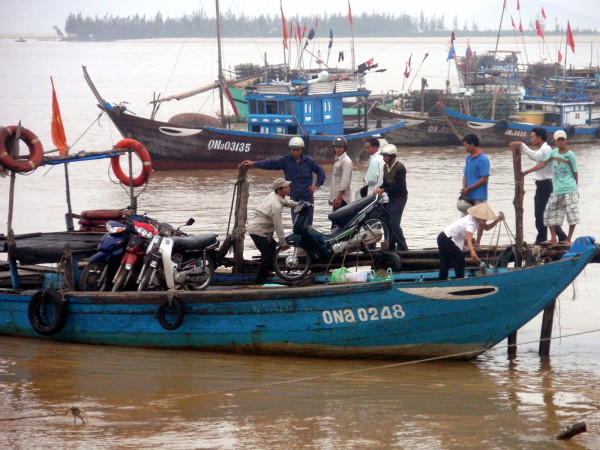 The morning commute
We booked a few days in Hoi An, which gave us lots of time to explore the surrounding area. One morning we rose before dawn for a fishing expedition. That took us to this island. I don't know the name of it, but we arrived as everybody was starting their day. This boat, or perhaps ferry might be more accurate, was being loaded up for the trip to the mainland.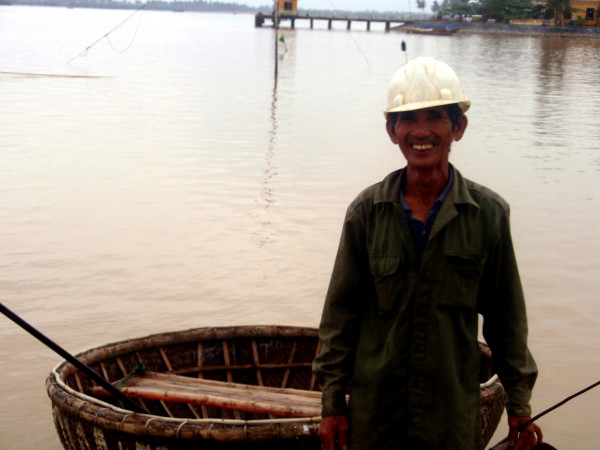 A smiling fisherman
On that same fishing expedition we got to try fishing ourselves. While attempting to cast a smallish net from the shore I promptly landed on my butt in the sand. We had more success at reeling in a much larger net using a huge wheel. The fisherman were just lovely. So friendly. Not many spoke English, but a smile really does go a long way. I found the faces of the Vietnamese to have so much expression and character.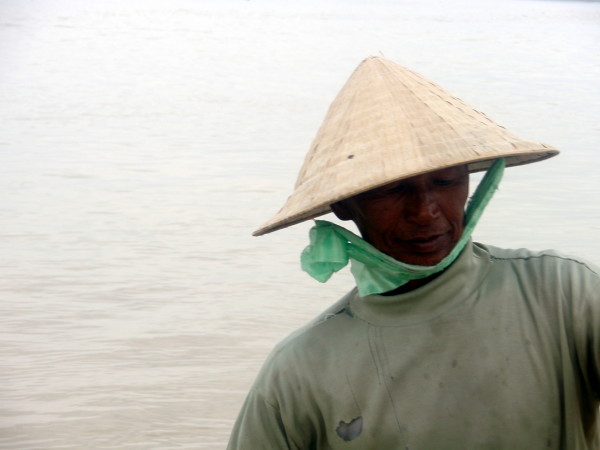 The content fisherman
This is perhaps my absolute favourite photo from Vietnam. I adore the expression on his face. This was also taken on our early morning fishing trip. You can't see it, but he's gathering up a net to cast back into the water. There's a hint of a smile, but most of all he looks happy and content.
Ha Long Bay
It's no wonder this UNESCO World Heritage site is one of the most popular destinations in Vietnam. Who wouldn't want to come here? We spent one night aboard a junk (that's the big wooden boats you see floating about the place). We benefitted from it being low season. It wasn't as crowded as I imagine it can be.  I'm not a big swimmer, but a sunset splash in these waters is something I'll never forget.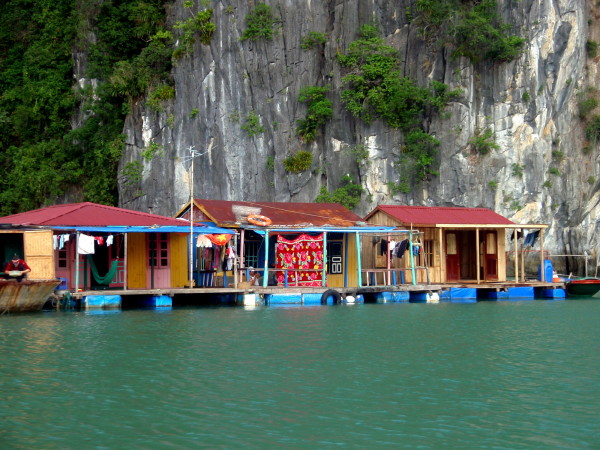 A colourful island home
These houses are not attached to land. They aren't attached to anything. They just sit, weighed down by anchors in Ha Long Bay. The image itself isn't what makes this photo one of my favourites. Our guide told us some people are born and die on these island houses. They survive by selling goods to the passing junks. In some cases, they never set foot on land. Can you imagine living like that?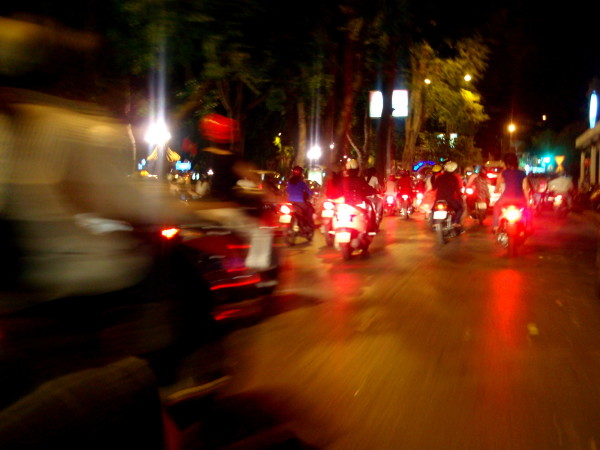 Crazy Hanoi
This is what Hanoi is like. It's busy. It's crazy. My time there is a blur. Just like this photo. This was taken from a cyclo, which you'll have plenty of opportunity to try should you ever visit Vietnam. You can't walk more than a few steps without someone offering you a ride. A piece of advice: agree on the price of your journey before you get in.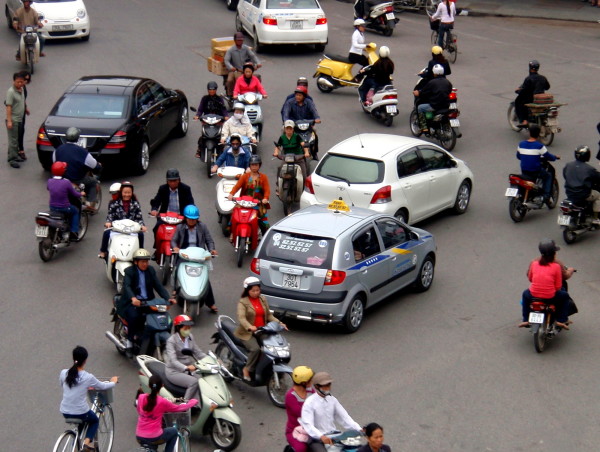 Where everyone has right of way
This is a cropped photo taken from the City View Café at Dai Phun Nouc Square. Any visitor to Hanoi can tell you about this intersection. It's insane. When I visited China I was told the most dangerous thing I could do was cross the road. I think that advice applies here also. There are no traffic lights. No lines. No nothing. Everyone just goes where they need to go. Somehow, it works. I saw motorbikes carrying huge objects (the record for people was a family of five on one bike). No one indicates and did you notice the people in the top left corner? They just walked across calmly. The traffic just went around them. Do not try this at home.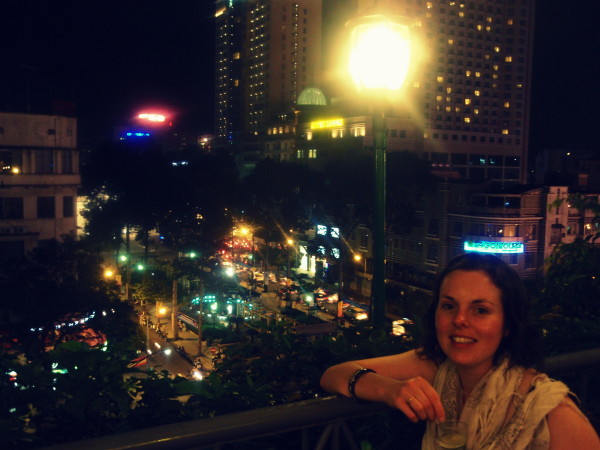 Rooftop drinks at the Rex
I'm a journalist fascinated with the Vietnam War, so of course I stayed at the Rex Hotel in Saigon. The hotel was the scene for the daily press briefings, nicknamed The Five O'Clock Follies. Back in the day, this bar was where brilliant correspondents such as Peter Arnett, Walter Cronkite and Neil Davis hung out, probably discussing the censorship their reports faced and the war their side would never win. Now, it's just another bar with a lovely view over the Saigon skyline.