Queensland's Outback gives people a lot of reasons not to visit.
There's the snakes, the crocs, the heat, the floods, the isolation, the lack of infrastructure, the driving distances and none of the comforts many travelers expect or desire. Wifi? Nope. Public transport? Unlikely. Phone coverage? Sporadic.
But I don't think that's what keeps most tourists away.
Most of them just simply don't see the appeal or don't even know it's here! Millions of tourists descend on places like the Gold Coast, Surfers Paradise, the Sunshine Coast and the Great Barrier Reef. But very, very few even consider heading into Queensland's Outback. Even a lot of Queenslanders wouldn't know what lies 100km west of their beachside cafes, nightclubs and shopping centres.
What is there to see on 700km drives through some of the driest land in the country?
What is there to do in a town of 1000 people, or 200 people, or no people at all?
They are the wrong questions to ask.
Visiting the Outback is about the experience.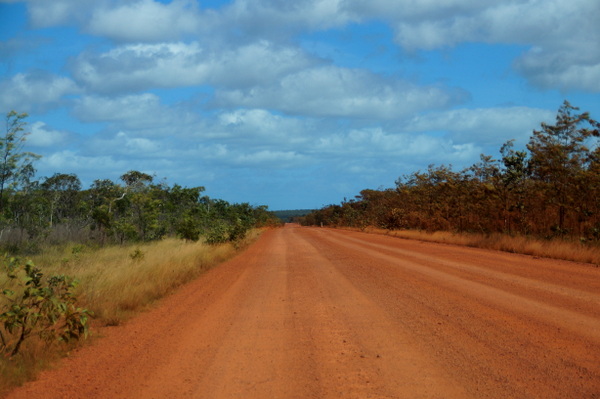 It's about seeing the sunset stretch across a ridiculously flat horizon; dropping into a pub – the only building for a 150km – and chatting with the barman about camel mustering; learning about Aboriginal culture and communities first-hand instead of reading news reports; camping in the bush with nothing to look at except stars, the moon and maybe a dingo trotting through the dirt and waking up to birdsong the next day.
I'm writing this on my way back to Brisbane after six weeks driving through some of the most remote parts of Queensland (except for that detour to Cairns). I'm on a train from Longreach called The Spirit of the Outback. It's a fitting name for the trip that's ending such a journey.
As I wrote a few months ago, this was a part of Australia I thought I wouldn't I'd see for a long time. I gate-crashed my parents' Grey Nomad adventure and frankly I thought I'd be their age before I'd visit these places.
Both of them know the Outback well, but this was my introduction.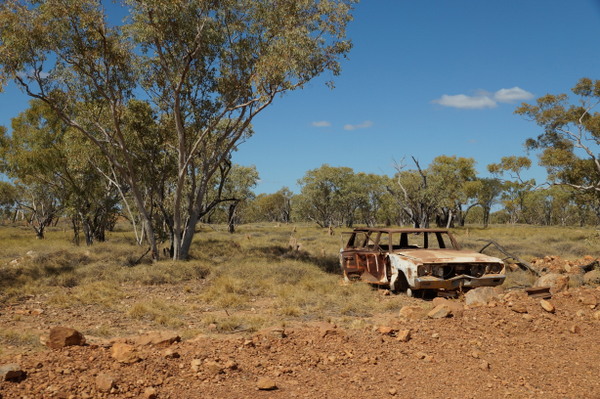 I didn't know what to expect. Queensland is incredibly diverse, but to look at the Queensland Tourism social media streams I'd think the state was nothing but beaches, turtles and the odd koala.
So I headed up to Cape York blind.
I ventured west into the Outback even more clueless.
And I loved it.
There is so so much to enjoy.
The history is phenomenal. Queensland was built on the back of mining towns like Chillagoe, Croydon and Mt Isa. The cattle stations – some of the largest in the world – continue to contribute huge amounts to the state's economy.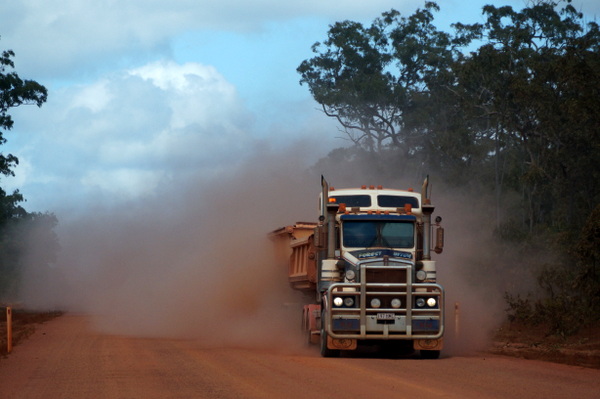 The landscape is spectacular. I've travelled more than 6000km through Far North, Tropical North, North-West and Central-West Queensland. That's meant a lot of time staring out a window. But I never got bored. This place is so unpredictable, I never knew what I'd see from one minute to the next. The only crocodile I saw was sunning itself on the other side of the Bloomfield River as we wound along the road. One minute I was looking at trees on the road to Boodjamulla National Park, the next there's a mob of emus running alongside us and man are they hilarious when they run. Coming into Mount Isa the ant hills started to wear T-shirts. As we drove to Birdsville we spotted an elegant concrete outdoor setting in the middle of a paddock. And the landscape was always changing. Without rhyme or reason. But it was always interesting, beautiful or both.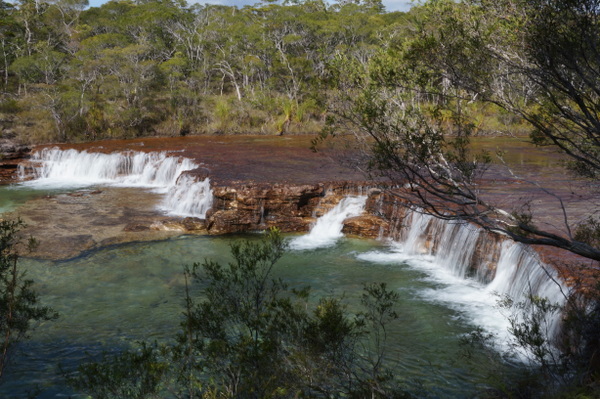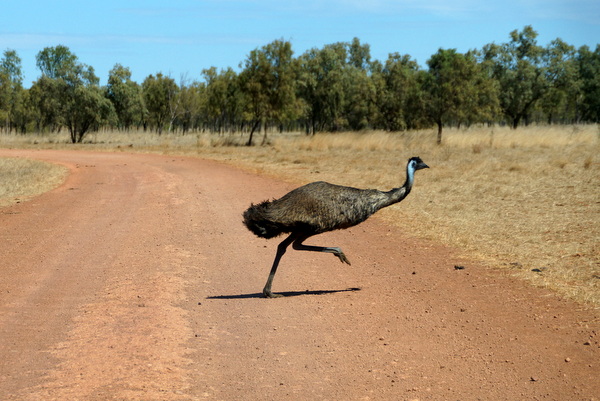 There's also something about the people. They're a different breed to city folk and it's a good thing. From road signs to banter in the pub, the sense of humour is plain old good fun. Some of the publicans and roadhouse workers must get asked the same questions day in and day out, yet they were always happy to chat. You just don't get that kind of thing on the Gold Coast.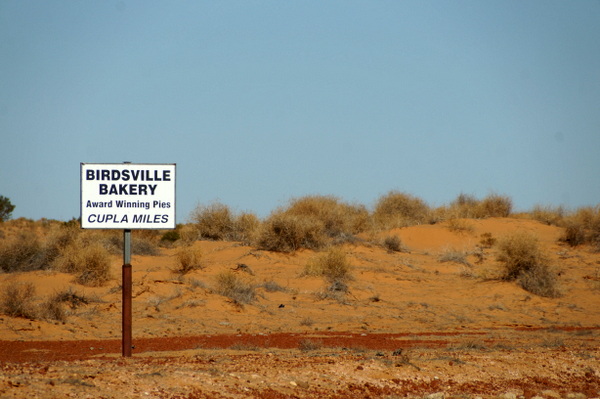 And then there's the wave. In the Outback you wave to Every. Vehicle. You. Pass. It's not a wild flapping of the hand, sometimes all that's needed is lifting a couple of fingers off the steering wheel. But everyone does it. It's not a trait that's unique here – it was second nature where I grew up in Tasmania. But it's one thing to do it when you're a local and quite another to enjoy as a tourist.
If you're on a really remote road you might also pull up, wind down your window and have a chat. Because it'd be rude not to.
I shared my showers with insects, found a frog in the toilet, was bitten by midges, have not slept in an actual bed since early July and went weeks without coffee because soy milk isn't a priority when supplies come once a fortnight. I ended most days covered in red or brown dirt that I scrubbed off with a brush and used a pay phone for the first time in, well, I can't even remember. I loved every second of it. Except for those damn midges.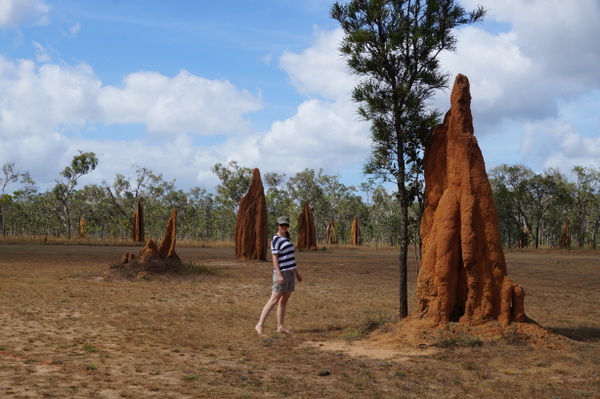 Personally, I learnt more about Australian and Aboriginal history in the last six weeks than I did through school. I came to appreciate my country so much more, especially Queensland, a state that once didn't interest me in the slightest. I've only ever come here to visit friends or family in Brisbane or on the Gold Coast, which is one of my least favourite destinations in the world! But Outback Queensland is something special.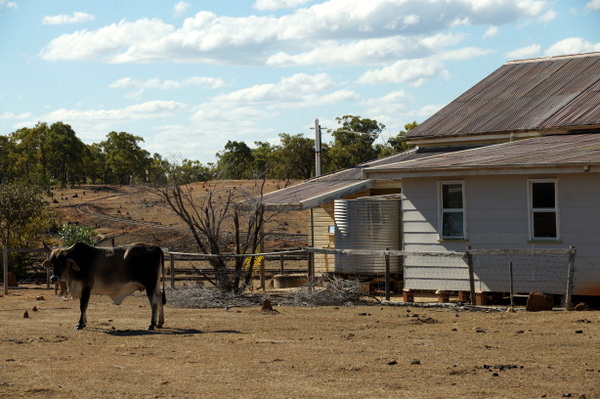 Creatively, I haven't felt this inspired to write about a trip in a while, partly because I know the lack of information out there for people who aren't 4WD enthusiasts or Grey Nomads. I haven't come across many travel blogs about Queensland that take their readers beyond the beach and the reef – that's even with a steady stream of bloggers visiting Queensland at the invitation of tourism boards. Don't get me started on the official Queensland Tourism blog, which was useless in providing information or inspiration about most of the places I visited.
I also want to tell the stories I've come across. In my time here I have barely scratched the surface, but I have so much to share that I've been formulating articles in my head while we've been driving.
I've been writing a little along the way and in case you've missed it here's what you can read about so far:
Taking a caravan over the Bloomfield Track
Visiting the northern most point of mainland Australia
Viewing the Quinkan Galleries Aboriginal Rock Art Sites
Snorkeling at the Great Barrier Reef
Getting to know the quirky town of Chillagoe
Kayaking on the Lawn Hill Gorge
Walking in Boodjamulla National Park
I have so much more to write about, including my visit to the Torres Strait Islands, the Mount Isa Rodeo, viewing a Dinosaur stampede (yes really!!) and the wonderful town of Birdsville, so stay tuned for all of that over the coming weeks and, most likely, months.
I expect that many of these places and experiences will be new to you, and that's great. I hope they inspire you to see more of this wonderful state someday.