The Great Barrier Reef is one of the natural wonders of the world and a dream destination for travelers the world over. The brochures make it look like such a wonderful experience: happy people head down in smooth, sparkling blue water exploring colourful corals and surrounded by clownfish and turtles.
While some people possibly get that very experience, there are many visitors left disappointed when a trip doesn't meet their expectations. I know someone who even described it as one of the worst days of their life.
While I enjoyed my visit, it wasn't all smooth sailing, so to speak. There were a few things I didn't know until I began researching the trip or until I was actually on it. Some of them were good surprises, others not so. None of them would have deterred me from going, but they certainly didn't live up to those brochures.
To help you have realistic expectations of what to expect when visiting the Great Barrier Reef, here's some things you should know.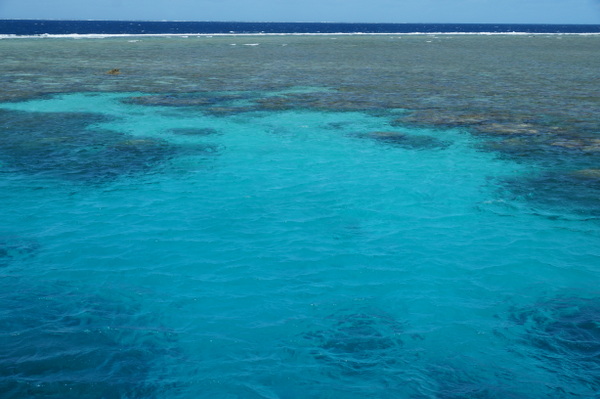 It's a long way from shore
The best snorkel and dive spots are found on the outer reef, which takes about an hour and a half to reach from Cairns or Port Douglas. So within your full-day trip, at least three hours is spent just getting to and from the reef.  With smooth seas it's probably not a bad trip, but this is the ocean and it's unpredictable.
If you don't want to endure a long boat trip, you could take a trip to one of the islands, which are closer, cheaper and can be visited in half a day. I heard Cape Tribulation was the best place to visit the reef as there is low visitor numbers compared to Port Douglas and Cairns and the reef is better preserved. The trips from Cape Tribulation are half-day because the reef is closer and they take a smaller and faster boat.
The ocean can get rough
It seems an obvious statement right? It's the ocean. Of course it can get rough; except that fact gets glossed over when people think of visiting the Great Barrier Reef. On the day I took a tour from Port Douglas the information at the ticket office said we'd have calm seas, but as we boarded we were told it was going to be quite rough and the crew recommended taking sea sickness medication. I'm extremely glad I did. I still sat on the back deck even though I constantly got splashed by the spray coming over the side because I needed the fresh air. Walking through the cabin to get our snorkel gear and a safety briefing was nauseating, even with the medication. Several people got sea sick on our trip. One woman barely left her seat the entire day she was so ill.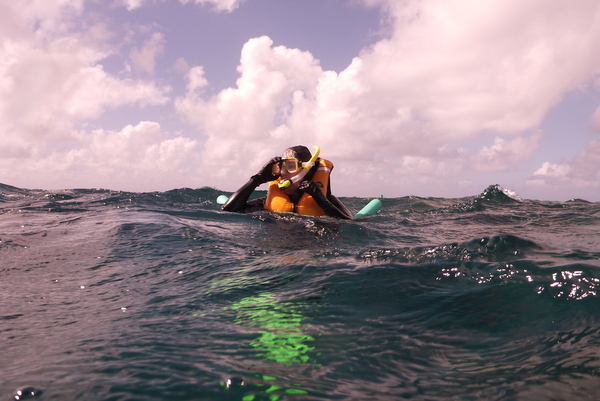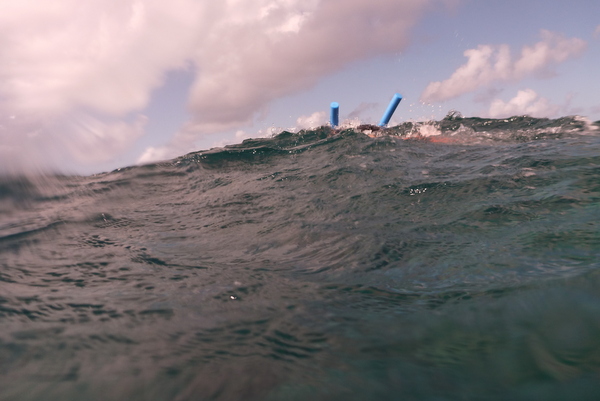 When we came to our first snorkel site the sea was still very rough, so much so that I began to think I wouldn't be able to go out in it. While I'd been prepared for a rough trip to the dive site, it hadn't occurred to me that it would also be rough when I was in the water. (I had a crazy assumption that the dive site would somehow be calmer.) I ended up wearing a life jacket and holding a swimming noodle across my chest. It wasn't very pleasant though. The waves made it difficult to keep my face in the water to see the reef and fish. Thankfully our next two sites were calmer. I would have been so disappointed if the waves had been like that for the whole day.
Seasickness medication actually works!
This was a revelation for me. I can get quite ill on all sorts of boats. Sometimes the fear of getting sick has kept me from getting on in the first place, but I don't like taking medication unless I really have to. I was an adult before I would swallow tablets or pills, so for most of my life I haven't bothered with things like headache tablets or seasickness medication. I've never taken seasickness medication partly because I don't like to, but also because I didn't believe it could actually work.
I decided to take it on my trip to the reef because I knew I would get sick so I figured I had nothing to lose. About half an hour into the trip I was amazed at how good I felt. I still got queasy if I went into the cabin, but when I was in the fresh air I was completely fine. It was a rough boat ride and without the tablets I know I would have been disgustingly ill. I'll be carrying Travelcarm in my backpack from now on.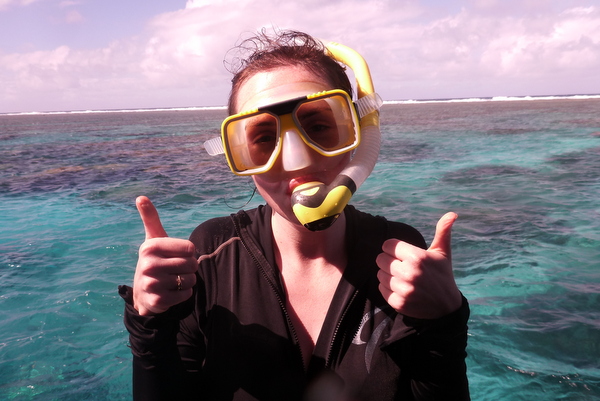 It's not always sunny
Another obvious statement maybe, but I'll include it anyway because have you ever seen a picture of the Great Barrier Reef when it's raining? No. Me neither. We pushed back our trip by a day because rain was forecast. The next day it didn't look much better, but we decided to risk it. It was a bit overcast and we travelled through some rain briefly but we got lucky. By the time we got to our second snorkel site the sun was shining and it made a huge difference! You may think it doesn't really matter because you're going to be getting wet anyway, except without the sun the coral looks pretty dull.
If you are spending a few days in the area I'd suggest booking your trip for the first day and that will give you some flexibility to move it around if the weather isn't great. If you leave it until the end of your trip and the weather is bad, you won't have any options.
It's OK if you're not a strong swimmer
I'm a pretty poor swimmer and the ocean is one of the places I feel most uncomfortable. All those waves and currents do not make for fun times for me. It may sound silly, but I hadn't really thought about this much before we were on the boat. I had a bit of an "oh crap" moment before going into the water at the first site where the seas were quite rough, but once I was in I was fine. I felt really safe. The crew gave us a thorough safety briefing in the morning and additional briefings at each site. As I mentioned before, I also took a swimming noodle and wore a life jacket on my first two snorkels, which helped me float along and concentrate on looking underwater. By the time we reached our third site I didn't bother with either the life jacket or the noodle.
The reef is deteriorating
Without going on some environmentalist rant (I've already done that), there's no denying the Great Barrier Reef is deteriorating. I was surprised by the extensive bleached coral in the areas we visited, which I'm assuming were chosen because they are great snorkel sites. I doubt any company would deliberately take their guests to an area they know would be disappointing, so to see such bleaching in what I presume would be a "good" place to snorkel, I can't imagine what it looks like at a not-so-good place.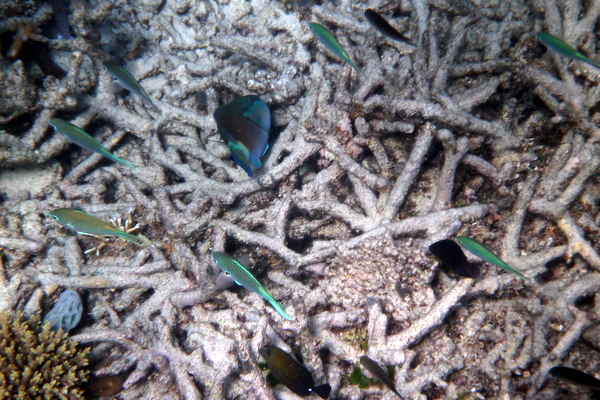 As I mentioned in my other post about the reef, I met someone who hadn't been out to the reef for 15 years and he was really shocked at the condition of it. We still got to see a lot of beautiful, colourful coral, but the bleaching was something I hadn't expected and I found it pretty depressing.
It can be dull underwater
After seeing countless gorgeous photos of the reef, I got a bit of a shock when I stuck my face underwater and the whole thing looked pretty dull. This was for two reasons – it was overcast and deep. Our second snorkel sights were a lot better as the reef as shallow and the sun came out, but even then, in certain places it wasn't as spectacular as I had been expecting.
This of course came through in my photos. I hired an underwater camera for the day, which was by far the best thing I did. However I was disappointed when I looked at my photos at the end of the day and they weren't half as impressive as I'd hoped. Of course all the promotional photos are taken by professionals with much better cameras, but I was still surprised at how poor the visibility underwater can be.
The camera guy on the boat had set the camera to underwater mode and just told me to leave everything as it was. The result was some pretty lackluster images. In some cases the water wasn't very clear anyway so that didn't help, but also unless I was within a metre of what I wanted to photograph, the flash didn't work. The images from the afternoon, when  the sun was out, are a lot better than those I took in the morning.
I rarely the edit the photos I post here as I like to show you what you can realistically expect to see when you visit places – not what can be achieved with Photoshop. But I felt I didn't have a choice when it came to the photos I included in my first post about the reef. After all I don't want to bore you with crap photos. The images weren't heavily edited (I don't even have the software to do it anyway), but I did improve the contrast and brightness on most of them.
To give you an idea of what to expect, here's a look at what a lot of my photos came out like and a before and after of a couple of the images I edited.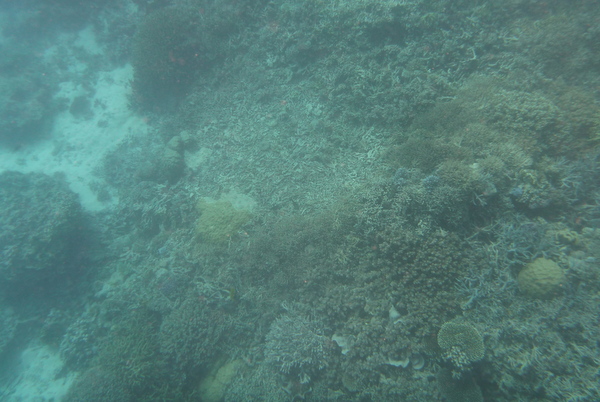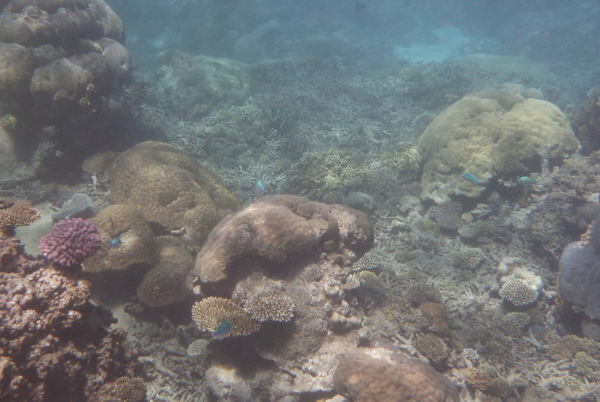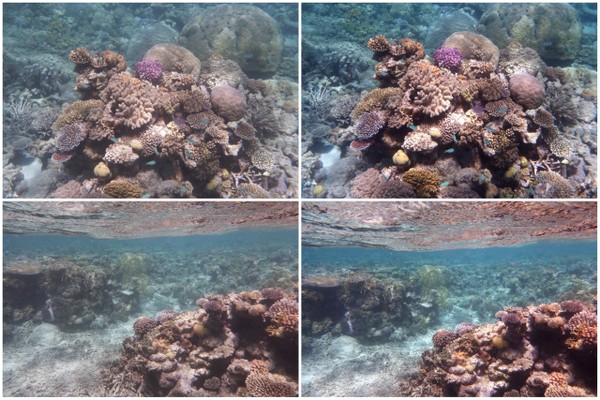 You might not find Nemo
OK I know there are other fish at the Great Barrier Reef, but come on! It's Nemo! There are so many photos of clownfish at the tour booking offices around Port Douglas and Cairns that you'd think the entire reef is filled with them. Apparently not. I looked and looked and couldn't find him. I did see so many beautiful fish and even another type of clownfish, but as far as I'm concerned Nemo is still lost. Sorry kids.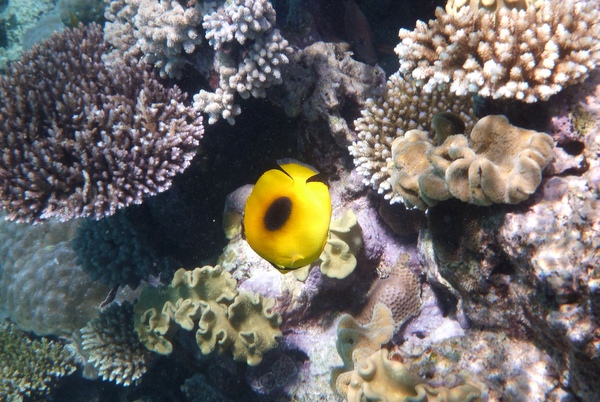 It's beautiful
I've cheated a bit here, because this isn't something no one tells you. It's something everyone knows! But I just want to say it again. Bad weather and rough seas couldn't take away from how beautiful the Great Barrier Reef is. Not just for what you see, but for what you know is out there. About 3000 reefs make up the Great Barrier Reef and I saw three of those. Knowing that you are seeing only a fraction of something so amazing is a pretty incredible feeling.