"I'd love to do that one day."
I say this about so many things in life and travel. Don't we all? Some of those things I could start working towards tomorrow, such as training for a marathon or learning Spanish. Others are about finding the right time, like my dream of walking the Camino de Santiago or to one day live in South America (both of which would be made easier by the whole learning Spanish thing).
Walking the Overland Track falls into the latter category.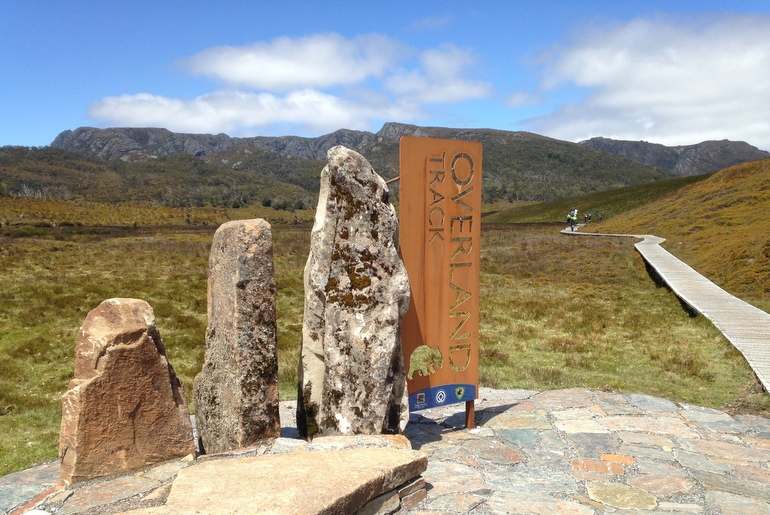 The Overland Track travels through the Tasmanian Wilderness World Heritage Area, from Cradle Mountain to Lake St Clair. The distance (60-80 kilometres) and time taken (usually between six and eight days) varies according to the side trips taken, and whether you choose to catch the ferry across Lake St Clair and save yourself another day's walk. It regularly features in round ups of the top treks in the world and is so popular that between October and May the number of walkers is capped.
I was 10 or 11 when my dad walked the track. I don't remember much about him going other than Mum bought a new car while he was gone and we took it to pick him up at Lake St Clair. But since then I've been waiting for my chance to go. It had always felt like such a difficult thing to organise (finding people to go with, agreeing on a time, getting all the equipment etc) as well as being such a huge challenge. Six days of walking and sleeping in the wilderness seemed such a leap from heading out for a hike every now and then. I followed along as so many people I knew completed the trek, some of them several times, and I wondered when it would be my turn. Now, I'm finally doing it.
It very nearly wasn't going to happen for me. When I visited my auntie and cousins in Tasmania during my trip back in June they told me they planned to walk in January with some of our relatives from New Zealand. I would have loved to join them, but I was heading back to Canada. At the time I flirted with the possibility of flying back to do it (when would I have another opportunity, I wondered), but it just wasn't sensible or practical. But when my plans changed, I realised this was my chance. The universe seemed to agree. The Parks and Wildlife booking system had space for just one more walker to leave on the date in question.
When I booked my spot in September I was hesitant to share the news (and my excitement) here, just in case it didn't actually happen…for whatever reason. Also back then I planned to be a lot more prepared than I feel right now just one week from my walk out date. I have back issues every now and then and had grand plans of spending a lot of time in the gym and at yoga building up strength so I would feel more confident carrying a huge pack for six days. I also wanted to do more hikes, including some overnights, to again, boost my confidence and at least give me a sense that I know what I'm doing.
Very little of that has actually happened. I've walked with my new pack just once and have completed just three hikes – all of those were in the last three weeks. Although I did buy my new boots early and they are pretty well broken in. Random supplies such as my new sleeping bag, packs of dehydrated food, a first aid kit and compass and whistle are literally rolling around in the back of my car. Some time in the next few days I'll have to start getting properly organised. My pack won't pack itself.
I feel very out of my depth in taking on this walk. I did a bunch of walking in the Lake District, but the only overnight hike I've done included a bed at a hostel and a drink at the pub before I walked back home the next day. There are no such luxuries on the Overland. While there are huts along the way, I'll most likely sleep in a tent as hut beds are limited and I think I'd like the privacy of my own space for a night. All rubbish has to be carried out.
I've been looking at the weather forecast every day. At the moment it's revealing that it will rain for the first two days, but the third day is looking better so hopefully that continues. Is it weird that when I saw the forecast for rain my first thought was that I'd have crap photos? A lot of the track itself is now duckboard, to reduce the impact on the landscape, so the physical challenge of walking in the rain seemed less of a concern than the quality of my photos. (Seriously though, if I couldn't take a camera I'm not sure I'd do the walk. I'm taking four batteries because I will not suffer the agony of a flat battery in the wilderness!)
I may be nervous and feel grossly under prepared, but I'm also super excited. For almost 20 years the Overland Track has been something I've dreamed of completing. In two weeks I'll have not only the memory of a pretty amazing experience, but the sense of achievement that comes with turning dreams into reality.
Wish me luck!