I have developed a possibly irrational fear of leeches. It started the night before. After my first warm day on the Overland Track I felt like a wash. The wet wipes weren't cutting it anymore. Ignoring the sweat and mud caking my skin was easy when the weather was terrible and I was freezing. But now a splash in a creek seemed refreshing. Inviting even.
I stripped down next to the creek, hanging my clothes over a branch to keep them away from the damp ground where leeches like to hide. I stood in the steam, cupping the icy water and pouring it over my body. It was less invigorating than it was numbing.
A few minutes later, having rinsed away three days in the wilderness, I gingerly attempted to get dressed. Balancing on top of my boots in an effort to keep my bare feet away from the ground, I checked every item of clothing for those blood-sucking worms  before putting it on. Despite my care I ended up flicking a couple off my legs before they got too attached to the taste of me. I'm sure my bright blue t-shirt was safe when I pulled it over my head, but then I spotted one on my stomach.  My stomach!
• • •
I shiver as the moment haunts me the next day and obsessively check my arms and legs. My red gaiters make them easy to spot as I start to climb. Weary from walking 40 tough kilometres in three days, I was being, for lack of a better word, girly. Leeches aren't dangerous – the most they are likely to do is leave a bloody trail on my skin after their feeding frenzy. But as harmless as they may be, they gross me out.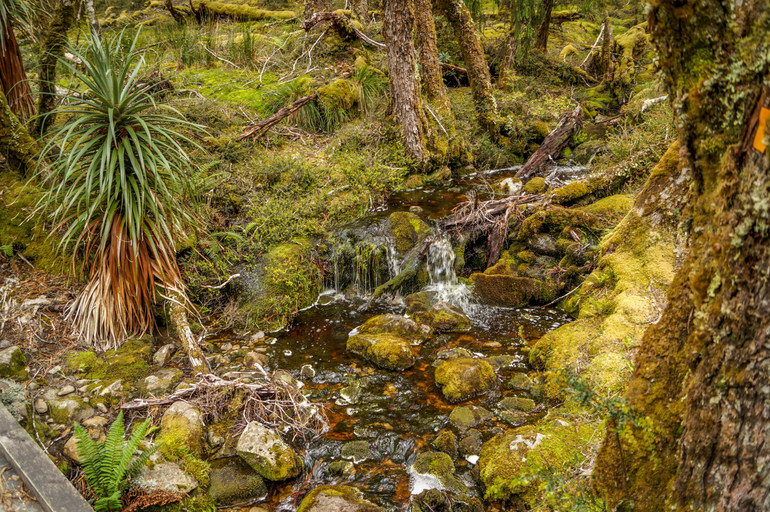 The  constant stopping and checking keeps me distracted as I hike to the highest point of the Overland Track, Pelion Gap.
I climb through rainforest. It's lovely but my pack is weighing down on me. Also, this kind of vegetation is the hunting ground of the leech. They like to dangle on the edge of a fern or a moss-covered log, just waiting for me to brush up against it and give them a chance to latch on. I am relieved, on several levels, when we reach  the exposed junction. From here the track to Kia Ora, the next hut, is downhill and the landscape is less leech-friendly.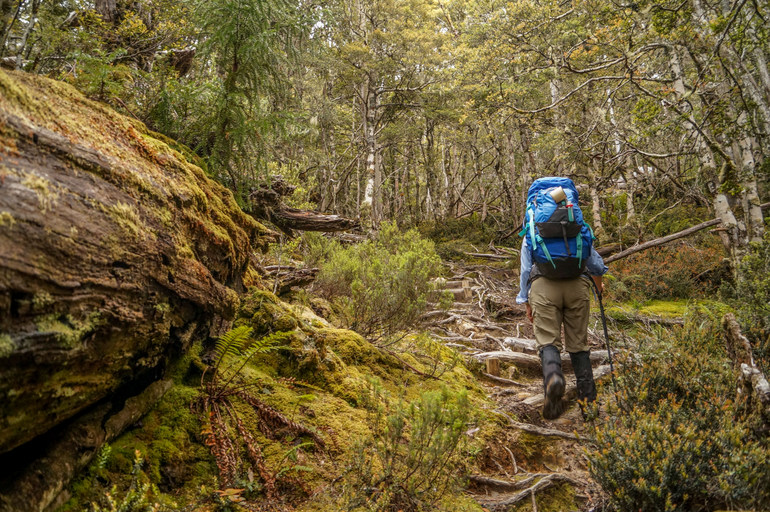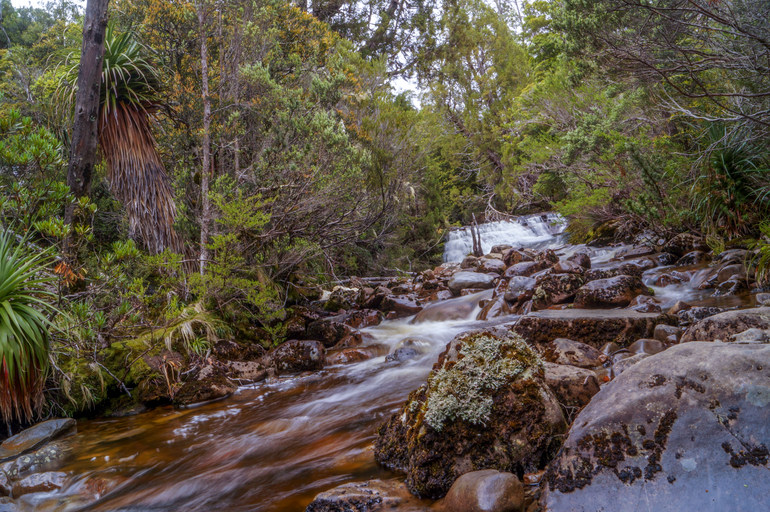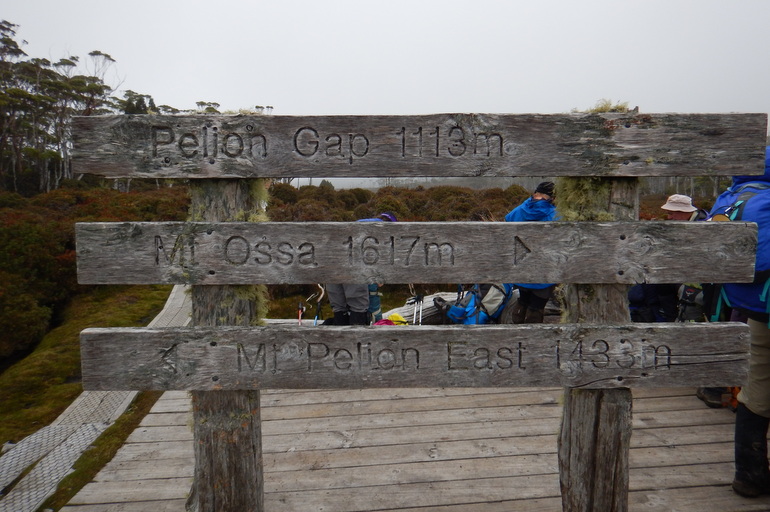 After a stunningly beautiful day yesterday, the weather today is depressing. I say so not just because I'd prefer to be walking in sunshine or have better views for my photos.
Today is Ossa Day. And the weather matters.
• • •
I get a high from standing on top of a mountain. It's the only way I can explain that feeling when the exhaustion of the climb is forgotten and the dread of having to go back down hasn't set in. Those moments when you can revel in being that much close to the sun and enjoy the panoramic reward that comes with it.  Even when the weather is crappy and there's no view to speak of you still feel a sense of achievement. That you did it. That you kept going. One foot in front of the other, questioning why on earth you thought it would be fun and wondering when it would end.
Consequently, there must also be, I suspect, disappointment when you don't make it.
I have never not made it to the top of a mountain I'd set out to climb. Even when the wind tried to blow me off a dangerously icy Old Man of Coniston in England. Or when I was racing the sun in Biogradska National Park in Montenegro. Or when that mountain in the Pyrenees seemed to go on forever. Sometimes it was stubbornness that got me there. A lot of the time it was luck.
• • •
Mount Ossa is Tasmania's highest mountain. At 1617m it doesn't sound that impressive, but reaching the summit is something of an expedition, even in good weather. From New Pelion Hut the summit is about eight-hours return. But for the average walker conquering Ossa involves at least three days of walking. The quick way is walking into the hut along the Arm River Track or through Lees Paddocks, tackle Ossa on day two, and walk back out on the third day. Those walking the Overland Track reach the junction on day four and decide whether to make a detour and attempt the summit, before continuing onto Kia Ora.
What makes Mount Ossa more challenging is the conditions. Tasmania's weather is fickle. You might start your hike under blue skies, but anything can happen in the hours that follow. As my first day or so on the Overland Track proved, the time of year is irrelevant.
By the time we reach Pelion Gap weather, nor luck, is on our side. Mount Doris, almost 600m lower than Ossa, is hidden. It doesn't bode well for getting to the summit, let alone seeing anything if we did. But we've come this far and it's unlikely I'll be standing at this junction again any time soon.
A few of us decide to give it a crack and head off into the cloud.

I started the day in my usual hiking clothes and hat, but now pull on my waterproofs, beanie and gloves. We leave our main packs at the junction, taking care to secure anything that might get the attention of the carrawongs who, given the chance, will use their beaks to unzip our bags and steal our food. I put the essentials – first aid kit, another layer of clothes, food, lots of water – into a day pack, along with my mobile phone. We've heard there's phone reception at the summit.
The first part of the track is steep, but free of my pack I tackle it quickly. When it starts to level off I know from my map I'm walking along the saddle between Doris and Ossa, but neither are in sight. It's slightly eerie – walking through the fog knowing these great peaks are above us somewhere.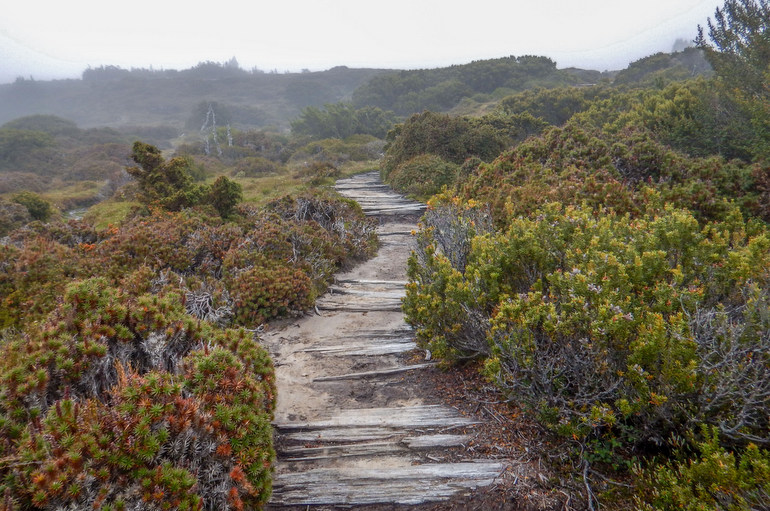 Early on we meet two Australian girls. Despite the weather they are wearing shorts and making their way back down having reached the summit. There wasn't a view, but they are happy to have made it.
I'm jealous.
I was aware from the outset that this walk wasn't going to end the way I would have liked. I knew days ago the weather wouldn't be favourable. For the first time I'm hiking up a mountain knowing I'm unlikely to stand on its summit. I will not enjoy the 360-degree view of central Tasmania that apparently awaits at the top on a clear day. I will not be able to say I've conquered Tasmania's highest peak. I'm not sure I'll even be able to say I came close. And as I climb higher all of that becomes more certain.
Regardless, I'm determined to walk as far as I can.

We cross the saddle and start the climb up Ossa. The track soon gives way to a mass of rocks and boulders and I rely on the snow markers for guidance through the fog. At each marker I pause and look for the next before moving on.
I allow myself to get a little optimistic when we meet three hikers on their way down who tell us we've only got 20 or 30 minutes to go. It quickly becomes clear that might be too far. It's not raining, but I'm climbing through cloud and the longer the cloud lingers the more slippery the rocks become.
I crouch as I scuttle across a huge slab of rock to protect myself from the force of the wind that shoots down a large corridor of rocks, boulders and rubble. Craggy cliffs rise on either side, but I can't see where they end. We have reached what they call the Gates of Mordor. The name is taken from Lord of the Rings, but, not having seen that and unable to see much now, the reference is lost on me.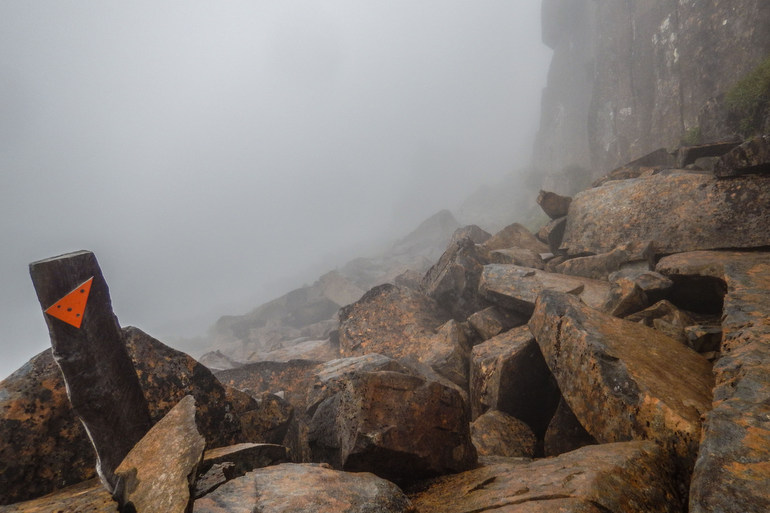 I'm using my hands now, gripping onto anything for support while crawling over the rocks. The wind roars down the corridor and the fog has swallowed me. I suspect my fellow walkers have given up, but my cousin calls out every now and then so I know he's not far behind. I want to wait so I'm not alone, but not here. I'm too exposed. So I keep going up, all the while trying not to think of how badly this could end.
The markers eventually guide me out of the corridor of rocks and onto a ledge where I feel slightly safer. I catch my breath. My cousin joins me, and then another group of walkers, an Israeli family spurred on by seeing us ahead, catches up.  My knees feel weak as I shuffle round and eventually find a place to stand out of the wind. In front of us is a large ledge we have to climb over. I have no idea how far we are from the summit. We've heard there's another exposed section ahead and I'm not sure I'm willing to risk it. Right now my concern isn't getting to the top. It's getting back down.
Right now the conditions are very close to dangerous. I'm walking a fine line between being out of comfort zone and out of my depth.
We decide this is far enough and the Israeli walkers take their cue from us. If there's one small highlight it's that we are high enough to have phone reception.
We venture back into the corridor. This time I'm all bum and hands. Gravity and wind do their best to speed me up, but I'm careful. One false step…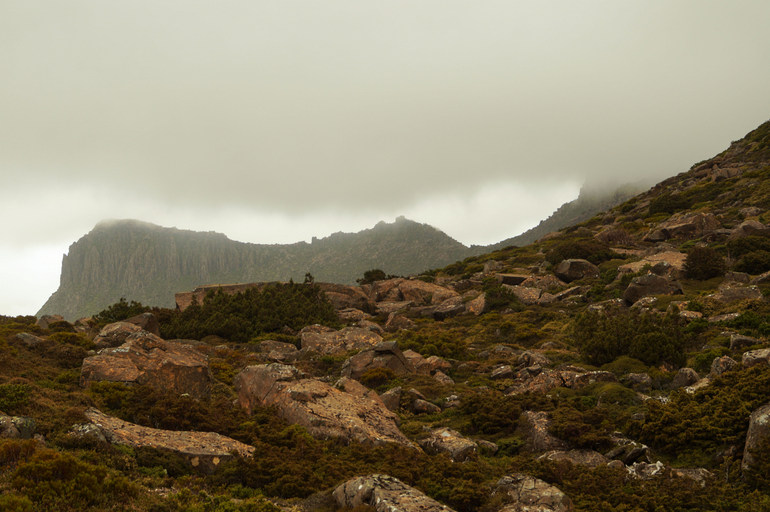 As we descend into the saddle the cloud starts to lift, though not enough to make me regret turning back. As we retrace our steps it's as if we're treading new ground because our view was non-existent on the way up.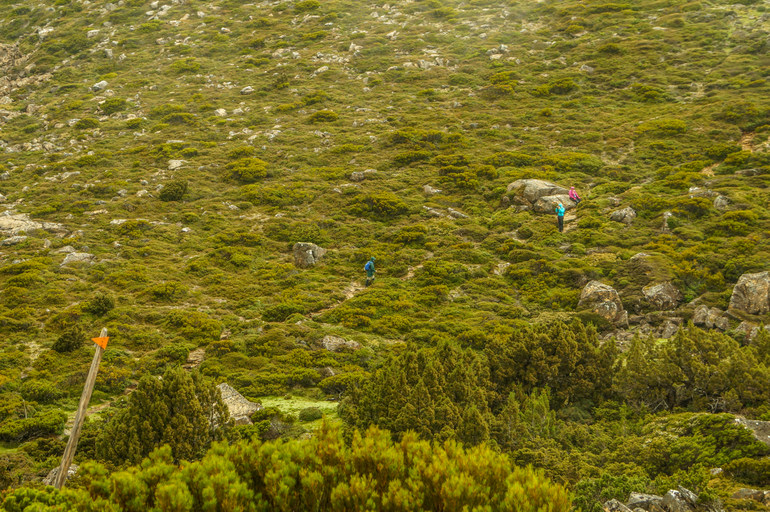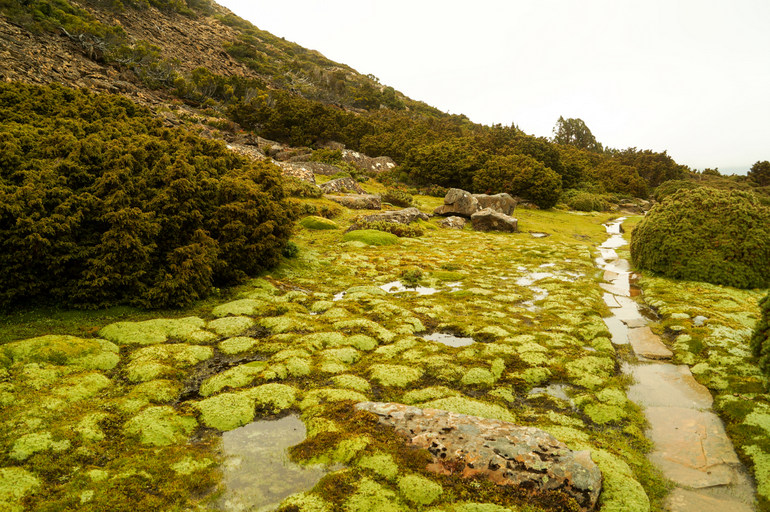 I try to focus on the positives – the landscapes, the challenges, the deeper look at the Tasmanian Wilderness – but ultimately I'm disappointed at not making it to the summit. It doesn't matter I knew that was the likely outcome all along. When we meet a guide of one of the private tours he tells us we made a wise choice and I feel a bit better. The risk just wasn't worth it, I remind myself. Maybe one day I'll look back and realise it was the journey, not the destination. But not now. Not yet. At this moment, it was about the destination dammit. And I didn't get there.
Back at Pelion Gap we discover the carrawongs are sneakier than expected. They have got into a couple of packs and devoured some food and a packet of anti-inflammatory tablets. My food supply, buried deep in my back, is safe. It's two hours from here to Kia Ora, and although the track is muddy in parts, it's blissfully downhill all the way.
The clouds clear in several directions, but they never leave Ossa.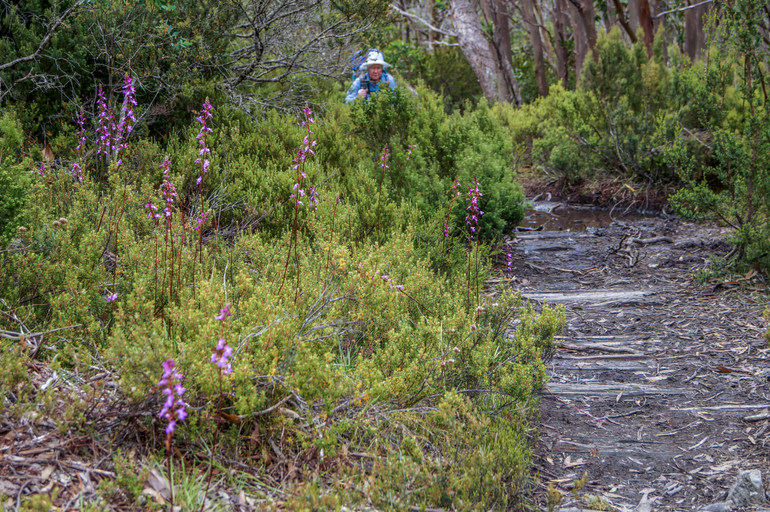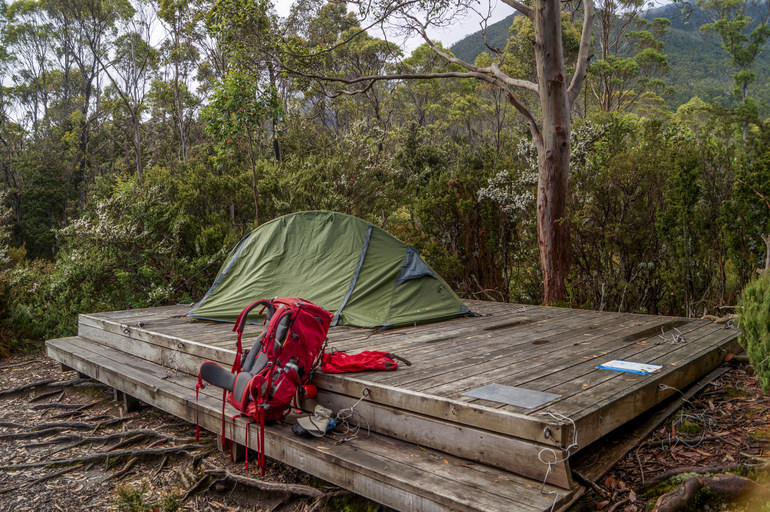 • • •
Check out my other stories about the Overland Track: 
Magic Moments along the Overland Track
Part 1: A rough start on the Overland Track