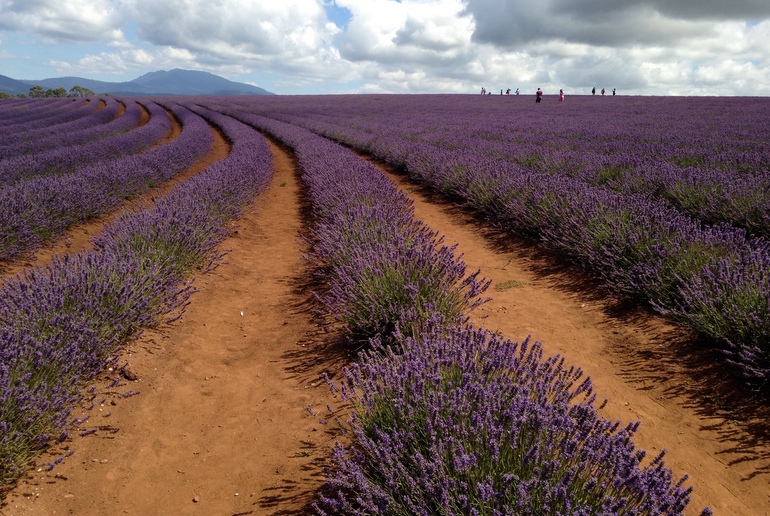 I can smell the lavender before I see it. The scent filters into the car while we wait to enter the estate. It's not overpowering, but it's noticeable. We park close to the edge of one of the purple paddocks that stretch beyond the visitor centre. Rows and rows of lavender seem to disappear over the hills, creating a curved path to the foot of Mount Arthur in the distance. Next I hear bees dancing among the flowers, crickets hidden among the bushes and red dirt shifting under my shoes. The flowers feel ever so oily in my hands, but again the scent is gentle. I complete the feast for the senses by indulging in lavender scones at the cafe, while looking out on the fields of purple.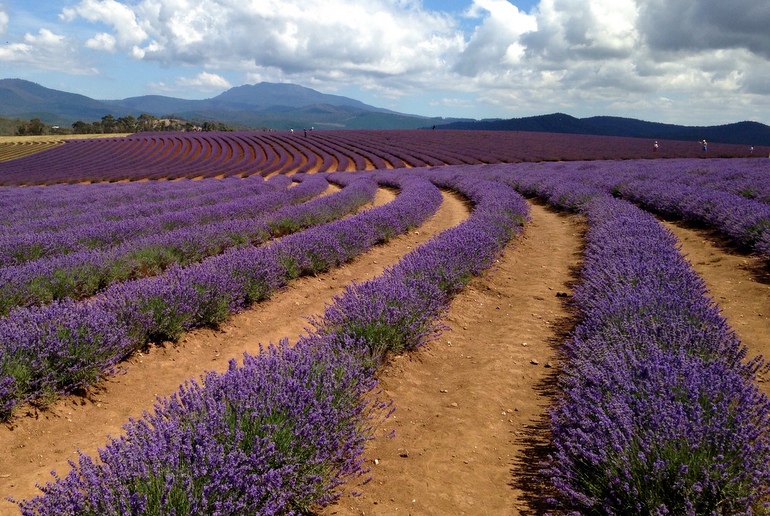 Bridestowe Lavender Estate is the largest privately-owned lavender farm in the world. It covers 260 acres, although only about 120 of that is covered with lavender. The paddocks contain about 650,000 plants, in various stages of maturity. They bloom in December before harvest begins in January. I have come just in time. In a few weeks these paddocks will look much less impressive. But for now, it's a beautiful sight. It's no wonder Bridestowe is one of the biggest attractions in the north of Tasmania.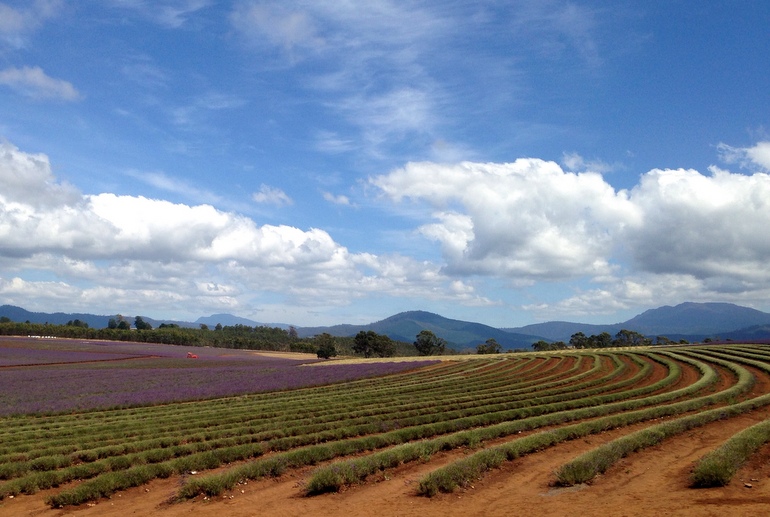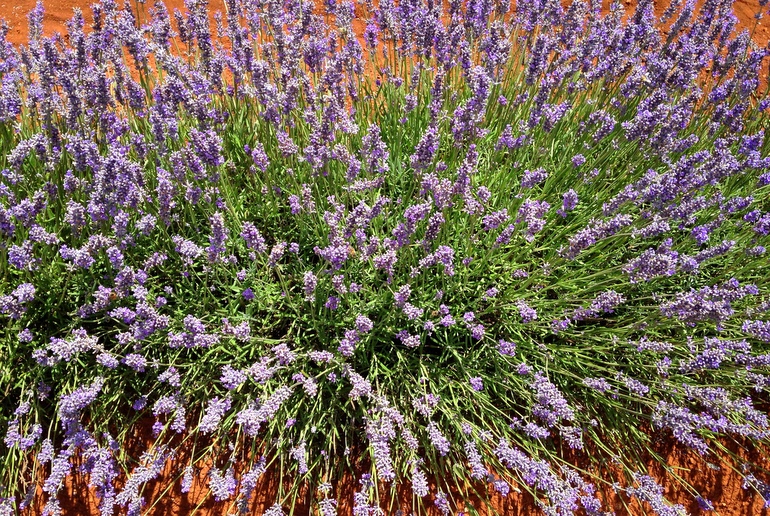 The estate says it receives between 300 and 500 visitors every day during the flowering season. I grew up about 2.5 hours drive from here and never visited before this trip. One of my travel goals for 2015 is to explore more within my own state, and this seemed like a good way to start the challenge.
Bridestowe is a photographer's paradise, even if I didn't have my "good" camera. But although it's tempting to go crazy and take a ridiculous number of purple photos, this is a nice place to just…be.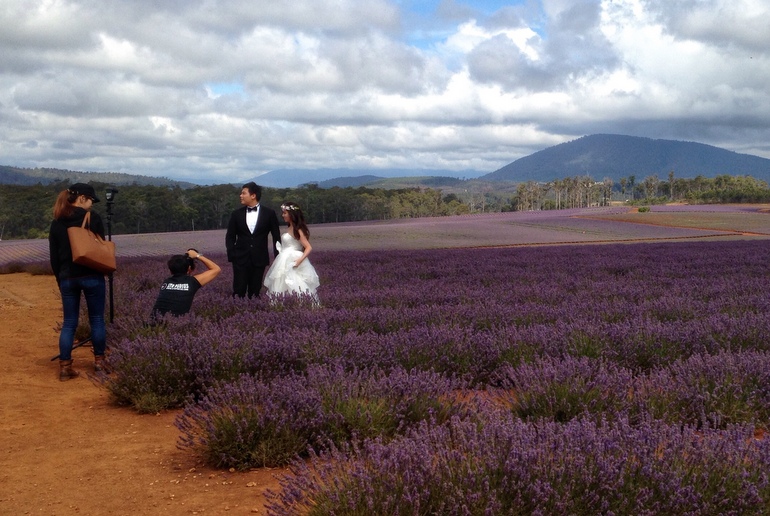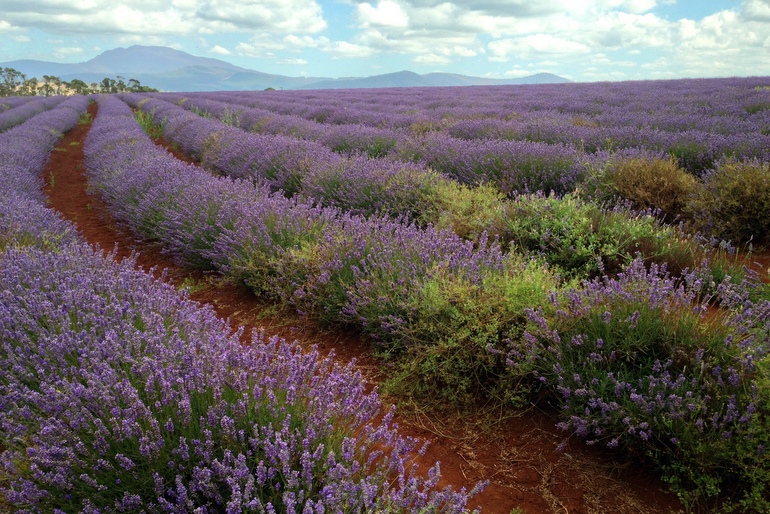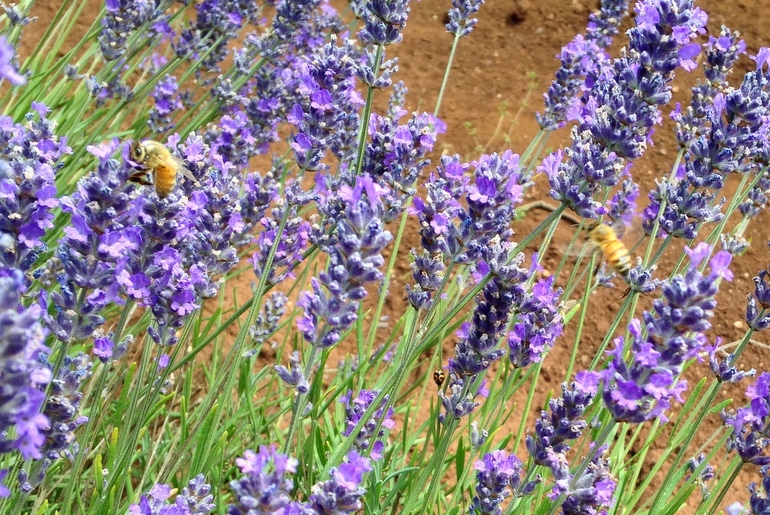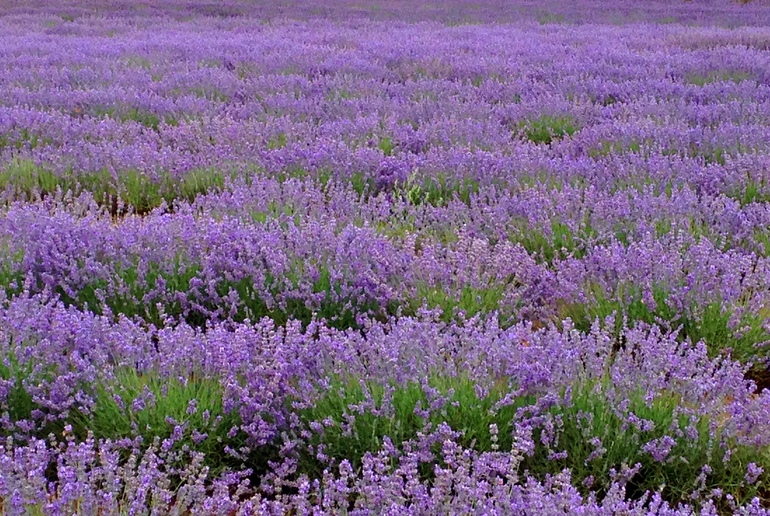 A comment on one of my Instagram photos of Bridestowe compared it to France, which isn't a coincidence. The variety of lavender grown here was cultivated from seeds gathered from the French Alps. Lilydale, about 30 kilometres from Launceston, was chosen by the founders of Bridestowe, the Denny family, for the area's similarity to the region of Provence, in southeast France. The farm was eventually relocated to its current setting at Nabowla, where the giant oak trees, planted in 1881, serve as a legacy of the former Woodcroft property.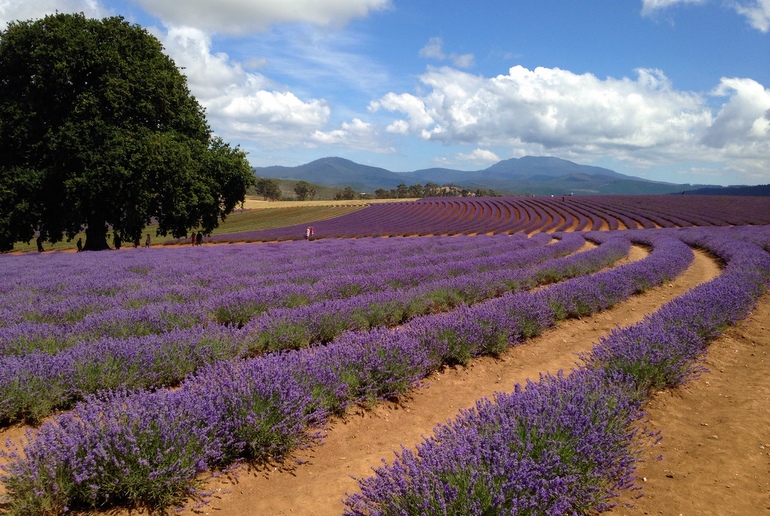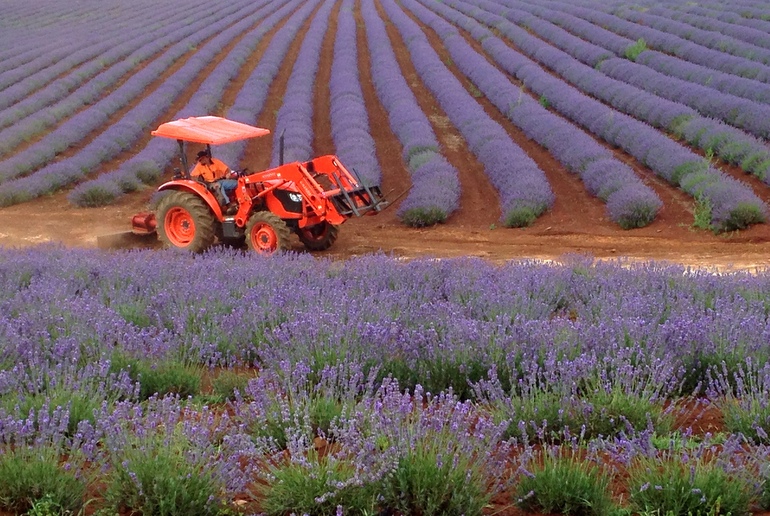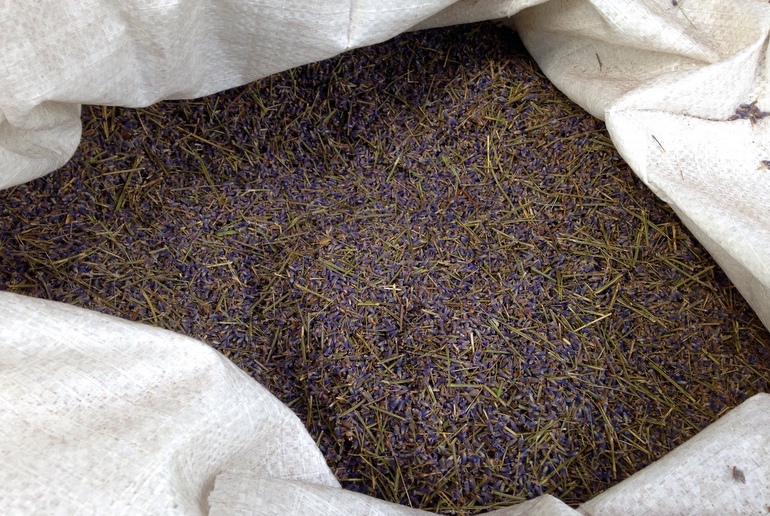 The purple fields are not just for show. The harvested lavender is distilled to produce lavender oil, of which most is exported and used in the perfume and cosmetic industry. The rest, along with a lot of the dried flower, is used by Bridestowe to make its own products – oil, jam, tea, pillows, syrup, and even an ironing mist, in case you'd like your laundry to smell like lavender. Incredibly, there are visitors to Bridestowe who don't lay eyes on the lavender fields. The visitor centre, and the chance to buy the Bridestowe products, is what they come for. For many of them, one product in particular has been the catalyst for their visit.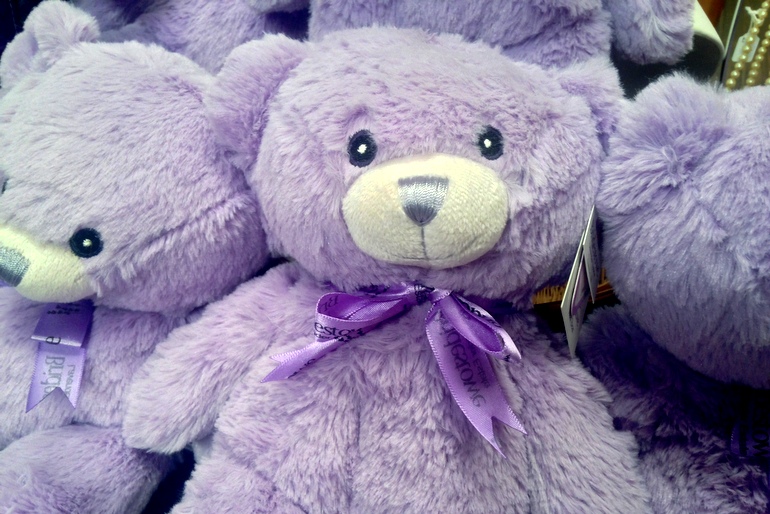 Bobbie the Bear
Forget Winnie or Paddington, Bobbie is big news. The purple, lavender and wheat-stuffed heat pack has had a phenomenal rise to popularity. In 2013, Chinese model and actress Zhang Xinyu posted a picture of herself with Bobbie the Bear on Facebook, adding that going to sleep with him was good for her health. Zhang, who was more widely known for risque photoshoots with various boyfriends, turned Bobbie into a sensation. Bobbie had been available at Bridestown for a few years, but overnight he became a must-have. Demand skyrocketed and Bridestowe couldn't keep up. At one point, phone, email and internet sales were stopped. When the estate ran out to stock, disappointed customers cried in the store. Even now, 18-months after Bobbie shot to fame, signs in store restrict each customer to one bear only.
Bobbie has become a Tasmanian celebrity. The local newspaper named him one of the top "newsmakers" in 2014 (number 14 out of  50), and asked him for his New Year's resolutions (he'll be releasing some videos in March and wants to gain "international stardom".). Bridestowe even had to battle illegal websites selling counterfeit Bobbies, which led to each Bridestowe Bobbie being sold with a unique tag that could be authenticated on the estate's website. He's put Bridestowe, and Tasmania, on the map, and lead to Chinese tourists to account for 80 per cent of visitors to the estate.
Not a bad effort for a purple bear.
Bridestowe Lavender Estate is at Nabowla, a 30-minute drive from Launceston, in Tasmania's north. Entry is free for Tasmanian residents (ID required); $7.50 for adults; children under 16 free.