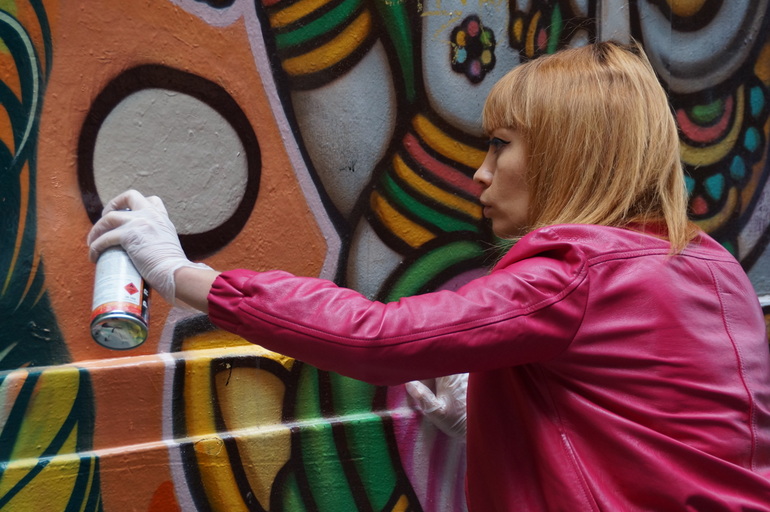 The girl in the hot pink jacket squats on the bluestone cobbles, her long hair and blunt fringe framing her face as she sprays blue paint on the wall. A milk crate filled with cans of assorted colours sits a metre or so away.
Down the lane a photographer stands behind her tripod.
School kids in uniform excitedly snap selfies in front of the colourful backdrop.
Around the corner three people, one sporting a black eye, sit in a doorway holding a large dog by the leash, trying to divert the animal's attention from another dog tied up to the fence on the side of the laneway.
It's about 2.30pm on a Monday afternoon and Hosier Lane, a graffitied alley off Melbourne's Flinders Street, is alive.
But then, like the surrounding city, it never really sleeps.
A quick stroll through on a Thursday night after dark reveals a couple of guys in hoodies crouching while they decorate the wall in front of them. The next afternoon, the cobbles wet from the rain that threatens to reappear, the suited half of a bridal party balance in a doorway while the photographer instructs them to "show some attitude" and the bride and bridesmaids giggle behind him.
Around the corner in Rutledge Lane, three girls discuss ideas for a shot, which leads to one plonked down in the middle of the lane, tossing about an empty drink can, while her friend adjusts her camera and waits for me to step out of the frame.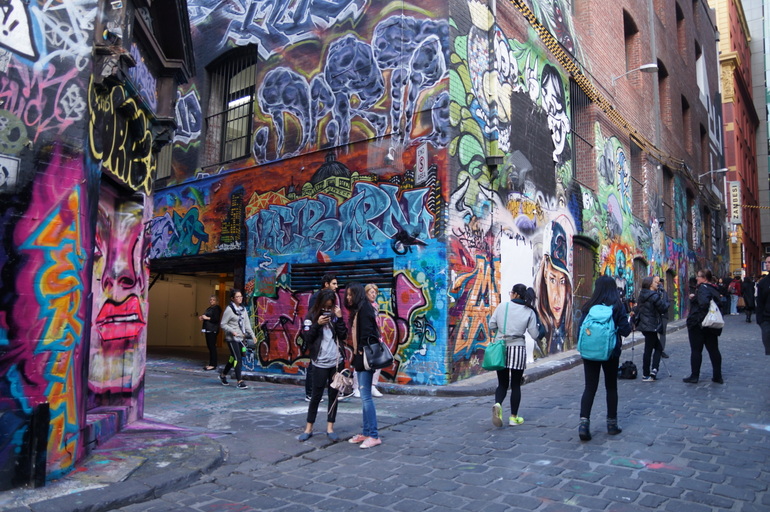 The origins of Hosier Lane are vague. Andy Mac, the curator of CityLights, a series of light installations in Hosier Lanes, remembers moving to the area in 1992. The former garment district and its empty warehouses were being taken over by artists. "It made a perfect playground for artists," he said in an exhibition statement a few years ago. "By mid 2004 Hosier Lane was painted from end to end and well on the way to becoming one of the most celebrated cultural venues in the country."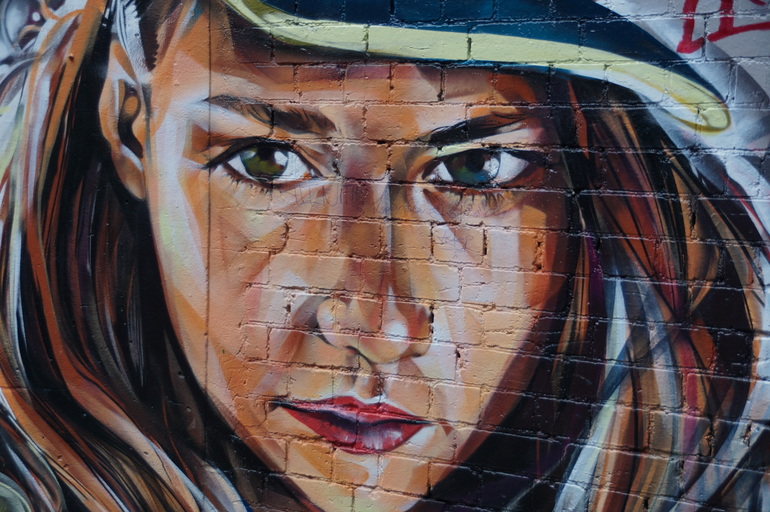 Established in the 1990s, Hosier Lane developed at a time when graffiti wasn't art, it was vandalism. But its creators persisted and the laneway has become a destination and an attraction – one that is constantly evolving. While many of its contributors are anonymous, Hosier Lane has also been graced by street art royalty – Banksy. And where there is a Banksy, controversy usually follows, however unintentional.
In 2003 Banksy left his mark in Hosier Lane in the form of a purple rodent known as Parachuting Rat.  At the time the Melbourne City Council, still coming to terms with the artform, had designated "approved" areas for street art within Hosier Lane, however Parachuting Rat sat outside these safe spaces.
Despite this, the work remained because of the reputation of its creator – until 2010 when council workers, under instruction to clean up the lane, painted over it. (Banksy has had a particularly unlucky run in Australia's street art capital. Two more of his works in the city have also been destroyed – one in Fitzroy at the hands of vandals and another in Prahran thanks to plumbing works.)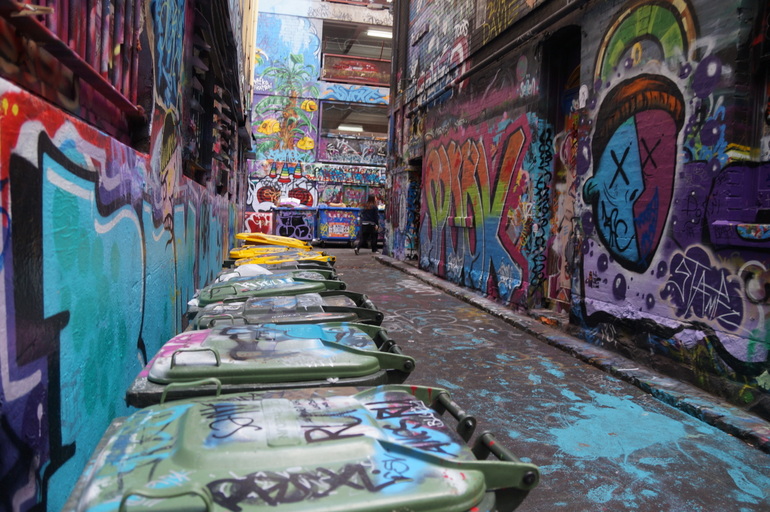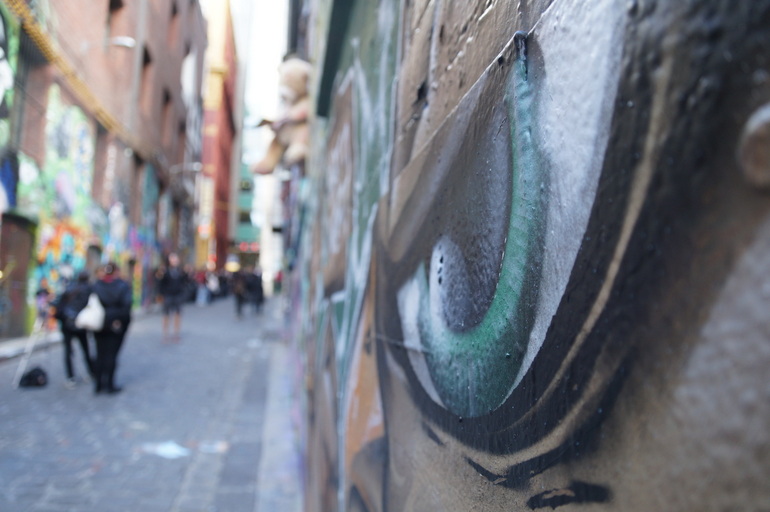 Over time authorities have not only become more tolerant of street art within Hosier Lane and the city as a whole, they have in many ways embraced and encouraged it. In 2013  Hosier Lane was re-painted as part of an art project supported by the National Gallery of Victoria. The walls were painted blank, giving the city's street artists a fresh canvas.
At least one piece was spared – Shree Ganesh; a colourful depiction of the Hindu deity considered the "remover of obstacles". The piece took street artist Deb six days to paint in 2010. She restored the work in 2013 and again, now, in 2015.

Her bright jacket, strawberry blonde hair and black lace dress challenge street artist stereotypes. She's not hiding beneath a hood and tourists openly take photos in the afternoon light while she works. Wearing plastic gloves and paint-splattered Nikes, Deb is oblivious or indifferent to her audience.
"It's so annoying," she tells me of the restoration process, as she steps back to analyse her creation – a mask in one hand, a spray can in the other. "I can't tell you how annoying."
She holds the mask back over her face and continues carefully spraying her initials in black.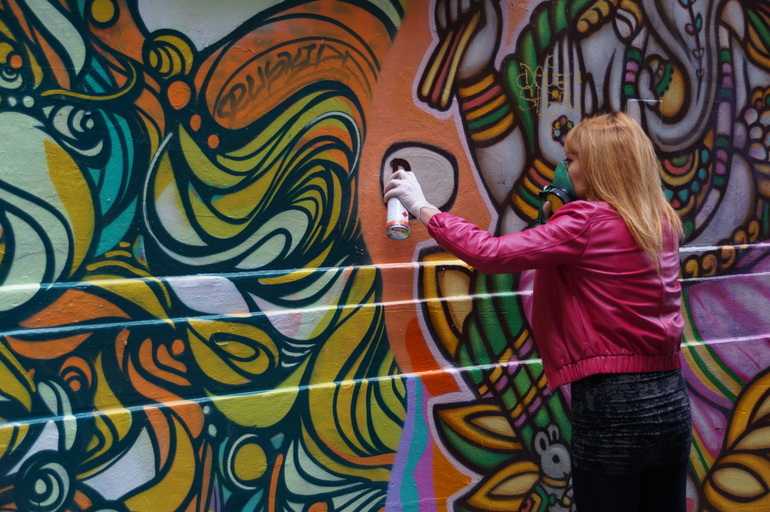 Artists like Deb are responsible for creating this colourful, cultural hotspot, which attracts locals, tourists and photographers alike – and it's the latter portrait photographer Concettina Inseera is hoping to find.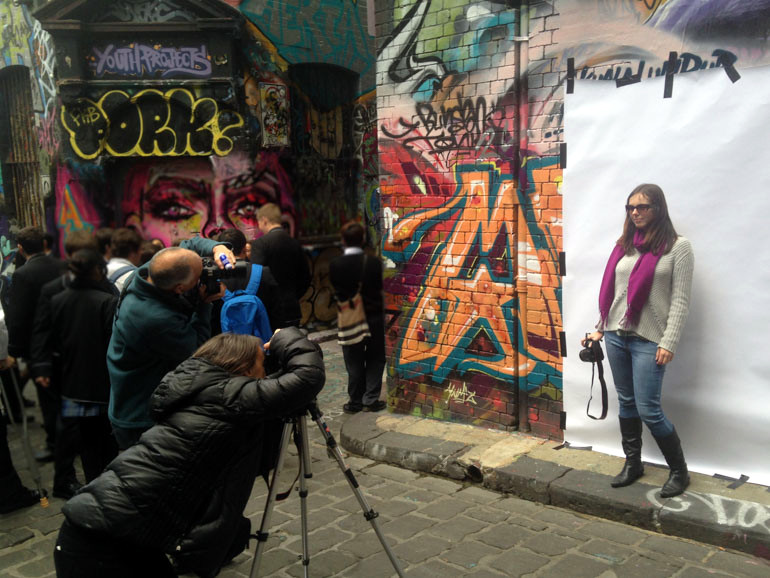 The Melbourne-based photographer introduces herself as Tina as she lines me up against a strip of white paper she has taped to the bricks. "I wanted to do a project with photographers and this is where I can find them," she explains. Her plan is to capture 100 portraits of photographers in Hosier Lane for her exhibition, Looking through the glass. I am her second and a third is in front of the white paper soon after. When I check her Instagram account a few days later there are a dozen or so shots uploaded providing an insight into the variety of people drawn here. Tina is also a yoga instructor in a studio nearby so she pops out on her break to hunt for subjects.
Hosier Lane has attracted a photographer to take photos of photographers taking photos in Hosier Lane.
It's a concept that captures the essence of this place, where the attraction goes beyond the paint on the walls. This narrow alley has a life of its own and the happenings in Hosier Lane are just as fascinating and colourful as the art.