I stood at the top of the hill and looked down at a bench that promised a view over the deepest canyon in Europe. Ahead lay a steep thicket I would need to bush-bash through to get there. Behind me stretched the paddocks I had forged a path across in my quest to find the Tara Canyon lookout.
I wasn't lost. Not in the way I could be in mountains and trails like these.
But I had no idea where I was or where I was going.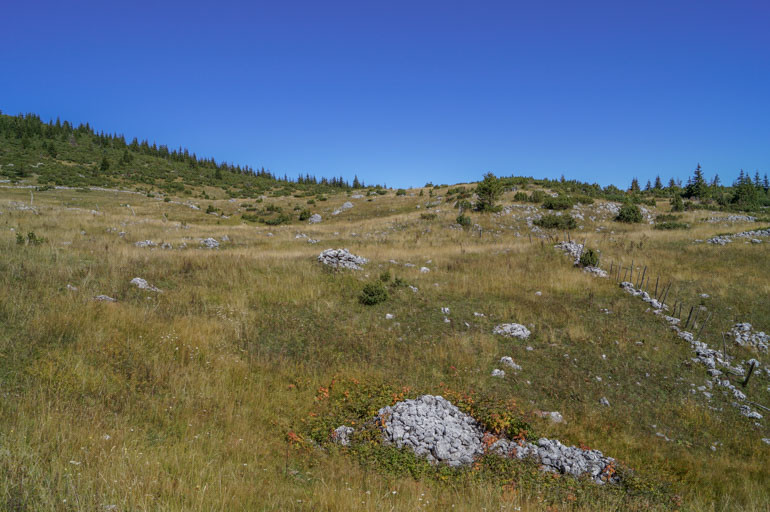 It was meant to be a straightforward hike.
"Follow this road and you will see the car park for the lookout," Gina said, tracing her finger along a line on the map in my hands. "This one?" I clarified, pointing to what appeared to be a fairly major road leading out of Žabljak, in the mountains of Montenegro. "No, that one leads to the next town," Gina corrected. Instead she pointed (or so I thought) to a smaller road breaking away to the left.
It seemed so simple. It was so simple. But an hour or so later it became apparent we had been talking about different roads.
I left Žabljak early, heeding the warnings about being caught in the park at night. The walk out of town was peaceful. There were more cows than cars, and the snow-capped mountains brought a smile to my face as I thought "Wow, am I really here?"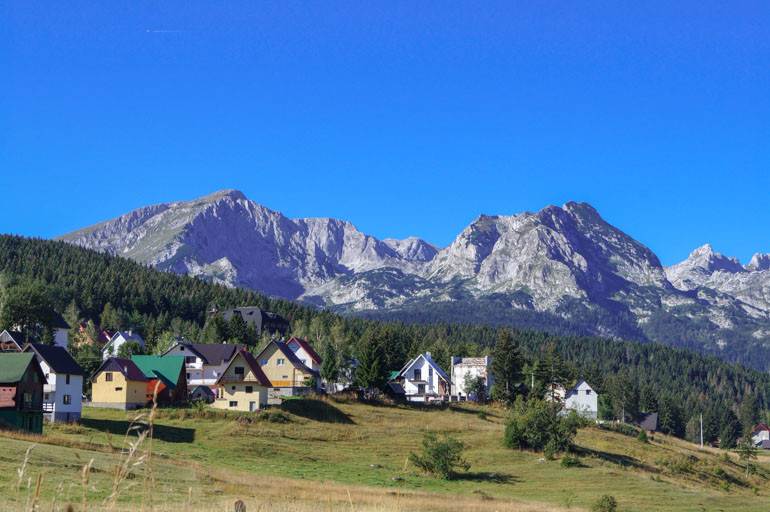 Soon the view was gone, replaced by tall trees blocking the sun. Coming to a fork in the road, I turned left, trading the sealed road for gravel, and finding myself at a cluster of houses surrounded by trees and paddocks. There was no sign of the Tara River Gorge, nor a clear path onward, so I headed back, only to turn around a second time when a little way down the road I saw a sign announcing Tepca, the next town, was 13 kilometres away. "I must have been on the right road the first time," I thought.
"Tara kanjon?" I asked a woman I passed back at the cluster of houses, grateful the word in Montenegrin was similar. She pointed in the direction I was walking, but further down I had more doubts. "Tara kanjon?" I asked again, this time to a man at work in a paddock. He pointed at the hills in front of me. I still couldn't see a path, but unable to understand any further directions, his waving arm was all I had to go on.
By this stage I'd walked almost 10 kilometres, several of them unnecessarily. I hadn't covered a great distance, but it had been slow going and I was impatient to get to what I came here to see. I had been excited by thoughts of spending hours enjoying the trails and scenery of the UNESCO World Heritage listed Durmitor National Park and instead I was cluelessly  trudging across a paddock.
There are sights here you won't find anywhere else in Europe. Only a half-day bus trip from Montenegro's coastline, Durmitor is influenced by both Mediterranean and alpine microclimates. This has produced a rich diversity of flora and fauna and the park's glacial origins created stunning landscapes – mountains as high as Bobotov Kuk at 2522 metres, high-altitude plateaus and the vast Tara Canyon, which I was having a little trouble locating.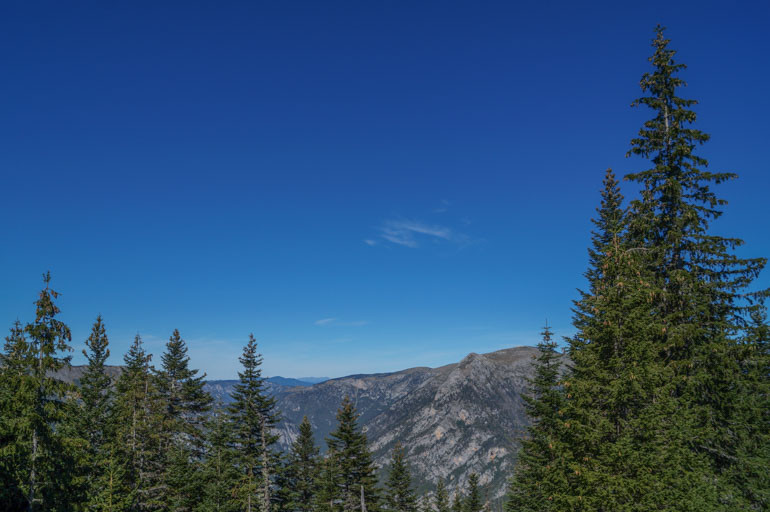 I walked along the tree line, chasing higher ground. If the canyon was close, surely I would be able to see it if I could just get a clear view. Feeling disheartened, and frankly, over it, I was ready to cut my losses and head back. Canyon be damned. Then I saw the bench.
With my arms covered in scratches and pine needles sticking into my socks and boots I emerged from the trees onto a gravel road between the steep terrain I had just clamored down and the bench. The view was impressive, but not as spectacular as I'd envisioned. But I kicked off my boots and ate my lunch, deciding that, although it was unlikely I had found the lookout, it was a good spot to be still for a while.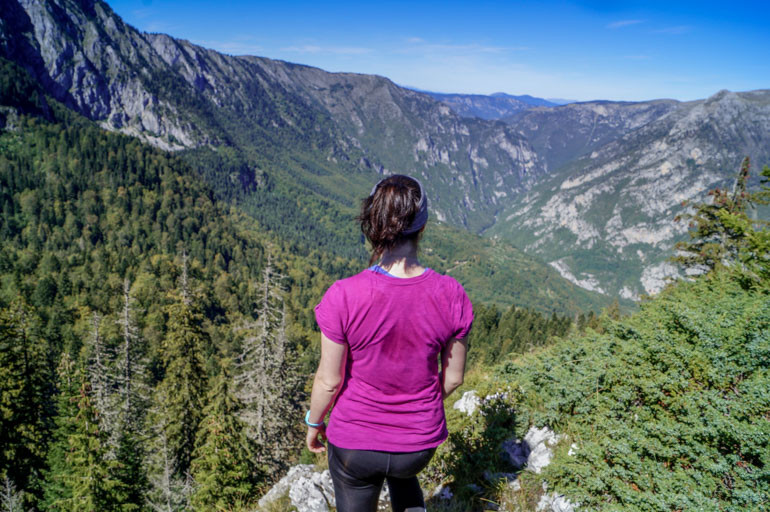 A little while later I called it quits. Annoyed at how I'd managed to stuff up such a simple hike and how dramatic I'd been about the whole thing, I just wanted it to be over. I stood by the side of the road and considered my options. Retracing my steps and climbing back through the trees and over the paddocks wasn't appealing. There had to be an easier way. Following the road down would only take me deeper into the canyon, so I headed up.
Only a few hundred metres along I discovered a car park, information, and a sign pointing to the Tara River Gorge lookout.
You have got to be freakin kidding.
Far too long after setting out from my hostel that morning I was rewarded with beautiful weather and views. Getting lost had dragged down my spirits, but looking over this lifted them.

The Tara River Gorge is one of the highlights of the Durmitor National Park in northwest Montenegro. At 82 kilometres long and 1300 metres deep, it is the largest canyon in Montenegro, and Europe. Further upstream the odds of spotting a raft bouncing down the river are high. But here, the canyon is quiet.

If you don't get your directions confused, getting to the lookout is easy. The car park for the lookout is about six kilometres from  Žabljak and there is a clear trail along the rim of the canyon. There's no barriers or railings, however, and at times it gets uncomfortably close to the edge.
The trail takes you to Curevac, a peak of 1650 metres with views over Tara Canyon and Durmitor National Park. From here you can either walk back along the ridge to the car park or do a loop and walk through some paddocks to get back to the road.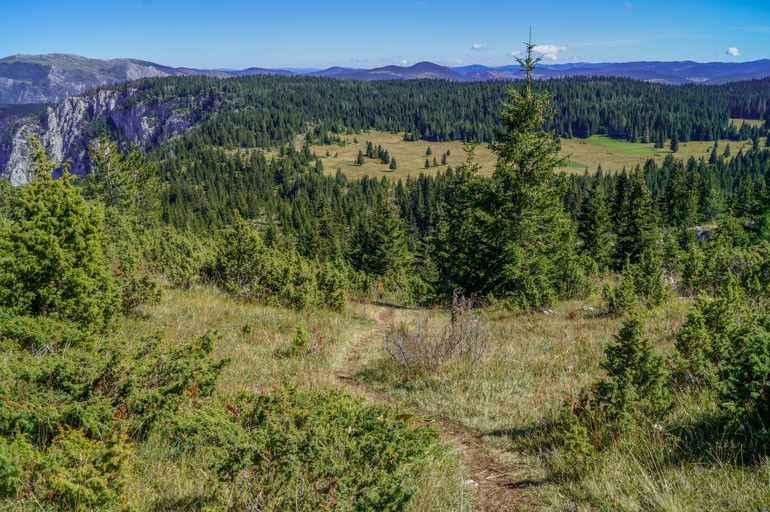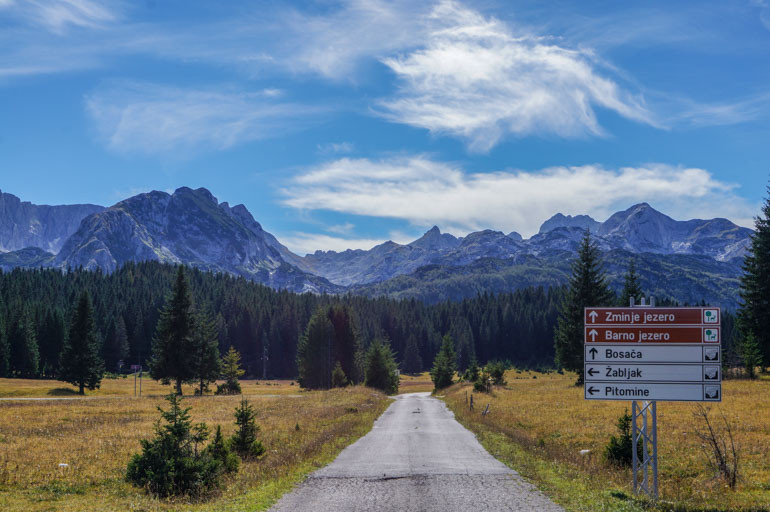 I was visiting Žabljak at the end of the season. Summer was drawing to a close and the snow had yet to fall to entice the ski bunnies to the mountains. A week or so after I left, the hostel would shut for the winter. On my second day in town I'd caught the last of the nice weather. Rain was predicted the following day, so feeling inspired by the sight of the Tara Canyon, I extended my hike to include Black Lake (Crno Jezero), the largest of the 16 glacial lakes in Durmitor National Park.
This detour, which took my outing to 23 kilometres, proved more successful.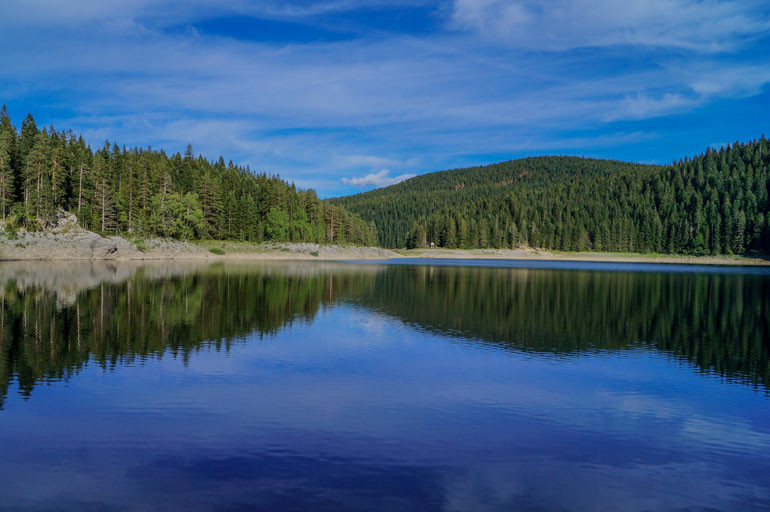 Fed by streams trickling down the surrounding peaks, Black Lake consists of two lakes: the unimaginatively named Big Lake (Veliko jezero) and Little Lake (Malo jezero). There's a well-marked trail around them both that takes about half an hour to complete. Longer treks into the mountains start from here, but bad weather on my last day limited my exploration and my view.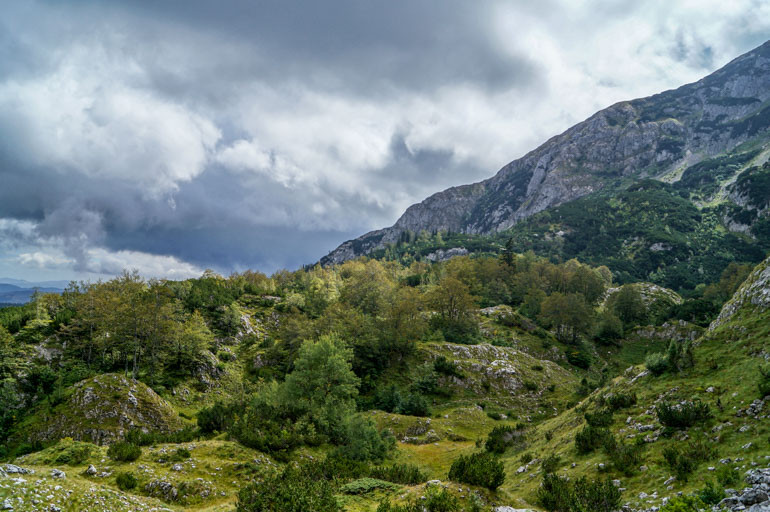 It was on my way out of Durmitor National Park that I finally saw one of the area's icons – the Đurđevića Tara Bridge. My bus from Žabljak  was heading north, but I was going east. I jumped off at the bridge to await a connection, which may or may not exist, I was told. In any case, I was assured there would be plenty of cars heading my way and a ride would be easy to find. After just a few days in the region, it was clear that getting from A to B was rarely a simple exercise.
The bridge was opened in 1940, only to be blown up in the centre two years later during Italian occupation. It was re-built in 1946. On the south side a group of souvenir stalls lined the road, capitalising on the traffic passing between east and west Montenegro, north into Serbia or even northwest into Bosnia. Signs advertised rafting and canyon adventures, which several tourists took advantage of. Sightseers roamed all over the bridge, lazily moving to the side when traffic came along. At its highest point the bridge sits 172 metres above the blue river below.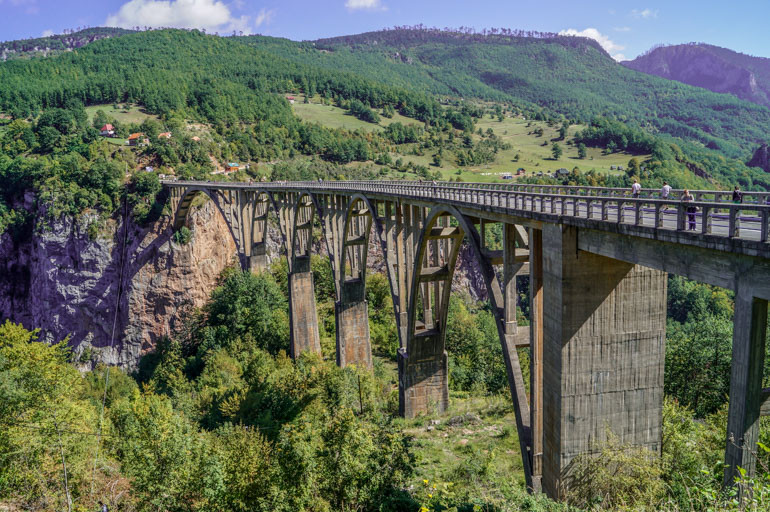 A timetable stuck to a pole suggested a bus to Kolašin, my next destination, would pass through, but the time came and went. A woman in a taxi pulled over and offered to share her ride, and I was on my way again.