I'm not one to splurge on accommodation.
If all I need is a bed for the night I'd rather save a few dollars and bunk up in a dorm, or stay with friends or family.
If I am going to spend up for a bed, it needs to be more than just a place to sleep. It needs to be an experience.
I came across the Art Series Hotels when I edited a newspaper article about The Schaller Studio, in Bendigo, Victoria – a contemporary hotel named after and influenced by Australian artist Mark Schaller. The concept was intriguing. The images, captivating. Now this,  I told myself as I pored over galleries and the "about us" pages, would be worth it.
The Art Series Hotels is a collection of six boutique hotels – five in Victoria and one in South Australia. A seventh is expected to open in Brisbane at the end of the year. Each is dedicated to an Australian artist, with that particular artist's works inspiring the styling, decor and atmosphere of their respective hotel. The first to open was The Cullen, in Prahan, south-east of the Melbourne city centre, in 2009. At the time art hotels weren't a novel idea, but in this case the art wasn't just decoration on the walls of a completed hotel  – it guided the look of the hotel from conception.
A few months after editing that article, I decided to spend my 30th birthday in Melbourne. The occasion was a good excuse to turn down the usual invites from friends with spare rooms, and treat myself. But birthday or not, I wasn't going to stay just anywhere. I found myself back on the Art Series Hotel website to decide which of property developer William Deague's creations I would visit.
The Blackman
Charles Blackman, a self-taught painter born in 1928, is one of Australia's most prominent artists. He is best known for his Schoolgirls series and works inspired by Alice in Wonderland, a project sparked when listening to a audio book of the tale with his wife in the 1950s. In 2006 the National Gallery of Victoria exhibited Blackman's Alice in Wonderland  collection to mark the 50th anniversary of the artworks.
His works are imaginative and whimsical – a trait that has been embraced in his namesake hotel.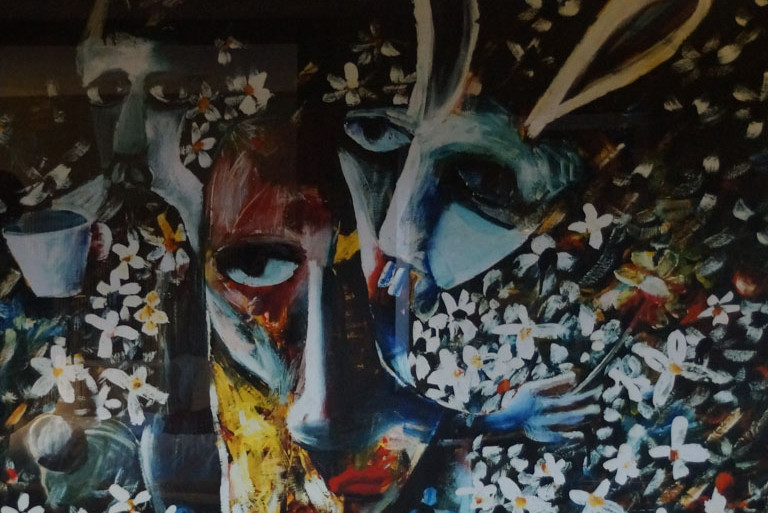 Part of the reason I chose to stay at The Blackman was location. On a side street off St Kilda Rd, with trams running directly into the city, it would be convenient for everything I had planned in Melbourne during my stay.
The other reason? It just looked like fun.
The Blackman can be picked out in a city of too many  boring high-rises. Giants versions of Blackman's pieces Alice Tall, At The Tea Party and Metamorphosis (pictured above) grace the entrance of the hotel. In the lobby a two-storey high collection of framed prints fills the wall behind the  reception desk. Every corridor is lined with artwork. Even the elevator isn't safe. By the time I reached my room I felt as if I'd walked through a gallery.
Inside my room, the intriguingly titled Wonderland Suite, it continued. I have my own copy of Metamorphosis in the living room, more artworks next to the bed and a frosted Alice on the bathroom door.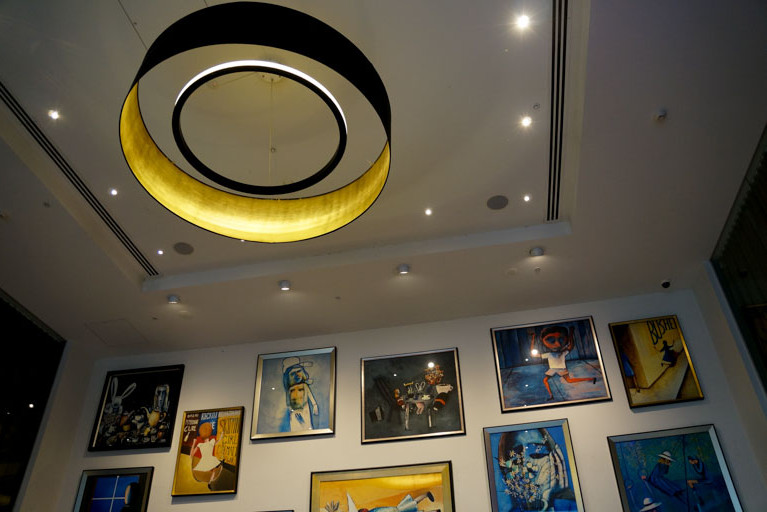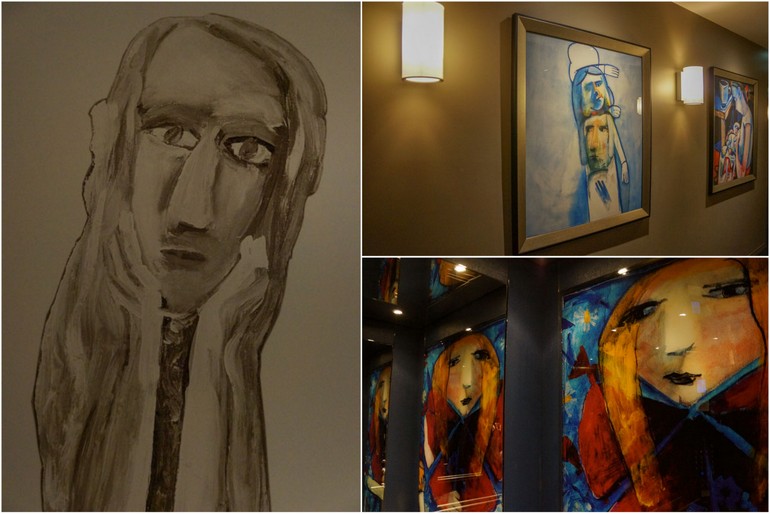 The art isn't just a quirk or gimmick. Guests are encouraged, if they wish, to learn more about it. The bookshelf in my room was filled with books about Charles Blackman and we were invited to take a complimentary art tour of the hotel with the in-hour curator (unfortunately we were running late for dinner on my birthday and had to cancel our tour).
Artwork aside, The Blackman is bright, colourful, stylish and fun. A card tucked under a pillow invited me to jump on the bed (I did) and an over-size dice suggested I purchase the linen (I passed) or hire a bike to explore the local gems (I wanted to). Although I was probably most excited by the Art Series notebook and pencil by the bed – a writer can never have too many of either. The room had a fridge, cooktop, TV, dining table, couch and armchairs, even a dishwasher. Sadly, no free wifi.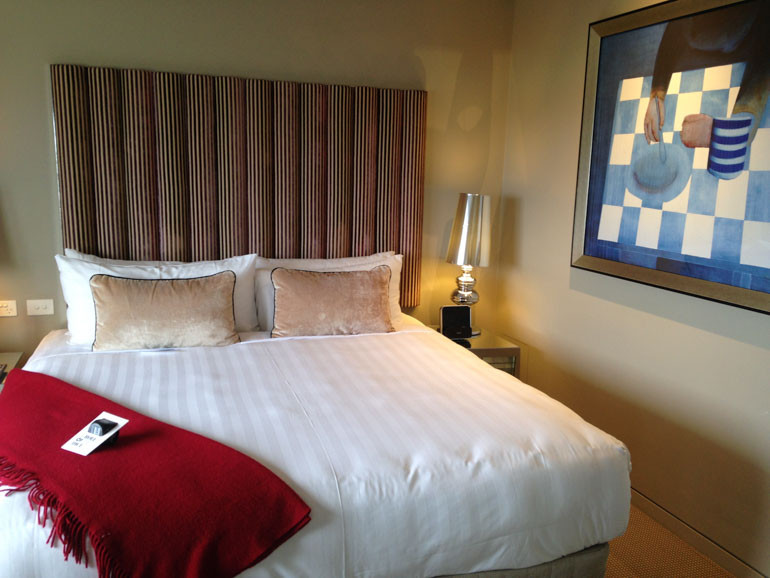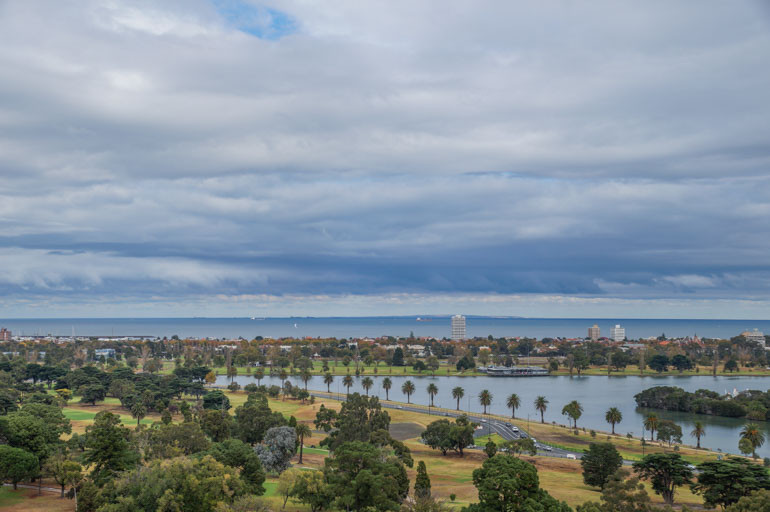 Our view from the windows and balcony stretched over Albert Park Lake, all the way to Port Phillip Bay, which I loved looking at after a couple of long days in the city. On our first morning I popped downstairs to the French patisserie Depot de Pain, on the ground floor next to reception, and picked up fresh crossiants and, my favourite, pain aux raisins, for breakfast, and a free copy of my favourite weekend newspaper (The Weekend Australian) from the lobby. There's also an Italian-style restaurant in the building, Classico. On our second morning we took the tram direct to St Kilda, for brunch at one of the many cafes down there.
The staff also spoilt me with a room upgrade (my first – ever!) and colluded with my partner to have an amazing chocolate cake waiting in our room when we got back from dinner for my birthday.
The Blackman • 452 St Kilda Rd (entrance off Arthur St) • www.artserieshotels.com.au/blackman
I booked a Bay Deluxe Studio Suite Balcony room for two nights for a total cost of $401. There was a 20% discount for two-night stays when I booked, plus I joined Priority Guest Rewards and received a further 10% discount. PGR is free to join. Between the special and the PGR discount I saved about $180 off the usual cost of a two-night stay.
The Blackman is about a 10-minute taxi ride to the city (it cost us usually about $13-$17 depending how far into the city we went). There are regular trams on St Kilda Rd and a stop about 200 metres from the hotel, although you'll need a Myki card to use the trams.