We hopped off the north-bound #8 tram and continued up the street. Since leaving the city centre we'd travelled through some questionable-looking neighbourhoods, but my map assured me we were in the right place.
A small A-frame sign on the sidewalk gave the store away; right next door to a pub advertising live footy games and a Wednesday night pool competition. I stepped over a mosaic design in the doorway and walked inside.
Red Wheelbarrow Books in East Brunswick was the first stop in a self-plotted tour of Melbourne's bookshops.
For a book lover, there is nothing quite like the feeling of stepping into a bookshop. Old or new, the books filling those shelves promise so much – entertainment, adventure, education. I've been drawn into bookstores around the world; sometimes unable to understand the foreign words between the covers. But there's just something about being surrounded by books.
On my latest trip to Melbourne I made it a mission to check out as many bookshops as I could. I did a fair bit of research to learn where I'd find some good store, and even marked them out on a map of the city. Then I spent a couple of days making my way through the list. To save you all that trouble, I'm sharing my guide to the best bookshops I found in Melbourne.
Red Wheelbarrow Books
105 Lygon St, East Brunswick
Red Wheelbarrow Books feels like a second-hand bookshop should. Cosy, books everywhere, the staff member reading quietly behind the desk, and a cute dog asleep in front of a bookshelf. It's a small store, but there's some unusual titles here. There's a handful of fiction plus lots of non-fiction covering subjects such as poetry, philosophy and Buddhism. There's also a gallery space out the back, which is worth checking out. Catch the #8 tram from the city to Moreland and get off at Weston St. It's just a short walk up from the stop.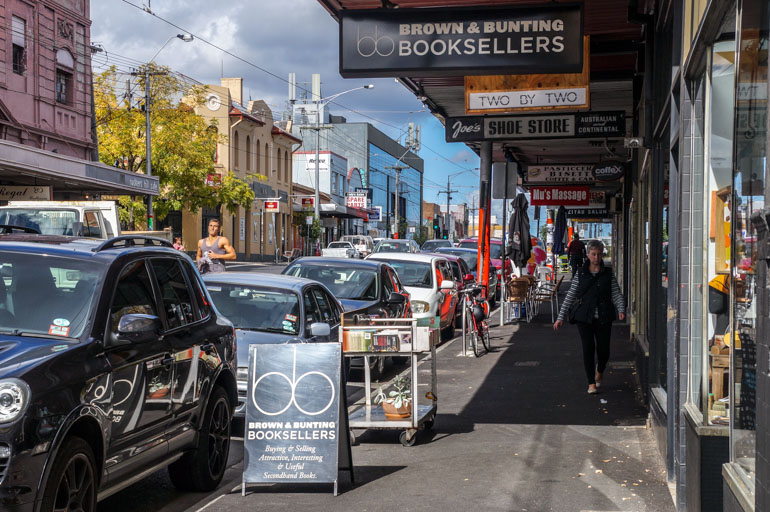 Brown & Bunting
237 High St, Northcote
Brown & Bunting has a reputation for its selection of second-hand children's books, but there's an extensive range of non-fiction titles. The shop itself is extremely well laid out so not much fossicking is required. It might seem like a hike from the city, but Northcote is a neighbourhood worth visiting. I recommend walking a block over and popping into The Herbert Cafe on Arthurton Rd while you're in the area. From the city, catch the #86 tram in the direction of Bundoora RMIT and jump off at either Mitchell St or Separation St. You'll find Brown & Bunting between the two stops.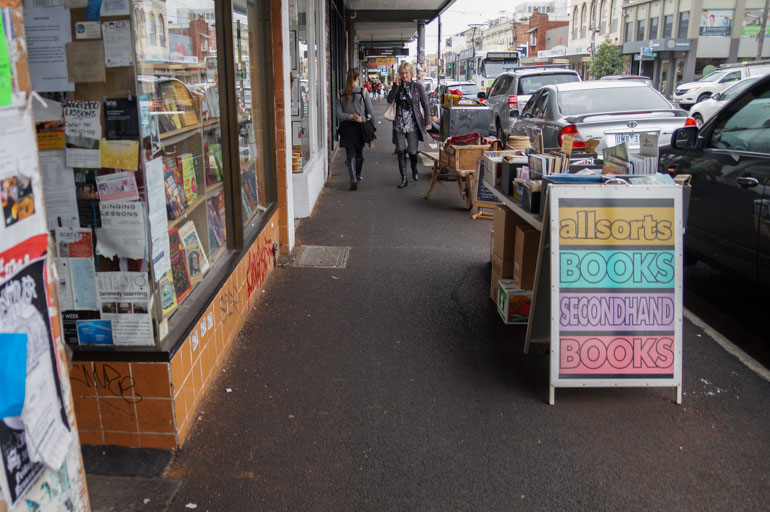 Allsorts Books
275 High St, Northcote
I'm ashamed to say Allsorts wasn't on my initial list – I found it on my way to Brown & Bunting. The table of books in the street gives the store away. Inside, the shelves are overflowing with second-hand books and there are boxes piled high in the narrow aisles. You could spend hours searching through them. The guy behind the desk was really friendly and helpful. After a lengthy discussion about chess with the customer in front, he recommend some great travel books when he saw my purchases. Follow the directions above – this store is just a few doors down.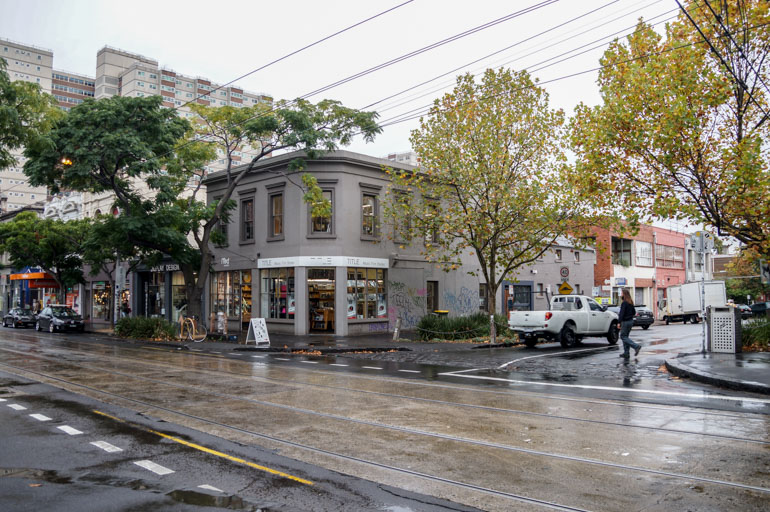 TITLE
183 Gertrude St, Fitzroy
There are several TITLE stores, but Gertrude St is a cool strip so I recommend coming to this one. The store sells books (new), records and films. There's Penguin classics, coffee table books, and a range of books on music, art and architecture. The #86 tram works well for this store too.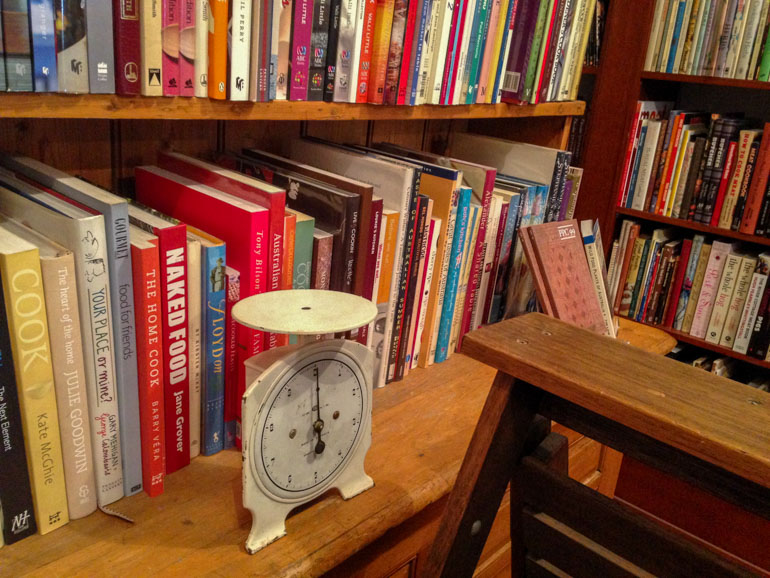 Books for Cooks
129–131 Therry Street, Melbourne
I was surprised to learn this is Australia's only cookbook shop! Yes, it's a pretty specific genre, but even if you don't want the latest Jamie Oliver release, this is worth checking out. Aside from actual cookbooks (new, rare, vintage, antiquarian – the lot!), there's books on wine, chocolate and where to eat cake in London. The store recently moved to the Queen Victoria Market after outgrowing its previous spot on Gertrude St, which isn't surprising as it stocks about 30,000 books. CNN recently included Books for Cooks in its list of the world's coolest bookstores, which also mentioned the store's new location is a former speakeasy.
The Searchers
93 Smith St, Fitzroy
This book and record store is down the street and around the corner from TITLE. (Gotta love that #86 tram.) There's a high wall of books at the back to browse and stacks of boxes of records to flick through. The books are mostly related to music, art, film etc, and the record selection is pretty broad.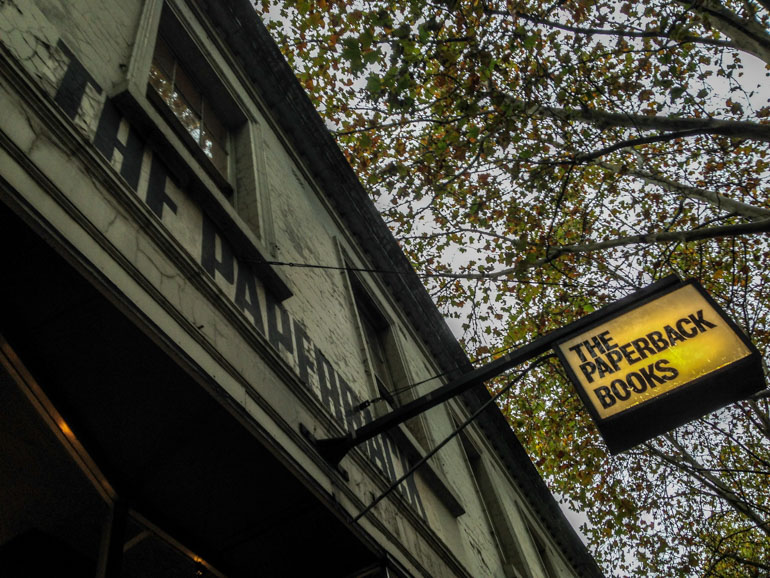 The Paperback Bookshop
60 Bourke St, Melbourne CBD
Small, pokey and crammed with books. This is a gem in the city centre. The Paperback Bookshop has been open for nearly 50 years. The independent store initially stocked hard-to-find Australian publications and still prides itself on offering titles you might not find elsewhere. And although once upon a time it might have only sold paperbacks, it doesn't restrict itself anymore. What makes this place even better is the late-night opening hours. It's open until 10pm Monday to Thursday and 11.30pm on Friday and Saturday.

Embiggen Books
197-203 Little Lonsdale St
Embiggen might have a TV show to thanks for its name, but inside this store is all class. There's marvelous big timber bookshelves, thick ladders (the kind that belong in my dream home) and beautiful signage for each of the genres. It really is a gorgeous store.  It was previously based on Queensland's Sunshine Coast, but fits in perfectly in Melbourne. It's a science-oriented shop with a healthy range of art and philosophy titles, among other subjects. Emiggen frequently hosts book launches and events, and has even welcomed a Nobel prize winner. It pays to keep any eye on the news and events page on its website.
Grub Street Bookshop
379 Brunswick St, Fitzroy
It's racked up about 30 years in the same spot, so Grub Street knows what it's doing when it comes to second-hand books. There's a lot of old, leather-bound books and an eclectic mix of topics. It is up for sale, but hopefully that doesn't mean it's going anywhere. This stretch of Brunswick St is worth checking out anyway, so the bookshop is a bit of a bonus. Catch the #96 from the city and get off at Leicester St.
Hill of Content
86 Bourke St, Melbourne CBD
Hill of Content is 93 years old! Its founder, A H Spencer, worked under George Robertson (of Angus and Roberston) in Sydney before going out on his own in Melbourne. The original store has expanded two levels and has a wonderful atmosphere. This is a place to linger, curl up in a leather armchair and while away the afternoon.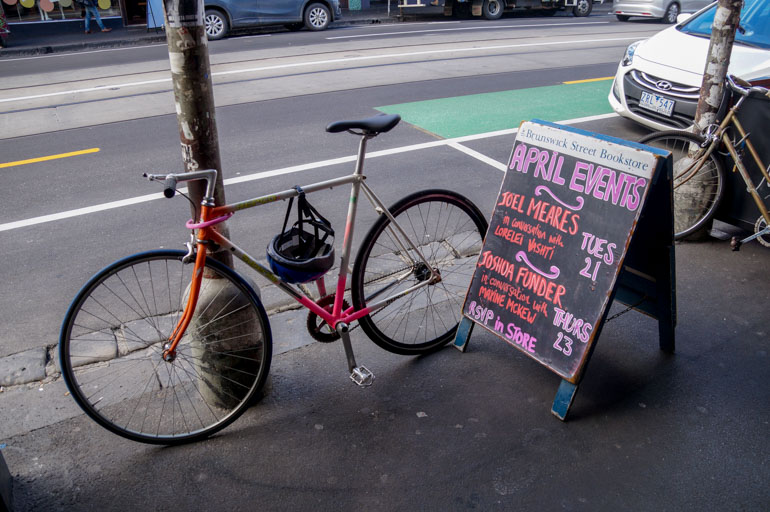 Brunswick Street Bookstore
305 Brunswick St, Fitzroy
Another unexpected find on the way to somewhere else (Grub St). Brunswick Street Bookstore has an impressive range of subjects – something for everyone, to use a cliche. Add it to your list to visit while in Brunswick. Jump off the #96 at Johnston St.
There's a few to get you started. This guide is a work in progress and I'll be updating this list every time I go to Melbourne. If you have any suggestions for me, leave a comment below.