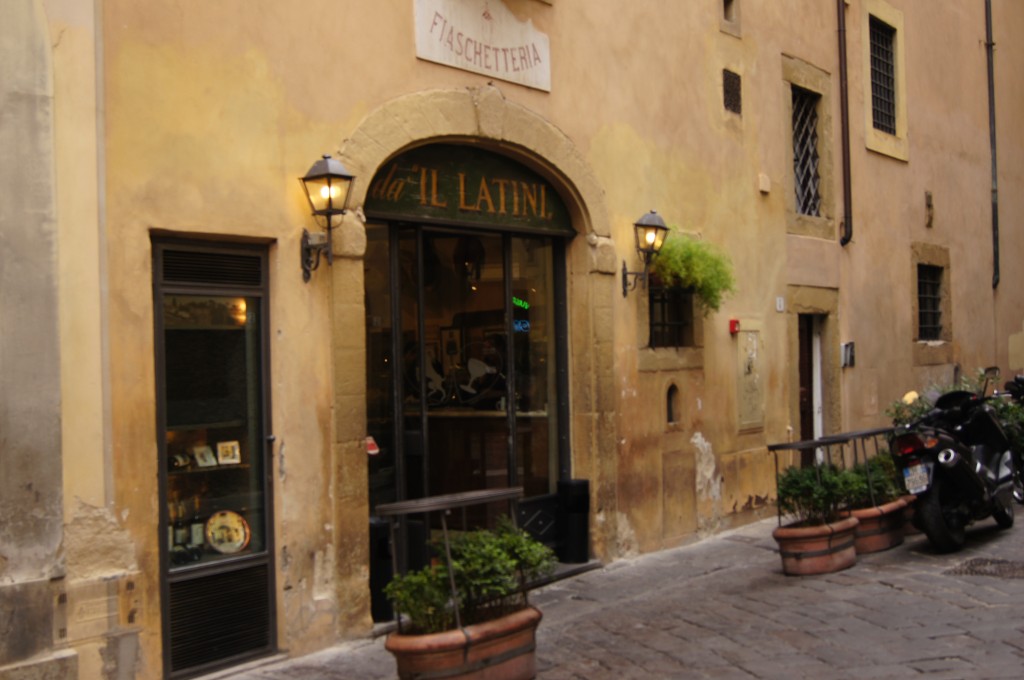 It had been sold to me as "the best Tuscan meal of your life".
And judging by the line-up we faced on our first attempt to eat at il Latini, I reckon that wasn't an overstatement.
After our rookie mistake the night before, I arrived at il Latini, one of Florence's top restaurants, an hour before opening and didn't leave. For the first 25 minutes I was the only one. Then the line started to form. While the staff enjoyed dinner inside, the crowd grew outside. My friendly fellow patrons promised to let me in first. They kept their word and when the head waiter opened the doors to seat the first table, Mum, Dad and I were it.
Dinner at il Latini is a very carefully staged production. The restaurant is filled within minutes and then the curtain goes up. Our waiter was soooo Italian. The dark features, the slicked back hair and wild gestures. Do we speak Italian or English? Would we like wine? Help yourself to the house wine on the table. And then he disappeared.
A few minutes later, "would we like to start with the house appetiser with some meats and melon?" Ok we say.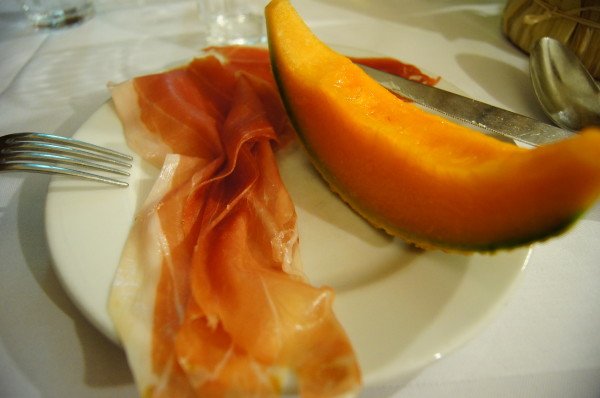 Right behind our table, a man has been slicing up meat since we arrived. Three plates of his finest are placed in front of us. Then a big slice of rockmelon each. Then a barley salad and a meat-like mixture on a piece of bread. I'm not sure what the latter was, but I have my suspicions. Every table received the same. 45 minutes later the man was still slicing meat.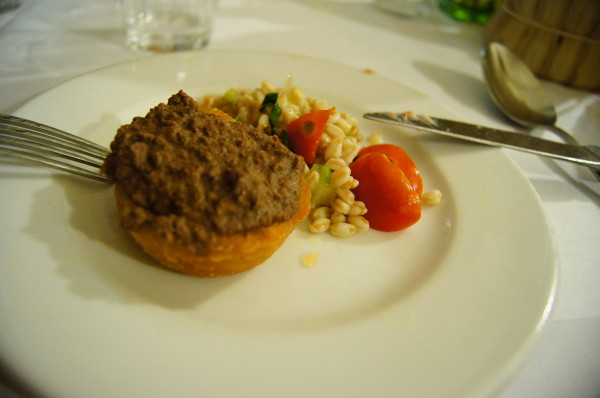 "Would we like some pasta? I have ravioli, penne…. Soups? I have minestrone, bean with sweet pumpkin, spinach…. And then I have meat."
Still no menu. We all choose the bean soup. "Three of you the same?" he says. Apparently this is not on. So we tell our waiter to choose three different things for us. He's happy with that.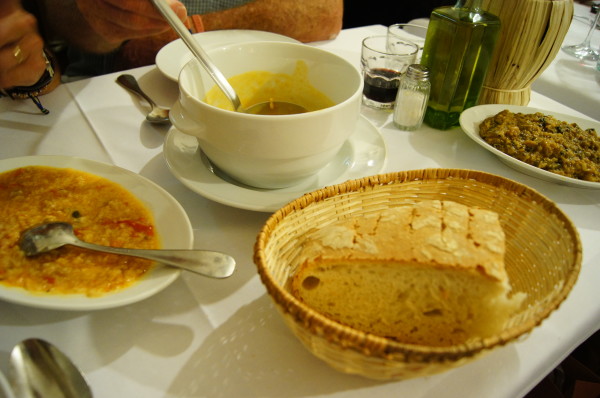 Our table was crowded with a large bowl of the bean and sweet pumpkin soup, a dish of spinach and we think zucchini or eggplant, and cheesy minestrone-type offering. I start to have seconds when Mum warns me main course is still to come. Opps.
"Now would you like some meat? I have pork, veal, duck, chicken, lamb, beef….."
Two lambs and one beef.
"Vegetables? Beans, roast potatoes, spinach?"
Beans and roast potatoes.
"Beans with tomato?"
Sure.
I just have to point my knife at the roast lamb and the meat falls off the bone. It's delicious. As is everything we've eaten so far. By now the table next to us has dessert, so I don't quite polish off the meat.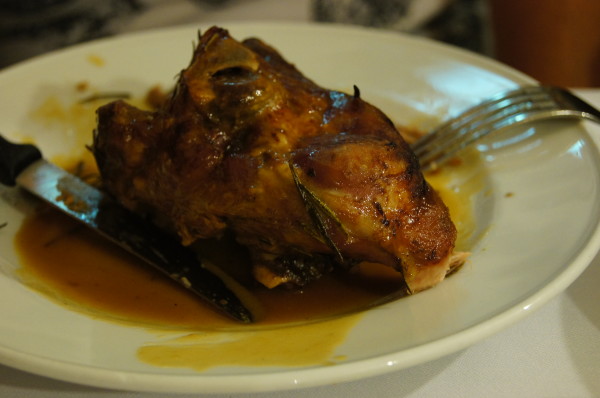 Mum and I share a chocolate cake and Dad devours a strawberry short-cake in seconds. In the meantime our waiter brings over a "present" of sweet wine and biscotti. I dip the biscotti in the wine, take a bite and am drunk.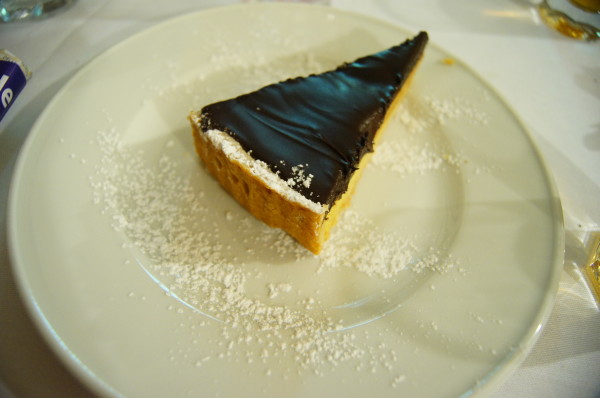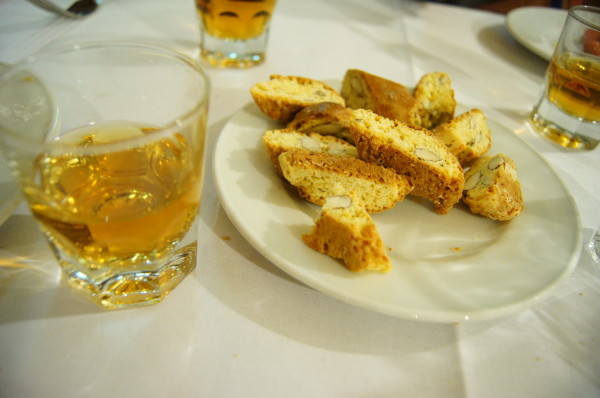 With our plates clean we ask for the bill. Not having seen a menu all night, we have no idea what to expect. Four courses plus drinks for three people came to €130. Very surprised (in a good way) we drag ourselves onto the street and into the crowd still waiting for a table.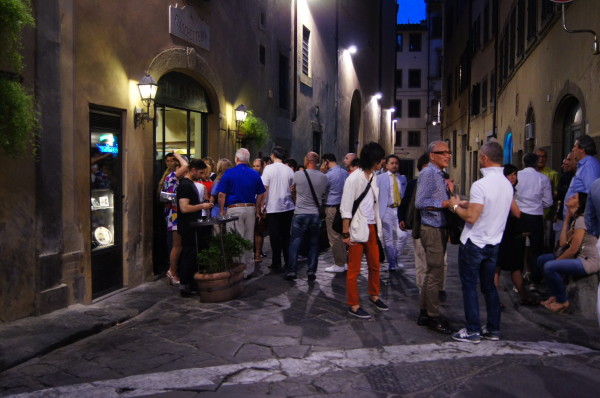 Il Latini apparently doesn't take reservations, although this was disputed by two people in the line who had made bookings through their hotel. However when the doors were opened there was no call for those with reservations, just first in-first served.
A BIG thanks to Adventurous Kate for the suggestion. Her post was a big help for my time in Italy and il Latini was on it.