I'm a fan of exploring outside the major cities. I find big cities to be more or less the same.  There are exceptions and Italy is one of them. But I always viewed our visit to Florence as eating into the time we could have spent in the smaller, rural areas.
Then we came here.
The first surprise came when we checked into our hotel. Our "triple" room had five beds, three large chairs, two chests of drawers, one wardrobe, and a small round dining table. It also had enough room to fit all of that in again. Our first-floor room at the Hotel Garden was huge. I don't know what the building was in a past life, but given the size of this room and the enormously high ceilings it must have been something special.
After running laps of our hotel room to work off some gelato (ok we didn't really, but we could have) we walked into town. We're on the edge of the city map, but it only took about 10 minutes to reach the centre. Florence is a major city but it's very relaxed. Even at the major attractions there aren't mobs of people and most of the centre is pedestrian only so there's no crazy traffic to battle. No one was rushing. And it was quiet. Not at all what I expected.
While waiting at the train station in the Cinque Terre, we got talking to some ladies who recommended we visit St. Lorenzo market while we were in Florence. With very little shopping under our belt, we figured we may as well.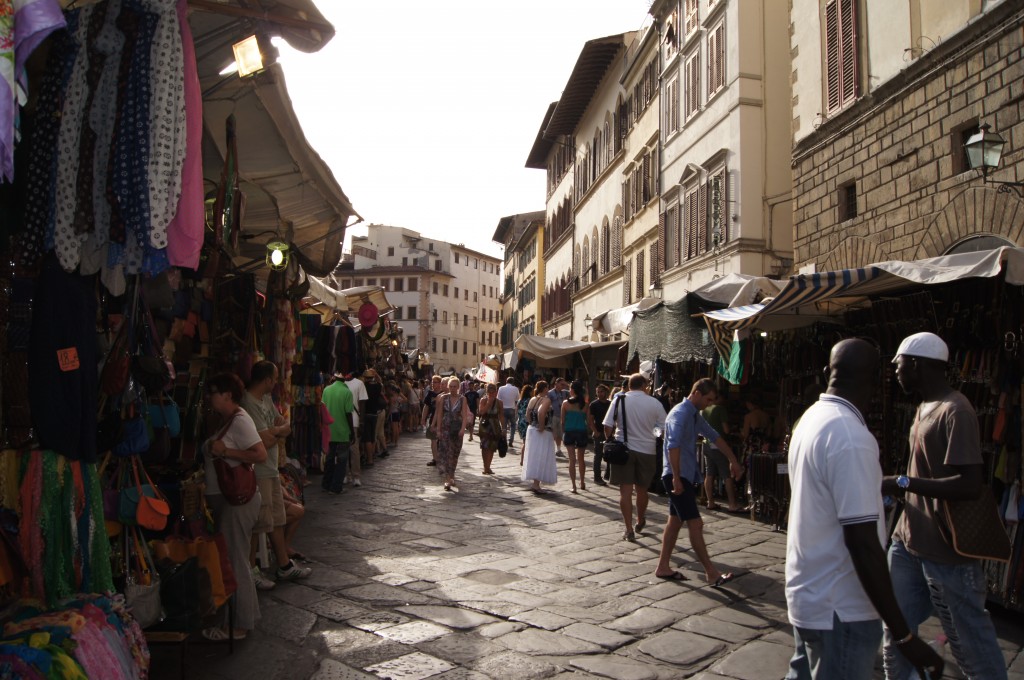 The market stretches down the streets near St. Lorenzo church. The plethora of stalls can be broken down into four main categories: leather jackets, leather bags, jewellery and souvenirs. We walked away with a couple of bags, but it really would be easy to go overboard. We got the impression most of the stalls are owned by the same people. The sellers would run between them to get stock or a credit card machine. I felt for them today. It was still so hot.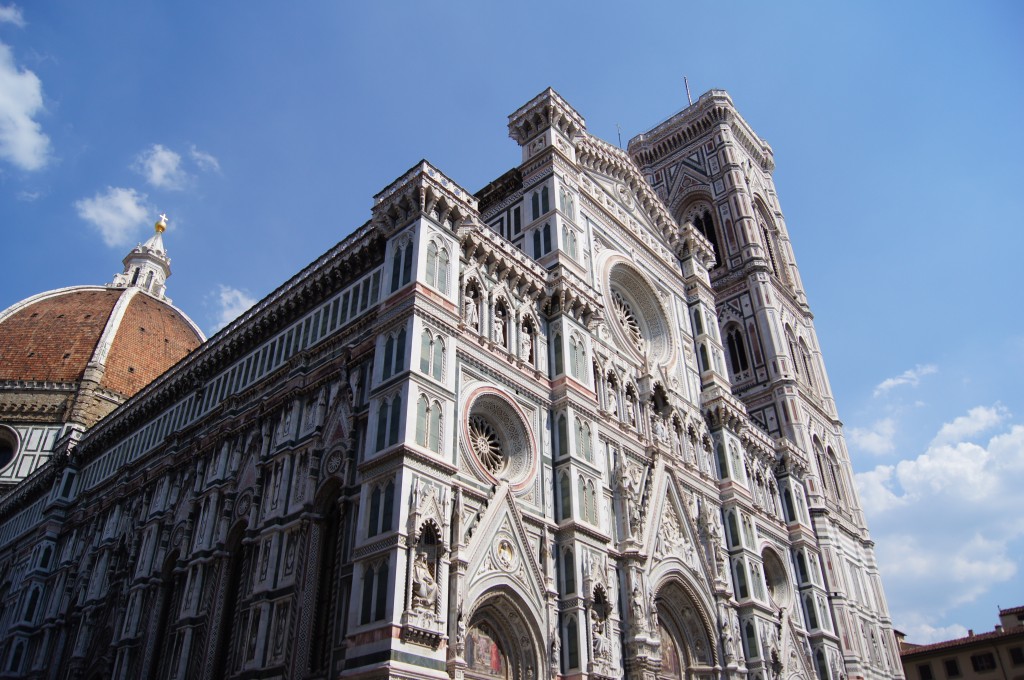 Shopped out and with our clothes clinging to us and sweat pouring off us, we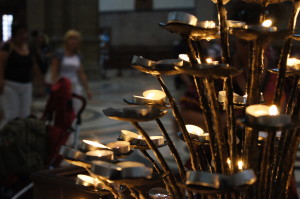 visited the Duomo. The exterior of the church is amazing – so colourful and detailed. Inside was such a contrast – a big open space with no elaborate statures or decorations. Just a couple of stained-glass windows. It was actually nice to see after the elaborate works we saw so much of in Rome. The cupola here was the exception. The artwork on that is more impressive than the Sistine Chapel. We took shelter inside for a while before walking to Piazza della Repubblica.
Following advice from Adventurous Kate, I wanted to find a department store she had mentioned in one of her blogs. Apparently at the top was a café with a great view over the Duomo. After a little walking around the square we found it and went to the top. We had intended to have a drink up here, but we managed to take a few photos and gawk at the drink prices well before a server approached us so we headed back down.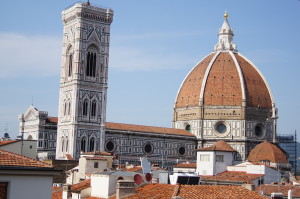 Another tip from Adventurous Kate took us to Il Lantini for dinner – we thought. We arrived at the restaurant about 6.30pm to be told they would open in an hour. We ducked up the street for a drink and came back at 7.30pm to a huge line of people waiting for the restaurant to open. Rather than wait, and with another night left in Florence, we found another restaurant. It turned out to be a great choice – amazing osso buco!