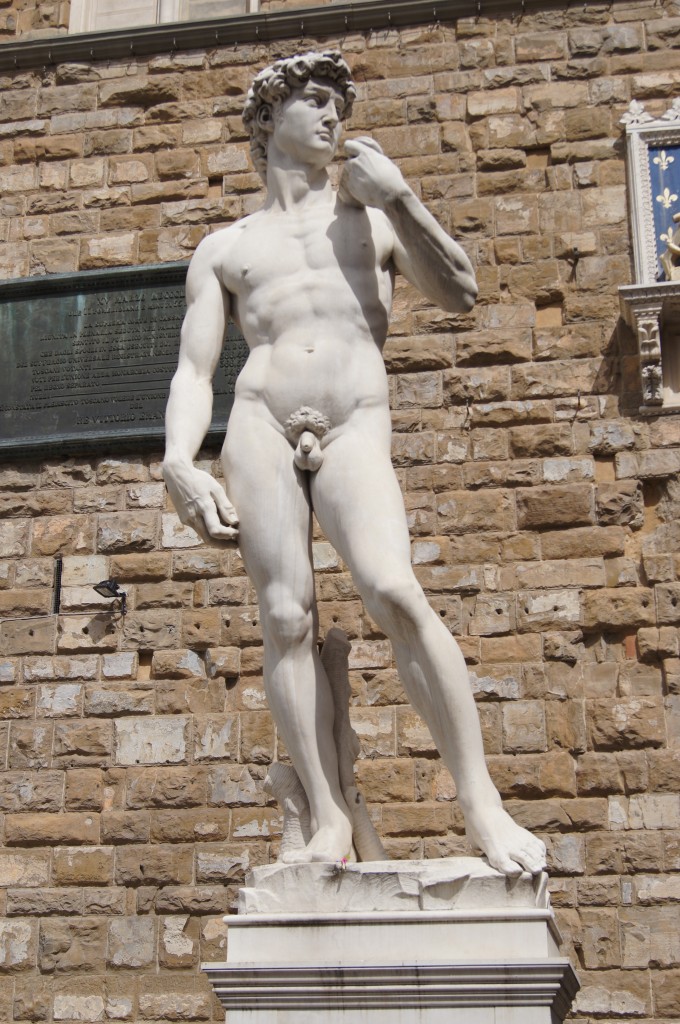 Michelangelo's David.
The world's second most famous David. I'd be a lot more excited about seeing the first one naked, but I'll leave that for Victoria Beckham. So why all the fuss over this naked statue? I honestly have no idea. I call it the Mona Lisa effect. Art critics hail something as a masterpiece and suddenly everyone has to see it. Sure David might be ripped, but I'd expect a naked man that's getting that much attention to be a bit more, well, you know…. Michelangelo could have exercised some artistic license in that department.
For these reasons and a lot more, we decided not to visit the "real David". Instead, I decided to check out one of the fakes planted around town. Mum and Dad had opted to tour the city by bus, but I was on foot. My first stop was Piazza Della Signoria, the location of the most popular Fake David, the Palace Vecchio Museum and a collection of statues that make up a great open-air museum.
The statues seemed to have less religious connotations than a lot of the others I've seen in Italy. Most were depicting historical events, some quite graphically. The only information I had to go on was the title, artist and date, but most of the works spoke for themselves.
I then tucked my map away and walked. Florence is a funny little city. It's the first time I've seen public toilets signposted, there aren't many fountains (especially compared to Rome) and I loved the smaller buses that run in the centre where big buses just couldn't navigate the narrow streets. Because there are no cars in the centre, the streets were they are allowed are basically parking lots. I saw a few people leave a house and walk for blocks to their scooter or car.
With no destination in mind I found myself at Piazzale Michelangelo, in front of another David and overlooking the city. It was refreshing to view a city not littered with high-rises.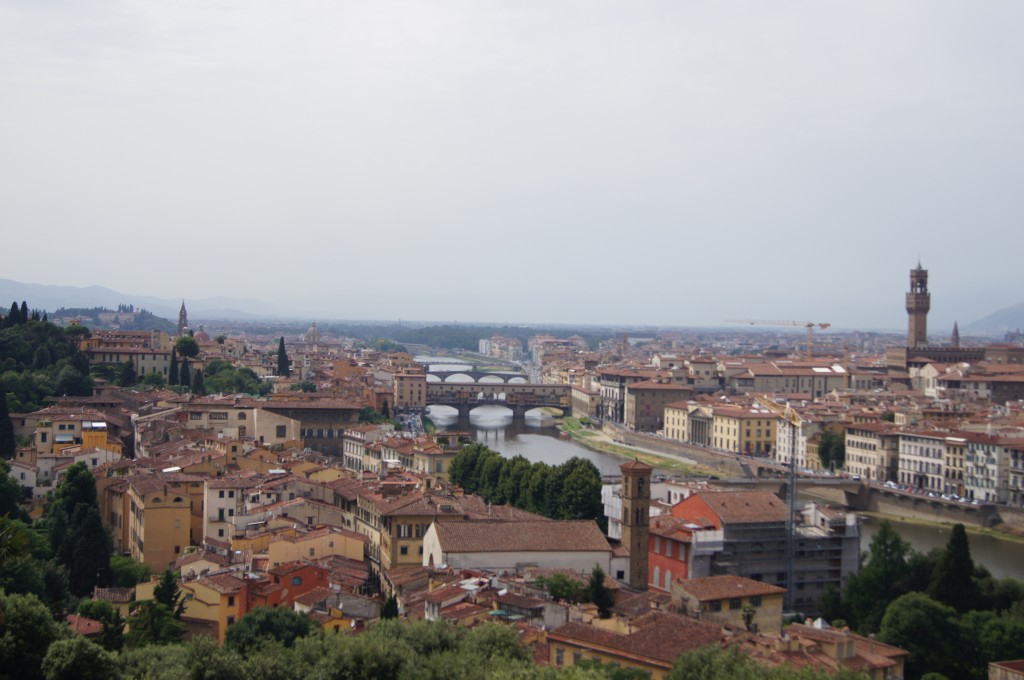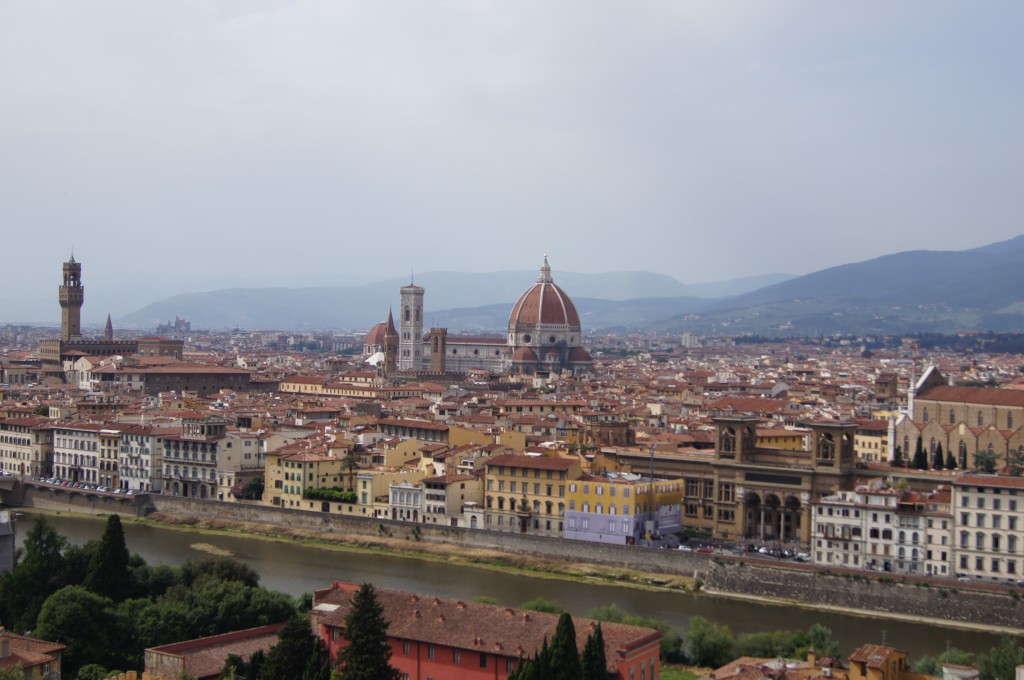 Back down the hill I wandered through the streets. Only a few blocks from the centre and I was quite often the only person on the street. There would be an occasional siren or a motorbike speeding by, but Florence was surprisingly peaceful. By 6pm the heat had started to ease for the first time in days.
After dinner, we walked back to Piazza Della Signoria. The Piazza felt different at night. There was a busker playing classical guitar and only half as many people as were here earlier. We walked into the entrance of the Palace Vecchio Museum. As we admired I guess what would be the lobby of the museum, I overheard some people talk about free tickets. They walked to the ticket box, asked a man standing at its entrance for six tickets and he handed them over. So I tried it! Obviously there was some special event or perhaps it opens for free regularly, however we had our tickets.
Our first stop was the Grand Hall, an incredible room filled with huge paintings. Both Michelangelo and Leonardo da Vinci were asked to complete paintings for it. Michelangelo barely started his before he was summoned to Rome to paint the Sistine Chapel. Da Vinci experimented with new techniques, including the use of wax. When he tried to speed up the drying process by heating it, the wax melted and destroyed most of the painting. But at some point between then (1505) and now, The Battle of Anghiari  was lost thanks to numerous renovations. But this year art experts announced they believe the painting is hidden behind the mural Battle of Marciano in Val di Chiana by Giorgio Vasari. They've (controversially) drilled holes into Vasari's painting to explore what's behind it and the results point to the painting being preserved there. At the moment Vasari's painting is covered, I assume while they decide what to do next.
The Palace, Florence's old town hall, is, like most other such buildings in Italy, completely over the top. The work that goes into these buildings and their design and decoration is incredible.