Five girls are suspended in the air, held only by ropes wrapped around their waists. They dangle from the roof of the white tent as lifeless as dolls. The music builds and the girls come to life – spinning and unravelling themselves down the rope, coming to a sudden halt above the heads of the gasping audience watching from below.
It causes my tummy to somersault.
Bianco is difficult to describe in a way that lets you understand why it's so amazing. But just know this: I spent two hours walking around a circus tent, staring up at the roof, wide-eyed and with my mouth gaping open. The snippet in the program describing it as "jaw-dropping' was spot on, although every now I shut my mouth to say "wow".
It was an incredible way to finish my first day back at Ed Fringe.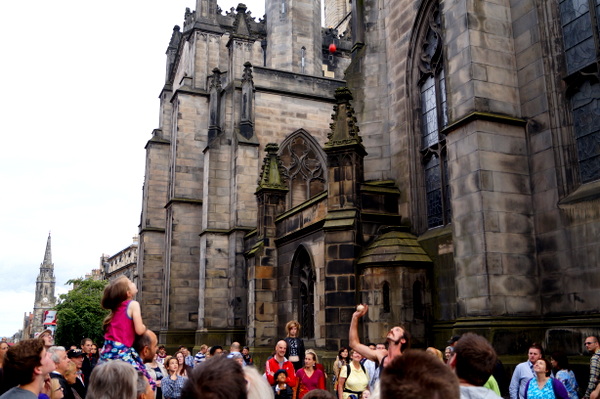 I've written about my previous visits to the Fringe, but for those who don't know what all the fuss is about, here's a recap: Every August Edinburgh hosts the Edinburgh International Festival. In that, there are several separate festivals (about six I think) including the Edinburgh Fringe Festival. The Fringe Festival features thousands of shows from comedy, cabaret and theatre, to music, dance and spoken word. I couldn't begin to describe the variety of acts here. Edinburgh's Royal Mile, usually a peaceful tourist strip lined with kilt shops and overpriced restaurants, is mayhem. It's closed to cars and full of buskers and performers promoting their shows, either by doing small skits in the street or handing out flyers. The Fringe Box office would be easily identified by the massive queue outside, but those people get swallowed up by all the other people in the street.
It's crazy and I love it.
This is my third trip to Fringe. For the last two years I've only managed a handful of days here and always left wanting more (although I suspect that would happen no matter how long you spent here). This year I was determined to give Ed Fringe the time and attention it deserves. It's the reason I'm still in the UK.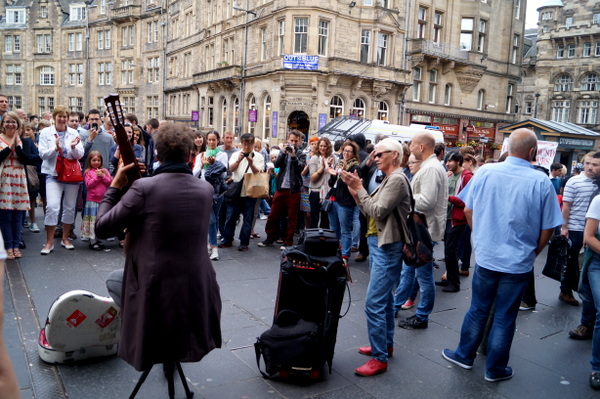 So what's happening at Fringe this year? Here's a rundown of what I saw this weekend.
With no afternoon plans I was enticed by the name and the fact it was free. The show featured three comedians: Emily Wood, a young social media addict who apparently can't hold her booze; Nathan Wood (no relation) who joked about having an addiction to pain killers but I don't think he was actually joking, and Lost Voice Guy, the best of the lot. Lost Voice Guy was great – he suffers from Cerebral Palsy and can't talk, using a computer to do his show. He made a lot of jokes about his disability; some predictable, mostly hilarious. He does a second show that I'm tempted to check out later this week. (Free)
This caught my eye in the program about a month ago. Something about percussion and hip hop was all I could remember when I booked the tickets a few hours before the show on Saturday. It's about all I can remember now, having seen it. The dance ranged from tap to hip hop and popping. The sound was created on stage using crates and old suitcases as drums, kicking bare feet through sugar and voice – among other things. And somehow in there they also managed comedy. The hour-long show seemed to last forever, in a good way. (£17)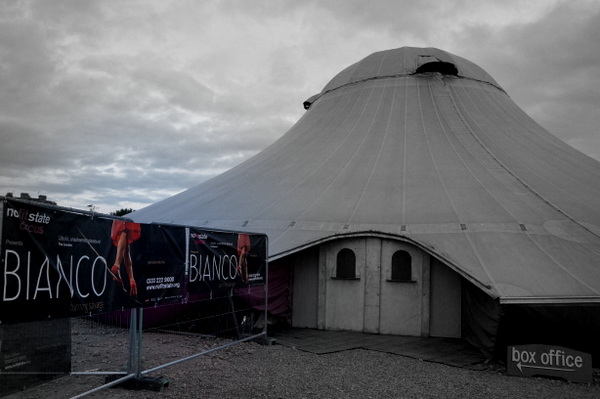 The performers in Bianco must have been very annoying as children. I can't imagine them sitting still for a second. To sum it up, it's acrobatics by people in costumes straight out of a Panic at the Disco film clip. The show was performed in a big top, but instead of us sitting around the side and watching the action in the "ring", the crowd stood as the performers flew about above us. Ushers in top hats guided us about, moving us out of the way when different acts were various parts of the tent. To go into more detail just doesn't do it justice. Although I feel I need to mention the performer with the impossible six pack. He was topless and playing about on two ropes similar to gymnastic rings (that's the closest uneducated comparison I can make). He. Was. Ripped. Frankly, I don't think I can be expected to pay attention to him flinging himself about in the air when he's sporting abs like that. Oh and while he was doing that, another performer stood on the sidelines casually eating fire. You know, because he can. I didn't take any photos because I'm one of those (few) people who always respect the "no photography" instructions. It was one of the most incredible shows I've seen and if you're at Fringe this year, you definitely need to see this. (£18)
I've been a big fan of Hannah Gadsby since she started appearing on Good News Week back in Australia. I saw her at Fringe two years ago and again last year. This is her best show yet. I'm not just saying that because I want to support someone from the same neck of the woods as me (North-West Tassie). I read on Twitter that she had her first sell-out show at Fringe on Saturday and I can understand why. The show discusses low self-esteem and poor body image, but it's not the kind of humour typical of so many female comedians. It's brave and so funny my cheeks hurt by the end of it. (£11)
The title held so much promise, but unfortunately this wasn't as great as I expected. I love my home country, but I could think of enough jokes about it to fill an hour. But comedian Kieran Butler couldn't. He stayed on topic for the first 20 minutes or so before straying. The stuff about Australia was funny. The other stuff, not so much. But that's part of Fringe – you never know what you're going to get. (Free)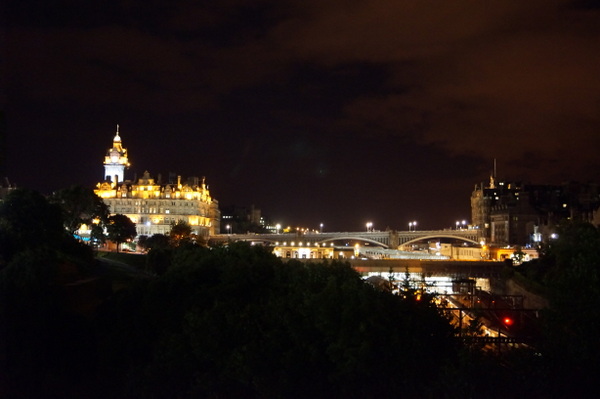 Dylan Moran isn't on the bill for this year's Fringe. I know this because I have searched online, on the app and looked in the program – several times. So when I saw his name on a small blackboard outside the Assembly Roxy while waiting to see Hannah Gadsby, I was puzzled. Turns out, the line-up for Best of the Fest is announced last minute. A lot of people who buy tickets in advance have no idea who they'll be seeing. So at 11.30pm I was walking through Edinburgh on my way to the midnight show. There were eight comedians: Irish MC Andrew Maxwell, Lee Camp, Rhys Mathewson, Zoe Lyons, Russian comedian Igor Meerson performing his first English stand up set, Lloyd Langford, Tony Law AND, coming on stage about 1.45am, Dylan Moran! He has aged a lot since I saw him last year: he's gone grey very quickly or he stopped dying his hair black. Either way, his set was classic Moran and he was quite possibly drunk. The line-up was only released that day and not well promoted, so I'm stoked to have caught sight of that blackboard, even if it meant I didn't get to bed until nearly 3am. (£14)
That's my first two days of Fringe 2013. Lots more to come.