Until I came to Fringe two years ago, all the comedy I watched was very mainstream. Sure there were minor differences, for example Carl Barron's observational humour is a lot different to Tim Minchin's hilariously offensive songs or Dylan Moran's erratic performances. But essentially, there wasn't much variation in the comedy acts I was used to.
Ed Fringe has opened my eyes to the fascinating world of comedy. On Wednesday I had a Fringe First (for me anyway). On the recommendation of a friend I went to see Phill Jupitus. I had no idea what to expect – if someone recommends a show to me, any more detail is irrelevant. If they think it's worth telling me about, that's good enough for me.
That's how I found myself at my first poetry reading. Phill Jupitus, aka Porky the Poet, is known to a lot of people for his spot on Never Mind the Buzzcocks. I am not one of those people. I had no idea who he was or what he was going to do. I didn't even know if it was a comedy act. Yes it was. That comedy was just delivered in the form of poems, and some funny anecdotes and chat in between. The poems were as varied as Fringe itself: Phill read poems about trains to Essex, school mums, politics and Jeremy Clarkson. (By the way, it seems everybody in the UK hates Jeremy Clarkson. Except for, I suspect, Jeremy Clarkson.) And no, they didn't all rhyme.
One thing I really admired was that Phill, despite (apparently) being a very high profile comedian, was performing for free. He told the audience believed that acts who put on ticketed performances (which he also does) should do free shows as well since they are at the festival already. I thought that was a great attitude and told him so at the end of the gig.
Phill's show was a great introduction to a type of comedy I hadn't experienced before, but as usual, only one of several great shows I saw on my last two days at Ed Fringe 2013.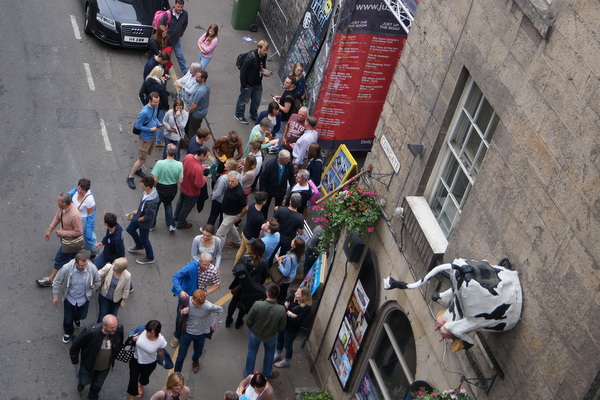 Most shows at the Fringe include strong language. It's an easy laugh and I suspect most comedians lead the kind of life that makes them want to swear a lot. So when the ticket seller at the half price hut warned of the language at Janey's show, I wondered what I was in for. What I learnt is that after you hear the 'c' word said about six times in the one sentence, it really does start to lose effect. But despite Janey's encouragement, I won't be making it part of my vocabulary. (I'm the type of person to say "gosh darn" when something doesn't go my way). Janey's advertising posters feature an endorsement from Billy Connolly so that should have been a giveaway about the language right there. She's also from Glasgow, so naturally everything she said was funny anyway. Her daughter, Ashley, opened for her and I actually thought she was funnier. I saw a few "older" audience members who tut-tutted throughout the show, but I thought it was all good fun. (£10)
News at Kate 2013: My Professional Opinion
After seeing Kate Smurthwaite's political comedy chat show on Monday, I was interested to check out her solo gig. Political comedy is not something I'd seen much of before this year. (All those jokes everyone made about George Bush don't really count because they were rarely anything political.) As I've learnt from Lee Camp's slots at Best of the Fest and at Kate's other show, the laughs aren't as frequent, and, without meaning to sound snobby, they are aimed at a certain audience, usually requiring knowledge of current events and politics to get. If you don't know what a Tory is, any jokes about British politics are going to fall flat. As a very intelligent, funny and outspoken woman, Kate makes good fodder for radio and television chat shows. She is often contacted to appear in debates and on panels to discuss topical issues. In this show she discusses some of her experiences, her opinions and teaches the audience how to argue a point. This show isn't for everyone (read dumb people or right-wing, anti-feminist gits), but I enjoyed it. (Free)
I was sitting at Free Sisters waiting for another gig when Lucy Frederick flyered me (that's definitely a verb at Fringe). She seemed fun and I hadn't seen a show in the yurt yet so off I went. I related a lot to Lucy's show. She'd never been cool, but decided to give it a go so started wearing leggings, trying to master high heels and listening to the "right" kind of music. What I loved most about the show was Lucy's confidence. I really enjoy seeing amateur comedians giving it a go. It must be an incredibly tough dream to pursue because getting any experience at performing comedy routines means doing it for an often unforgiving audience. Many acts I've seen, despite being half-way through the Fringe, come across as if they are terrified of the stage. They lose their place, are easily shaken and I think half the laughs they get are out of pity more than anything else. Lucy completely owned the stage to the point I was left thinking "why are you performing in a yurt for free?" (Free)
Too lazy to walk to another venue I stayed in the yurt and watched the next show. It was billed as a stand up gig with Kim Hope and Larry Dean, but Larry had taken the day off so Kim invited a few guests. The second guest was half-way through his set when I realised I'd seen him before. The second guest only had to make his first joke and I had another wave of deja vu. Both comedians had performed in the yurt last year at what was one of the worst shows I saw. What was more annoying is the hadn't used the last 12 months to develop new material. It was a shame to end Fringe 2013 on such a note, but the bad gigs make me appreciate the good ones!