I walk through the door, get an admission stamp on my wrist that reads "This Ink Belongs to Lionel Richie" and take my seat. There are no chairs so I sit on the ground. Barry stands in front of the crowd with his microphone and PA system. It's bright so I still have my sunglasses on. I look around my fellow audience members and take in my surroundings. The former is the usual varied Fringe crowd. Old, young, some smartly dressed, some looking like they've been wearing the same clothes for three days. The latter is a pretty spectacular view over the suburbs of Edinburgh and the North Sea.
I've attended Fringe gigs in pubs, theatres, a circus tent, the top level of a double-decker bus, a football club, an inflatable up-side-down cow udder and a yurt nicknamed The Yurt Locker. And a dormant volcano.
Becoming a performer at Edinburgh Fringe goes like this: if you can find a venue, you're in! With the more "professional" venues booked by acts who can afford the high rent costs, amateur and lesser known acts have to think creatively. One year a man gave a cabaret show in his Mini to his audience in the three passenger seats.
Last year, Barry Fern's set up his show on Arthur's Seat, a 350 million-year-old volcanic plug east of Edinburgh's city centre. He's back again.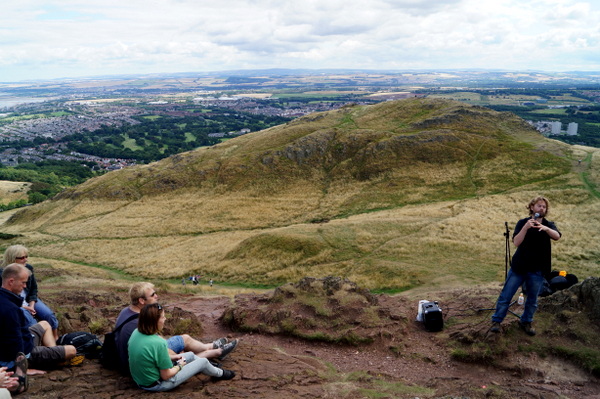 Arthur's Seat is the highest point in Edinburgh and a 45-minute walk from the Scottish Parliament building at Holyrood, down the "other" end of the Royal Mile. It's a relatively easy climb that many visitors make to check out the lovely views of Edinburgh – just as I did on Monday. Having walked down from Arthur's Seat, I went straight into a free Fringe show at a pub and heard about Barry Ferns' daily show on the summit. So up I went again on Tuesday.
Barry Ferns' legal name is Lionel Richie, having changed it to avoid any legal issues for a Fringe show he put on a couple of years ago called "This Belongs to Lionel Richie". Whatever the weather, Barry climbs Arthur's Seat with his microphone, speaker and a wooden door frame to do his 30-minute show. About half of Tuesday's audience had climbed up to see Barry's show. The rest had happened upon it.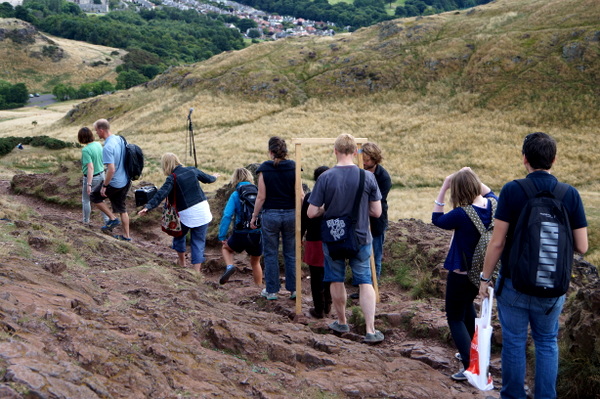 The show itself was so relaxed and casual I kept waiting for it to start. Barry had a great way of combining audience interaction with his anecdotes and jokes, which never felt rehearsed. Would the show have been as great if done in a traditional venue? Perhaps. Barry is a great comedian after all. But sitting in the sun on the top of a hill watching stand up comedy was an experience I don't think I'll have again. It was definitely a high point. (Oh yes I did.)
Barry's show was one of six I saw on Tuesday so I've got a bit to tell you about. Here's the rundown of days three and four at Ed Fringe.
Kate has two shows: her own stand-up gig, and this, a comedy chat show. The journalist in me was enticed by the posters of TV news presenters. And the fact it had "news" in the title. And it was free. The comedians on Monday were Lee Camp, who I saw at Best of the Fest the night before, and Rebecca Mordan, the founder of the all-women production company Scared Little Girls. Both guests did a quick introduction. In Lee's case it was stand up while Rebecca talked about her company and the shows they've been putting on. Then the guests took questions from Kate and the audience. The discussion included politics, feminism and why comedians swear so much and talk about gross stuff. Lee's reply to the old woman who asked about the last topic was to talk to the audience as comedians wouldn't do it if it didn't get a laugh. I really enjoyed the show and will perhaps pop back again to see it with different guests. (Free)
The last act, and the third comic named Scott to perform in a row, was running out of time. "Ok I'll do my big finish. Do you know the tune of The Final Countdown? Good." He pulled a banana from his pocket. "I'm going to eat this banana while you sing the tune." So we started singing and he started eating. It doesn't sound that funny, but for some reason, it was hilarious. Multi-act shows are always hit and miss and this was no exception. There were six comics and I'm guessing most are starting out. Some were great, some not. However, anyone who can make me laugh just by eating a banana earns my donation in the bucket at the end of the show. (Free)
When you hear of a comedian doing a show on top of an extinct volcano, you've just gotta go don't you? Luckily I had amazing weather for both my walks up Arthur's Seat. This was also one of the few clean shows I've seen this year so far. Swearing is a way to get easy laughs and it becomes a bit predictable and boring when every comedian is doing it. Barry obviously has no idea who's going to be up on Arthur's Seat during his show so it's very family friendly. After a few days of gross stories and inappropriate jokes, it was nice to see someone be funnier without needing any of that. (Free)
I saw Lucy Cox last year when she gave me a flyer on Royal Mile reading "Attractive Audience Required". My friend Yani and I felt obliged to go. She was so good I searched for her name in the 2013 program. This time she's performing with Jenny Cox and their show is about single life and dating, which is what Lucy spoke and sung about last year. Sometimes I get a bit tired of female comedians being so predictable with their material, but these girls were funny and (depressingly) relatable. (Free)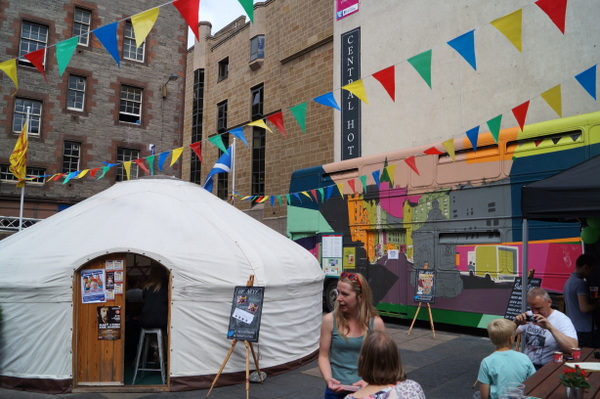 With so little to go on when choosing what acts to see, the title can be make or break. A show with a name like this is sure to draw a crowd. It was held in a downstairs room of the Edinburgh City Football Club (the upstairs bar was full of senior citizens and we waited for the show in front of cabinets of trophies) and when I went, the room was almost full, so I imagine the title is working for them. The three performers, Ryan, Ben and Tom, were good fun, however the funniest thing was when one went off script and nobody could keep a straight face. This happened a lot. (Free)
I remember him for last year because the write up in the program that no he wasn't that Chris Martin. (Coldplay front man for anyone not in the know.) The posters advertised him as an observational comic and they are always my favourite. Was he as good as Carl Barron? No. Not even close. Was he still funny? Yes, absolutely. After seeing so many acts I can't help but compare them and one thing I look for now is how well they deal with anything unusual in the gig such as a heckle or someone walking out. Chris was great at making the most of whatever was going on. (£9)
No surprise I ended up at this show now is it. Rather than being a straight comedy show, this was more a talk about backpacking, travel stereotypes and the stupid things people do, all of which just happens to be funny. Jody Kamali, the performer, is pretty well travelled and drew on his experiences of dorm rooms, the people he meets and Asian taxi drivers. At one stage he pumped some music and pretended we were all on a Contiki bus, which is my idea of hell on earth. Judging by the laughs it got, I don't think I was the only one in the crowd with that opinion. The highlight for me was when he discussed the reasons why people go travelling: To get wasted, to get away from a boring life, to "discover yourself", to have a gap year. Or because you're an Aussie. (Free)
Watch this clip. Everything that is amazing about Axis of Awesome and The Four Chord song is down to this guy. Benny Davis. After finishing a degree in classical music, Benny started busking in a Sydney nightclub district, making a name for himself by taking requests. In the early part of his solo Fringe show, he did just that. The audience wrote down songs and Benny played them. When one audience member shouted out "Mario", Benny asked "what level?" and proceeded to play a bunch of tunes from the Nintendo game. A lot of his show was built around the concept of the four chord song: that most songs aren't very original. Benny is funny, but his musical talent is simply amazing. Awesome way to finish my fourth day at Fringe! (£9.50)