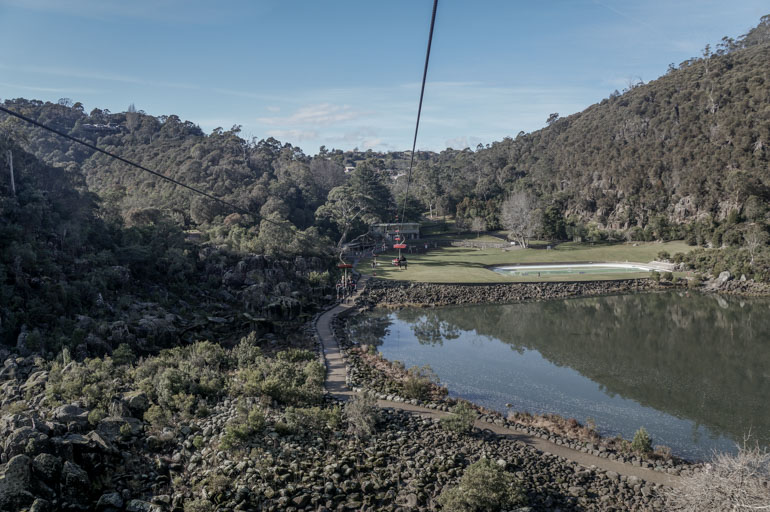 "I think I've done this before," I say to my partner as I try to piece together memories.
The vision – the feeling – tugging at my memory is on the chairlift. I was young and concerned my shoes were going to fall off. Did they actually fall off? Was I scared they would? Or did I dislike heights and not realise that yet? I can't remember.
Many years older, with my shoes firmly laced, I'm am no more comfortable on the world's longest single span chairlift. It takes a minute or so for me to relax and sit back. I can't add "and enjoy the ride" because as beautiful as the view is from up here, I spend the whole trip waiting for it to end.
The chairlift is my only memory of that visit to Launceston's Cataract Gorge.
In between then and now I've been here many times. Most visits involved friends, bikinis and long afternoons in the summer sun, dipping in and out of the pool. On a winter's day, when the pool is closed, the grassy banks empty and rain predicted, the Gorge seems like a different place.
That's also because I'm looking at it differently. I'm taking it in – more than I have before.
I'm here now as a tourist for the first time since that childhood visit. I've walked from the city – surprised to learn it takes only 25 minutes. I've usually driven here with friends with the latest pop hits blaring. I had no idea there was a trail along the river.
With our feet back on the ground, we walk from the chairlift to the Alexandra Suspension Bridge. I have no childhood memories of the bridge – no teenage or adult ones either. On those many visits when I stretched out on a towel on the grass and talked about boys, I never took the two minutes to walk along it.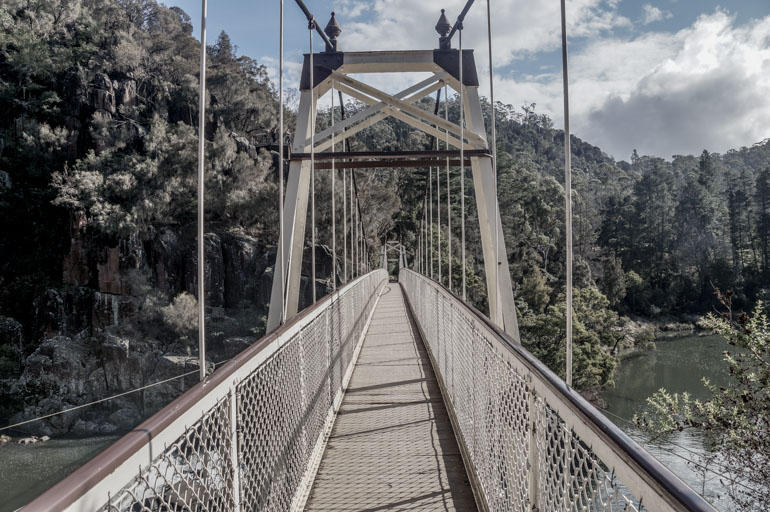 Back in the city, walking along streets I identify by the location of bars and pubs, my eyes are drawn upwards. Settled in 1806, Launceston is one of Australia's oldest cities. The city centre is a mix of heritage and art deco buildings and the original facades have my attention. What are now shops, restaurants and offices were once banks, warehouses or even a flour mill. It's a very beautiful city and I walk with camera in hand to capture faded signs on the brickwork.
On Saturday afternoon, after a quick bite to fill our stomachs, we arrive at James Boags Brewery. Beer enthusiasts come from all over the world to tour the brewery and drink a couple of pots at the end. It's near the top of the "must-dos" in Launceston, but despite the many beers I downed on cheap uni nights in my early 20s, I've neglected the attraction until now.
Why?
We travel to explore and learn. To be inspired and surprised. To escape our day-to-day life and immerse ourselves somewhere else. And when we set out on a big adventure – a gap year, a round-the-world trip, a rail journey through Europe or road trip across America – we are proactive about achieving this. We seek out new experiences, deliberately push ourselves out of our comfort zones and try to see and absorb as much as possible.
But what about when we aren't on some grand adventure? When we don't consider ourselves to be "travelling". How much do we experience destinations – old and new – if we're not making a conscious effort to do so?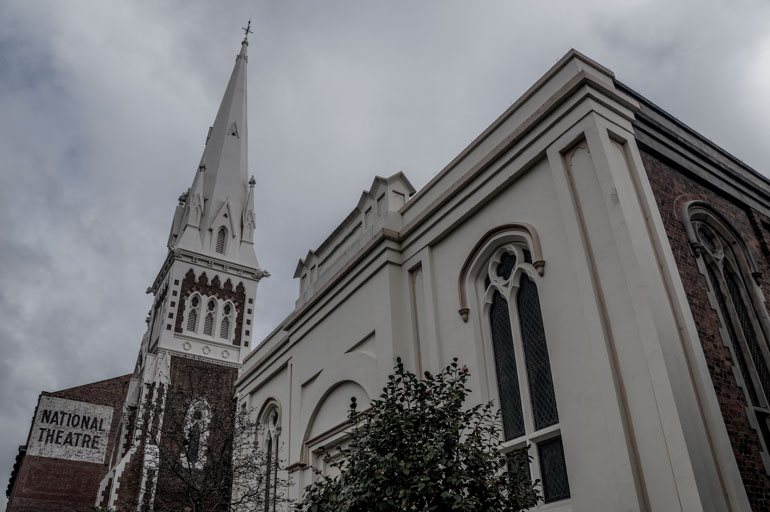 Spending  a long weekend in Launceston was a wake up call.
I'm not sure I would have made the effort to spend time there if I hadn't won an accommodation package at my work Christmas party. Three free nights at Pepper's Seaport was an excuse for a winter weekend getaway.
I had one goal – to get my tourist on.
We raided racks of brochures for nearby attractions, hit up locals for restaurant recommendations and vowed to get the most out of every day.
I have spent so much time in Launceston. I haven't needed a menu at my favourite steak place for 10 years. The whole city is familiar. I was never there as a tourist – hell it's less than two hours from my home. So I stopped seeing it. But treating the city as a new destination to be explored opened my eyes.
I appreciated things that had gone unnoticed before. The heritage buildings and their beautiful facades. The number of parks and open spaces near the city centre. How easy it is to feel away from it all. These are traits I have loved in a city on the other side of the world, yet ignored in one so close to home.
For a long time I believed travelling meant throwing a backpack over my shoulder and gripping my passport in my hand. I had to go far away, somewhere cool, somewhere exotic. Somewhere I didn't speak the language or know the food. It was on those journeys I would be a "traveller" and have the adventures I dream about.
There will be more of those trips – always. But there will also be more trips closer to home, rediscovering my country and remembering that with the right attitude, the thrill of travelling can be enjoyed anywhere.