Is it really only one month since I left London? I'd like to say it's gone so fast, but it feels like I've been away a lot longer. Most of that time has been spent in just two countries: Serbia and Montenegro. It's the first time in a while that I've been able to travel this slowly, although I say that like it previously hasn't been a choice, when of course, it has been.
Already this trip has reminded me of the things I love most about travel: exploring new cultures, meeting people and getting to know a country beyond what travel guides tell me. I ask a lot of questions about education, wages, history, religion and so on and I'm often surprised at how much people know about their country. I'm not sure I could answer a lot of the same questions about Australia.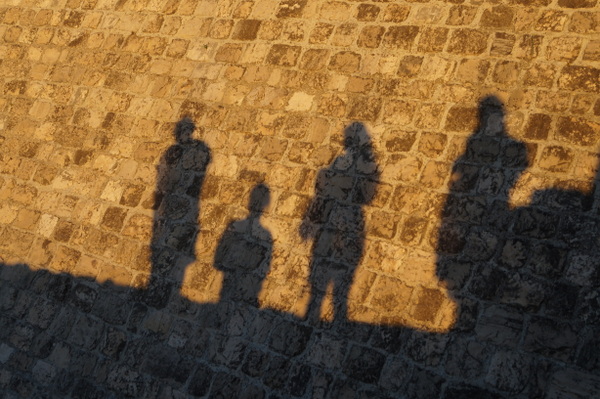 The last month feels like one big highlight of all my travels, but that would make a very long post. So instead I've picked some moments that I think capture the experiences I've had.
The World Testicle Cooking Championship
You might think there's not much else I could write about this and you'd probably be right. I've written about the contest and what I thought of the experience. Aside from the people and the fact I was at The World Testicle Cooking Championship, I enjoyed being a part of something that isn't what anyone would call a tourist experience. Aside from the visiting teams, it was a very much a local event. I don't have anything against tourist attractions, but once something is done with tourists and visitors in mind, it immediately becomes just a little bit less authentic. But the cooking championship epitomised the crazy Serbian culture that I've grown to love.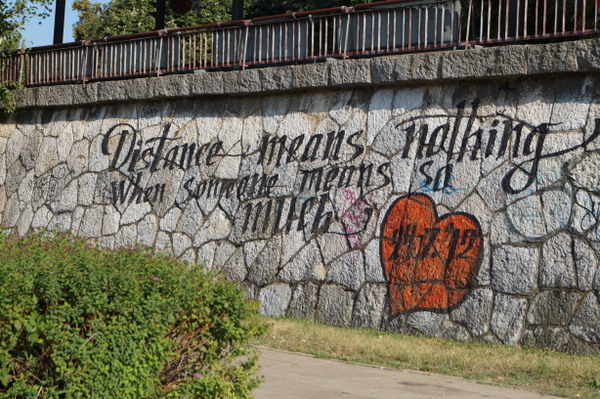 New friends in Niš
Another topic you're probably sick of hearing about. I've said it so many times, but CouchSurfing changed the way I travel. I think back to some trips I've done and can't name a single local person I connected with. That's disappointing because the people I meet become such a big part of travelling and also a big reason why I love it.
The people I met in Niš turned an ordinary city into an incredible travel experience. I've kept in touch with a few of them over the last few weeks and it's been great to have their suggestions and advice while I travel through the region. I really hope that some of them visit my home one day so I make them feel as welcome as I did.
A little rubber boat on Uvac Canyon
The Uvac Canyon in Serbia is a spectacular sight, but it was how I saw it, not what I saw, that really made this experience for me. Travelling in a little rubber boat down an empty river with two guides that don't speak English was a million times better than sitting on a big boat surrounded by people and having a guide talking the whole way. I think that environment would have diluted the experience.
While my "guide" may not be a professional tour guide, he had grown up around the canyon. If he had been another 15 or so years older, he would have remembered the dams being built. His parents have lived in the area their whole life, so they would definitely remember. Not being able to ask those sorts of questions was the only downside of exploring the area with a non-English speaker, but it was still nice to see it with people who have that history and connection to the area.
Finally finding the canyon in Durmitor
I haven't written about visiting Durmitor National Park in north-west Montenegro, but I spent three days in Zabljak after I went to Biogradska Gora. There are a lot of things to see there, but the highlight for most is Tara Canyon, the world's second deepest canyon. The first is, of course, the Grand Canyon.
On my first full day there I set out to walk the 8km to a lookout over the canyon, although I made some silly mistakes that frankly, I shouldn't have. Especially after living in The Lake District for a year and hiking on a regular basis. First of all, I borrowed a map from the hostel that didn't actually show my destination. I was told "follow the main road all the way" and when I double checked and said "this road here" the hostel owner replied "no, that goes to a different town, this one here". I was a little confused, but the hostel owner said I probably wouldn't need a map at all so I figured it couldn't be that hard. I also didn't write down the local name of the lookout.
So off I went, turning off at the appropriate point and winding up in a small group of houses in The Middle Of Nowhere. There was no sign to the canyon, no clear path and I was pretty sure the hostel owner and I had got our wires crossed. So I doubled back and went along the other road before coming to a sign pointing to a town I knew was in the canyon. It said it was 13km away. Hmmm.
Since the lookout was only 8km away and I was already about 4km in, I was even more confused. So I doubled back (again) and went back down the first road. I found a man in a paddock and said "Tara Canyon?" he pointed over the hill in front of me. I kept walking and asked another lady I saw. She pointed in the same way. So did the third person I asked. I just kept climbing the hill, determined that it must be somewhere. There may have been a lot of Hogarth stubbornness and pride involved.
Eventually, I saw it. Although pretty sure I wasn't where I was meant to be, it was an amazing view. I saw some other little peaks so decided to walk to them and spotted a wooden bench below me. There was no path that I could see so I put my arms up across my face and just pushed through the trees. I came out and saw a gravel road, presumably one I was meant to know about.
"Bastard!" I said to no one and everyone.
I had lunch on the bench while drying out my shoes and socks that became saturated from the wet ground underneath the trees I'd just walked though. I decided to follow the road a bit and about 400m later came out a car park and plenty of signs to the lookout, which was still another 1km along the canyon edge.
I made it eventually and it was worth every prickle in my soggy leggings!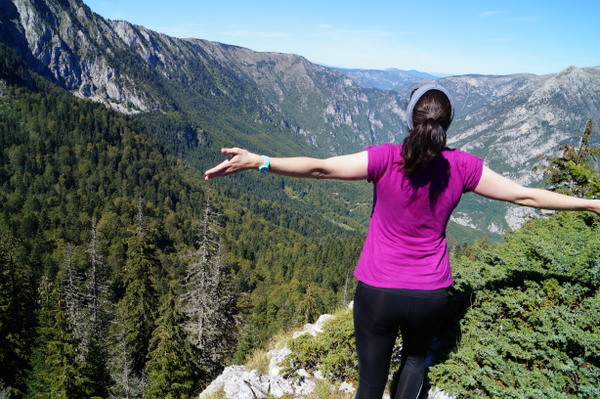 Welcomed into a Montenegrin family
Could I speak any more highly of CouchSurfing? You betcha! In Bar I CouchSurfed with Dino. He lives in a big three-story house and has a self-contained apartment on the ground floor. I got in about 10pm and Dino asked if I was hungry. I was. "Come on, we'll go upstairs."
"Upstairs" lived his parents, who despite the late hour, filled the table with food for us. The next day Dino went to work early and I was told to head back upstairs for breakfast. I sat on the terrace with a view of the city and the sea, drinking coffee with his dad and having a conversation in very broken-English, with a few Italian and German words thrown in. Dino's mum then cooked me breakfast and when I was finished his sister-in-law (who lived upstairs with Dino's brother and their two kids) drove me to town on the way to taking her kids to dance practice.
I spent the morning walking around Bar and watching the Balkan Parachuting Championships by the beach before meeting Dino and going back home for lunch, which was another amazing meal (stuffed roast capsicum, lots of salad and fresh bread). We spent the afternoon exploring the Old Town and sneaking into a wedding before going back home for more food. Over dinner (veal and salad) I used a book belonging to Dino's 4-year-old nephew to teach myself the names of farm animals in Serb-Croatian, much to the amusement of Dino's parents.
Dino and his family were so lovely and welcoming and I'm so grateful for their hospitality. But it was also fun to see life in a Montenegrin home. Family is so important in this culture. There were four generations living in the house (Dino's grandmother lives there too) and that's quite common.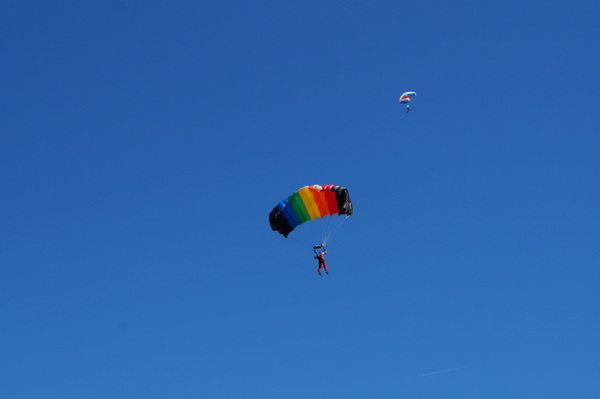 A memorable car ride in Ulcinj
The six of us had met at the Old Town Hostel and realised we were all heading to Albania on the same day, so off to the bus station we went.
Getting across the border is logistically difficult because of irregular bus times and a lack of connections. Our bus from Kotor arrived too late to take the bus to Shkodra so we decided to stay in Ulcinj the night. None of us had booked any accommodation.
I'd spent the bus ride talking to Jelena, a 37-year-old "free spirit" who lives in Belgrade and had been in Kotor for an interview for a contract job on a cruise ship. When we got off the bus she walked with us out of the station to point us in the right direction. Somewhere along the way she started talking to a guy on the street.
"He has apartment," Jelena said.
They guy wanted €7.50 each. Jelena got him down to €5. I have no idea if he had been near the station in the hope of attracting guests, but he had six beds and that's what we needed. It was an offer that none of us would have accepted if we were travelling alone, but in a group we decided there was safety in numbers and thought it couldn't hurt to take a look.
"He can take you in his car," Jelena said.
"Huh?"
The car was a Volkswagon Golf. There were six of us, each with backpacks and day packs. The guy started putting the luggage in the boot and it became clear it was never going to shut. He left it open and directed Matt, one of the Aussies, to hop in the backseat and hold onto his backpack to stop it falling out the back of car.
We all piled in.