CouchSurfing has changed.
Ask any long-term member and they'll tell you the same.
I joined CouchSurfing more than two years ago because I wanted a different travel experience. I wanted to show people my home and my country. I wanted to see theirs. I wanted something I couldn't get by staying in hostels, hanging around with other travellers and reading guidebooks. I wanted to get to know people and places – not just destinations.
The majority of my CouchSurfing experiences have been wonderful. Amazing even. I've made friends for life and done and seen things I never would have otherwise. I'm a big advocate of travelling this way and I'm not the only one.
CouchSurfing has grown. As the organisation has become more well-known, it's also become more trusted. Any article about travel accommodation options will list CouchSurfing alongside hotels, hostels, apartments. It's become a legitimate and almost mainstream way to travel. But instead of highlighting the experience of connecting with other people around the world, those articles always plug CouchSurfing because it's free.
This isn't a good thing.
Suddenly, people who would never have considered CouchSurfing before are jumping on board to save a few bucks.
A couple of months ago I met up with the people who hosted me in Dublin two years ago. Back then they were hosting regularly and loving it. Now, tired of impersonal requests, surfers showing up in the middle of the night or not at all, and a general lack of respect from people asking to be guests in their home, they don't host at all. I don't blame them. While hosting in Vancouver I regularly got requests from people who hadn't read my profile and were looking forward to staying with a "real Canadian gal". (My profile started with: "I am an Australian living in Vancouver" so you can imagine how much I appreciated their comment.) So many people just wanted a free place to stay.
It isn't just hosts who are getting frustrated. Just as there are surfers who use the site for free accommodation, there are hosts who aren't committed to the initiative. They don't respond to requests, don't leave references and have vague, incomplete profiles that I have to sift through to find people who genuinely want surfers to stay with them. With all this in mind, I was hesitant about CouchSurfing on this trip.
I was worried the organisation that had given me so much, wasn't the same.
I thought I would be disappointed.
My spirits picked up when I posted a question on the Serbia forum asking for suggestions for things to see and do. I got a lot of responses, including an invite to the World Testicle Cooking Championship, which is how I ended up there. Zoran, the surfer, lent me his tent and sleeping bag and drove me to the bus the next day. It was a highlight of my travels and wouldn't have happened without CouchSurfing.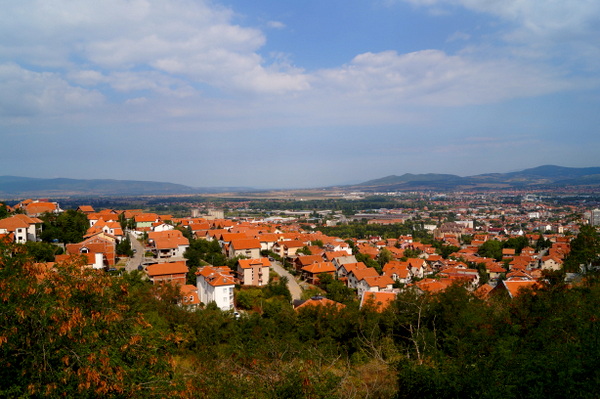 Then I went to Niš.
I was initially hosted by Nenad. I say initially because I stayed with three different people in the city. Everyone just kept inviting me to stay. Nenad introduced me to other hosts and surfers in the city and by Monday morning I was bumping into people I'd already met. On Monday night a group of about 20 surfers and hosts gathered by the river for a few drinks. I knew more than half of them so instead of the "Hi, I'm Megan, I'm from Australia" introduction I get so tired of, the conversation went something like "Hey, good to see you again, how was last night?"
I've never felt so at home in a place while travelling.
The CouchSurfing community in Niš isn't something I've experienced anywhere else. It's active, well connected and real. The CouchSurfers I met were passionate about travel, CouchSurfing and helping visitors have a great experience.
Exploring Niš with CouchSurfing
I know my time in Niš wouldn't have been half as fun without the people I met. I would have strolled around the city with a map and a vague sense of the things I should see and left as scheduled. Instead I came for two nights, stayed for six, and felt like I discovered a very special part of Serbia.
Not everyone will have the chance to experience Serbia's third largest city as I did, so I thought I'd share the discoveries I made thanks to the CouchSurfing community.
The best burek in town
Having lived in Australia, North America and the United Kingdom, three of the world's fattest countries, the lack of fat and obese people in Serbia is something that stood out. Particularly since this is not a country living on grilled fish and lettuce leaves. Take breakfast for example. While it's not an everyday indulgence, burek is a traditional Serbian breakfast food. It's a layered pastry usually filled with meat, but can also come other things such as cheese, potato or spinach.
I'd had some in Belgrade that wasn't worth writing home (or in the blog) about, but Mirko took me to the best place in Niš and this is definitely a place you should check out. It's a small shop about 10-minutes walk from The Horse, the huge statue in the main square built as a Monument to the Liberators of Niš. Walk through the main pedestrian shopping area (heading away from the river) until you reach a bright pink shop on the corner, one street before the railway line. That's it!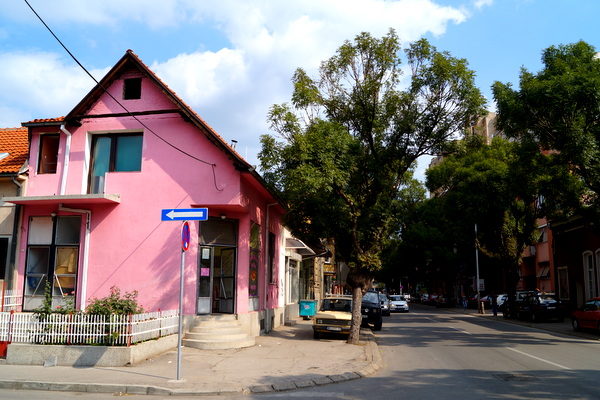 It's a small shop with a display case with a couple of pans of burek, one table and a few chairs and a guy who is particularly friendly given he was up so early. The shop opened at 5.30am! If you want to try it, go early. The shop closes at lunch time so sleep in at your own risk.
Drinks by the river
Jacob, an American freelance journalist now living in Istanbul, is a regular visitor to Niš, but told me he has been into a pub to drink only a couple of times. The rest of the time he's on the banks of Nišava River. It isn't just the CouchSurfing crowd who hang out there (a handful of them are there most nights), you'll find all sorts down there. On my first night we walked along the river to get to a concert in the Fortress and the area was packed. People buy something to drink from the nearby supermarket (there's one underground near The Horse) and plop themselves done on the walls for the evening.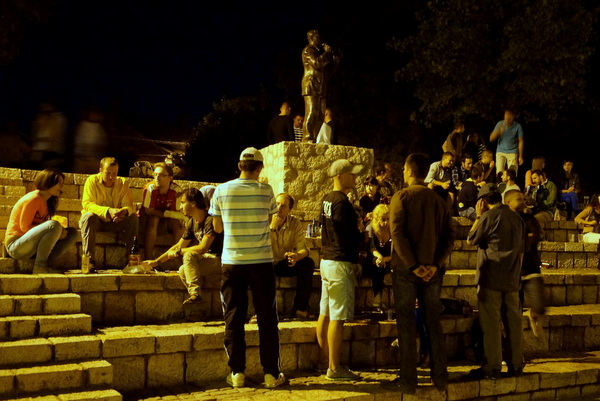 Tinkers Alley
While drinking by the river is popular, it's not for everyone, as I found out when we suggested it to someone after an art exhibition opening. "By the river?" she gasped. "Noooo." But luckily Niš, like most places in Serbia, has a plenty of cafes. The most popular area in Niš is Kazandžijsko sokače, which translates as Tinkers Alley. In a past life it was home to craftsmen and tinkers, but now it's stylish cafes and restaurants that line its cobbled streets.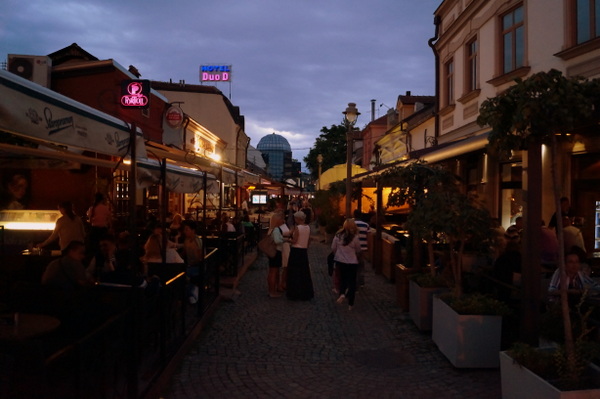 The Skull Tower
The Skull Tower was the only attraction I knew of in Niš, although it was a lot less frightening or disturbing than I expected. It is essentially what the name suggests: a tower of skulls, although over time it has become less imposing than it once was. It's a haunting reminder of Serbia's bloody history. The skulls are from the victims of a failed attempt by the Serbs to claim back their territory from Ottoman rulers in 1809. The tower was built on the side of "Via Militaris" (Military Road), which was the main route connecting Belgrade to Istanbul, as a warning to any potential attackers.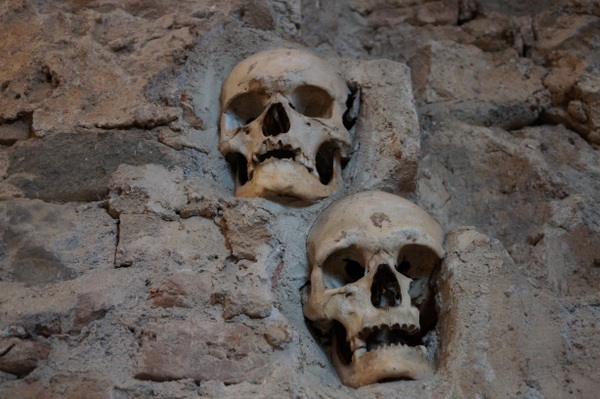 When it was built there were 952 skulls, but now there are just 57 in the tower, plus one believed to belong to the Serbian commander Stevan Sinđelić, which is displayed separately. Some skulls were removed by superstitious family members who believed the head needed to be buried with the body. I asked the guide whether it was important for the right head to be buried with the corresponding body, but apparently not. Just as long as there was a head in the grave.
The tower is about 3km from the city centre, but can be reached by bus. I rode out there on a bike borrowed from a guy Mirko knew at the tourist information centre. "You don't take my heart, you take my bike," he said, when I seemed surprised he was willing to lend his bike to a girl he met three minutes ago.
Saborna Crkva
This was a wonderful discovery. Two weeks in Italy last year did a lot to wipe out any interest I had in seeing pretty churches, so when Aleksandra, a girl I met at the World Testicle Cooking Championship who invited me to stay with her when I came to Niš, offered to show it to me, I wasn't expecting much.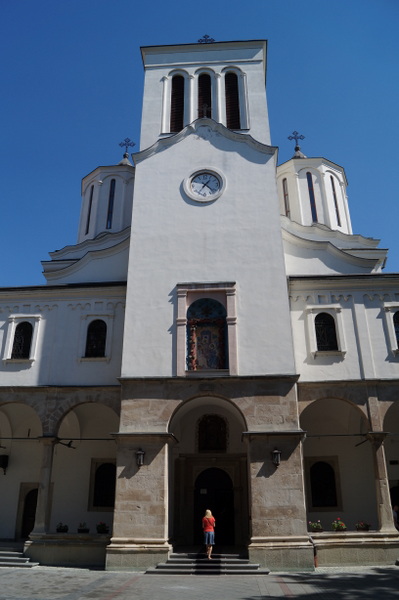 I'm not easily impressed by religious buildings and the exterior suggested it would be nothing special, but inside this Orthodox Church was glorious. Instead of the wispy, soft artwork that's decorated most churches I've seen, the icons were bold and vivid. The church was opened in 1878, but was damaged by an Allied bombing during World War II and also by fire in 2001. It was rebuilt and consecrated in 2006. I can't remember where it was, but just ask around. It was close to the centre.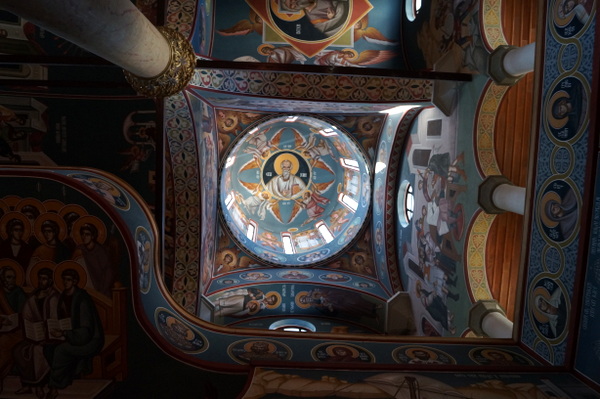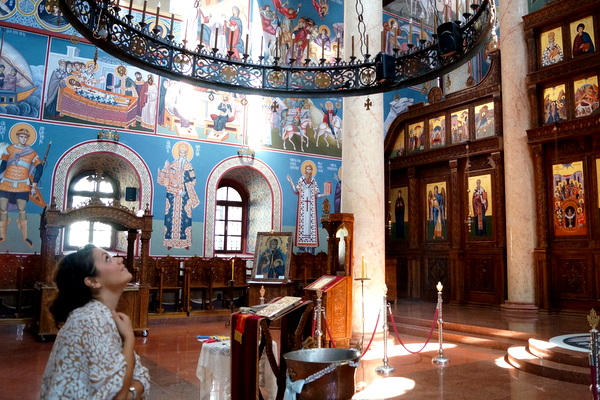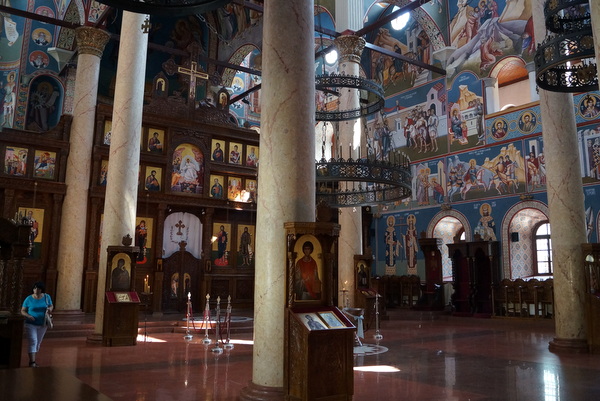 The Fortress
I have similar feelings about medieval ruins as I do churches. After a while I lose interest and it all seems the same. I keep reading that the 18th Century fortress in Niš is one of "the most beautiful and preserved in the Balkans" and even I have to admit it is in impressive condition, especially considering the number of conflicts that have taken place in the city. But I didn't enjoy visiting the Fortress for it's historical significance. I preferred the social atmosphere.
There are lots of cafes inside the walls, including one on the top of a slight hill where I went  for coffee a couple of times. The open space inside also makes it perfect for large events. I went to a free concert organised by a Serbian beer company on my first night and there was another concert the next weekend.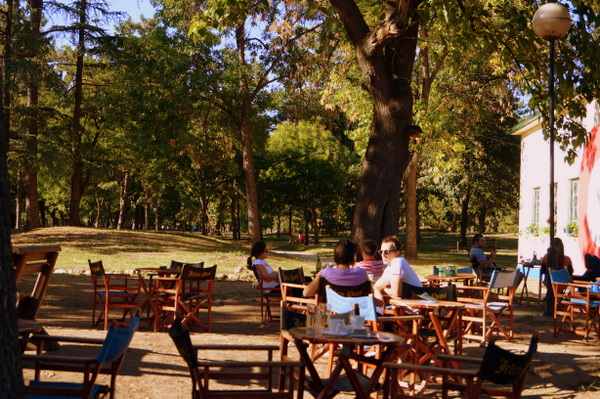 If its history is of interest to you, you'll find lots of interesting things inside including a collection of 14th century tombstones, a beautiful mosque now used as a gallery and a prison built in the 18th century (complete with torture chambers).
Bubanj
The sounds of kids playing seemed wrong here. It was my last day in Niš (I mean it this time) and in a last-minute rush to see some of the sights I went to Bubanj.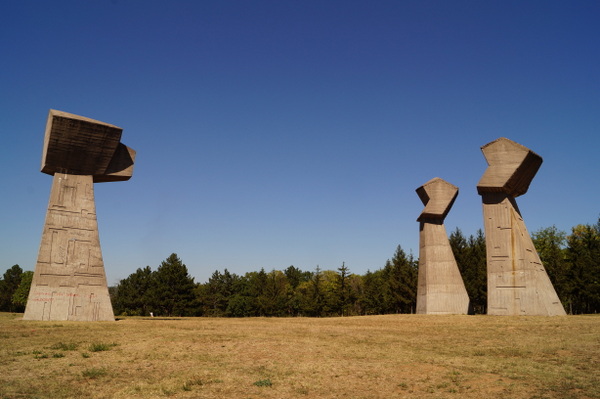 The hill was the setting for the execution of more than 10,000 people from Niš. The Germans had a concentration camp near by and brought the prisoners here to be shot during World War II. Trenches were dug to hide the bodies, but they were later dug up and burnt to hide any evidence of the killings.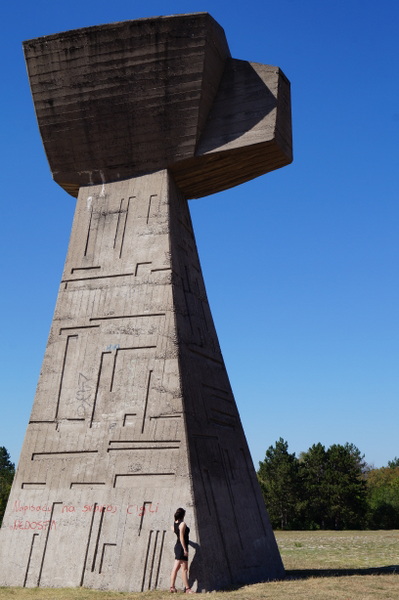 The memorial, three giant fists representing a man, a woman and a child, was built in 1963.  As far as such memorials go Bubanj is very powerful, made more so when you imagine what has happened here in the past and then take in your present surroundings. The park is now a popular spot for picnics and during my visit I saw several families there.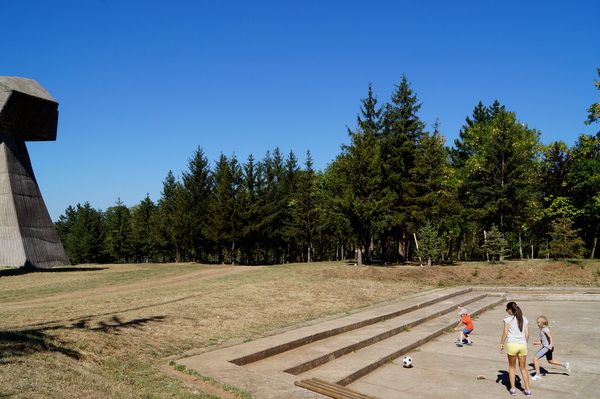 Bubanj is about 3km from the centre, but the walk is up hill. I was driven there, but you could catch a taxi or take bus 4 to the end of the line and walk the rest of the way.
Niška Banja
It was Thursday night and I had every intention of leaving Niš the next day. "Oh you must stay the weekend and come to Natalija's summer house in Niška Banja," Aleksandra said. I didn't need to be asked twice.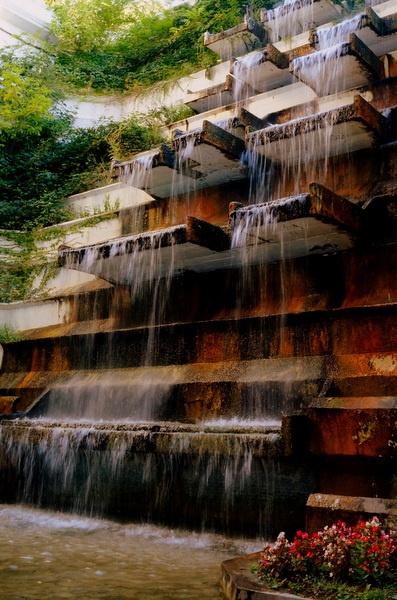 Niška Banja is a spa town in the hills about 9km from Niš and you get there by bus from the city centre (stand on the opposite side of the road from The Horse). It's one of the most popular spa towns in Serbia and there is a health centre where guests have massages and other treatments. But most people visit for the large park, which has a thermal river running through it. The water flows down from the mountains, through the park and then down an impressive waterfall built into the health centre. The water is thought to cure all sorts of ailments and so there were lots of people sitting along it with their legs in the water.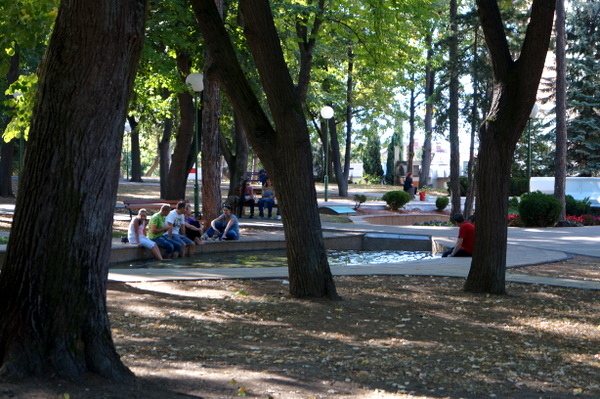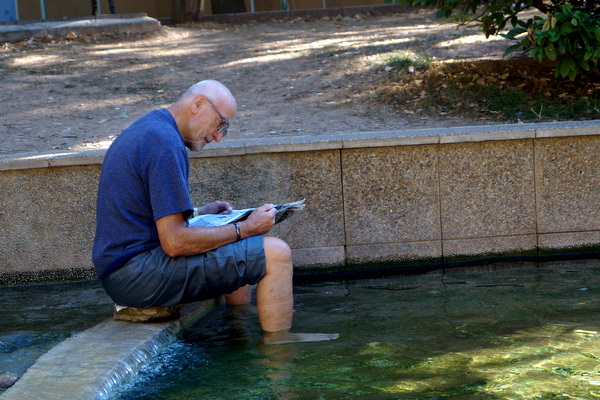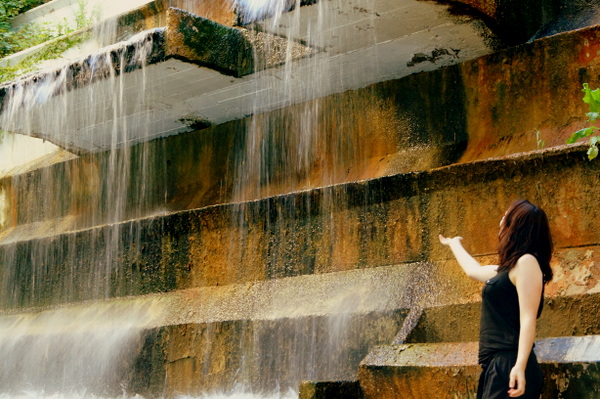 After we were "cured" and Natalija had finished her massage, we visited her summer house for supper. She lives in Belgrade but comes to Niška Banja regularly, usually, like me, for longer than she planned.
Watching the sunset over a beautiful town while sipping homemade lemonade, now that is the life.