The goulash was hot. It had been scooped straight from the huge iron pot in which it had cooked over an open fire for the last three hours. The flavour was just right. Slightly spicy and intense enough to almost, but not quite, make me forget I was eating bull testicles.
If I hadn't known, I might have mistaken it for a tender more conventional piece of meat. But there was no question what I had just put in my mouth.
The email was titled "an offer you can't refuse".
Nine times out of ten, when someone presents you with that kind of offer, it is easily turned down. But then the tenth time, it's an invite from a stranger to the World Testicle Cooking Championship. How do you say no to that?
And that's why, after a two-hour bus from Belgrade and a taxi from a town I can't pronounce, I am dragging my bags across a paddock, asking random people if they know Zoran, the CouchSurfer who emailed me this tantalising invitation to Mudrijada. Within half an hour I have earned the title of official photographer for the 10th World Testicle Cooking Championship and am watching German chef André Niediek toss around a pan of testicles over a small fire.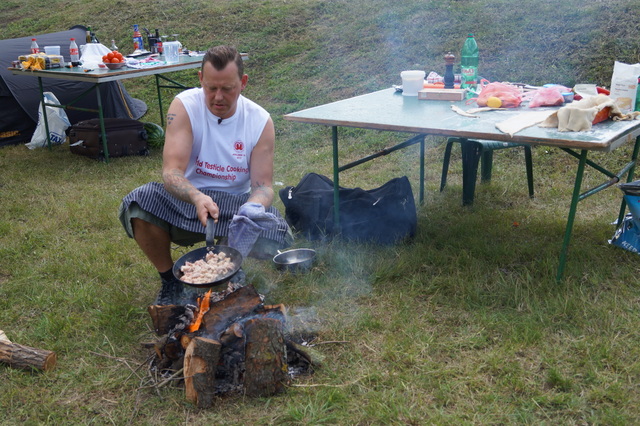 Each of the 18 teams cooks a goulash using testicles for competition in the championship, but some also experiment with other dishes, such as the pastry André makes with his pan of sizzled balls. André is here at the invitation of a German TV crew. The producer heard about the competition and recruited André, who runs a French restaurant in Cologne, to compete, while they film the whole thing. "This is so totally crazy,'' he says while his goulash bubbles away. "I had to come."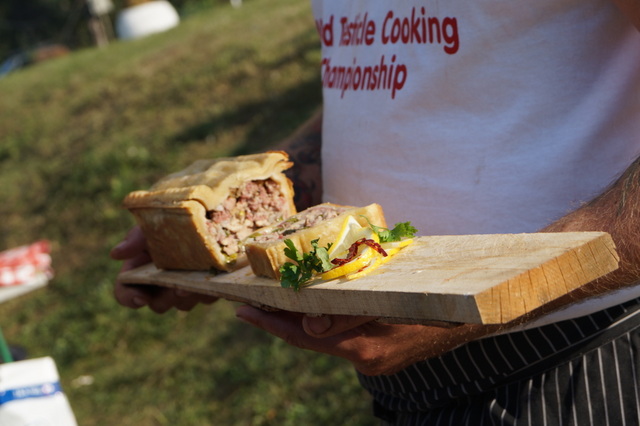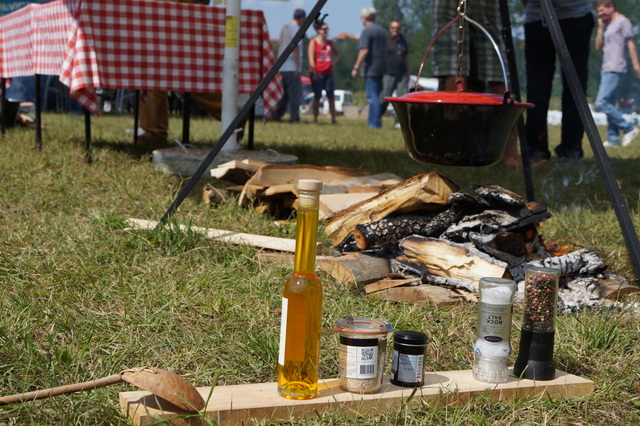 My many attempts to learn how this "crazy" festival started only lead to confusion. Everybody has a different story. Anna West, an American who came to the festival in 2009 and is now president of the judging panel, tells me she still doesn't know for sure. But whether it was to build a name for the small village of Lunjevica or for a man to show how truly crazy he is, it doesn't seem to matter to anyone except the foreign journalists who, like me, came out of curiosity. The rest are here to cook and eat balls.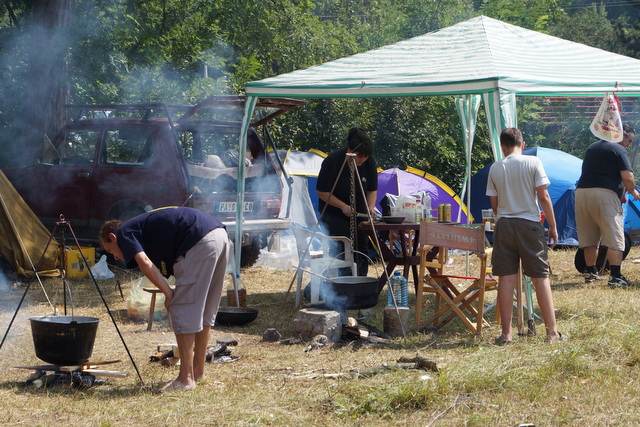 Most people arrived on Friday night and by the time I start exploring about midday on Saturday, everybody is hungover and settled in. The teams are scattered around the paddock; their sites crowded with tents, picnic tables, open fires, gas grills and fridges filled with beer and rakija, a potent Serbian drink. There is food everywhere – some of it is even ball-free – and I am offered something to eat at nearly every site I visit. Their hospitality is wonderful.
It's nearly 30C and the only shade is found by hanging out with the teams who brought tents or large umbrellas. It's for that reason I spend a while watching the Danish team prepare a snack of open sandwiches with rye bread, horseradish, lettuce, cucumber and lamb testicles. As well as the goulash chefs Phillip and Helle are making, Stefan has created a cocktail with testicles, which he demonstrates during the award ceremony. "The winner will get to drink it," he says and I'm relieved I'm not in danger of being given a glass. His Caesar's Flaming Balls cocktail is similar to a Bloody Mary, but served with flaming testicles on a skewer.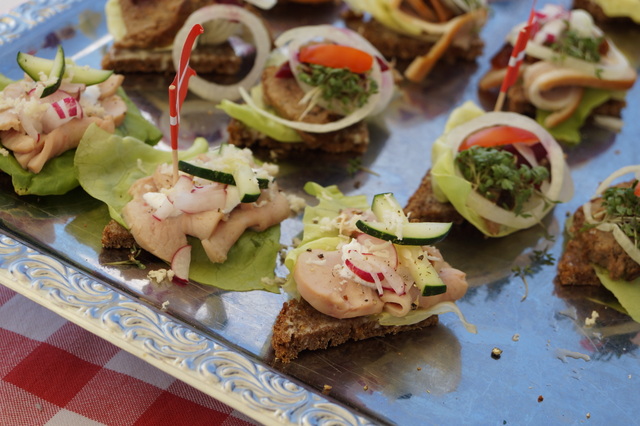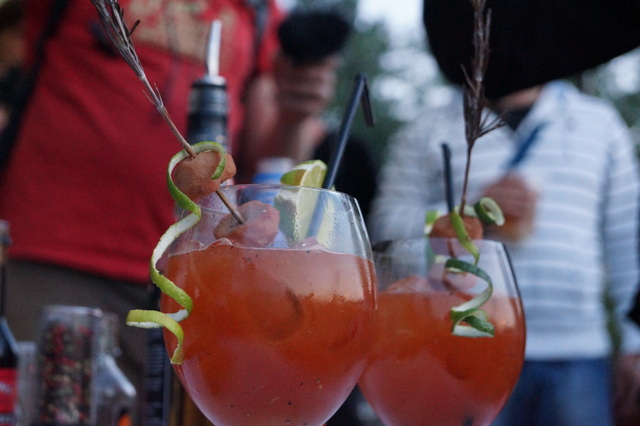 Aside from the Danish and German teams, everyone else is Serbian, perhaps except for Anna, her American boyfriend John, some journalists, and me.
"You're from Australia?" one man asks me while showing me his testicle goulash.
"Yes."
"You born in Serbia?"
"No."
"You born in Australia?"
"Yes."
"But you come to Serbia?"
"Yes."
"Noooooooooooooo," he says, shaking his head in disbelief.
I'm not the first Aussie to visit the festival. An Australian team competed here a few years ago and cooked kangaroo testicles. It's not a dish that would have gone down well back home, or in Germany André tells me. He cooks with them to teach his apprentices, but does not serve them in his restaurant. "The Germans are not ready for that," he says. I'm not sure I am either.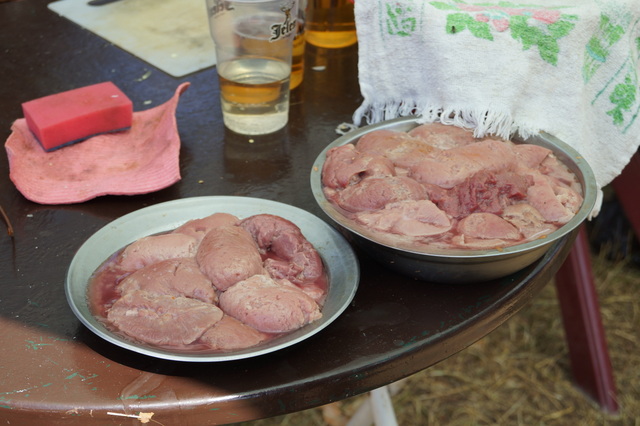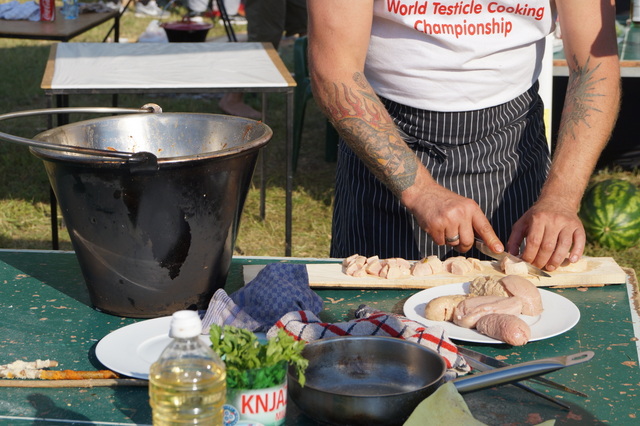 Testicles aren't particularly common in Serbia either, but it's not unusual.
Eating them was perhaps more prevalent in the past when Serbia was even poorer and most people wouldn't waste any meat they had. They are nicknamed "white kidneys", after their appearance when uncooked. At first I am wary of the buckets of balls soaking away, but after a while I start to see them for what they are: just another piece of meat. Although as I watch one team "peel" bull testicles to expose the fleshy part that's best for cooking, I fight the urge to cross my legs a little. How there are so many men here and so few women puzzles me.
Most teams are cooking with bull or sheep testicles. Some will have come from animals killed for more appealing parts of meat, but others are saved when young males are castrated. A woman picks up a tiny testicle from a bowl and shows it to me, laughing. "So small," she giggles.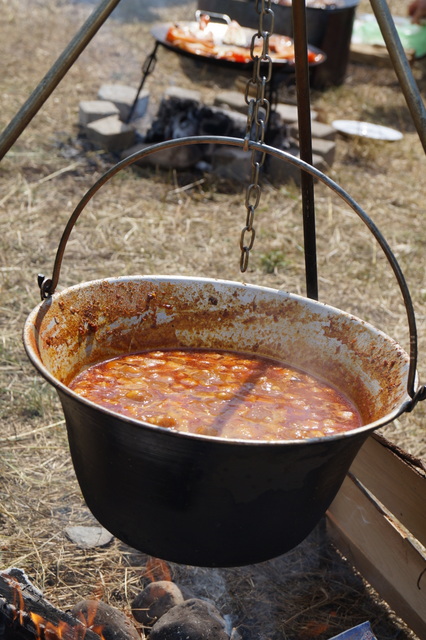 Most of the teams are repeat competitors, proudly displaying their Ball Cup certificates and trophies. But there are some first-timers, including Bojan, who lives in the area. He's volunteered here in the past and decided it would be more fun to compete. "It's like cooking with liver," he says, adding that the smell can be quite strong at first. Bojan and his teammate serve their goulash wrapped in thick pancake and the finished dish resembles a burrito.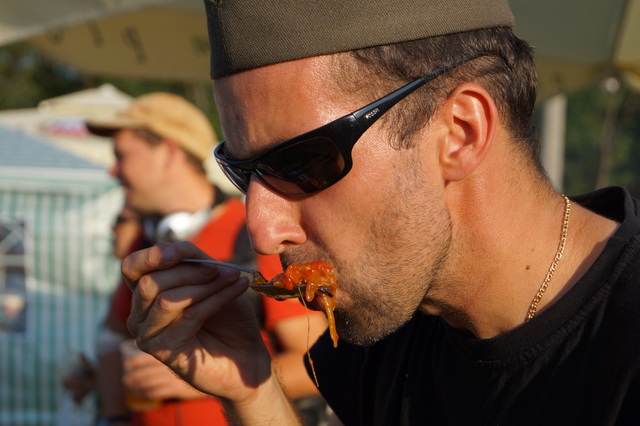 Not long after 5pm, André decorates his plate with a lemon garnish and twisted bread and serves his goulash. He carries it off to the judging tent, posing for the camera along the way. Judging takes a while and I'm told later the process was "confusing". There are no set guidelines for judging and no one can tell me just why the winning dish was chosen. But Zultan, the victorious chef and a previous Ball Cup winner, doesn't seem to care. "It's more about the flavour, not so much the competition," he says in Serbian, which is translated for the benefit of the journalists. His goulash included sheep, pig, goat and bull testicles. We think. That translation is also a bit confusing.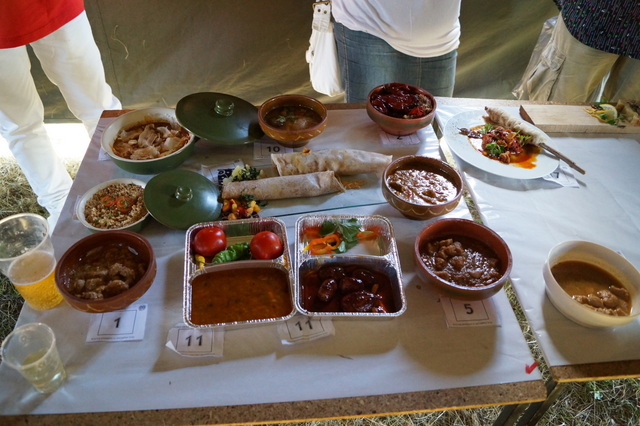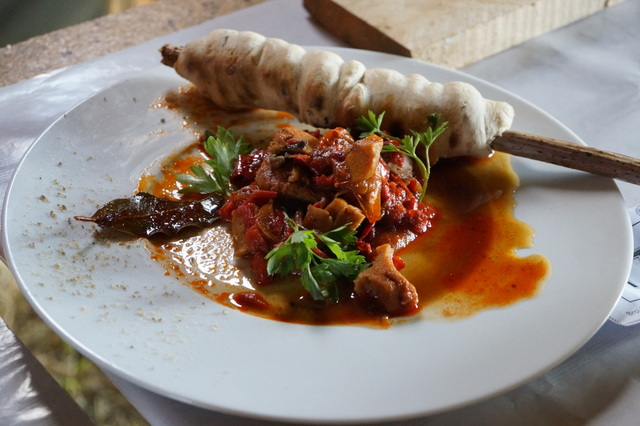 I've been turning down samples of testicle goulash all day, unable to get my head out of the way.
But seeing André's dish plated up so nicely, I am inspired. "It's now or never," I think to myself as I blow on a spoonful to cool it. Seconds later it's over. I've done it. I've eaten testicles.
The testicles are firm, yet squishy. The closest thing I can describe it to is a boiled egg. Although for some reason an undeveloped chicken is easier to swallow than bull balls. André hands me a piece of bread he cooked on the fire, perhaps suspecting I need a palette cleanser. But I'm fine. As long as I don't think about it too much….