Dear Australia,
Happy Birthday. I built you a snowman. Not very Australian, especially at this time of year. But he does have a Cherry Ripe for a nose.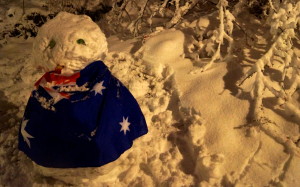 I know you'll be enjoying yourself this weekend. Partying like it's 1788 aren't you. There's a lot of history behind today, but that doesn't mean much to me. While I am thankful the Brits went in search of something better and found you, like all major holidays – Easter, Christmas and so on – the initial significance of the day has been lost over time. It's almost irrelevant now.
That doesn't mean I don't love celebrating Australia Day. I love a good barbie (barbecue), kicking the footy (football), munching on BBQ Shapes (a savoury biscuit snack), keeping the esky (a cooler filled with ice) topped with stubbies (glass bottle of beer) and alternating between land and the blow-up pool (always a good investment). It's a lot of fun.
It's been more than a year and a half since we were last together. I think about you a lot, but don't get homesick much. Only twice have I felt that deep pang in my heart and wished the thousands of miles between us would disappear; when my team won the AFL Grand Final and a friend's wedding. Other than that, I'm sorry to say, I've never wished to be with you instead of wherever I was.
But when my Facebook news feed starts filling up with talk of Cold Chisel, steak sangas and so many instagram images of beer, part of me wants to scoff down a tray of lamington fingers.
I love living overseas and travelling. Today instead of worrying about getting sunburnt, I played in nearly a foot of snow. In two weeks I'll be popping over to Belgium and France and the trip will take me half a day. It used to take me that long to drive to Mum and Dad's. I'm having amazing experiences. All. The. Time. Experiences I couldn't have with you.
That doesn't mean I don't miss you. As I'm watching Adam Hills host his new show on the tele over here and take the piss out of our country, I miss you even a little bit more.
We're pretty funny aren't we. We find contentment in grilled meat and a cold beer. We care more about who captains our cricket team than who runs our country. We don't know the second verse of our national anthem, but we know the entire lyrics to Holy Grail by Hunters & Collectors. My generation can't name prime ministers pre-1992, but a discussion about AFL greats from 50 years ago can get us through dinner. Thongs are footwear and I miss not having to explain that to people.
I also miss the weather. Tassie's in particular. Not too hot. Not too cold. I miss the amazing produce. I miss your slang and "she'll be right mate" attitude. I miss walking my dog on a summer evening on an empty beach. I miss Cadbury chocolate. It's not the same anywhere else. I miss the glimpse of ocean I had from my house. I miss the view of nothing but trees from Mum and Dad's. I like that strangers say hello when they pass while jogging or walking their dog. They do that here too and it always reminds me of you.
Australia, we can't be together right now, but please understand, it's not you.It's me. I had to leave when I did. We'd been growing apart for a while and it was time. I needed to see what was out there. To see if you really are the one.
You might just be.
You'll always be home and someday I'll come back.
Until then, happy birthday. I'm proud to be yours.
Megan