Germany. Hitler. The Berlin Wall.
I wasn't expecting much more from Berlin. Why would I? It's all anyone really hears about it. As it's a city I've never been too interested in visiting, I've never bothered to learn much more about it. In fact, I knew far too little about both issues. The Wall came down in my lifetime yet I was ashamedly uninformed on the subject until last year. After visiting Hiroshima I'm acutely aware how World War 2 ended, but knew practically nothing about how, and more importantly, why, it began.
It's 23 years since the Berlin Wall came down – the anniversary was on Friday, my last day in the city. Berlin has put that relatively recent event well behind it. It's wasted no time coming into its own as an edgy, modern, cultural hub. The graffiti and art that covered the West side of the Wall has exploded throughout the city. Berlin's music and clubbing scene is so intense that it is the new city that never sleeps. Eclectic doesn't begin to describe the "anything goes" approach to fashion. For me, it's those sides of the city are worth discovering. But of course, you can't escape the Berlin's past.
Only a snippet of the 155km Wall is still standing. There's about 200m standing out front of the Topography of Terror – a museum built on the site of the buildings of the former Nazi security forces.  There's another 1.3km at the East Side Gallery. I saw a slab as part of a display at the Newseum in Washington DC. There's even a segment in Canberra. You can buy souvenir pieces, but by 1998 enough had been sold to build the Wall twice over.
Nearly every tourist to Berlin will leave with a photo of Checkpoint Charlie – one of five former crossing points between East and West Berlin. Although visiting Checkpoint Charlie is like visiting Beyonce at Maddam Tussauds. It's all fake. Apparently the only remaining authentic item at the checkpoint is the frame around this sign: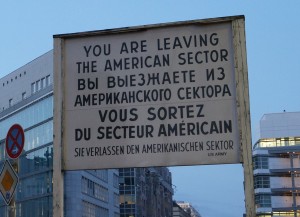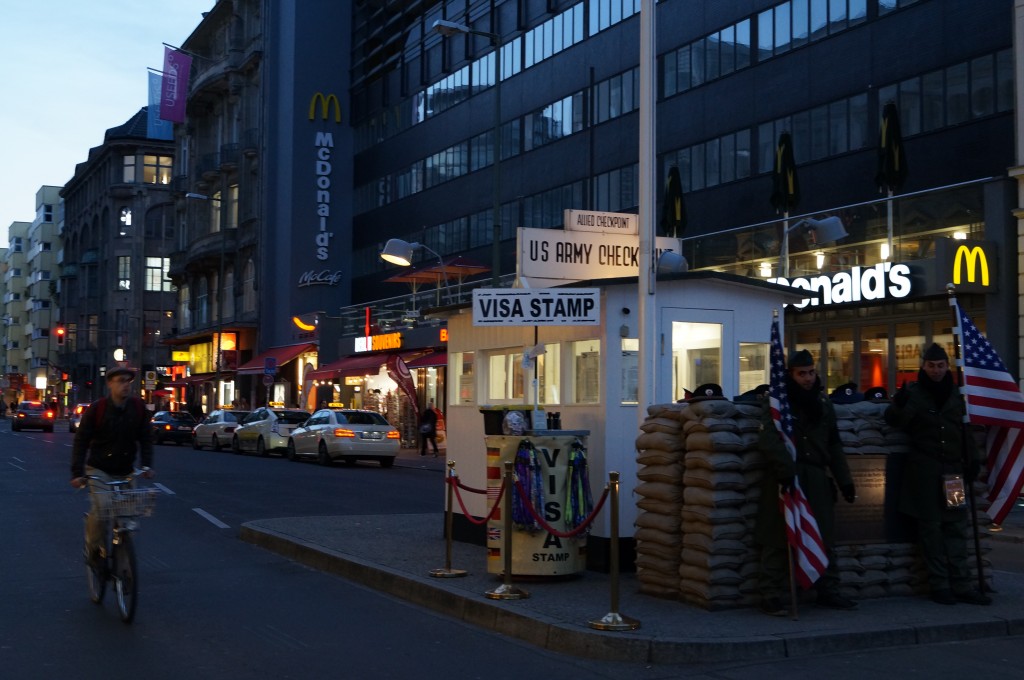 The sign itself is a replica. The sand bags are filled with concrete. The guards – which charge €2 for a photo – are actors. Tourists can get a stamp in their passport for a country that no longer exists. This, my travelling friends, is all for show.
The McDonald's down the street is just tops it off, although it would be more entertaining if it has been built in former East Berlin.
I saw both the Wall and Checkpoint Charlie. Part of me wish I hadn't set eyes on the latter purely on principal, but there was a great exhibition at the site that made it worthwhile. A visit to Berlin could easily be consumed with visiting reminders of Berlin's Nazi or Cold War past.. But there is so much more to this city than standing over Hitler's bunker or walking along the remnants of the Berlin Wall. Berlin's history is exactly that – history. Berlin has so much more to offer….