For all the excitement, thrills and adventure that travelling brings, some days it's hard to be away from home.
ANZAC Day is one of those days.
The date itself is the anniversary of the landing and battle on the shores of Gallipoli in Turkey in 1915, but the occasion honours and remembers all Australians and New Zealanders who have served for our respective countries.
ANZAC Day is important to me. Dad's number came up in 1966 and he flew into Vietnam in May 1967. He's happy to talk about his experience and I've always been interested. No matter how much I read about the war, listen to his stories, or visit museums and memorials in Vietnam, I will never understand what it was like to be there. He was 21.
If I'd been in Australia on April 25, I know exactly what I would have been doing.
I'd join my family at dawn service at Stanley, a small town in North-West Tasmania, near where I grew up. In the peak season this beautiful village attracts a lot of tourists, but at 5am on ANZAC Day it's quiet, except for the voice of Dad's Army mate Yogi, which carries a bit. There were about 90 people there this year, but for a few years it was cancelled because of low attendance and everyone went to dawn service in the next town over. Dad and Yogi continued to hold their own service in front of the cenotaph at Stanley.
After watching the sun rise over the beach while enjoying breakfast a local B&B (the owners Graham and Maxine put it on every year for the veterans and their families), we'd call in on a family friend. It must be the only day of the year it's not impolite to pop round for coffee before 8am.
We'd be in Wynyard, a 40-minute drive away, in time for Dad to march in the parade at 11. When I was young I'd march with him, holding his hand and almost skipping to keep pace with the brisk march of the veterans, who years and years after their service, never miss a beat.
I've missed two ANZAC Days since leaving Australia.
Last year there was an afternoon event at the war memorial in Vancouver, which was suitably followed by an evening in the pub with my Aussie mates.
This year it was particularly hard to be away from what was happening at home. Dad and my future brother-in-law (an Army engineer) attended a service together in Brisbane, where Toby is based. My sister took a picture of the two of them wearing their medals. It would have been nice to be there to see it for myself.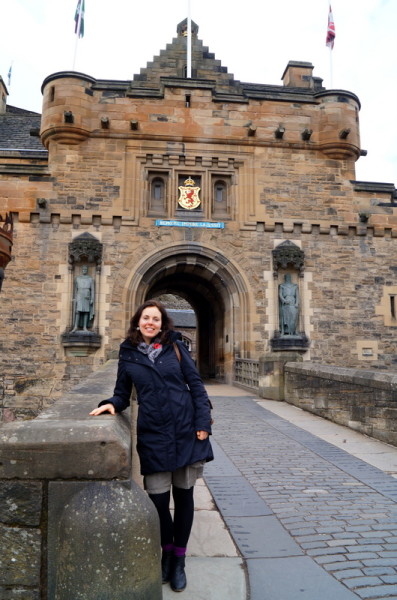 Instead, as most Aussies had an early night to recover their pre-dawn start, I stood in The Scottish National War Memorial at Edinburgh Castle.  By noon, about 200 people were gathered in the wings of the war memorial – a beautiful big building inside the walls of the castle – for the service organised by The Royal British Legion Scotland.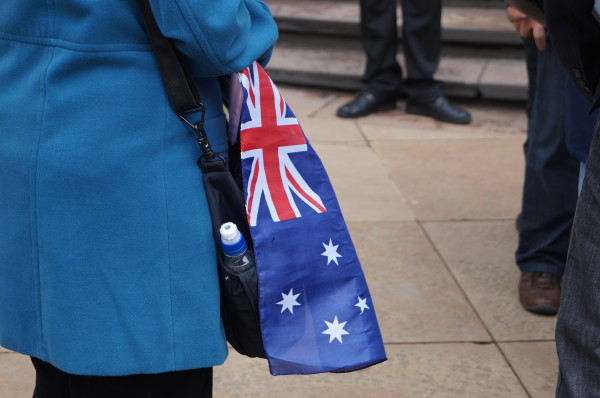 The Australians were easy to pick with their flags tucked into their bags, football and rugby tops, and of course, their voice. The accent seems so strong to me now.
Australia and New Zealand have never been alone in their military endeavours, something forgotten at most ANZAC events back home. But just as those Australian soldiers did in 1915, I now stood alongside the British. There were also representatives from Turkey, although the rendition of its national anthem was barely audible. Advance Australia Fair was sung heartily – there were either a lot of us or we're just particularly boisterous. No doubt we were all glad it was only the first verse. None of us know the second.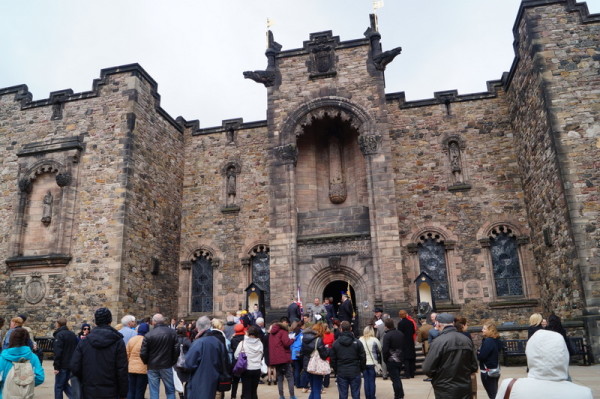 A Scottish cardinal conducted the ceremony. His thick accent and throaty rolling of the letter "r" seemed out of place on ANZAC Day, but the bagpipes – common at Australian services – made more sense in Edinburgh.
The international flavour of the ceremony helped me understand what Australia has been part of. It has never been just our people fighting for our freedom. My country has rarely been under direct threat. Our presence in the World Wars, Korea, Borneo, Vietnam, the first Gulf War and now in Iraq and Afghanistan and peacekeeping missions in places such as East Timor has been as part of the Allied cause. We could have thrown up our hands and said "this isn't our problem", and some may argue that's what we should have done, but we didn't – then or now. That Australians – from the soldiers that landed in Gallipoli, people such as my Dad who were conscripted to fight in Vietnam, and today's soldiers, including Toby – were and are willing to fight for the freedom of people around the world, is truly inspiring and something worth remembering  where ever we are.