You should have heard of Užice.
You should have heard of Užice and its colourful houses built into the hills that enclose the city. And the beautiful mountains full of hiking trails and mountain bike paths in the summer and ski runs in the winter. And the plethora of things to see: caves, waterfalls, spas and the ruins of its 14th century fortress.
You should have heard of Užice. But you haven't.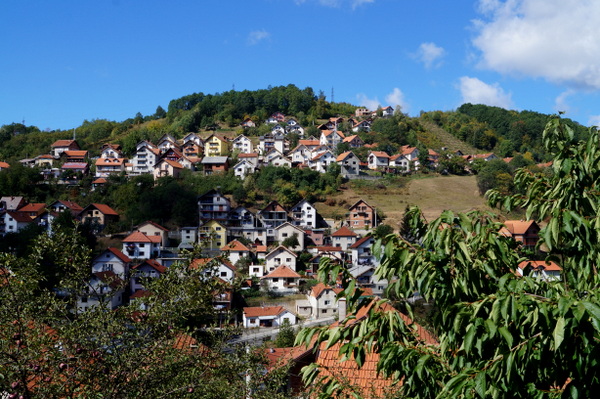 It could have been different.
If the houses were lovely chalets instead of Communist blocks. If the connections from Belgrade were better than a slow bus and on train that's never on time. If this was any other country but Serbia, you would have heard of Užice.
"Why are your other CouchSurfers coming here?" I asked my host, who, after getting no requests all summer, has three guests including me this week.
"The Russians, they get free visa for Serbia. The German guy, perhaps he is crazy."
I apparently fall into the same category as the German. It doesn't help my cause that the other backpacker I met here, an Australian, spent time living in Iran and Iraq. It seems only the adventurous bother coming to this small city in Western Serbia between Belgrade and the Montenegro border.
That will change.
Užice
Užice is one of the largest cities in Western Serbia. It's surrounded by mountains, with the roads winding around them and the railway cuts straight through. Even from the platform at the train station it felt like the rest of the world didn't exist.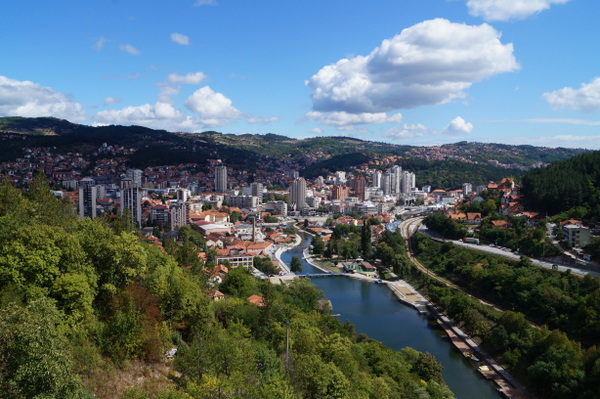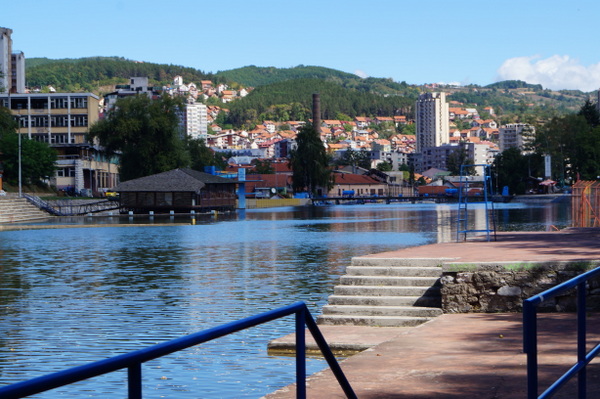 As the train slows down for the main station, there is a hill face covered with graves. It is so full many bodies are buried on top of each other and people save for many years to buy a plot there. Then there is a ridiculously huge football stadium, which seems disproportionate to the number of people that must live in this area. The city centre is nothing special. Just the usual shops and cafes, although it's worth asking around for the best place to try komplet lepinja – a local speciality of flatbread, egg and cream cooked in a stone oven. The place my host took me to was a small store in the corner of a building that had little more than a huge pile of eggs, a plate of very thick cream and a woman making the lepinja and shoving it in and out of the oven on a long wooden paddle for the line of hungry customers. (Don't expect an English menu.)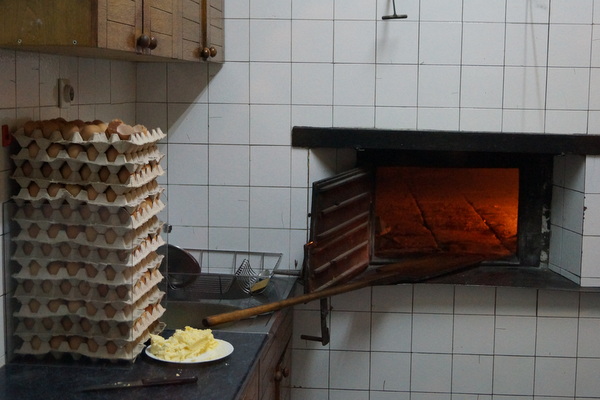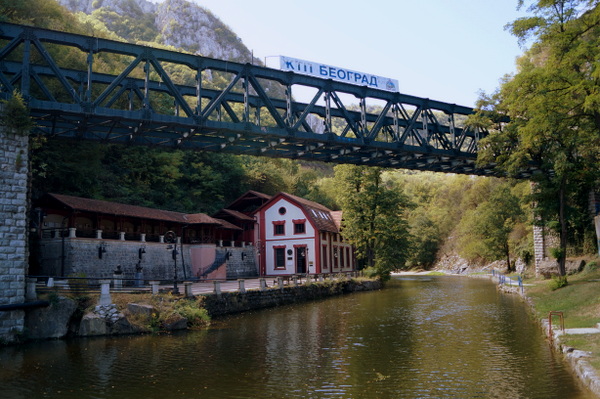 But Užice has its surprises, such as the world's second and Europe's first hydroelectric system. It was built based on the research and discoveries of Serbian scientist Nikola Tesla and sits on the edge of the River Detinja, about a five-minute walk from the centre. Despite the historical importance of the structure, visitors are greeted by large iron gates across the entrance. It is still in operation, although not when I saw it. The river used to be a popular swimming spot, but these days it's not so clean. Occasionally some brave it in spectacular fashion – jumping from the railway bridge above it.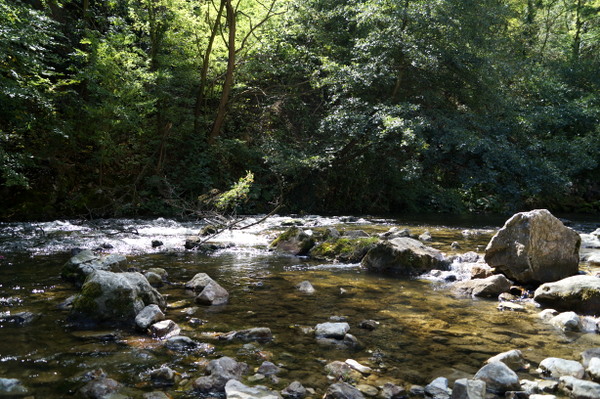 Another few minutes' walk brings you to a small "beach", where the shallow river runs around a mound of pebbles. It's a peaceful spot hidden under the hill and away from the concrete apartment buildings.
Above sits Stari Grad, a fortress built in the 1300s that overlooks the city. Now it's just stone ruins and a popular spot for drinking. No effort has been made in protecting it and there is no signage, unless you count the graffiti. It's a solid walk up hill (although my host drove up the narrow, steep streets), but it's worth it for the view over Užice and the mountains around it.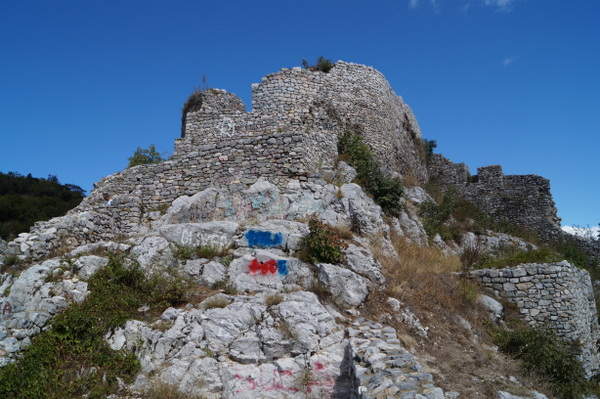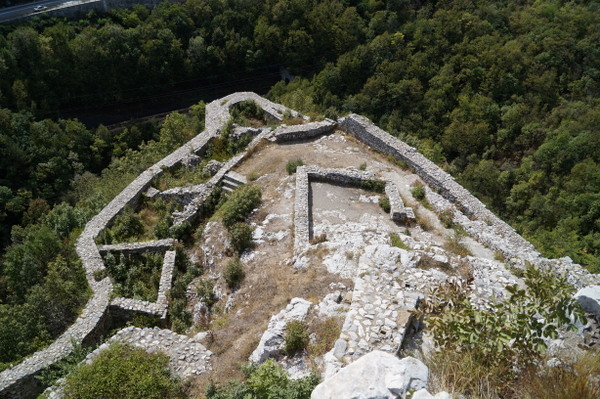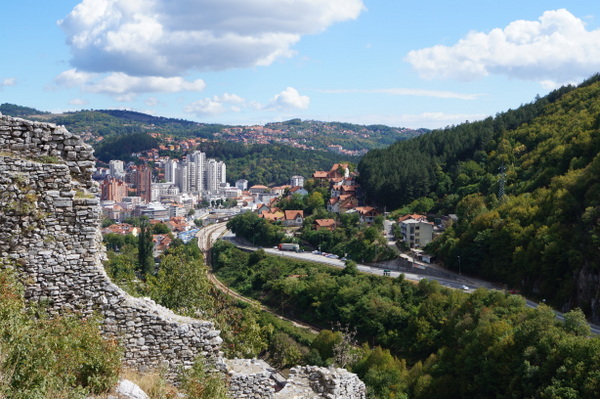 Zlatibor and Tara
Užice's main appeal is its proximity to Tara National Park that Bosnia and Hercegovina, and Zlatibor, an already popular destination for tourists (mostly Serbs) seeking active holidays filled with mountain biking, paragliding and hiking.
I didn't visit Zlatibor, but got a peek when my train went through the area on my way to Prijepolje.
Tara is less visited, partly because it's less accessible (there are irregular buses and no train routes through there). But Tara is home to Mokra Gora, where you'll find the Šargan Eight railway and Drvengrad, the wooden village built by Serbian film director Eric Kusturica.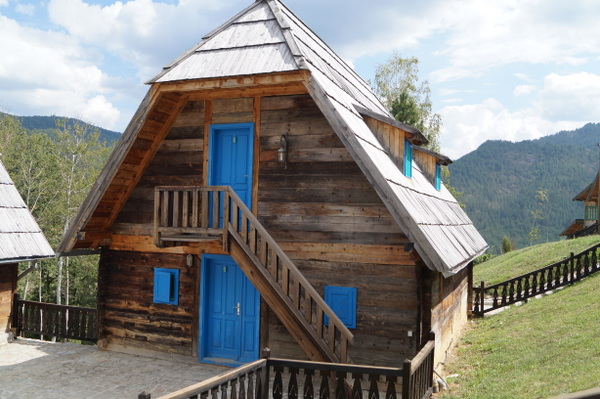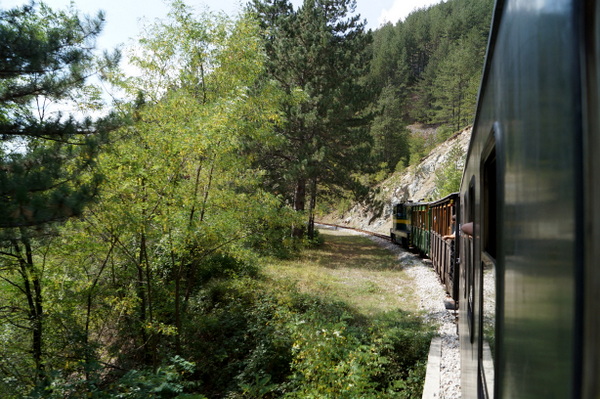 Both attractions are next to each other (Drvengrad is on the hill above the station). The train trip takes three hours and you should allow at least 90-minutes to walk to and explore Drvengrad. There are buses from Užice to Mokra Gora, although I caught a taxi with three other travellers for 2150 dinar (about €20), which when divided by four is comparable to the bus ticket. We'd planned to catch the bus back, but got off the train at 4pm to learn there wasn't a bus until 6.30pm, so our hostel sent another taxi for us.
The future
At the moment, there aren't many tourists in Užice, but it won't stay that way for long. Six weeks before I arrived Užice didn't have a hostel. Now it has two. I spent one night at Little 15 Hostel in Sevojno, about a five-minute drive from Užice, but also reachable by bus.  The hostel owner Andrej opened the hostel unsure if he would have any guests this year. He's already had 70 (including two other Tasmanians before me!!), which is peanuts for an established hostel, but shows definite potential for this architect-designed building with goats and corn fields next door.
I spent my second night in Užice with a CouchSurfer, who loves his city but disagreed when I suggested it would soon be on the radar of most visitors to Serbia. Much of my travel in Serbia has been limited to where I can reach with public transport and where I can stay. While the public transport is limited, Užice and its surrounds are better connected than most parts of the country and the two hostels provide much-needed accommodation options. Visiting the area is a chance to explore a beautiful part of Serbia, easily and cheaply.
So what are you waiting for?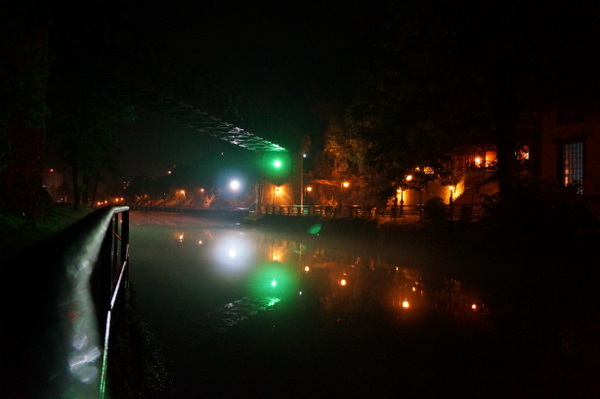 If you go
Užice can be reached by train on the Belgrade to Bar Railway, although the train is usually running late by the time it reaches the town. A ticket from Belgrade to Užice costs about 900 dinar (€7). There are also bus connections. The bus and train stations are in the city centre.
One night at Little 15 Hostel at Sevojno, with breakfast and dinner, cost about 1300 dinar (€11). A taxi from Užice to the hostel costs 320 dinar (€3) and the bus costs 70 dinar (€0.60). There is another hostel in the city, but I loved Little 15 and it's rare to find a hostel away from the city that's accessible by public transport.
A taxi from Sevojno to Mokra Gora costs 2150 (€18). If you don't speak Serbian, ask someone to help you agree on the price before you leave.
Entry to Dvrengrad is 250 dinar (€2).
A ticket on the Šargan Eight railway is 600 dinar (€5).