"Emir Kusturica, the Serbian film director?"
"Um, no, I've never heard of him."
Five days later.
"You know the film director Emir Kusturica? He is Serbian. Very famous."
"No. I don't."
"He made (insert titles of two or three movies I've never heard of and can't remember)."
"I've never heard of them."
The fact I hadn't heard of the Serbian equivalent of Quentin Tarantino was shocking. So I pretended to know of Monika Beluci, the Italian star of Kusturica's latest film, in an attempt to not come across as ignorant about European cinema as I am. It redeemed me slightly, but it didn't make up for not knowing of Emir Kusturica or his movies, let alone the small wooden village he built on a hill in western Serbia.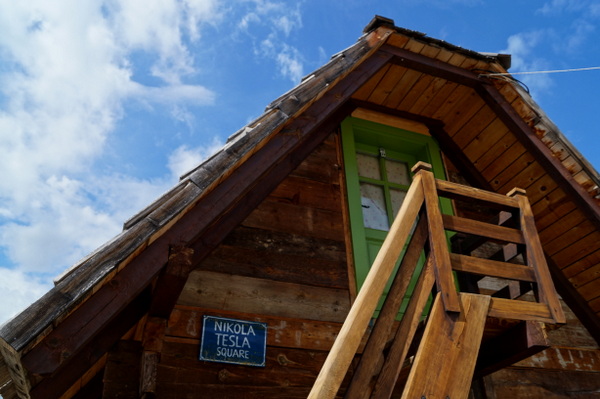 Kusturica's creation has three names: Drvengrad, Küstendorf and Mećavnik. This is important to remember when walking to the village from the train station at Mokra Gora because the signs pointing the way will display any of them, but never all.
The first person to ask me about this village was a huge film buff so I didn't think not knowing anything about Kusturica was a big deal. But after two, three and four similar conversations, I wondered why this guy was so special. Since I was planning on riding Šargan Eight, which turned out to be in the same place, I decided I might as well check out Drvengrad.
So up the hill I went.
Kusturica built Drvengrad for his movie Life is a Miracle, but the traditional village became more than just a film set. Kusturica, who as well as directing movies, is an actor and musician, made it his home and expanded the village to welcome creative and inspiring people. Johnny Depp even visited a couple of years ago.
Drvengrad means wooden town and that's exactly what you'll find here. Everything is made from timber from conifer trees.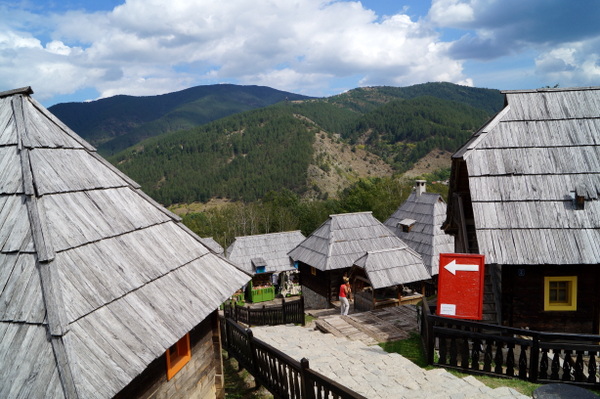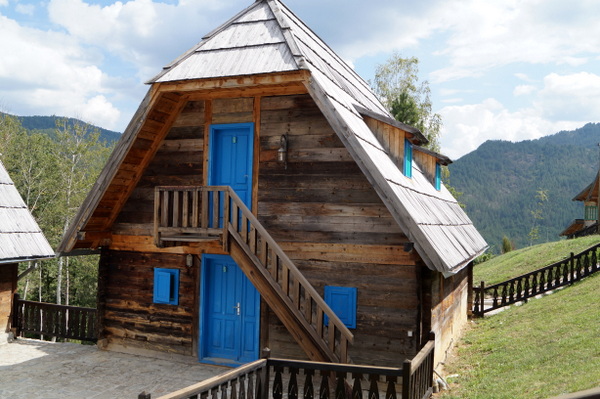 A lot of people describe a visit to Drvengrad as "stepping back in time" but I disagree. There is nothing old fashioned or quaint about this village.
It's just weird!
A film festival is held here every year, which is fitting because the whole place feels like a film set. Anyone who has visited theme parks such as Movie World on Australia's Gold Coast or Universal Studios will know the feeling. Even when the place was full of people (there are a lot of tour buses passing through) the place never really felt lively.
Walking through Drvengrad is eerie. It's been a long time since the village was used for Kusturica's movie. Drvengrad now has a hotel with a pool, a hairdressers, gallery, bakery, restaurants and a tennis court. People can stay in the hotel for €30 a night, and while I was there, it was fully booked. There are signs of life all over the place, yet it doesn't feel real.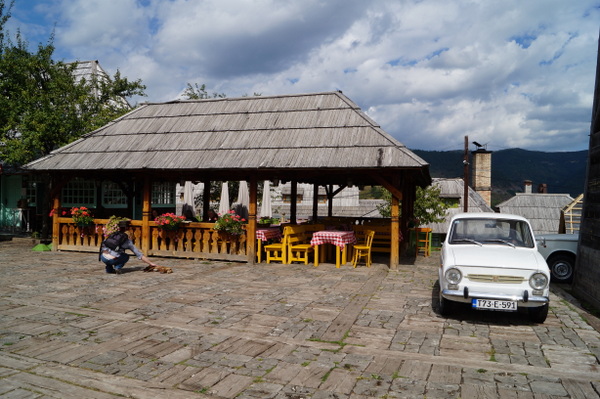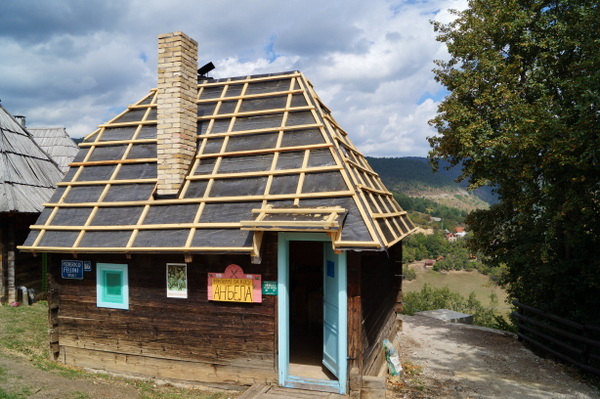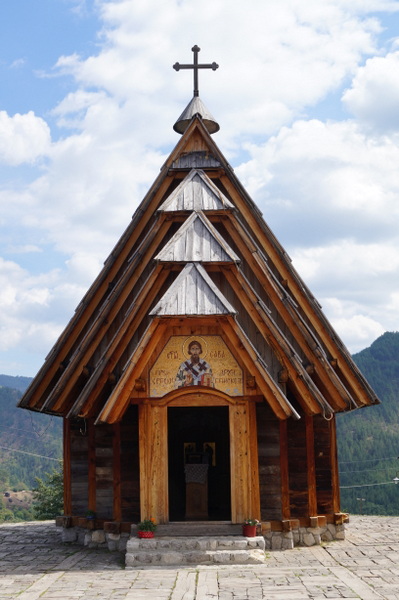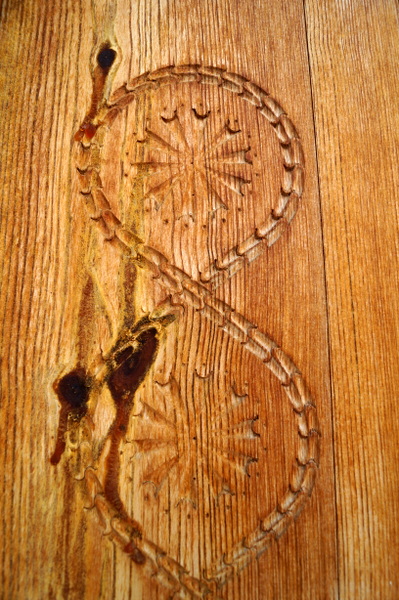 The main square is covered with the wooden tiles. Every building is timber and topped with shingles. The church, a beautiful, delicate structure dedicated to St Sava, is decorated with intricate carvings and wooden icons. Polished old cars are parked in the main square, but there's no explanation of what they are or why they are there. Left over from Grease maybe?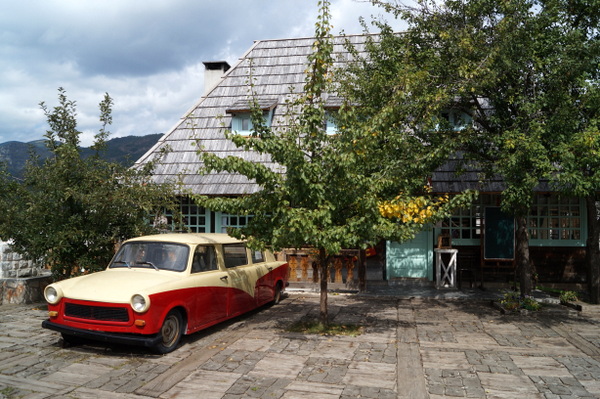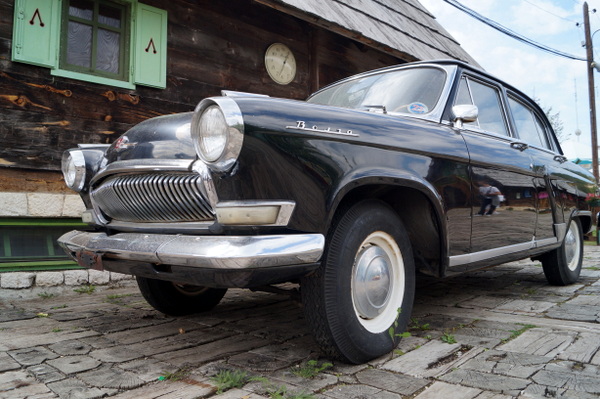 The streets are named after people Kusturica considers inspiring or significant so I walked through Nikola Tesla Square, past Stanley Kubrick Theatre, along Bruce Lee Street and eventually ended up on the street named in honour of Novak Djokovic.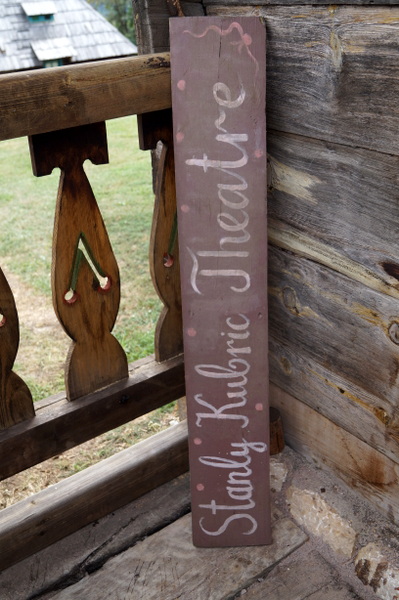 Drvengrad is expanding with more eco-friendly buildings and accommodation and a few kilometres down the road Kusturica is constructing another village, this time out of stone. Kamengrad (stone town) is being built at Višegrad, in Republika Srpska, a political entity of Bosnia and Herzegovina. It is due to be finished next year and will be used in the filming another of Kusturica's films.
If you go
Dvrengrad is a 15-minute walk from the Sargan Eight railway station at Mokra Gora.
Mokra Gora is a 45-minute taxi ride from Uzice, which will cost less than €20. There are buses from Uzice and you can get the times from the tourist information centre.
Entry to Dvrengrad is 250 dinar (€2).