August 13, 2011.
I was tired, hungover and cranky. Mother Nature must have had a big night too. She was also in a foul mood. It was 8am, but felt like dawn when I boarded a tour bus bound for Ireland's County Clare – my head still spinning and my mouth still dry. I took a seat near the front and rested my head on my jacket scrunched against the window, my gin-scented breath fogging up the glass. Today was the day I was to see one of Ireland's most beautiful sights, the Cliffs of Moher. Mike, my guide with Paddywagon Tours, tried to keep our spirits up. The rain eased at times and he was optimistic it might leave and take the clouds with it by the time we reached the Cliffs. Irish weather is unpredictable like that.
But it only got worse. Wearing a bright pink poncho I stood at the edge and wondered what was out there.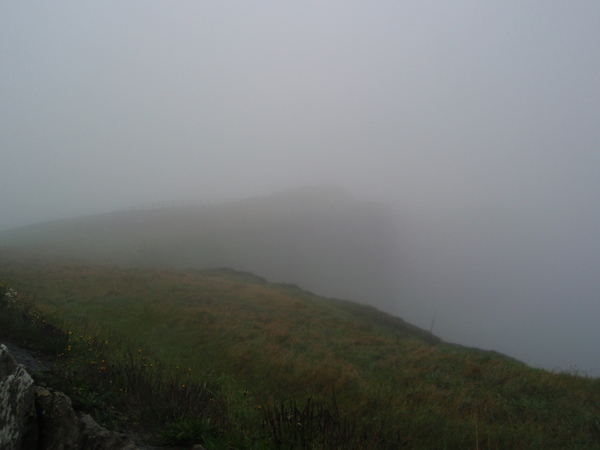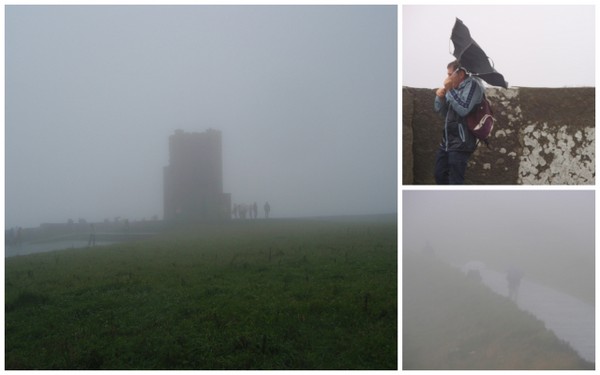 Later inside the visitor centre I saw what I was missing outside: a stunning stretch of coastline and the incredible cliffs dropping into the ocean.
These posters are as close as I'll ever get to that, I thought at the time.
Second chances in life are rare. In travel, even more so.
A while ago I chose Ireland for my must-leave-UK-when-visa-expires trip. All I needed was an exit stamp in my passport, but I wanted to see a bit more of the country – perhaps spend a few days exploring places I'd missed last time. Studying the giant map of the UK and Ireland tacked to my bedroom wall I decided that yes, I would try to see the Cliffs of Moher again. But I'm soon to be unemployed for roughly six months and any extended sightseeing in Ireland wouldn't be kind to my budget. My head and my heart were at odds.
I get irritated by the suggestion I am lucky. I'm often told that I am, as if I won a round of bingo and now get to live overseas and travel a lot. I argue it's a choice, that I've made sacrifices, that I work hard. But this month I had to concede – I got lucky.
I've been contributing to the travel website Travel With A Mate since last year – not often, just when I had an idea that didn't quite fit with this blog or if I wanted to get my name out there a little bit. In May co-founder Matt asked if I'd represent the site on a press trip to Ireland. Of course I said yes and later discovered the itinerary was almost exactly what I'd had in mind for myself – if my heart won the battle. Galway, countryside and the Cliffs of Moher were all on the agenda. As the trip neared I wondered if my luck would hold out.
All I wanted was some good weather. In summer. In Ireland.
Too much to ask?
I won't forget how awful I felt that day in August two years ago. But that memory made the sight of the Cliffs of Moher bathed in sunshine and surrounded by colours Photoshop couldn't match all the more spectacular.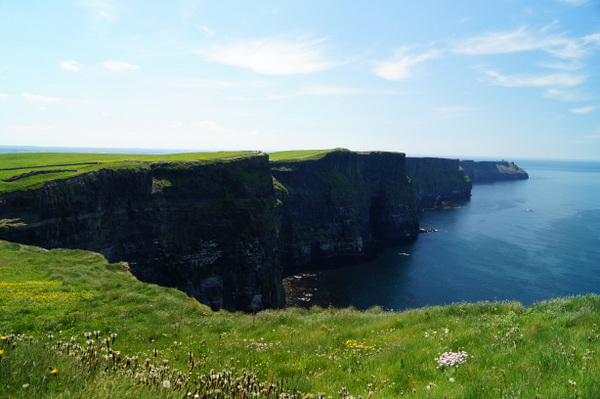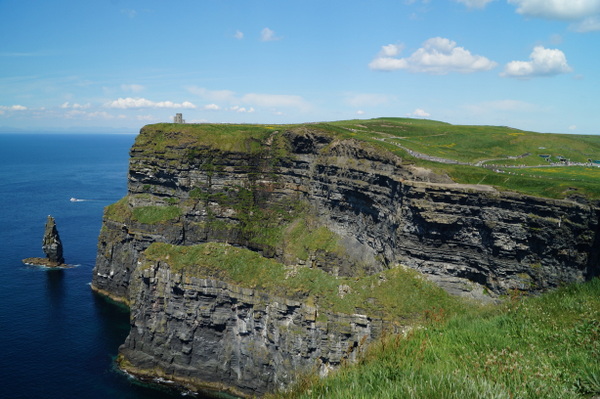 The Cliffs of Moher are more than 300 million years old and even with a history going back that far, days like this have to be rare. It was hot, sunny and the view went on forever.
The Cliffs span 8km – the path from the visitor centre leads to not-quite the middle. To the south the Cliffs drop to 120m above sea level, rising gently along the coast to their highest point of 214m near O'Brien's Tower. Two years ago the observation tower, built in 1835, was a grey shadow in the distance as I trudged through the fog. This time it sat perched above the cliffs with bright green grass and yellow flowers sprawling around it. Back then I used it to escape the wind. This time I stood in its shade.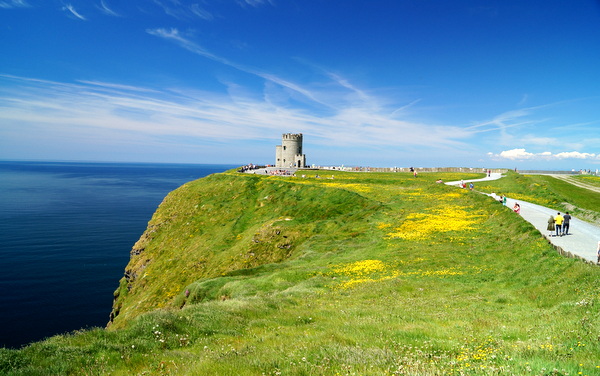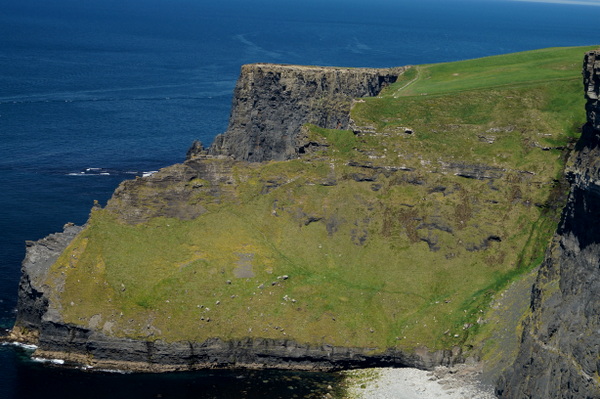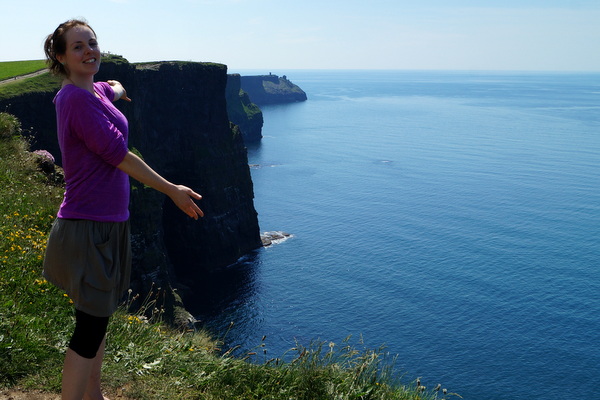 On my previous visit I spent minutes walking along the path to the tower, shrugged my shoulders with a resounding "meh" and plodded back to the visitor centre. This time I could have spent hours there. I walked along the tops of the northern cliffs, which I hadn't realised were there. I watched thousands of seabirds swarm below around Branaunmore, a 67-metre high sea stack that was once part of the cliffs, but has eroded over time and now stands alone – much like how the Twelve Apostles have formed along Australia's Great Ocean Road. Erosion is a problem – the waves of the Atlantic Ocean are slowly stripping away the layers of sandstone, siltstone, mudstone and shale – but it can't be helped. Instead conservation efforts focus on the wildlife and minimising the impact of visitors, which number close to 1 million every year.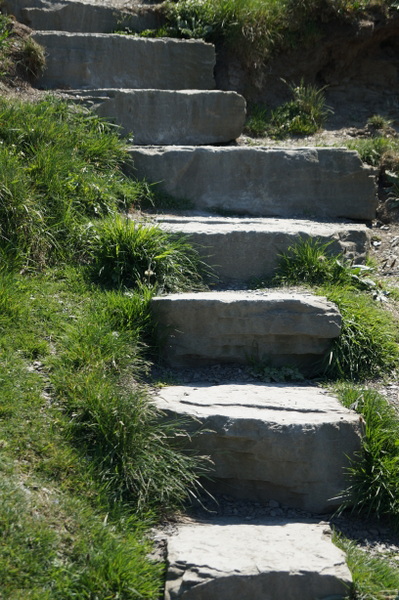 I walked to the south cliffs, by this time a little worried about getting sunburnt, and thought about my visit in 2011. Actually I was thinking about it a lot. I started a lot of sentences with "the last time I was here" and usually ended them with "I couldn't see that". I knew how lucky I was to have a chance to go back to the Cliffs of Moher  AND see them in such amazing conditions. But what about the rest of the people on my tour and the other visitors at the Cliffs that day? Most of them will never go back. That miserable memory of wind, rain and shadows in the distance is all they have.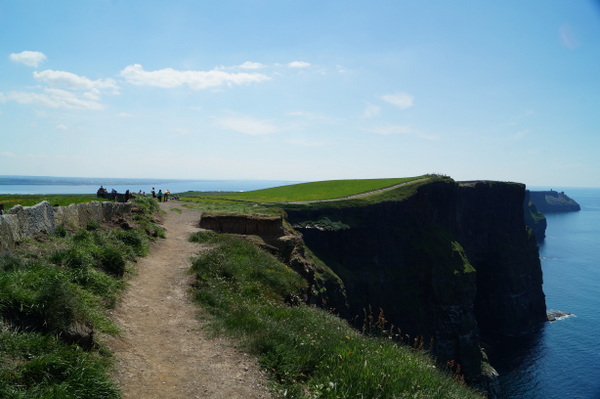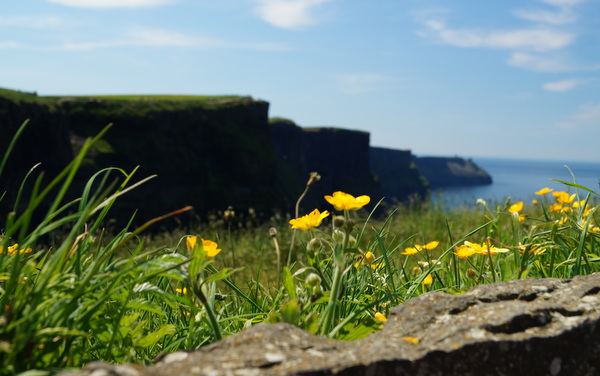 If you go:
Both my visits to The Cliffs of Moher were with Paddywagon Tours. In 2011 I took a day tour from Cork (about €30), which also visited Poulnabrone Dolmen in The Burren, Blarney Woollen Mills and a lunch stop in Doolin. The tour included admission to the Cliffs of Moher and the visitor centre. Paddywagon also runs day tours to the Cliffs departing Dublin, Limerick and Killarney. It is also a stop on most of Paddywagon's multi-day tours.
It is possible to get to the Cliffs using public transport. Bus Eireann has direct buses from Galway, and there are connections in Ennis if travelling from Dublin or Limerick. If you visit independently, admission to the Cliffs of Moher is €6 for adults, €4 for students and seniors and free for children under 16 years. Entry to O'Brien's Tower is €2 for adults and €1 for children. Visit www.cliffsofmoher.ie for more information.
I represented Travel With A Mate at the Stena Line Gathering 2013 hosted by Stena Line, Tourism Ireland and Paddywagon Tours. All opinions expressed on Pegs on the Line – and my friends will tell you I always have a lot – are my own.