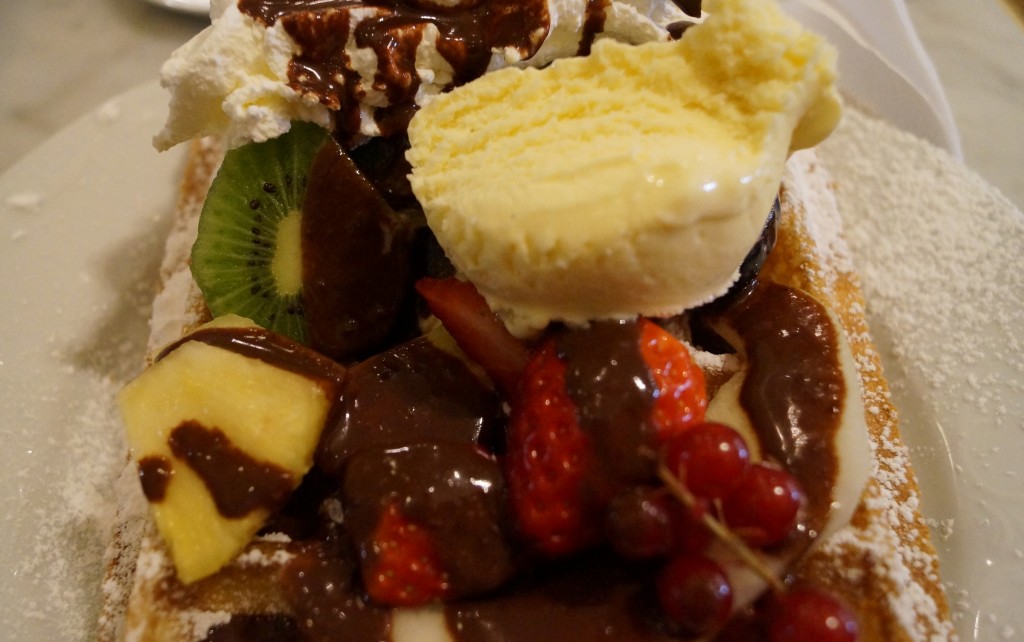 When it comes to waffles in Gent, Max is the man to see. A woman I asked for directions told me she takes her children there once a year. "They can have whatever they want, fruit or ice cream…anything. But only once a year."
Are Max's waffles that good or that expensive?
Turns out, a bit of both.
Establishment Max
Establishment Max (Etablissement Max) is considered the place to go for waffles definitely in Gent, and perhaps even in Belgium. Certainly no place in Brugge had the same reputation. Max is no longer there – he started a touring restaurant serving Brussels waffles and apple fritters in 1839. Several generations later, the recipe is still in use along with the original gas irons the family started using instead of coal.
The existing restaurant sits in the corner of a square with St Nicholas' Church at one end. Waffles at Max's are served from 2pm. Not knowing this, I went inside at 11am. The place was empty. When I walked passed at 1pm, it was still empty. When I came back at 2.01pm, I got one of only two free tables. The popularity of Max's waffles is such that on Sundays, the store next door doesn't bother opening until 2pm.As I was shown to my table, all signs pointed to this being an experience to remember. Champagne bottles sat on ice at the bar, impeccably dressed waiters smoothly navigated the crowded restaurant and using the bathroom cost 50cents.
In Brugge, where every cafe and restaurant promoted waffles, the average price was €5. That usually included a topping of butter, sugar, whipped cream or chocolate. In Gent I saw one little hole-in-the-wall sold plain waffles for €2, which was the cheapest I saw. At Max's the average price is €9, and any extras are equally as steep. The choices take up a page of the menu in reasonably small writing. There must be almost 20. Then there's a page of pancakes and ice cream. Max's does "proper" food, until 1.45pm, but after that it's all desserts.
The waffle
Waffle toppings can be as simple as just butter or sugar, or more elaborate such as the "Max" with fresh fruit, ice cream, whipped cream and Grand Marnier. Not finding exactly what I wanted I just ordered a waffle with fresh fruit, ice cream and chocolate.  I hadn't had another waffle in Belgium so I was making this one count.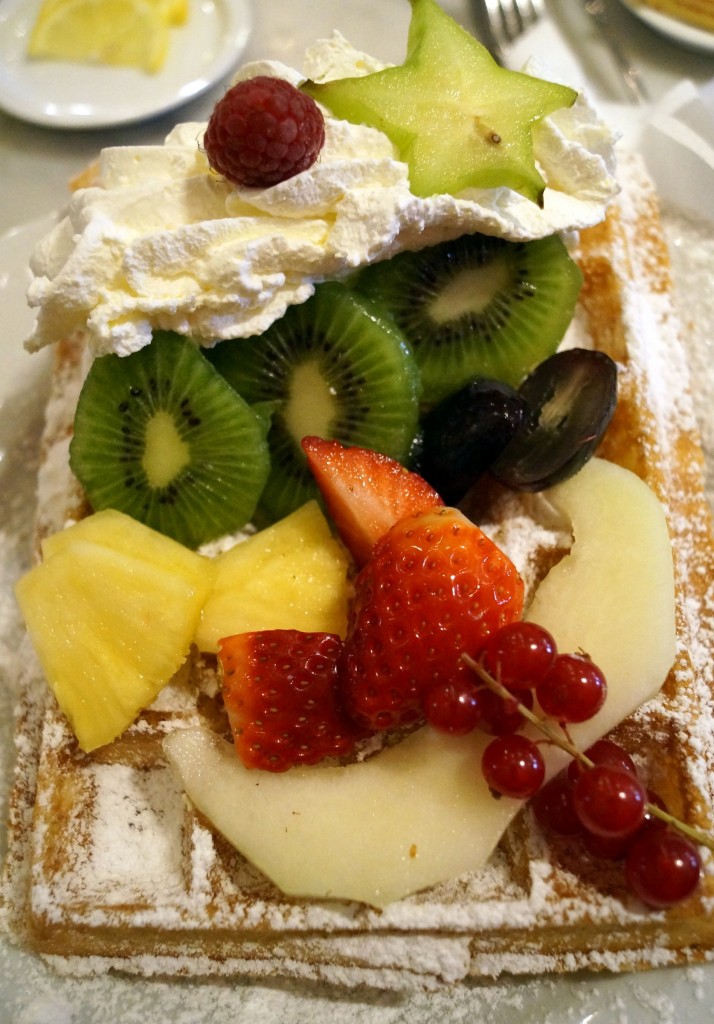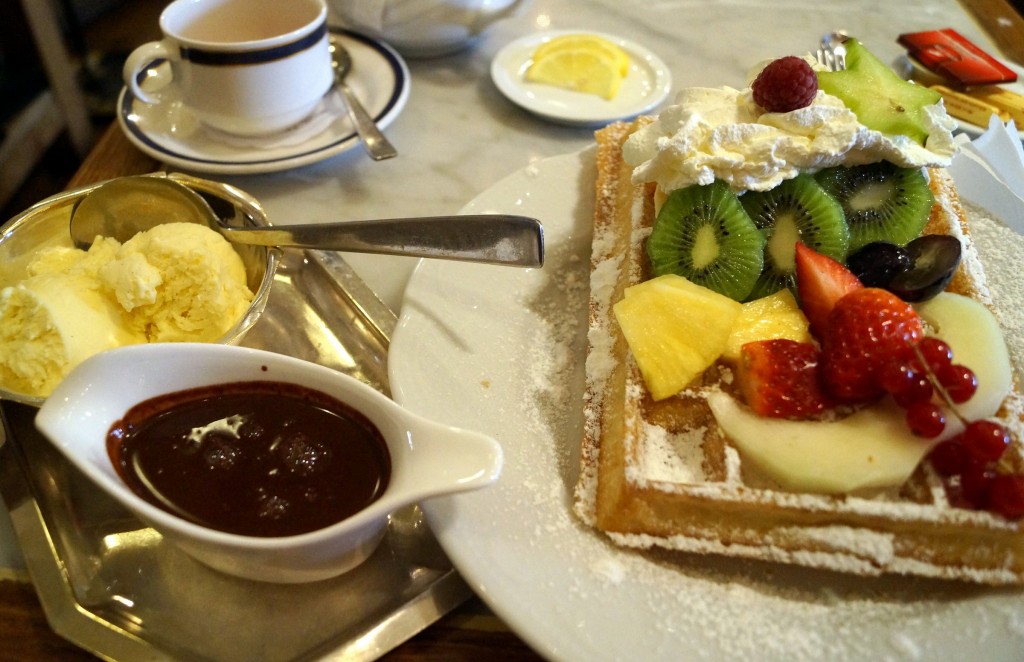 My waffle came out on a big white plate, topped with raspberries, strawberries, kiwi fruit, melon, pineapple and banana, a huge dollop of whipped cream and dusted with icing sugar. On a side plate sat a silver bowl with two big scoops of ice cream and a jug of hot chocolate sauce. Big points for presentation.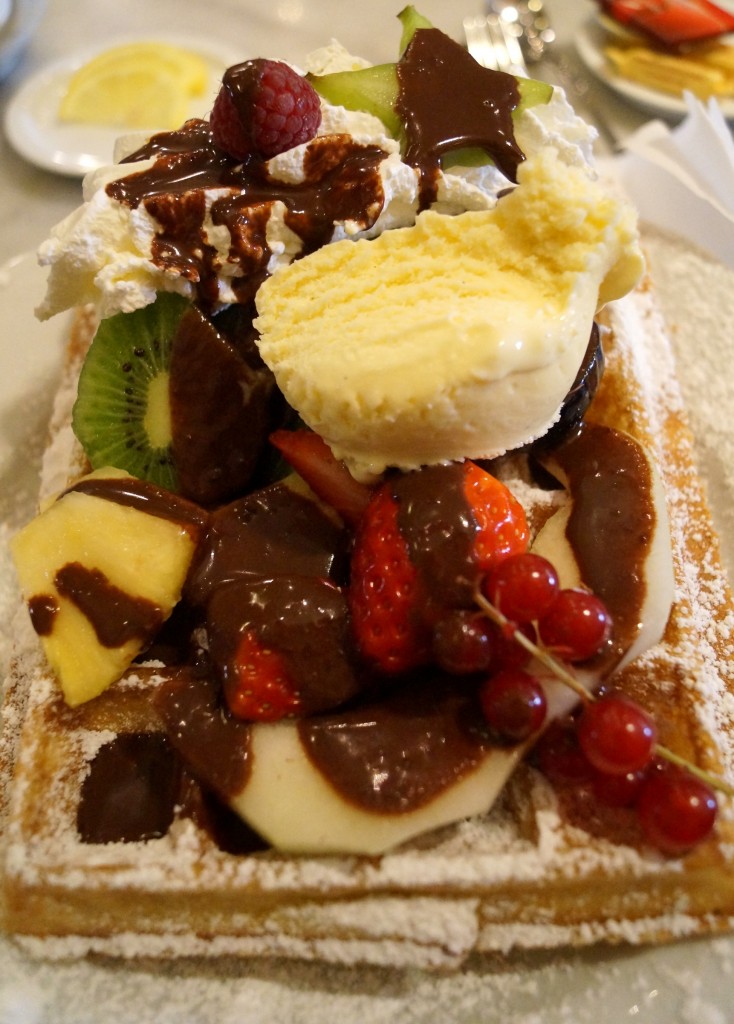 Max's waffles are cooked until they're lightly crispy, so they crunch under a knife. I'm used to them being rather squishy, so they pull and tear when I eat them. That's probably not the "right" way of cooking them, but it took me a while to get to the crispy waffle. I couldn't decide what I preferred.
Finishing the massive plate of food was an effort to and I struggled with the last few mouthfuls. If it wasn't such a nice establishment I might have undone the top button of my jeans. But it was worth it. Especially at the end when I'd eaten the fruit and just had ice cream and chocolate sauce left.
Despite the high turnover of guests around me, I felt no pressure to give up the table, which was good because I needed about 15 minutes post-waffle to recover. Then the bill came: €18.20, which included my €3 cup of tea.
So was it worth it?
On taste alone, probably not. I doubt it was much different to the €5 I could buy on the street and eat by a canal. But the experience? Yes, definitely. Even just the sight of my huge plate of waffle and fruit and the accompanying ice cream and chocolate was a treat. Throw in the service and atmosphere and it was absolutely worth it.