I'm enjoying the silence when there's a splash in the water. I swing my head to find the culprit, but by then it's just ripples. It's that quiet I'm throwing dirty looks at fish for disturbing me.
I've found something special here in Uvac Canyon.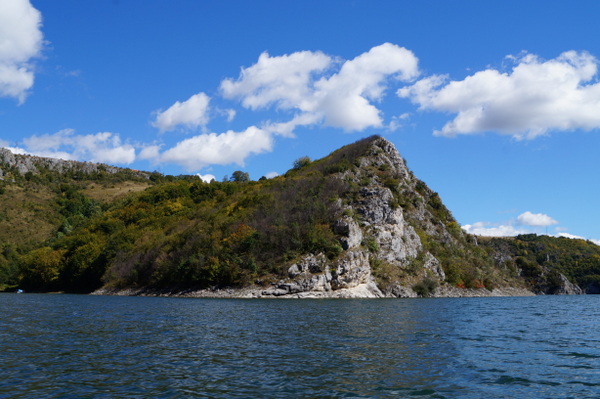 My travel discovery
Uvac Canyon is by no means a Serbian secret. It's promoted, visited and in 2008 was named one of the Seven Serbian Wonders of Nature. I have not stumbled upon some hidden jewel and to remind me of that a busload of visitors from Poland joins me at the viewing platform.
I didn't come to Serbia looking for, or expecting this. I had no idea Serbia held such incredible natural sights. I saw the photo of the river snaking its way through the valley and was captivated. But it wasn't until a friend told me I could take a boat ride on it that I realised seeing it for myself was a possibility.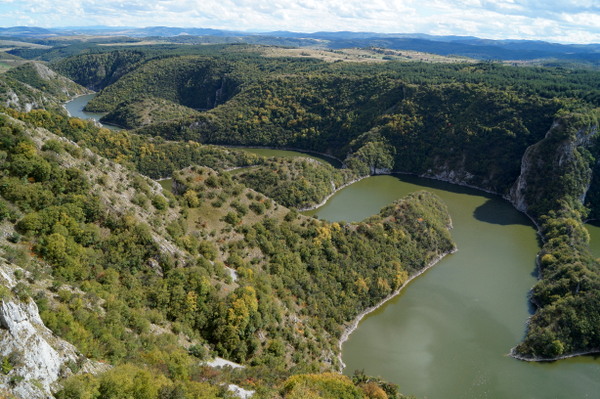 Six days after I saw that photo I was curled up at a guesthouse in Vilovi, waiting for the rain to stop so I could take my boat trip.
It was two more before I was on the water, cruising along in a rubber boat and gawking at my surroundings.
Uvac Special Nature Reserve
Although I went to sleep to the sound of thunder, I wake up to sunshine. With bright blue sky for a backdrop the canyon looks even more impressive than I imagined. The huge limestone cliffs must reach up to 100m in some places. The trees are dense and mostly dark green pines, but the start of autumn has turned some of the others yellow and orange. One plant growing on the side of some of the cliffs is bright red.
It is the perfect day for this.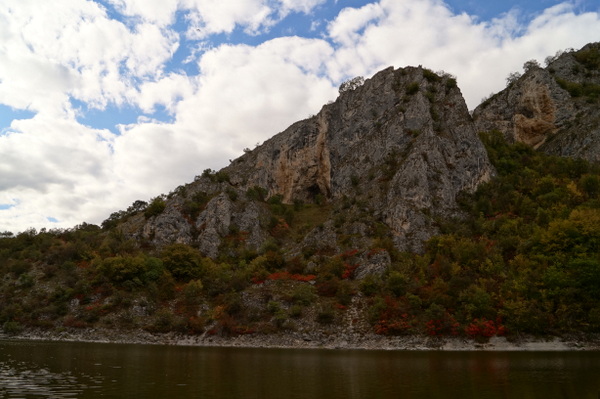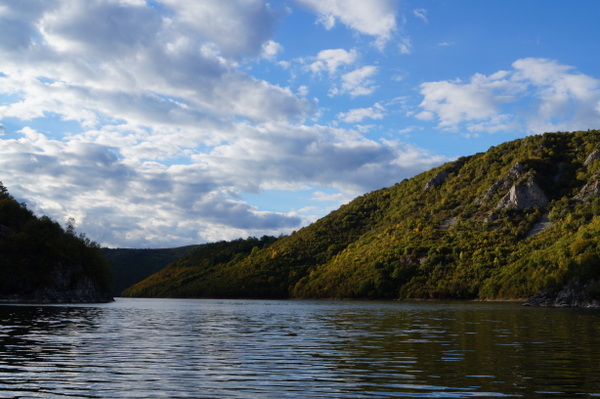 I'd originally booked a tour with the local tourism organisation, but the owner of my guesthouse offered to take me and two other guests in his boat. But today he is busy, so instead his son and wife take us. Neither speak English so apart from a couple of occasions when the other guests translate information for me, I just sit and look.
The lakes were formed when three dams were built in the 1960s. The water flooded the valley and is as deep as 350m in some places. The Uvac River is 119km long and travels from Serbia's Pešter plateau to form the border with Bosnia. But in this part near Lake Sjenica the river is like a maze.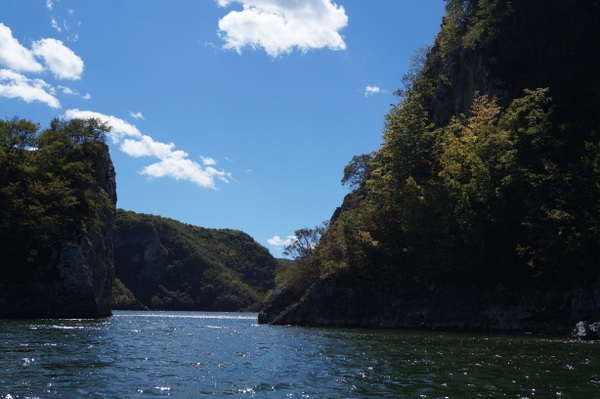 The canyon is so quiet and isolating I feel like we could be the only people ever to float along this water. But as beautiful as this wilderness is, it is not undisturbed. There are signs of life dotted along the river: a small wooden house with a triangular roof; an old red car parked on the bank but no sign of the road that took it there; a set of wooden steps leading to the water's edge.
Two fishermen in another rubber boat pass us not long after we set off, but we don't see anyone else for almost an hour and a half until we pull up at the start of the walk to the lookout. A man is sitting on the rocks waiting for someone to help him fetch his boat, which floated across to the other side of the river about an hour ago.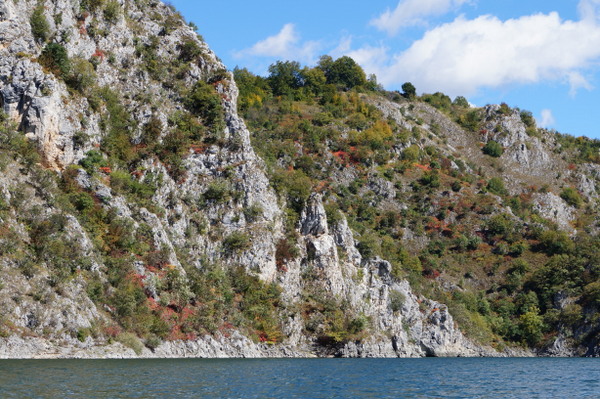 There are not many options for exploring this part of Serbia. More than 7500 hectares of the land around me is protected in the Uvac Special Nature Reserve, of which the Uvac Canyon is the most important feature. Access to the canyon is restricted and to limit the number of people in the area visitors must go with an organised tour. This is partly because the canyon is home to a rare species of eagle called Griffon Vultures. In 1990 there were only seven in this area, but there are now more than 300. Our guide, I'm embarrassed I never learnt his name, spies two on a cliff and slows down. The birds camouflage easily into the cliff face and can be hard to spot. The locals are particularly protective of the Griffons. It is due to their efforts, such as putting out food for them, that the birds have thrived here.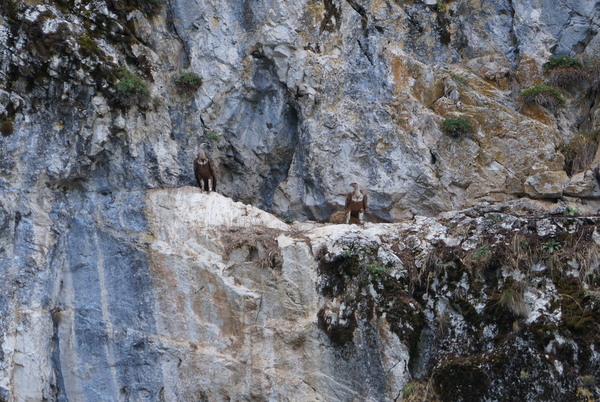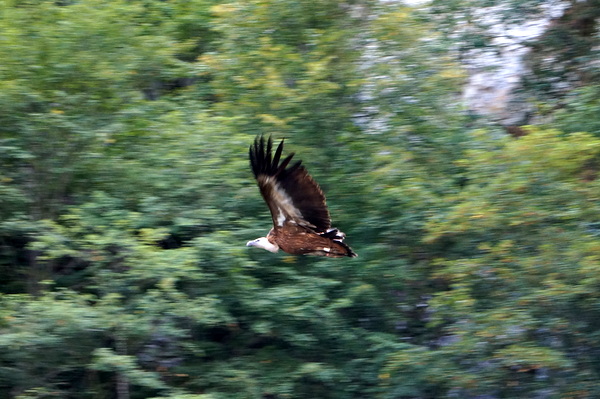 There are more than 100 species of bird here and we see several eagles. At one point we see three flying over the cliffs, although it looks like double that because of their shadows on the rocks.
Meanders of Uvac
I'm not sure how many kilometres we have travelled when we stop and help the stranded guide. I enjoy not listening to a guide describe everything because I can simply enjoy the surroundings, but not speaking the language means I miss out on a lot of information. But from the pointing and the fact we all just climbed out of the boat, I gather we're walking to the viewing platform I see on top of the cliffs.
The hike to the lookout is 3km. We pass 12 other people, all Serbs, coming down as we go up. The track is narrow and although it's well formed, I don't think this sees a lot of traffic. Most tours don't come here because they can't be sure everyone would be up for the walk.
The Meanders of Uvac is the part of the river where it twists among the cliffs like a snake. It's a feature of the canyon I couldn't appreciate from the water and it's definitely worth the hike to see from above.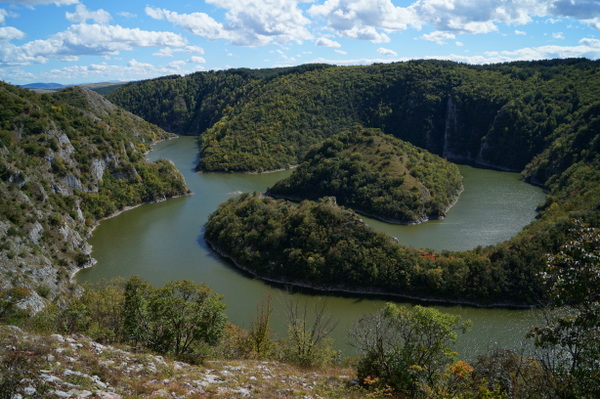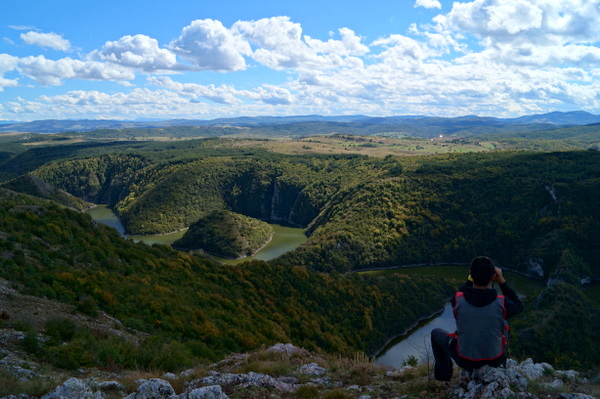 I'm thrilled with my discovery – that's what this is to me. Last week I didn't know anything about the Uvac Canyon and now I'm staring at one of the most impressive landscapes I've ever seen. This experience is made particularly special because I realise how few people have enjoyed it.
Considering Uvac Canyon is accessible by organised tours, which can be reached by public transport and cheap taxis, a relatively small number of people have travelled on this river. Today I think I'm one of about 50 and I suspect not more than 20,000 people a year see the canyon from the water, if that. (I'm making a very generous assumption of the number of people on each tour and how often the tours run.) While my figures are a wild guess, I don't think it could be much more than that, which is astounding.
I feel privileged to be here and I appreciate how lucky I am to not only have seen Uvac Canyon, but to know about it in the first place. Tourism in Serbia is growing and in a few years there's a chance this place will be swarming with visitors, but today I can count the number of people I have seen in the last two and a half hours. To see the canyon and Meanders in such a peaceful state is kind of magical.
I'm having these thoughts as I look up to see a busload of people walking to the viewing platform. My next thoughts are not appropriate to share.
The visitors are from Poland and listen to their headsets as their guide stands on the hill and speaks into a tiny microphone. One by one they stand by the edge of the cliff, pass their camera to someone else, pose with the Meanders in the background, walk to the platform, do the same and walk back to the bus. They are there for 10 minutes. I am not exaggerating. I checked the time of the photos I took of them arriving and leaving. There aren't many viewpoints like this in the area so as far as I know, this is all they will see of the Uvac. One of the other guests, a photographer, later remarks that most of the people took more photos of themselves than of the view.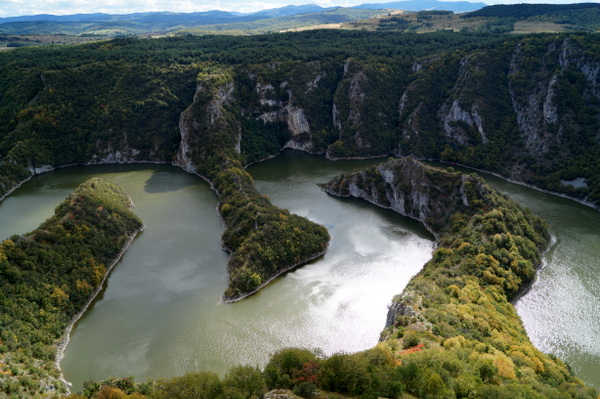 From the platform I spot some other boats on the water. Their size makes me appreciate how big these cliffs are.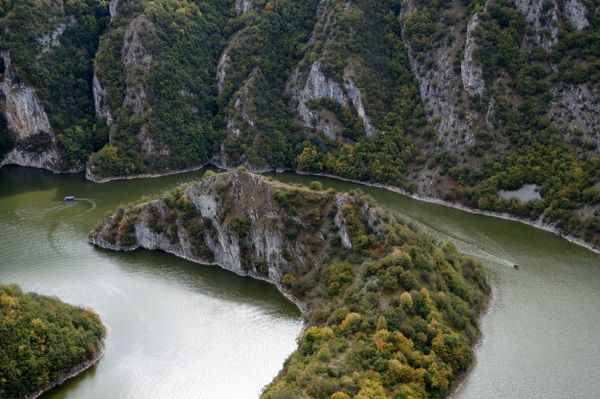 We climb back into the boat, which is a balancing act since there is not even a makeshift landing here. Our guide had pegged a rope into the ground to hold the boat and when it's time to leave pulls it out, rinses it in the water and puts it in the boat. There is no sign we were ever here.
As we push off from the rocks, I brace myself for the sound of the engine, secretly hoping for it not to start so I can enjoy the serenity a little longer. Every sound echoes.
Ledena Cave
A few turns around the cliffs and pull up next to two large tour boats with tables and chairs on the decks and one smaller aluminium boat with a canopy. This is what I would have come on with the tourist organisation tour.
We walk into Ledena Cave just as the other tours are coming out through the gate. After about two minutes, the only light is from the flashlight our guide is carrying. The cave is huge – not as big as the ones I've seen at Halong Bay in Vietnam, but I definitely prefer the lack of neon lighting here. The biggest cave in the Uvac Reserve is Usak Cave, which is 6km long. Ledena is about 2.5km.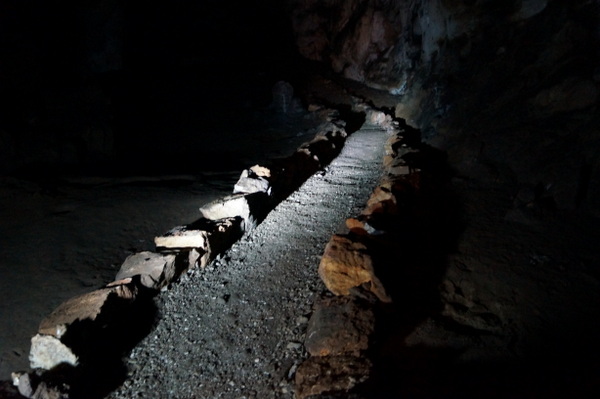 The guide shines the spotlight on some impressive "cave jewellery", the eerie rocks sculpted by the continual drops of water from above. When we come out, he locks the gate behind us. The other boats have left.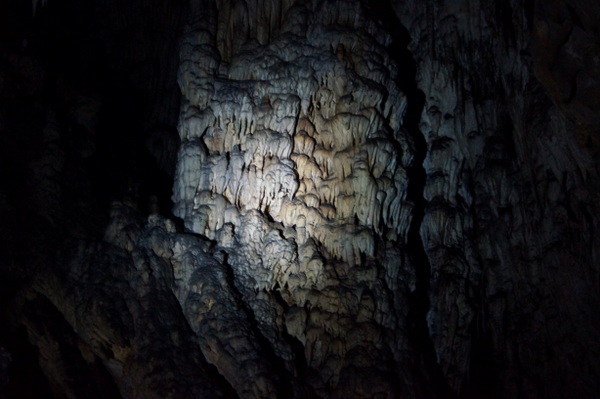 Once again it is just us in our little boat, dwarfed by the cliffs guiding this winding river.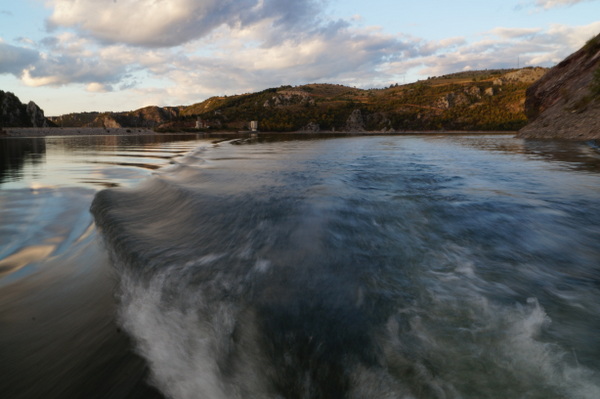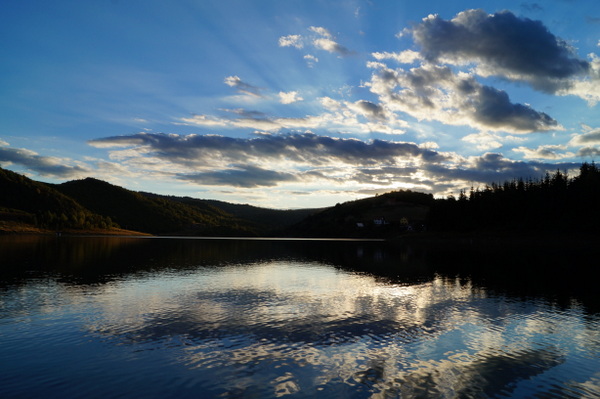 If you go
Information on exploring the Uvac Canyon is scarce and it took many hours of searching and emails to find out how I could see it. Hopefully this will save you some trouble:
Getting there
The biggest town in the area is Nova Varoš, which can be reached by bus from Belgrade, Podgorica and most other cities in the area. I caught the train to Prijepolje and then a bus (30-minutes and 140 dinar) to Nova Varoš.
Accommodation
I stayed at Vila Vilovi, a guesthouse run by Miško Botic. It's about a 10-minute taxi ride (450 dinar) from Nova Varoš. I contacted Miško by email to book my room. He doesn't speak much English, but was very patient with me.
There are lots of other places to stay in Nova Varoš, mostly private guesthouses, but I had difficulty finding anything I could book online apart from rather expensive hotels. In other parts of Serbia I've found contacting the local tourism association to be useful, so if you get stuck perhaps see if they can find something for you, or take your chances, show up, and look for a sign advertising "sobe" (rooms).
Tours
The only way to explore the Meanders of Uvac on the water is with an authorised guide.
I originally booked though the Uvac Special Nature Reserve office office@uvac.org.rs and was told they run tours on Tuesdays and Thursday at 10am from Rastoke Dam and includes a visit to Ledena Cave. I was told the tour would cost 1100 dinar (€10). You need to find your own way to the starting point and I was told a taxi from Nova Varoš would cost about 800 dinar. I heard that there are tours on different days and times, but I couldn't confirm this.
Some local guesthouse owners, such as Miško, are authorised to take their guests on the river. I would recommend doing this if you can. As far as I'm aware, the larger tours don't go to the lookout. I also really enjoyed doing the tour in a small group and having the flexibility to stay longer at some parts if we wanted. I'm not sure how much my tour with Miško cost (I paid for that and my accommodation together), but the other guests told me it was cheaper than the tours organised by the tourism association.
You can also explore the river by kayak, although these tours are less frequent than the boat trips and are usually combined with caving adventure tours.
Depending on what time of year you are visiting, I'd recommend having flexible travel plans. On the day I was originally booked to do my tour there was a big thunderstorm. The next day was the same. I just stayed at Vilovi until there was a good day to go and I'm extremely grateful I was in a position to be flexible.