Money, sex and death – all the makings of an incredible story. It's a tale that is borderline unbelievable. Perhaps I would struggle to believe it myself if I hadn't been living here and seen it unfold.
The origins of the Museum of Old and New Art is the stuff of legends and only adds to the appeal of this bizarre attraction in Tasmania's capital.
MONA is the creation of eccentric multi-millionaire gambler David Walsh, who first made his money card counting (before he got banned from all the casinos in Australia and those in almost every other country he tried his luck in) and then betting on horse racing. Stories of Walsh, his wealth and his history filled Tasmanian headlines for months. Some say he ran out of money while building it, bet big on the Melbourne Cup one year and won $16 million to keep the project going. Rumours vary from him being one of the richest men in the country to being horribly in debt.
Walsh's history and lifestyle fills the gossip pages, but his personality writes the headlines. He has openly referred to himself as a 'rich wanker'. In the car park there are spaces reserved for GOD and GOD'S MISTRESS. The spaces are for Walsh and his wife, Kirsha and might be occupied by a luxury car or a golf buggy. Speaking of Krisha, she apparently had the desserts at Walsh's 50th birthday party made from a mould of the vulva of a former girlfriend. Yes, you read that correctly. These are the people behind MONA.
It's an understatement to say MONA is not like any other museum. Actually, it feels misleading to call it a museum or an art gallery because I know the expectations those labels hold. And MONA is not a place for expectations.
However you arrive, whether by bike from Hobart's centre, aboard the military camouflage decorated Mona Roma ferry or drive through the vineyard, dodging ducks, chickens and peacocks as you park, it's apparent MONA ignores any concept of normal, conventional or expected.
When MONA opened in 2011 it quickly garnered the description as a museum of sex and death. Some of its exhibits outraged, but when you include a painting of a man performing sexual acts with a dog controversy is a certainty, especially in a place like Tasmania. Similarly, Greg Taylor's installation of 77 porcelain sculptures of women's vaginas, a piece subtly titled C*nts and other conversations (I've added the *), also had tongues wagging. The dog painting is no longer no display, but Taylor's piece and  Cloaca Professional, another MONA talking point, remain. The installation nicknamed "The Poo Machine" simulates the digestive process. The machine is fed and, well, we all know what happens to food in the end. My advice: hold your breath while you check it out.
Visiting MONA has never just been about what's hanging on the walls, which is important as the pieces are always changing. I've visited MONA several times, sometimes just a month or so apart, and there's always something new to see. From the outset, it was designed to be an experience. The subterranean museum has been dug into the banks of the Derwent River. Ticket in hand, visitors descend a spiral staircase about 17 metres below ground with giant sandstone walls dwarfing people seated in the Void Bar.
The museum is a maze, an atmosphere enhanced by the industrial Corten staircases. There are several large gallery spaces, which could be filled with anything from a gigantic piece from an iconic Australian artist or a huge Buddha molded from eight tonnes of incense ash collected from  temples around Shanghai. Off those spaces are corridors and small rooms that are easy to miss. It was only because of the line of people waiting to go inside that I found a mummy and coffin from 100BCE displayed in a room with a liquid floor over which large stepping stones provide a path for people to get close to the piece. There's limited mobile phone reception underground. If you're visiting with other people pick a meeting point and say "I'll see you in three hours".
There are no little white cards stuck next to the artworks to tell you what you're looking at. That information is contained in the O, the ipod touch given to guests as they enter the underground levels. The O is a goldmine of facts, analysis, anecdotes and hilarious commentary and is one of my favourite parts of visiting MONA. The interactive device provides details on the works around you and refreshes as you move around the museum.
In a cube-like room you'll see (and hear) Queen (A portrait of Madonna), which features video of 30 hard-core Madonna fans singing every song on the 1990 album Immaculate Collection. One of the "Ideas" on the O reads: "This is cruel and bitchy, lacking sympathy for the people whose lives are enriched by their devotion to Madonna." That's just a snippet of some of the gems to be discovered. "Art Wank", identified by the penis icon on the device, is equally as amusing.
It will come as no surprise to learn MONA has turned Tasmanian tourism on its head. This is a seriously world class collection of art – something I suspected, but confirmed once I visited cities such as Paris, Rome and New York. Before January 2011, spending an afternoon looking at art was a practice reserved for holidays in just those kind of destinations. But MONA changed that. Art was suddenly controversial, cool, hilarious and here in Tassie. Whatever Walsh's intentions (I doubt even he knows) he has created a space that will entertain, or at least fascinate, anyone.
There's already a hotel, winery, and restaurants at the MONA site and Walsh recently proposed to establish a boutique private casino for high rollers. Oh and I don't think I've told you about the $75,000 lifetime membership that buys you unlimited access to the museum and upon your death, a spot for your ashes in the MONA cinerarium. Again, yes, you read the correctly.
But MONA's impact has stretched beyond the museum itself. Walsh and his team are behind several events and festivals, including MONA FOMA, a summer music festival, and Dark MOFO, its winter counterpart that featured a food festival (which crowds flocked to despite it being mostly outside in June), large-scale public art including Batman-style spotlights that shone into the sky from Hobart's wharf, and an attraction called the Ferris Wheel of Death.
Back inside MONA, just past a bright red obese Porsche apparently meant to represent  consumerism, and the cube showing footage of those Madonna fans belting out Papa don't Preach, is an empty room in which the lights flick on and off at five-second intervals. In any other place it would be dismissed as a disused gallery with an electrical problem.
But this is MONA, where everything is something and nothing is something too.
It turns out to be Work No 227: The lights going on and off by Martin Creed. I look at the O for insight and am told "If you think this is good art, you're a dim wit".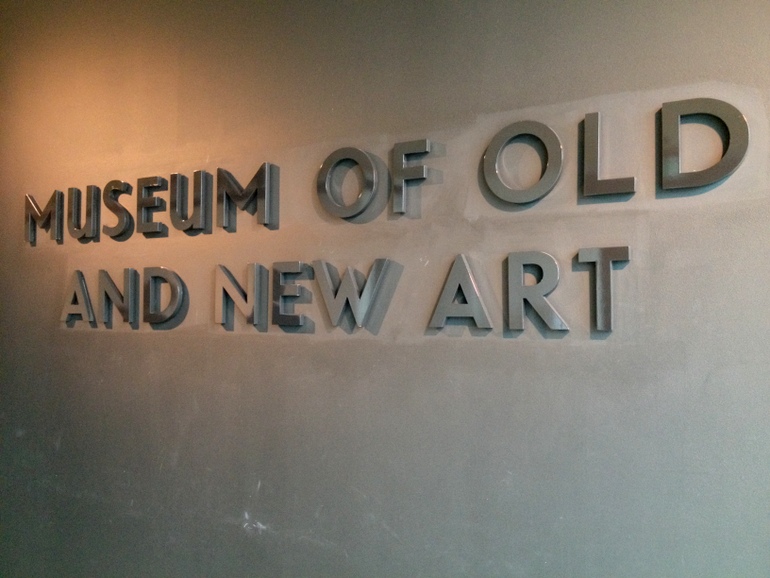 MONA is located about 20 minutes from the Hobart city centre. The MONA Roma ferry leaves from the wharf area at Salamanca. The MONA Roma coach operates between the airport, city and MONA. The museum can also be reached by public bus. Entry is free for Tasmanians (you must show ID) otherwise it's $25 for adults, $15 for concession and free for under 18s. For more information visit www.mona.net.au