Ireland could produce countless amazing television shows in the next decade, but not one will eclipse the popularity and legacy of Father Ted. I could try to describe it to you, but doing it justice is an impossible task. Take my word for it – it's fecking hilarious.
The show is that popular there's an annual festival celebrating all things Father Ted. Ted Fest is held on Inis Oírr, part of the Aran Islands, which is used in aerial footage as the fictional Craggy Island. Most of the other filming locations are found in County Clare, including Father Ted's Parochial House.
It was never an intended stop on our Stena Gathering tour. Rob from Beer Lens is a big fan and the first day of our trip was filled with quotes. On our drive from Galway to the Dingle Peninsula, just after we stopped for a photo at Leamaneh Castle, our Paddywagon guide and drive Mike announced he was going to try to find Father Ted's House.  It had been a while since he'd been there. "I can't remember if it's this road or the next one," he said as we drove along. We turned down the most likely bet, driving past a small clutter of houses before entering the flat countryside near The Burren. Mike, not having seen the house in many years, asked a national park ranger coming the other way who told us to head straight down the road.
A few more trees and paddocks later and there it was.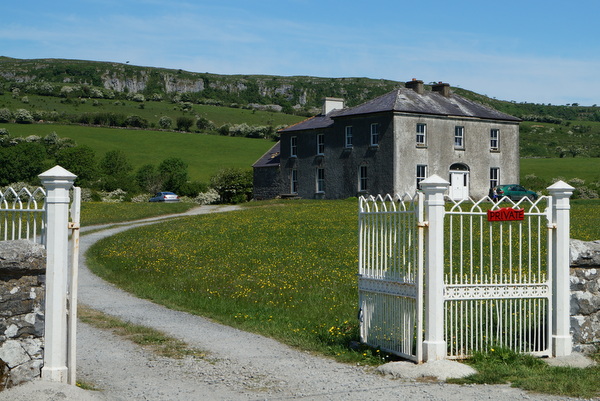 The house is lived in and privately owned, so we just stood at the end of the driveway for photos. However, if you book ahead, you can call in for tea – a pastime that fans of the show will love!  If I'd thought ahead and been paying better attention, I would have made detailed notes of how we got there. But the best I can do is provide the driving directions I put together after finding the location on Google Maps. There is no public transport out here, but there are tour companies that visit the house and pop inside for tea.
A BIG thank you to Mike for taking the time to get us here!
Father Ted's House From Galway
Father Ted's house is about one hour from Galway.
Leaving Galway take Dublin Road and then the N18 in the direction of Limerick.
After 8.5km on the N18, turn right onto the N67.
Drive for 11km then turn left onto the L8587
After 800m turn left and continue on that road for 11.3km.
At the T-junction, turn left and then take the first road on the right,
Father Ted's House will be about 3.5km down the road on your right.
Latitude and Longitude 53.010316,-9.030211
Father Ted's House From Limerick
Father Ted's House is about 58km, or one hour's drive from Limerick.
When leaving the city, follow signs to Galway and the N18. Stay on the N18 for 13.5km.
Continue onto the M18 for 18.5km.
At junction 14 take the R458 exit to Inis/Ennis/Gort Lomán/Barefield
At Barefield Roundabout, take the 2nd exit
Continue straight in the direction of Toormore for 6.5km,
At Ruan, turn right and drive for 500m. Turn right and then immediately left again. (You should be heading in the same direction you were before those turns.)
5.6km later turn right onto the R460, then take the first left.
Drive for another 3km and at the junction turn right.
Father Ted's House will be about 1.6km up that road on your left.
I represented Travel With A Mate at the Stena Line Gathering 2013 hosted by Stena Line, Tourism Ireland and Paddywagon Tours. All opinions expressed on Pegs on the Line – and my friends will tell you I always have a lot – are my own.