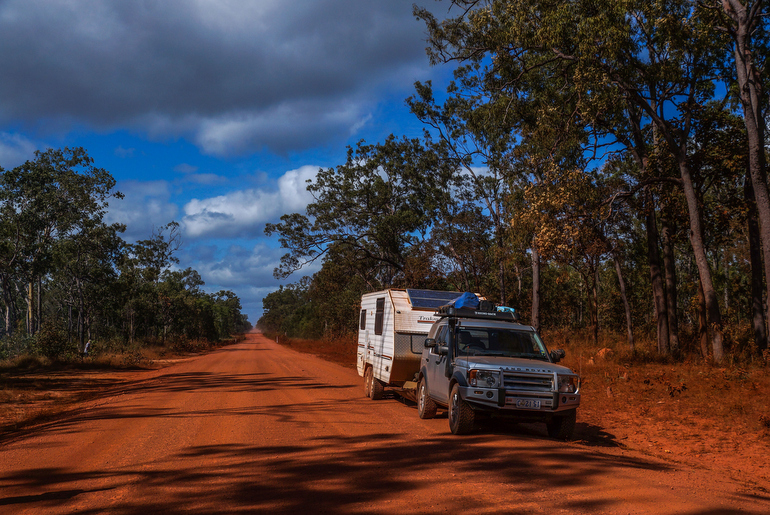 The road is dry, dusty and often, rough as guts, but driving the Cape York Peninsula is one hell of a road trip. It's about 1000km from Cairns to Cape York, which isn't a big distance when we're talking about a country the size of Australia. But this isn't a one-way trip. The only place to go once you've hit the most northern point of mainland Australia is back again.
It's not a well-known trip, but it is an epic journey. In a few days you'll trade sparkling coastlines and tropical rainforest for rugged dirt roads that are only passable for a few months of the year. The distances between everything are great. And it's really bloody bumpy.
The long days of driving and lack of comfort won't be for everyone. But if you've got a penchant for adventure, here's what you need to know.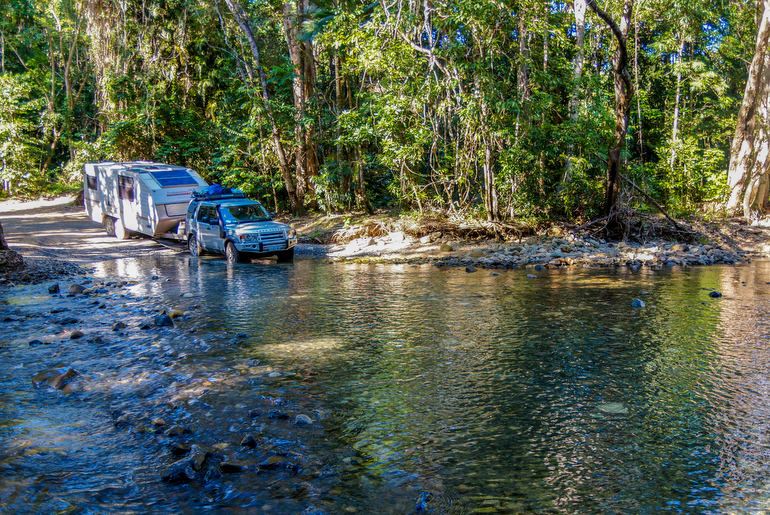 How to do it
You can explore the area with a tour, although every group I saw had an average age of about 60, so that won't appeal to everyone. You can also fly straight to Cape York (Horn Island or Bamaga) or take a ship from Cairns, but you'll be missing a lot. The best way to see it is in a 4WD.
You'll need to be as self-sufficient as possible – think camping, cooking and carrying everything you need to get by for a few weeks. If you plan your stops you could find enough places to eat along the way, but if something happens and you get caught between roadhouses, you'll want to have supplies at hand.
Given the kind of roads you'll travel on, make sure your vehicle is up to it and fully equipped for this kind of trip. If you're considering using a hire vehicle check with your rental company as they may not allow/insure you on these kinds of roads.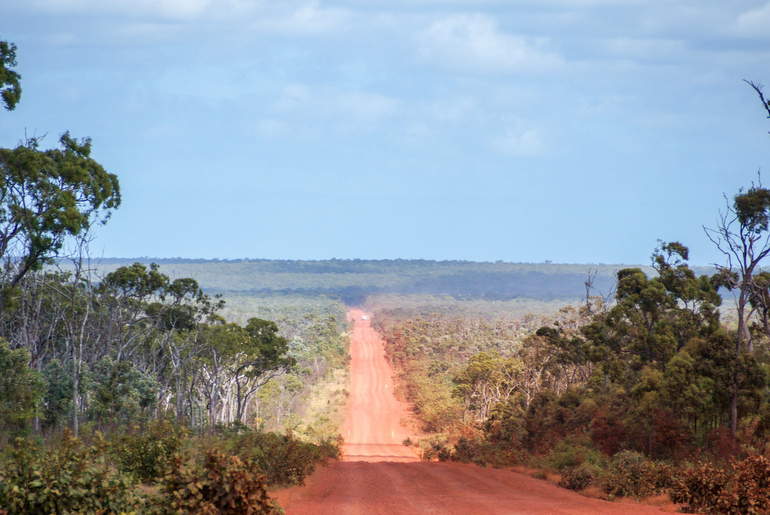 The route
From Cairns we headed north to the Daintree and Cape Tribulation, over the Bloomfield Track to Cooktown, through Battle Camp Road into the Lakefield National Park, south to Laura and then followed the Peninsula Development Road, Northern Bypass Road and Bamaga Road to Cape York. On the return we headed back into the Lakefield National Park from Musgrave, drove back down to Laura, south to Mount Molloy, up to Port Douglas and then down the coast to Cairns.
But there are quite a few options. Good weather and a suitable vehicle meant we could tackle roads such as Bloomfield and Battle Camp, which are made treacherous by even a little bit of wet weather. If you're not up for the Bloomfield Track you can head west from Cairns to Mareeba, and jump straight on the Peninsula Development Road, which you'll follow half way up the Peninsula.
Alternatively, you can follow the Captain Cook Highway up the coast to Mossman, passing the northern beaches and Port Douglas, before heading southwest to Mount Molloy and joining the Peninsula Development Road. To head straight to Cape York you'll stay on the Peninsula Development Road until the turn off for Weipa, where you'll stay north on the Telegraph Road and later Bamaga Road.
If you're up for some serious 4WD action there's the Old Telegraph Track, which is what attracts a lot of off-road enthusiasts to the area. There's a reason they sell T-shirts reading "I did the Old Telegraph Track" – it's an achievement. This is an extreme track though and if you don't know what I'm talking about then I think it's safe to say it's not for you. Beside, the normal road offers plenty of fun anyway.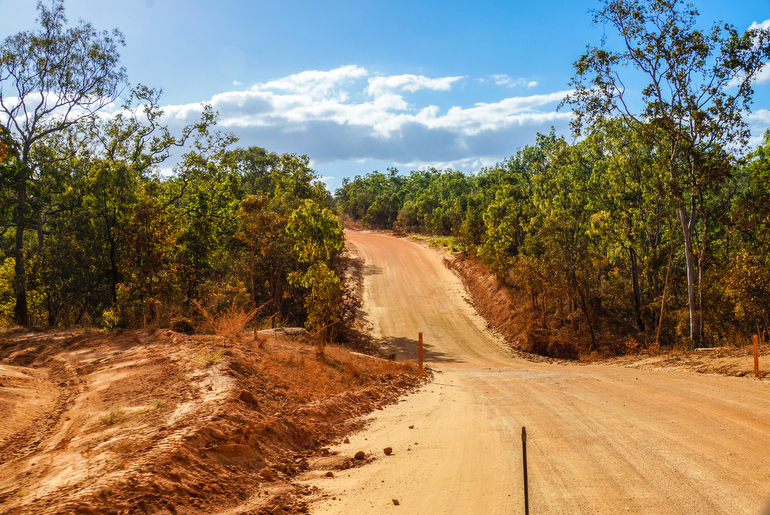 The road
Heading north, the road is sealed until Laura. If you travel from Cape Tribulation or Cooktown and go through the Lakefield National Park, you'll hit gravel well before Laura.
There are some sealed sections after Laura, but they are few and far between. Works are under way to seal more of the Peninsula Developmental Road, so it's improving every year, but sections of the road are mostly dirt and badly corrugated in a lot of places. There are also some shallow creek crossings. The roads around Bamage and Seisia are sealed, but the track to The Tip is mostly dirt and sand, as are a lot of the tracks to sites such as Somerset and Pusand Bay.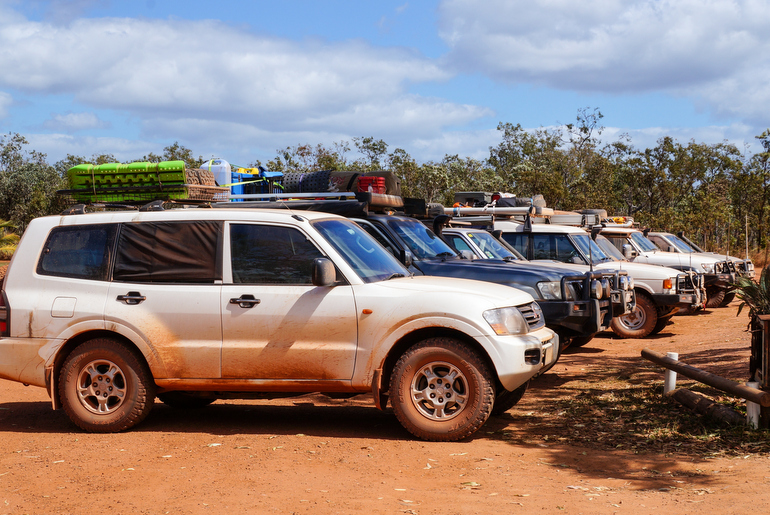 Most of the vehicles making the trip are 4WDs. I saw maybe two "regular" cars, but I don't know if they would have been making the whole journey. Conditions are pretty tough so you'll definitely want a vehicle that can handle it.
The stretch between Bamaga and Jardine River is notoriously bumpy, but we found the road a lot easier heading south, than north. There's also some very sandy roads between Jardine River and Bramwell and you'll need a vehicle with a fair degree of clearance to tackle those.
Of course, conditions will change week to week and year to year.
When to go
There isn't a lot of flexibility on this front. Many of the roads on the Cape York Peninsula are inaccessible during the wet season, so that leaves you with the Dry Season (June to September) to explore the area by road. If you are travelling in early June, be aware that some roads may take a few weeks to reopen at the start of the season. You can check the current road status on the Cook Shire website and the Queensland Government's 131940 Traffic and Travel Information site. This Facebook group is also helpful.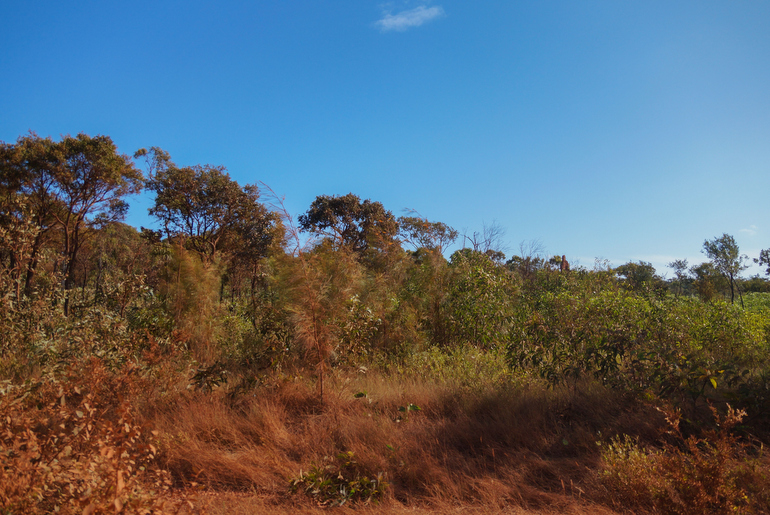 How long will it take?
I've read some suggestions to allow two weeks, but we took three. It depends how much driving you want to do each day and if you plan to take any side trips. There are several points where you can head out to places on the east and west coasts, so that will add to your trip.
We spent four days at Cape York itself, which gave us enough time to sightsee and relax before the journey back down. We also spent a few more days in the Port Douglas/Cairns region at the end of our trip.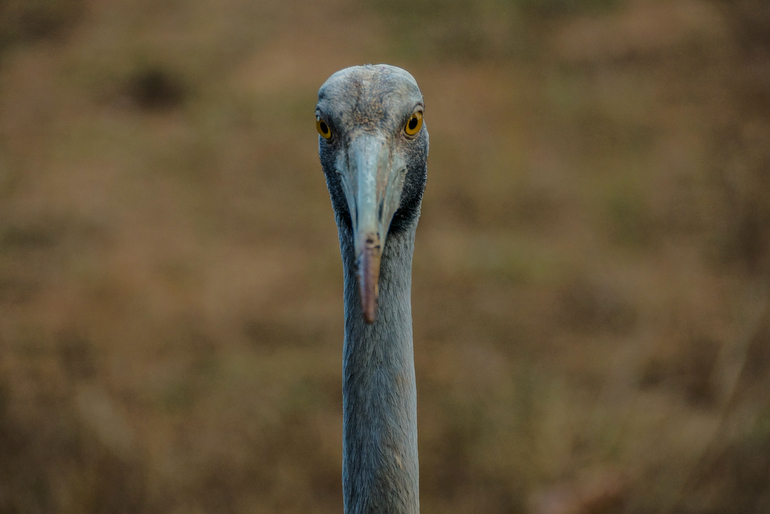 Where to sleep
This trip is all about camping! There is some accommodation available along the route, but the majority of visitors travel with a tent, camper trailer or caravan. The more self-sufficient you can be, the better. There are a number of camp sites – some free, some not – and also campgrounds at many of the roadhouses.
Free camps
There are a few free bush camp sites along the route. A couple that come to mind are The Bend, a few kilometres north of Coen, and Lukin River. The latest edition of the Camps guidebook has details of the official camp sites in the area. Once you reach Cape York there aren't any official free camp sites.
Campgrounds
There are campgrounds at most of the towns, communities and roadhouses on the route, including Laura, Hann River, Musgrave, Coen, Archer River, Moreton Telegraph Station. Bramwell Station has a tourist park and there's also a campground on the south side of the Jardine River Ferry. There will be a charge to camp at these spots.  The average is about $10 per person, per night, but the costs were a bit higher at Cape York and in Port Douglas and Cairns.
Here's a few details of the official campgrounds we stayed at:
Riverview Van Park, Daintree Village –  The campground is right on Daintree River (watch for the crocodiles). Amenities: toilets, showers, small outdoor camp kitchen with some appliances, media room with power outlets.
PK's Jungle Village, Cape Tribulation – PK's is a campground and backpackers in one and we definitely felt the backpacker vibe here, but proximity to Myall and Cape Tribulation beaches was great. Amenities: Toilets, showers, washing machines, meals, bar, internet access available at cost, supermarket next door.
Loyalty Beach, Cape York – The campground is on the waterfront, a few kilometres from Seisia. We had a site tucked up in the back corner and enjoyed the space and privacy. We had a drink at the bar and watched the sunset most nights. Amenities: Toilets, showers, washing machines, kiosk with some groceries, breakfast and evening meals, bar, small shop.
Bramwell Station – This place is getting a good reputation, mainly through word of mouth. It's a working station, but also has a huge tourist park. Amenities: Toilets, showers, washing machines, evening meals, bar, nightly entertainment.
Musgrave Roadhouse –  Musgrave Roadhouse is a fuel stop, shop, restaurant, bar and camp ground all in one – just like many of the roadhouses on the route. Amenities: Toilets, showers, washing machines, meals, bar, small shop.
Quinkan Hotel Campground, Laura – The pub has a campground out the back. It's not a huge area so it would fill easily during busy periods. Amenities: Toilets, showers, washing machines, meals, bar.
Rifle Creek Rest Area, Mt Molloy – This is a basic, unattended campground and rest area. Amenities: Toilets, showers, water, dump site.
Big 4 Glengarry Tourist Park, Craiglie (Port Douglas) – Beautiful park filled with palm trees. About 8km from Port Douglas town centre. Cost:  $54 per night for a caravan, three adults, unpowered. Accommodation available. Amenities: Toilets, showers, washing machines, basic kitchen, limited free internet, pool, playground.
There are a number of campgrounds off the main route, particularly in the national parks. You'll need a permit to camp within the national parks and they can be booked online.
Sneaky Free Camps
The other option, which isn't widely publicised, is what my family call the Sneaky Free Camps. I can't find a lot of information on just how acceptable this is, but we certainly weren't the only ones doing it. Along the route you'll spot several places off the side of the road that are just big enough to pitch a tent or park a van.
After leaving Cape Tribulation, we didn't stay at one "official" camp ground until we got to Loyalty Beach at Cape York. We just found spots such as disused gravel pits to set up camp for the night.
I cannot stress the "leave no trace" attitude enough. When you leave your camp, wherever it may be, there should be hardly any sign you were ever there. I was pleased that when we drove away from a camp site, the only sign of our visit was some tyre tracks.
Highlights
Places
Cape Tribulation – This place is so beautiful and such a convenient base to explore the Daintree Rainforest and Great Barrier Reef compared to the busier and more "touristy" spots down the coast. Even if you can't take the Bloomfield Track, it's worth coming here and then backtracking to Mossman.
Lakefield National Park – The road through the National Park from Musgrave to Laura was great to drive and a change from the scenery along the main road. We saw a lot more wildlife and wetlands. If you want to stay here and don't have internet access to book a permit online, there's a self-service booking kiosk at the ranger station.
The Tip – Of course I have to mention it. After all, getting here is the reason so many people make the trip up. Standing on the most northern point of Mainland Australia really is something. Get up before sunrise and beat the crowds. It's worth it.
Fruit Bat Falls – By the end of this trip I was sick of being hot, dusty and unable to go into the water because of crocodiles. That may be why I loved Fruit Bat Falls so much. It's a small waterfall on the Elliot River and just a 2.7km drive off the main road. The best part is you can swim here!
Mossman Gorge – One of the oldest rainforests in the world, Mossman Gorge is a 15-minute drive from Port Douglas. There's a small entry fee but it's worth it to immerse yourself in this beautiful part of the Daintree National Park and the Wet Tropics World Heritage Area.
Activities
Kayaking at Cape Tribulation – Cape Trib is the meeting point for two world heritage areas – The Wet Tropics World Heritage Area and the Great Barrier Reef Marine Park – and one of the best ways to witness that crazy amount of natural beauty is from the water. We had our own kayak but there are tours, which you can read more about here.
Daintree River Cruise – Crocodile Express runs river cruises from two locations: Daintree Village, which is the cruise I did, and from the Daintree River ferry crossing. We didn't see any crocs, but being out on the river in the early morning was beautiful. The tours are $28 per person.
Quinkan and Regional Cultural Centre, Laura – This interpretation centre is the best value in the Peninsula. It features extensive and high-quality displays, which are a good introduction to some of the places you'll pass through on the trip north.
Quinkan Galleries Rock Art Tour, Laura – The rock art at The Quinkan Galleries is one of the best examples of Indigenous Rock Art in Australia. It's estimated to be about 40,000 years old. The tours are expensive but if you can afford to splurge, it's worth it. Book by contacting the Quinkan and Regional Cultural Centre.
Thursday Island – This is the most popular day trip from Cape York and although tours are offered, you could easily explore on your own. There are ferries to and from Seisia twice a day and the trip is worth it just to see some of the Torres Strait islands. A day trip to Thursday and Horn islands with Peddell's Ferry costs $222.30 per adult (BYO lunch).
Horn Island World War II Tour, Horn Island – If you're a history buff then don't just visit Thursday Island – book a two-island tour and pop over to Horn Island. An extraordinary amount of work has gone into building the museum here and preserving sites of significance from WWII.
Great Barrier Reef – When you're in this part of the world, you really can't pass on a visit to the reef. I visited the reef with Silversonic from Port Douglas. The tour costs $239 plus a $6.50 environmental management charge. Their sister boat the Silverswift operates from Cairns. I've heard that Cape Tribulation is one of the best locations from which to visit the reef. The reef is closer, and receives less visitors. Unfortunately, the tours were booked out when I was there (damn school holidays!).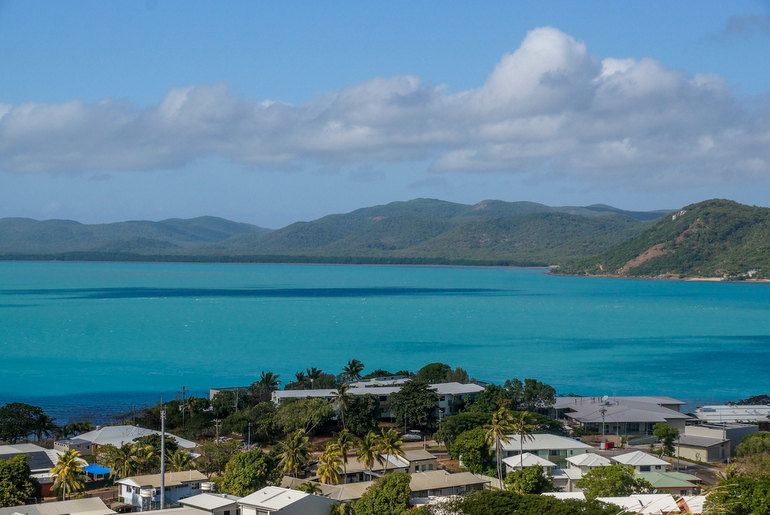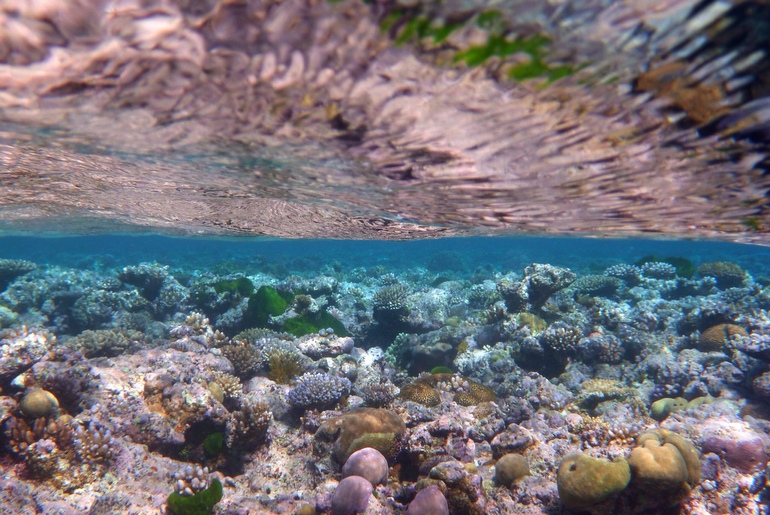 Communication
Telstra has the best coverage throughout the Cape York Peninsula, but in general phone reception is limited north of Port Douglas. Until Laura you'll have service at most of the towns such as Mossman, Mount Molloy, Cooktown, Lakeland and Laura, but rarely any coverage on the roads between them. Then it's only Coen and Weipa until you get to Cape York.
I was surprised at how much coverage we had while travelling around the top of Cape York. We had service at Bamaga, Seisia and Loyalty Beach and even a couple of bars at The Tip and Somerset. There's also full coverage on Thursday and Horn islands.
There is a small telephone sign inside Lakefield National Park where there is mobile coverage for a couple of hundred metres and although I didn't have service in the village at Cape Tribulation I picked up a couple of bars on the rocks at the north end of Myall Beach.
There are payphones at most the roadhouses. Some of the stores in Bamaga advertise free wifi and the Peddles Ferry to Thursday Island also has free wifi.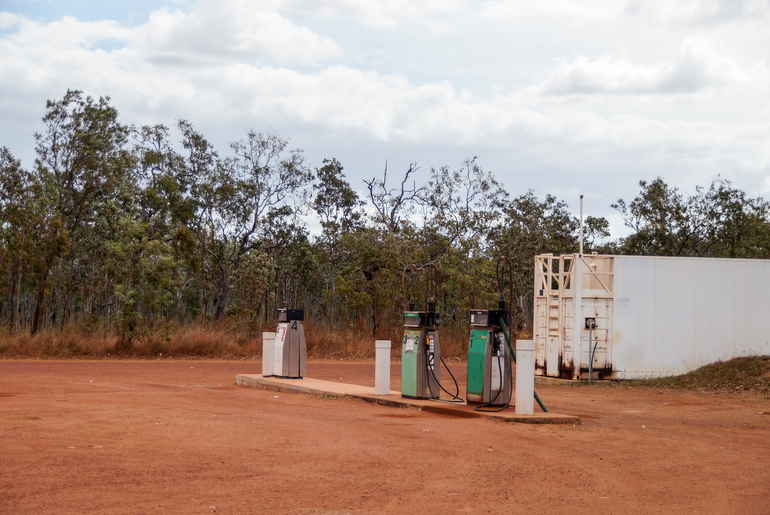 Services
When looking at places on a map it's difficult to know what to expect so here's a little run down on what you'll find along the main route to Cape York.
Laura – There's a roadhouse and campground to the south and in the main street there's a small shop with fuel, public toilets, and the Quinkan Hotel, which also has a campground.
Hann River – Roadhouse, fuel and campground.
Coen – The Exchange Hotel has meals and accommodation, there are two places with fuel and two small shops. The opening hours are a bit ad hoc. We went through when we were heading north and again on the way back down and ended up in Coen on a Saturday afternoon both times. On the way north one of the fuel places was out of diesel and the adjoining shop appeared to be closed. A week later the same shop was closed for lunch and the other shop up the road was closed as well. There are public toilets in the main street, a dump site on the road north and a campground.
Archer River – Roadhouse, fuel and campground.
Musgrave – Roadhouse, fuel, campground.
Moreton Telegraph Station – Campground, with a small shop.
Bramwell Junction – Roadhouse, fuel and a separate tourist park a few kilometres south (Bramwell Station). A shout out to the Bramwell Burger, which was amazing!
Bamaga – The biggest town at Cape York has most things you could want including a supermarket, stores, mechanic, Centrelink office, fuel, pub etc.
Seisia – Campground, service station, supermarket, butcher and fuel.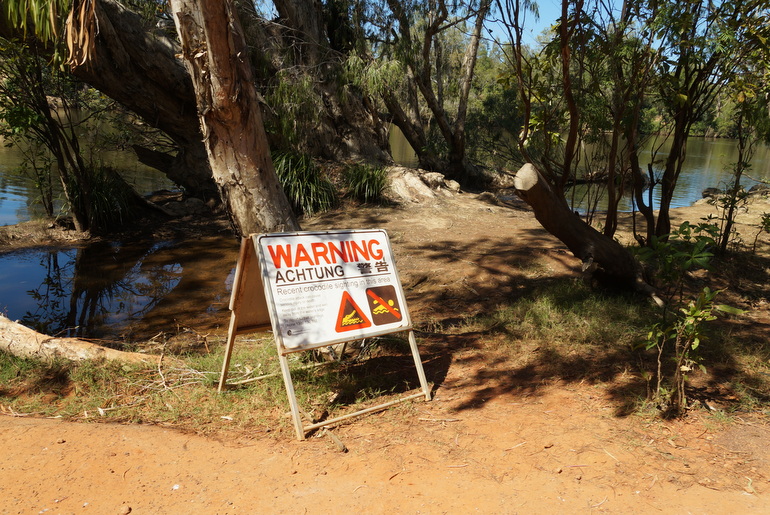 A couple of things to note:
On a very serious note, you'll be travelling in the heart of croc country. Sometimes there will be warning signs near the water, often there won't be. Either way, be very careful around the water and don't enter it unless you are absolutely sure it's free from crocs (like Fruit Bat Falls).
Basics such as bread and milk aren't easy to find along the route. The Woolworths in Mossman is the last big supermarket, so stock up and take everything you need for the trip to Cape York. You'll find a few non-perishable items at some of the stores and roadhouses, but the prices are heavily marked up, as you'd expect. Also check the best before dates. The supermarkets in Seisia and Bamaga get deliveries twice a week so stocks get a bit low in the days before the shipment.
Read on:
A stunning detour through Lakefield National Park
Queensland in my father's footsteps
Looking back on my Outback Road Trip
Driving the Bloomfield Track – Cape Tribulation to Cooktown
Cape Tribulation: A Coastal Paradise
What no one tells you about the Great Barrier Reef
The Great Barrier Reef – A natural wonder at risk
The world's oldest art galleries
Disclaimer: This post has been compiled based on my own experience travelling in Cape York in 2014. While I have endeavoured to confirm all prices and information as of May 2017, they are subject to change. Travellers should check with the specific sites and companies for up-to-date prices and information.