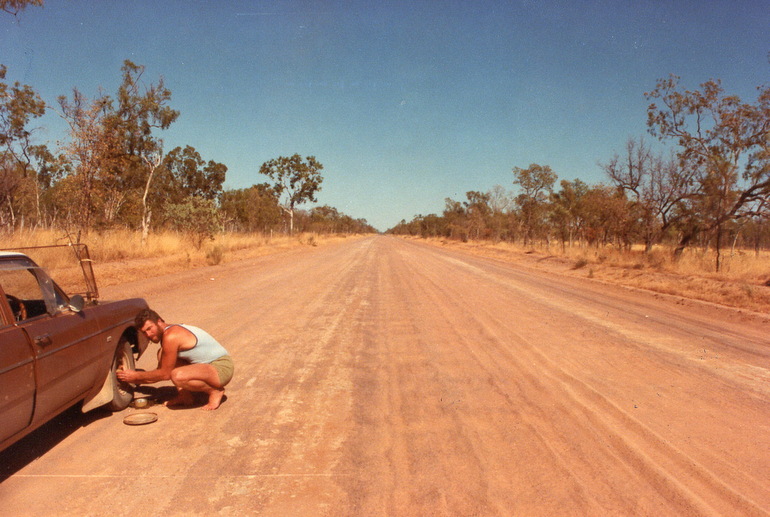 It was 1982.
Dad had leased out his farm in Tasmania and travelled to the mainland taking jobs in mines, building roads and joining the woodchopping circuit.
He was working at the Ulan mine in New South Wales when the land operators hit coal. The workers demanded higher wages and went on strike. Dad didn't want to put up with the drama, so he made an announcement in the single men's quarters.
"I'm pulling the pin in a couple of weeks and going north. Who wants to go with me?"
Three cars left Ulan.
Dad was 36 when he took what we'd now call a grown-up-gap year of sorts. He was still a bachelor. He hadn't met my mum yet. Spoiler alert: that happened at Alice Springs, the last stop on his trip.
I knew some things about his adventures in the early '80s. There were souvenirs around our house that came with accompanying stories, such as the huge shell he found on the beach at Cape York displayed in the lounge room, or the Percy Trezise painting that hung above the bookcase. But like any teenager, I didn't pay much attention. So when I gatecrashed my parent's grey nomad travels earlier this year, and they told me we'd be heading north to Cape York, I didn't realise I'd be retracing my dad's road trip.
The circumstances of Dad's two trips, 32 years apart, are comically different. Then, he was driving around a brown Valiant with his mates and "sleeping on the beach and eating coconuts". Now he was retired, and relegated to the back of his Land Rover when his wife was driving because his 29-year-old daughter had called shotgun on the passenger seat.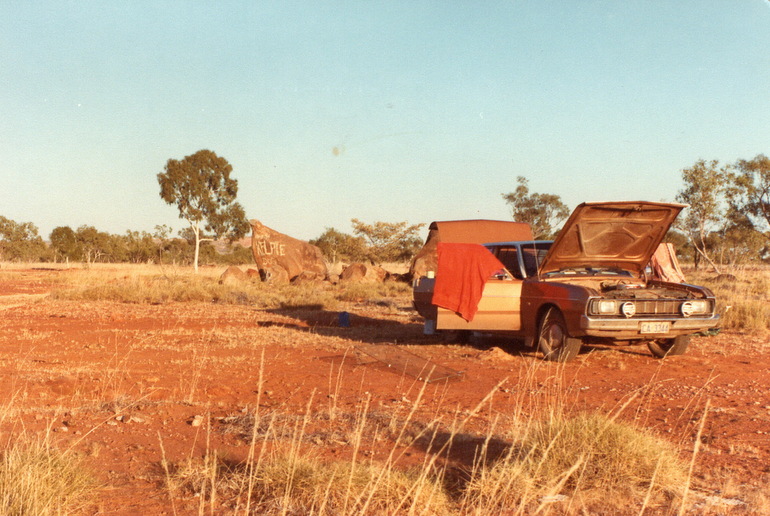 Travelling with my parents was a chance for me to hear stories they might not have otherwise been inspired to tell. On this particular trip those stories often gave an insight into the past of the places I was visiting. Back at my parents' house in Tasmania, I found the photos from Dad's trip in 1982, which further brought those stories to life.
Although I'd listened to his stories on the trip, I hadn't realised just how many of the same places we had visited. We had unintentionally captured several locations three decades apart. During the trip Dad would often remark on what had changed. When he camped at Cape Tribulation protesters were fighting the building of the Bloomfield Track. When we visited, we left by following that track through to Cooktown.
Cape Tribulation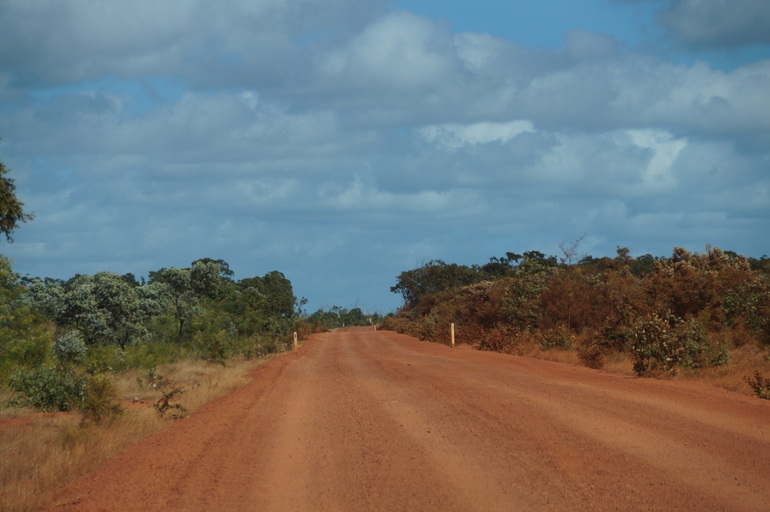 The road to Cape York, now wide enough to be nicknamed the Red Highway, was just a track. Dad left his Valiant somewhere south, Mareeba he thinks, and hitched a ride in a mate's F-truck. His mates smoked and Dad preferred the fresh air.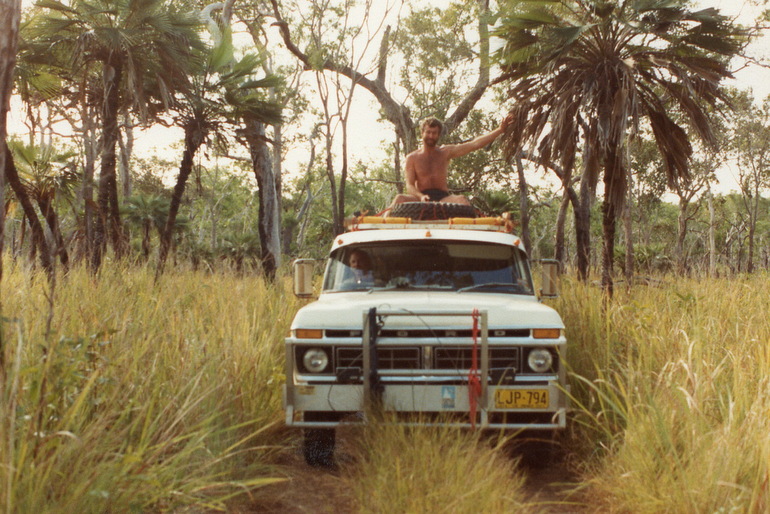 The ferry that now transports cars over the Jardine River for $125, didn't exist. Back then an illegal barge operated a long way upstream from the current crossing. The operator couldn't get a license to take vehicles across, so instead he sold bumper stickers for $10. "You want to go the other side? Hop on, I'm going that way," Dad recalls the barge man offering after he bought a sticker.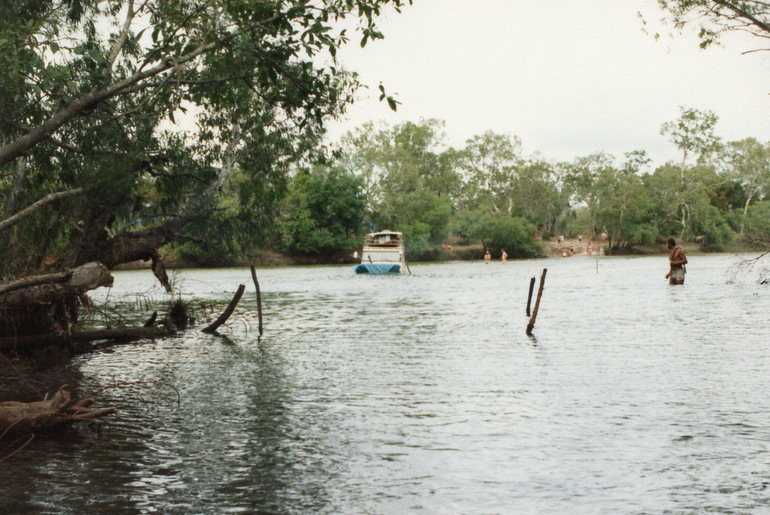 Yes that's someone driving across the river. Yes that's my Dad walking through the river. Yes, there are probably crocodiles in the river. Well, if not then, there are now.
When we arrived at Cape York, we set up camp in a caravan park at Loyalty Beach. Mum and I relished having electricity and mobile reception and spent a lot of time updating our blogs and social media. In the evenings we'd have a drink at the restaurant by the beach, while tour groups took their seats for dinner.
I roused everyone for a trip to the Tip before sunrise. By 8.30am the car park was full and motorbikes were racing across Frangipani Beach. Pajinka, the resort just behind the beach, had been abandoned years ago and was now a derelict eyesore wasting away at the top of the country.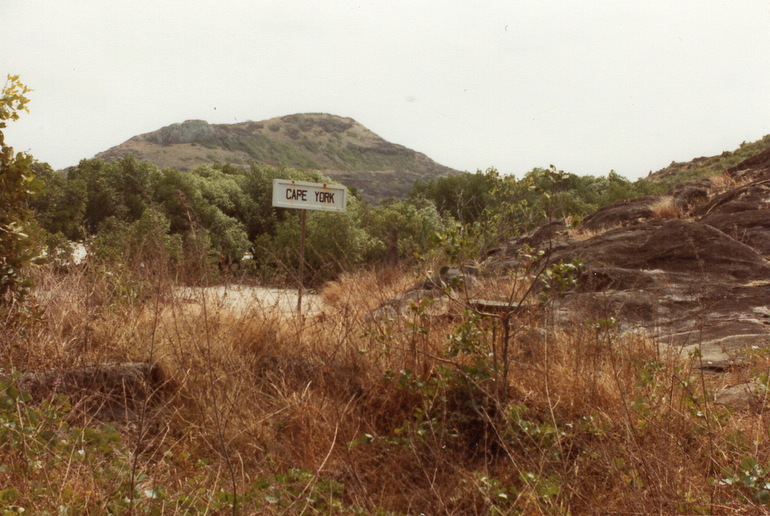 Thirty two years ago the resort had yet to open, but land had already been bought up. Dad recalls it was the only place on the Peninsula he and his mates were expected to pay to pitch their tent.

Frangipani Beach, Cape York
After our visit to the Tip, we drove to Somerset where Dad tried to find the spot where he had camped before. We struggled to find the ruins of the homestead and the tall coconut trees Dad remembered were just as hard to see.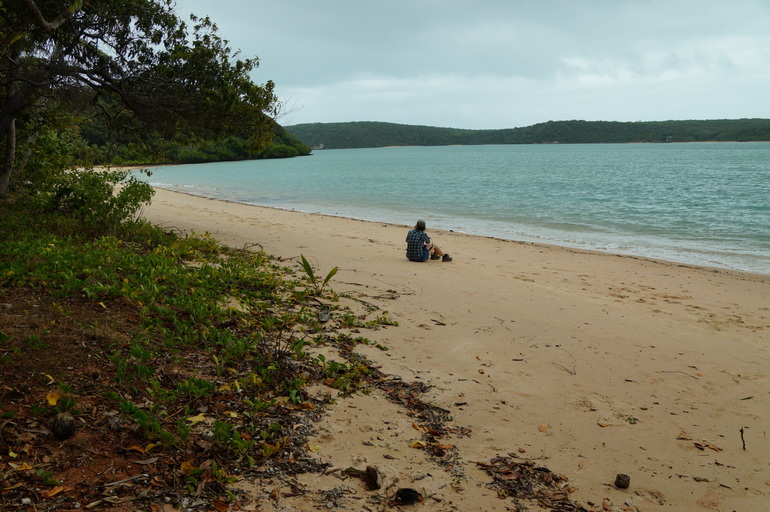 At Somerset Beach I sat on the sand to eat my lunch, unaware Mum took my photo. When I went through Dad's photos I found this shot of him having his breakfast on the same beach.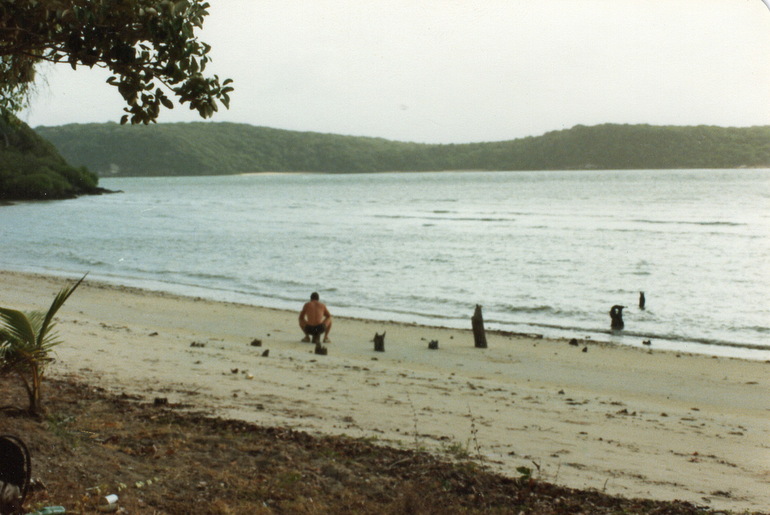 From Cape York Dad headed south to Cape Tribulation, Daintree and Cairns, where decades later we spent his wife's 60th birthday. After Cairns we headed west to Chillagoe, just as he had, and then onto Croydon, Normanton and Karumba.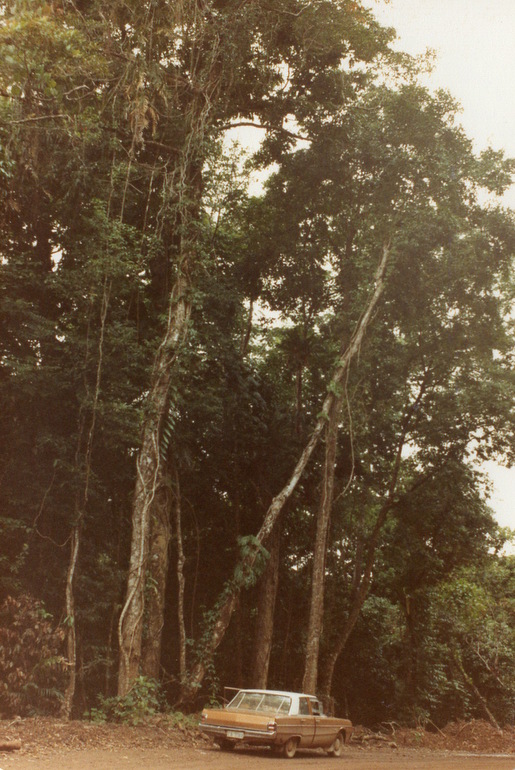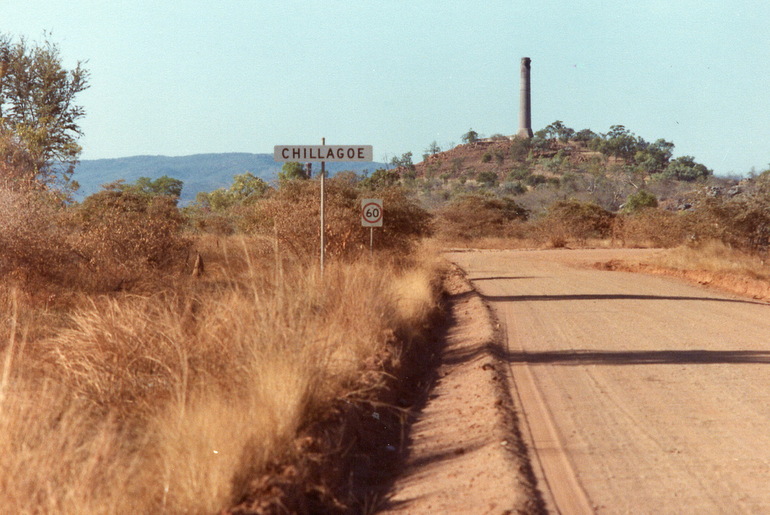 We rushed the trip between Chillagoe and Croydon, determined to arrive in time to catch the Gulflander train to Normanton, which Dad recommended. His ride on the train in 1982 was a little more eventful. "We had to take the battery out of the Valiant to start the Gulflander," Dad said.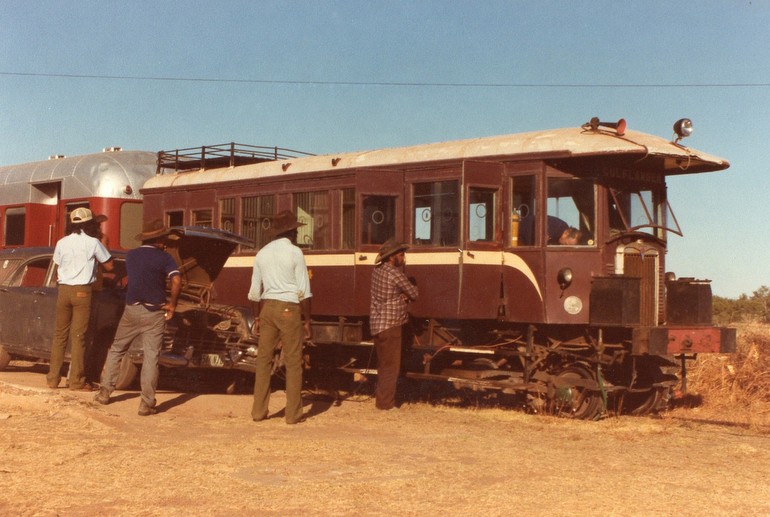 After helping get the train started, Dad and BJ took turns following in the car, switching places when the train stopped. It's an option the Gulflander still offers – passengers can change at the morning tea stop. This time around Dad was on photo duty as Mum and I rode the train the whole way.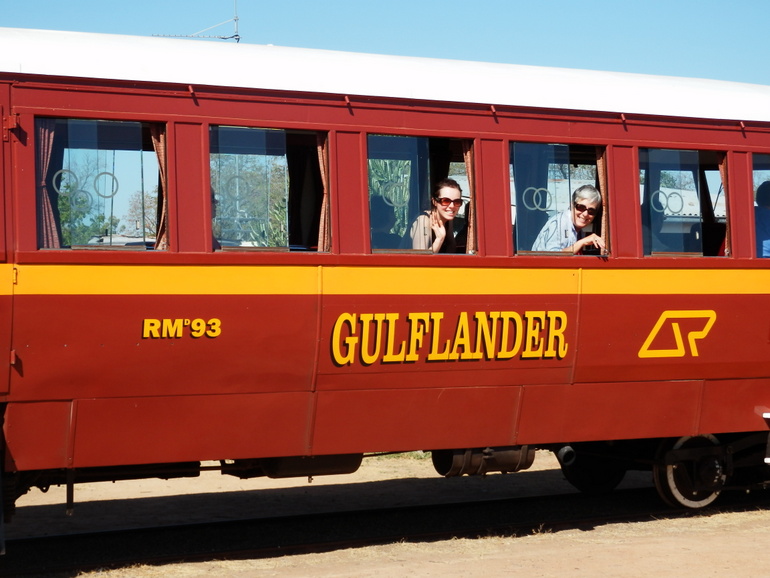 Normanton Rail Station in 1982 and 2014
In a lot of ways, 30 years isn't that long in places like this. I could come back in another 30 years and probably find not a lot has changed. There will never be huge developments in these towns that strip away the icons or character.

On the way to Normanton Dad kept talking about the purple pub. It's still there, but it's had a touch up.
The three of us travelled to Lawn Hill from Normanton, a place Dad missed on his previous trip. Back then, he'd headed straight to Mount Isa in time for the rodeo, an event he probably didn't think he'd visit for a second time in 2014.


From Mount Isa Dad, Mum and I drove to Birdsville, a place I'd somehow got my heart set on visiting. But 32 years ago Dad had continued west to Three Ways, the junction in the Northern Territory where the roads to Darwin, Queensland and Adelaide meet.
"We didn't know whether to go to Darwin or Alice Springs," Dad told me the other week. "BJ had been to Darwin and I hadn't.''
"We couldn't remember where we parked the car, so we said whichever way the old Valiant is facing when we wake up, that's the way we'll go.''