As the sun drops to the west of Cradle Mountain, the last of the hikers and sightseers prepare to leave. A few pause to catch the orange glow of sunset reflected in Dove Lake, but before long the car park is empty.
Tasmania's premier attraction falls quiet.
In the darkness, the powerful torch guiding Aaron Jones along the track would be easy to spot – if anyone was there to see him. But most likely, the photographer climbs to the summit undetected.
The hike to the 1545-metre summit of Cradle Mountain is familiar territory for Aaron. He's climbed it 26 times in the last 18 months in his quest to capture the aurora australis from the peak.
It's an epic mission that takes him into the unforgiving Tasmanian wilderness again and again. Those long nights have been rewarded with incredible photographs, but also experiences few people will have.
Aaron is a self-taught photographer with an obsession for beaches and mountains. I began following his journey last year – mesmerised by the moments captured in his images and the insight into his adventures shared with his posts. His Instagram and Facebook feeds are a spectacular collection of colour  – sunrises, sunsets, and the elusive southern lights. But this is not a photographer snapping away hoping to get as many 'likes' as possible. Aaron feels strongly about the places he photographs, and his motivation and story is as fascinating as the images he takes.
He's witnessed first light from one of the state's highest mountains several times. He talks of being so moved by the sights before him that he can't concentrate to take a picture. He's stood under a Milky Way so bright he's reluctant to share his photographs of it because he doubts anyone would believe they were real. And he's spent hours driving the windy road from Burnie to Cradle Mountain and hiking in the dark to take that one shot.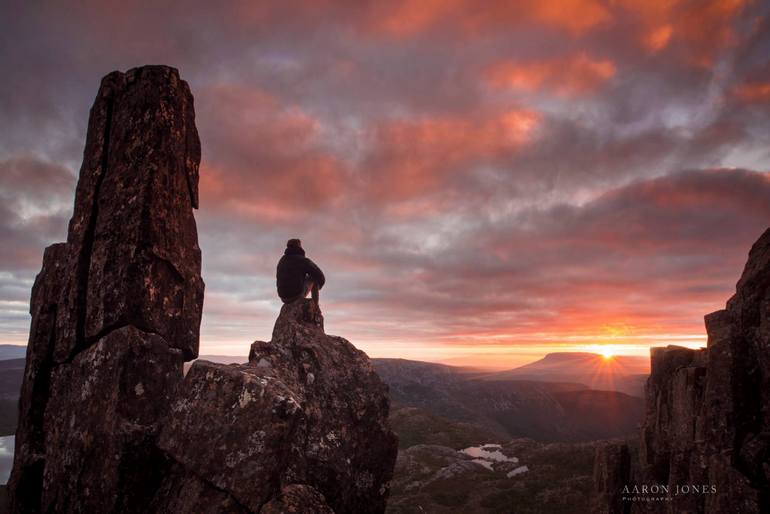 • • •
Thousands of people stand on the top of Cradle every year, and, if the weather is good, enjoy stunning views back over the UNESCO World Heritage listed Tasmanian Wilderness. This summer I was one of them. The climb up the mountain itself is challenging – the scree slips underfoot and navigating the boulders is tiring. Every time you think you might be there…you're not. As I found some space among the other hikers to sit down and eat my lunch under beautiful sunshine and clear skies, I wondered what it would be like up here for Aaron at night.
"It's actually really, really scary," Aaron says when I ask him, which prompts me to admit it wasn't the answer I expected.
"When I'm up there I learn a lot and fear is something I really understand and respect, but you need to be careful about every single step that you can take and never get to a place where you're like 'I'll be right' because you're just not.
"I find it to be. . .a renewing experience because I come back to reality."
When talking to Aaron it becomes pretty clear he is a guy with incredible passion and respect for his craft and also his surroundings. His connection to nature runs deep. As a kid he hiked with his dad; later he worked as a fly fishing guide. But his interest in photography began on the beach.
Aaron was on track to compete at Athens in 2004 before injury derailed his aspirations, but his daily training gave him a new appreciation for light.
"I suppose I was a developing into a photographer, but I never owned the gear. Back then, my life was all about the Olympics. I was running 10 kilometres on the beach and seeing sunrise every single day.
"I started out shooting seascapes from the experience of running on the beach all the time and even when I was a runner I didn't really enjoy running on the side of the road. I hated it. I only ran well in the bush, on the grass, and on the beach. I would run faster, I would run better because of it. It's almost like I draw energy from it."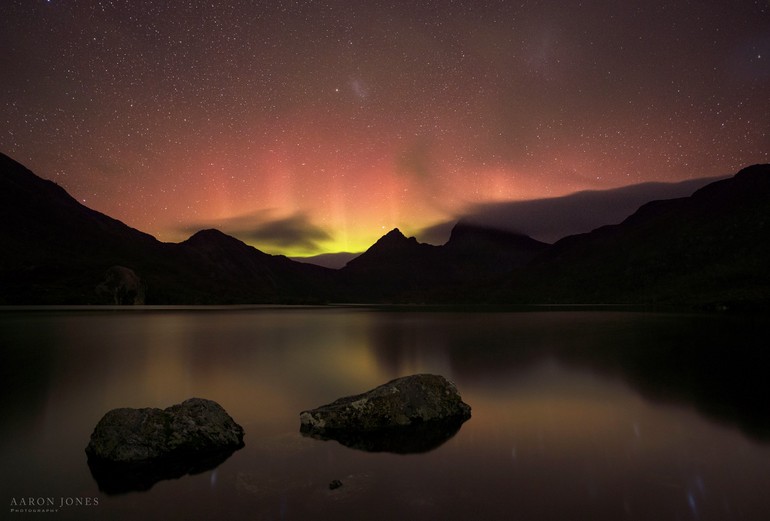 A few years ago Aaron began chasing the aurora. The Northern Lights (aurora borealis) famously entice people to Norway, Finland, Iceland and Canada. Its lesser-known southern counterpart, the aurora australis, dances over New Zealand's South Island, South America, Antarctica and southern Australia. The southern lights can be seen around Tasmania, but Aaron is only interested in capturing the magic at Cradle.
"What's happening in the sky, like a sunrise or a sunset for instance, doesn't really speak to everyone about who you are. . .but it's the foreground and the place you chose to shoot it from that shows people your perspective, who you are. And Cradle Mountain is the place I love more than anywhere else in the world.
"I don't want to shoot the aurora from Cradle just because it's the aurora and it's Cradle. It's because it's really close to my heart, it's where I spent a lot of time with my father, and my grandfather was right into climbing mountains. . .and it's just who I am. It's come down through family. So to shoot it from anywhere, I just can't.
"If it's cloudy at Cradle Mountain and clear everywhere else that night, I won't go out and chase the aurora. I'll chase it when it's clear at Cradle."
• • •
Tasmania has a long tradition of inspiring photographers and rewarding those prepared to delve into its wilderness. Aaron lists several influences, including Tasmanian photographers Dennis Harding, Rob Blakers and Chris Bell, of course, Peter Dombrovskis – the only Australian included in the International Photography Hall of Fame. Dombrovskis' images of the Tasmanian wilderness are iconic. His photograph of Rock River Bend in the Franklin River on Tasmania's West Coast is considered to have been instrumental in protecting the river against the proposed Franklin Dam in the early 1980s.
"You can't be Tasmanian without knowing Peter and his work," Aaron said. "He and [American photographer] Ansel Adams are the two best ever."
Aaron paid tribute to one of his photography idols in the title of his recent work Spirit of Dombrovskis.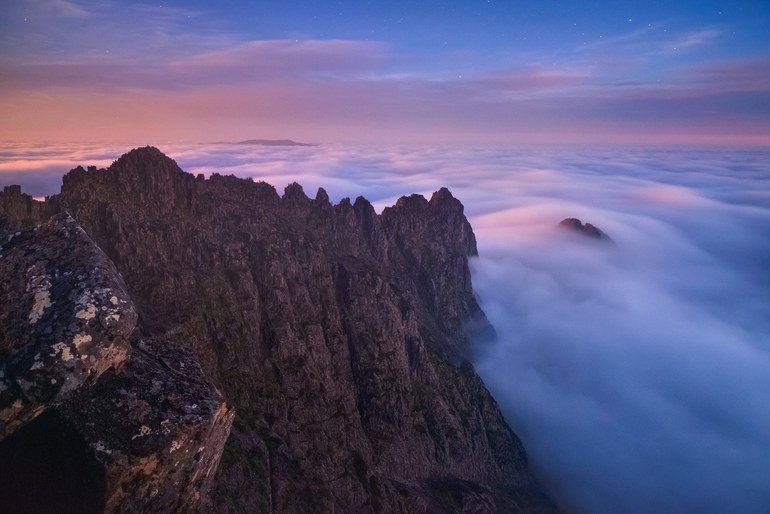 When sharing the image he wrote:
" After an all-nighter on the summit of Cradle Mountain I was privileged enough to witness a dawn like no other I had seen. It was a photographer's heaven and I knew that it would be many climbs to come before I witnessed something like this again. This was a moment from my dreams. . . I feel as if the work of the great Peter Dombrovskis guides many photographers and certainly has me. He influences what we do and somehow he lives on through it all. He is gone but maybe what motivated Peter is still alive. Maybe in our quest for good light and exploration we all share a little bit of the Spirit of Dombrovskis.
When the picture comes up in our chat, it's clear the moment had an impact.
"I'm not a very spiritual sort of a person traditionally, but I had a fairly out-of-body experience with it all, and that's why I call it the Spirit of Dombrovskis," Aaron says.
Aaron approached Peter's wife Liz about using the name and was invited to visit her house and look through Peter's old camera gear. Liz also gave Aaron some advice, telling him to "lose yourself in an area and develop a love for it, develop a connection for it, and just chase the light, don't have goals".
"It was a pretty cool experience, but she sees a real similarity between my photos and Peter's, especially in the foregrounds."
"She said 'I know you want to shoot the aurora from the summit, but don't allow that to distract you from other things that might be happening'. The other night I went up and didn't even climb the summit. I just found this ice lake and shot pictures of that. I actually got a picture of me, laying down flat on it."
A couple of times we touch on the topic of Instagram and Facebook. Both, particularly Instagram, have given success to many photographers, but it's not a road Aaron is keen to follow. He's not comfortable with the commercial side of photography – for him it is about capturing moments and emotion.
Aaron considers Spirit of Dombrovskis to be his best photograph yet, but despite countless offers, he hasn't sold a print. Putting a price on such an experience is a struggle.
"I probably get asked daily for a print of it and I say to people, 'I don't know how to value it'. I can't say to someone 'I'll give you a print for $100', because, you know, it's 26 trips to Cradle…that led to that moment. And having a young child…a relationship, self employed. All those things – to get that time away to do that. All of that goes into a moment to capture just like that, so it's hard when someone says 'I'll give you $300 for a print'.
"I'd rather never sell it at all. When people start talking money, I think they've really missed the point."
However he'd make an exception for the right opportunity.
"My big aim at the moment [is to] have something submitted to National Geographic. It might take me 10 years, but that's where I want to be.
"They are such purists and they will only publish something that is done properly."
• • •
C radle Mountain attracts almost 200,000 people each year. It is arguably Tasmania's most recognisable attraction. On any given day it is crawling with people, from hikers tackling the surrounding peaks or embarking on the Overland Track, to tourists posing for a holiday snapshot on the shores of Dove Lake.
It's a place to which Aaron has a strong connection. He joined his dad on a walk to Kitchen Hut, at the base of Cradle, for the first time when he was nine. His dad had made the same trek aged eight. Aaron's eldest daughter is eight and he's hoping to take her to the hut soon.
Aaron feels drawn to the mountain and gets itchy feet if he hasn't been up for a while.
"Especially if a special event happens and I didn't capture it. I didn't ask for it, but it's like a responsibility that I'm suppose to be there."
At the end of April last year, Aaron finally captured the aurora shining over the iconic peak. "After months for driving up to Cradle Mountain every time I receive an Aurora Alert…last night I finally got it," he wrote when he shared his image of a glowing yellow and red sky on Facebook. But Aaron wasn't done. Disappointed there was no moon to light up the foreground that night, he kept returning and six weeks later found himself at Cradle on the night of another aurora display, and this time the moon was out.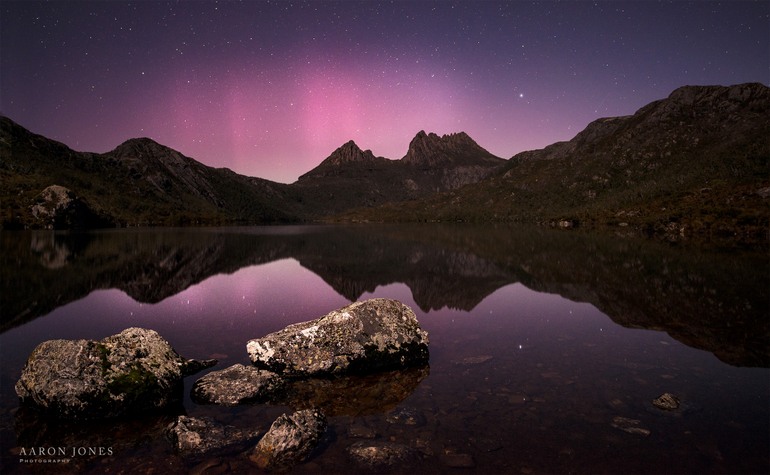 I get the sense there will always be another photograph to chase – something more magical and challenging than the last. This is confirmed when Aaron reveals one of his goals is to capture the aurora from the summit of Mount Ossa, Tasmania's highest mountain. Unlike Cradle, which can be tackled in a few hours, Ossa is remote. Any hike to the summit would be a multi-day trip. And once he gets there he wants to shoot the aurora reflecting in a tarn at the top.
But that particular dream is on hold until his current quest is complete – shooting the aurora from the summit of Cradle.
"It's relying on there being a quarter moon, which is rising or setting because that puts the light across the landscape, which creates contrast, and it has to be a night when it's clear and it has to be a night when the aurora is on. And when the aurora's on, sometimes it only peaks for 30 seconds or a minute so I have to be there, ready to go, on that night."
"For all those things to align, it's extremely difficult."
• • •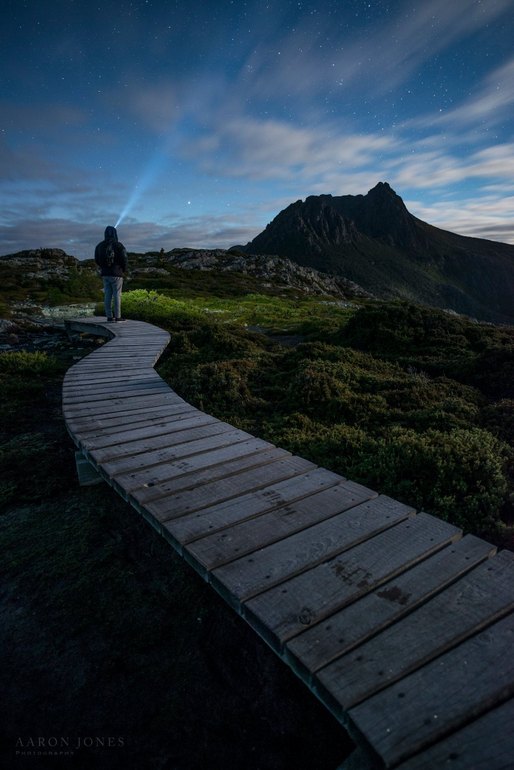 His journey is filled with highs, lows, magical moments and missed opportunities. Aaron once made the 90-minute drive to Cradle only to discover he'd missed the lights by 15 minutes. But his desire to capture spectacular scenes is inspiring and he has built a lifestyle that allows him to do it. Although the regular income that comes with a standard construction job might be welcome, Aaron instead runs his own trade services business, which gives him the flexibility to head to the wilderness on a whim. A room at his house is dedicated to his photographic and hiking gear and he ticks off a check list before every trip.
It's a lot of hard work but he rarely walks away from a night out empty handed.
"When you're out there by yourself in the night time, sometimes it feels like something doesn't want you to be there," Aaron says.
"It's not what people think it is, but I still do it anyway, because it's almost like a test that nature puts you through to see if you deserve these photographs or not. That's how it feels. And many a time I could turn round and say the conditions look dodgy, but I go, and that's the nights I get rewarded better than anything else."
Heading into winter the conditions at Cradle become more and more unpleasant and risky. But the chance to take a photograph of the aurora with a snowy foreground is enough to keep Aaron driving that windy road from Burnie. Camping isn't permitted within the day area in the national park, so he stays up overnight.
"Sometimes I might have a nap under a rock or whatever. It's a bit dangerous because you get too cold, you've got to keep moving. Once I'm tired of doing it, I just walk back down.
"Sometimes I [wait until daylight] because the sunrise is good and sunrise is a bit of a bonus, and it seems to be my sunrise and sunset images that have done better than any of the night stuff I've done up there, but they're just a by-product.
"But once I do get this image, which hopefully I do, then everyone will see why I've been doing it, once I get that shot."
• • •
You can check out Aaron's work at his website, at the Aaron Jones Photography Facebook page and follow him on Instagram at @aaron154
A big thank you to Aaron for giving up his time for me to interview him and the permission to use his amazing photos here.