Apologies for the click bait title, but well, it's true. A few weeks ago I booked flights between Australia and the UK/Europe – an exciting, but not financially fun thing to do. Because of the trip my fiance and I have planned, we wanted one-way tickets instead of a return booking and that's always going to hurt the pocket more. Oh and did I mention we're flying at peak tourist season in the northern hemisphere?
This was a recipe for a very expensive trip. Our final itinerary from Melbourne to Manchester and then from Paris back into Sydney. was worth $6100. But when I clicked 'confirm' on those flights, my credit card was only hit a grand total of $483 (and a big chunk of that – $240 – was ridiculous airline booking fees!)
How did I do it?
This won't be a surprise to a lot of you. I used frequent flyer reward points. A lot of them. 250,000.
I hear you. It's a huge amount. But, with a bit of planning, a balance like this is very achievable to the average traveller. Frequent flyer reward points are no longer the domain of jet-setting corporate workers. Thanks to a plethora of point earning opportunities, flying regularly is probably one of the least efficient ways to rack up a healthy frequent flyer point balance.
So, how did I earn them?
Here's the second not-so-surprising answer. The majority of my points were earned through credit cards. This is actually the second time I've saved BIG using reward points earned on my credit card. In 2011, my one-way ticket from Sydney to Paris cost me $76 in fees and taxes. Saving myself a $1500-$2000 airfare was a pretty good start to my three year trip.
The basic concept of a reward credit card is that you earn points as you make purchases. Those points can be used for all kinds of purchases – including flights. Save enough points and you're on your way! There's a lot of debate as to whether credit card rewards are the best thing ever, or a scam to get you to spend more money. I don't want to go into that, except to say I use mine for the majority of my purchases, I pay it off every few days and I don't buy anything I can't afford.  That doesn't work for everyone and I would absolutely not recommend getting a credit card if you think it might cause you to spend more money than you have. No reward is worth going into debt. But for those who can manage a credit card, there's several tricks that can help you maximise your point earning potential.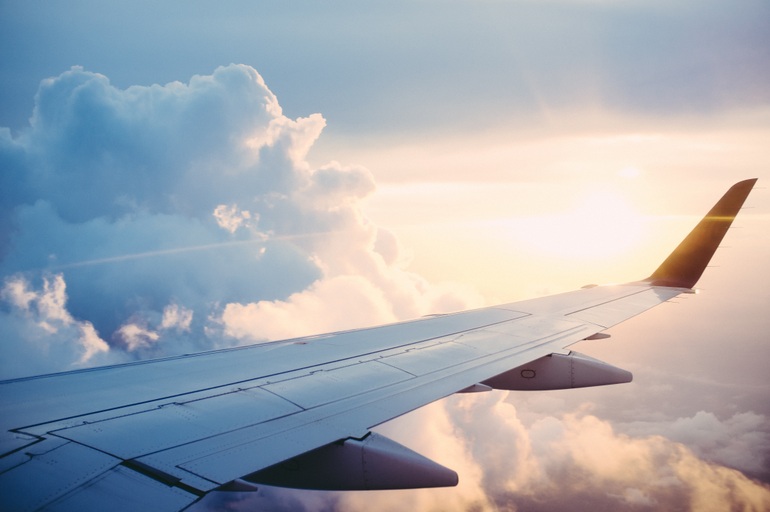 Tips for using your credit card to earn reward points 
Pick a program
In Australia there are only two real choices for frequent flyer programs – Virgin Velocity points or Qantas.
If you want to build a big balance for an international flight, choose one program to focus on. If you plan to take shorter flights and therefore use less points each time, it might be worth joining both programs and earn what you can, where you can. If you're a frequent international flyer, it's worth seeing which of your favourite airlines have  partnerships with the Australian-based programs. For example, you can earn Velocity Points flying with Singapore Air and Qantas Frequent Flyer points while flying with Emirates.
There's a joining fee for Qantas Frequent Flyer but sometimes there are promotions when the fee is waived, so if you're not in a hurry to sign up – wait for those offers. Other things to watch out for are whether the points you earn will expire and how easy it is to use the points you've earned. If airlines offer very limited reward seats, it can be difficult to use your points when you want and need to. I'm a member of both Qantas and Velocity, but Velocity is the one I actively try to earn points for.
Pick a credit card
If you don't want to have more than one credit card, you need to make sure the card you choose gives you the rewards you want. It's no good earning Velocity points if you prefer or need to fly Qantas regularly. With some credit cards you will earn reward points associated with the bank's reward program (for example ANZ Rewards or CommBank Rewards), which can be transferred to your relevant frequent flyer program. This isn't a straight swap. For example, you might need to redeem two ANZ or CommBank reward points for one Velocity or Qantas point.
Many banks offer credit cards directly linked to the frequent flyer programs, such as ANZ's (Qantas) Frequent Flyer Platinum Card or NAB's Velocity Rewards Card. The points you earn on these cards are automatically transferred to your airline rewards account. If you know you want airline miles from your credit card, this is usually the best way to go.
If there's an annual fee, work out if it's worth it. If you won't be earning and redeeming many points, you may be better off with a no/low-fee card, although these cards are unlikely to give you any reward points. My advice? Research, research, research.
Credit card bonus offers
Credit card sign-up bonuses are a quick way to boost your reward balance. The United States is awash with offers, but Australia has plenty too.  Usually there is a minimum spend, and possibly an annual fee, depending on what card you chose.
Last year I signed up for a Virgin Money card (20,000 points) and a Velocity American Express (100,000 points). Those two offers alone left me just 5000 points shy of a return flight to Europe. There was an annual fee with the AMEX of $349, but the card came with several benefits including airport lounge access, insurance, and a free flight, and in the end I decided there was enough value to warrant it. Even factoring that annual fee into the cost of our flight booking meant we still paid only about $800 – which I think it still a bargain for two return flights to Europe. My partner also signed up for an ANZ Rewards card and earned 50,000 ANZ rewards points (25,000 Velocity points) for doing so. So together we scored 145,000 points just for getting credit cards!
If there is a large minimum spend to earn bonus points (my Virgin Money card required me to spend $5000 within three months of getting the card), time your application with big expenses. I got mine to coincide with annual property payments such as rates and taxes and also the booking of an overseas holiday. Sometimes the annual fee is waived for the first year. This is a very attractive deal – as long as you cancel the card within 12 months if the fee outweighs the value you get from the card.
Bonus point and fee waivers are offered because the credit card companies hope it's enough to entice you to sign up, and then they can make money by charging annual fees and interest if you don't pay on time. If you avoid both the fee and paying any interest then these offers can be win-win for you. As I said before though, if these cards cost you more money then the free flight isn't really free at all.
Use your credit card
If you've got a credit card to earn reward points, then you might as well get earning!
Most credit cards offer reward points per dollar spent and some have better returns than others. The only reason I have a credit card is to earn frequent flyer points, so I use my card for every possible purchase so I can earn as many points as I can. I put most of my purchases – big and small – on the card and pay it off regularly. Instead of waiting for a bill at the end of the month, I check my internet banking and pay off the purchases as I go. This means I'm less likely to let my spending get out of control and I won't pay interest. (I've paid less than $50 in interest in the nine years I have used credit cards.) If I spend more than I can afford or start paying interest, then the value of the reward is reduced by the extra money I've spent.
Also look out for any bonus earning opportunities. The reward programs have plenty of partners and therefore more opportunities to earn extra points. Last year BP partnered with Velocity so I now earn points when I get my fuel. (I always got it from BP anyway!) Then I pay for the fuel purchase on my credit card and get points for that too. I also keep myself signed up for email alerts for offers. This month I'm earning extra points when I get fuel because I activated the email offer. Sure the amount of points isn't huge, but it all makes a difference.
Be aware that some card companies are reducing the amount of points you earn per dollar. Virgin Money recently cut its earning rate, as did Commonwealth Bank, Citi and ANZ. Once the Virgin Money earn rate drops at the end of March (from 1 point per $1 to 0.66 points per $1) my AMEX card will offer the best earning potential. One some purchases, including my groceries, I earn three points per dollar.
Fly with your reward airline (if it's worth it)
I've already said that flying regularly with airlines isn't the best way to earn lots of points, but it still can help boost your balance.
If you're signed up to Qantas Frequent Flyer and the airline is offering the best deal for the flight you want, then you'd be crazy not to book it and earn more points. I try to fly Virgin where I can because I like the airline. There's also the bonus of earning points when I fly and extra points for paying for the flight with a Velocity branded credit card. But if Jetstar is flying the same route and the price or flight time is better, I don't hesitate to book with them instead. I don't want to spend extra money just to earn a few more points. Again, it eats into the overall value of the reward points.
Get the best value from your points
Now that you've gone to the trouble of earning all those rewards points, you want to get the best value for them. I personally find using points for international trips to be helpful. A big overseas holiday is usually going to pretty costly so saving a few grand on airfares makes a big difference in my holiday budget compared to using the points regularly on shorter and cheaper flights. But there is math behind it.
Simply, it's the number of points you use divided by the retail price of the reward. That gives you the value of the points you're using. The lower the number of points per dollar, the higher the value.
For example, my 250,000 points used to score international flights worth $6100 mean I used 40 points per dollar.
If I had used 13,800 points to book flights between Melbourne and Sydney ($255 when I looked – no specials) I would use 54 points per dollar.
Here's some examples of where points can take you:
Melbourne to Sydney return: 16,000 (Qantas), 13,800 (Velocity)
Melbourne to Bangkok return: 48,000 (Qantas), 75,000 (Velocity)
Sydney to Los Angeles return: 90,000 (Qantas), 94,000 (Velocity)
Sydney to London return: 120,000 (Qantas), 125,000 (Velocity)
You'll still have to pay taxes and some fees when you book reward seats, although you often have the option of using more points and not paying a cent.
*A quick note on the difference in points needed for the Melbourne-Bangkok route. The Qantas points get you a seat on Jetstar, but the Velocity points will see you flying with Singapore Airlines.
Other resources
While I've benefited hugely from reward points earned on my credit card, I'm no expert. (Seriously – some people have made this a lifestyle.) Here's some other articles that can help you become a savvy travel hacker!
Bitten by the travel bug – 7 Mistakes You're Making When Collecting Frequent Flyer Points
Canstar.com – Credit card rewards – questions to ask
Pointhacks.com.au – Earning points – First Principles: Earning from Credit Cards
Do you use reward points to fly for free? Share your tips below.