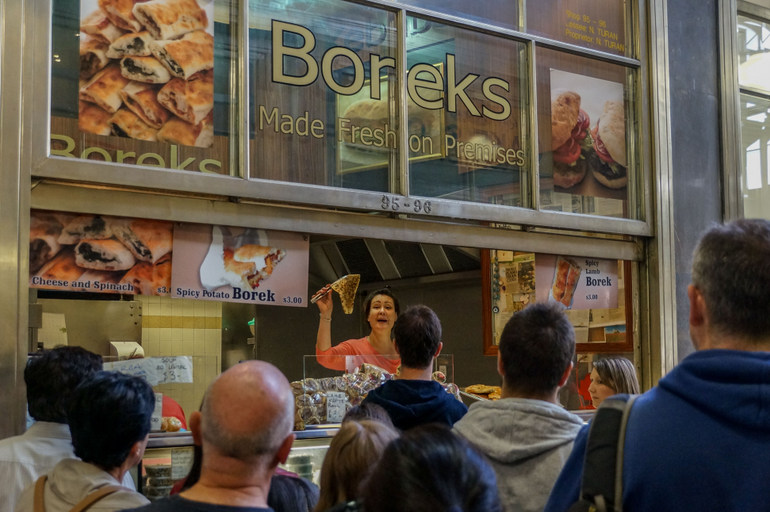 The Borek Shop was clearly a crowd favourite. People crammed at the counter, eyeing off the oven at the back. While they waited for a fresh piece of spicy lamb or cheese and spinach, one of the ladies at the counter peddled the falafel rolls. "Two for $5, only $5. You want falafel rolls? Only $5."  Her enthusiastic sales tactics worked on a few customers, but most were there for the burek.
I ate burek, a pastry offered with fillings such as minced meat, spinach and ricotta, or potato, almost daily while travelling in the Balkans. People I met in Serbia, Kosovo and Albania always wanted to introduce me to their favourite burek shop, each assuring me it was the best. It was not a dish I expected to find at Melbourne's Queen Victoria Markets.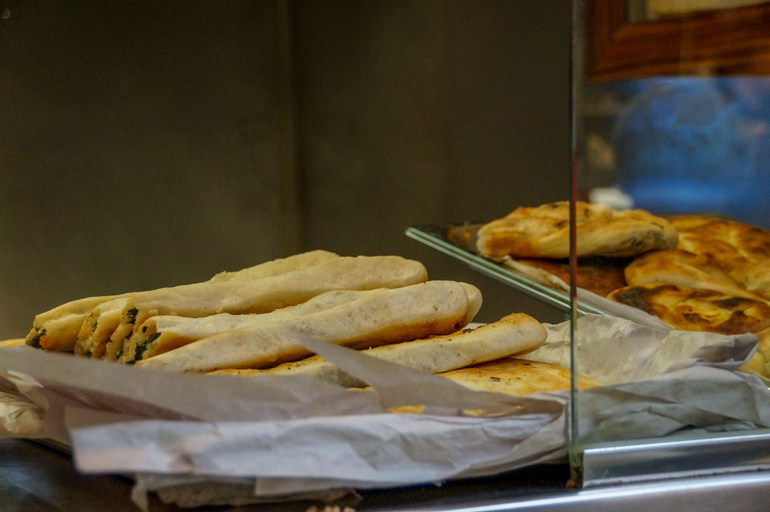 When I was a teenager, a visit to Queen Vic Market was on the itinerary for any trip to Melbourne. The stalls were packed with cheap rip-offs – shopping there was the equivalent of picking up a counterfeit Gucci wallet in Bali or Thailand. Buying an imitation surf brand hoodie was a highlight of a family holiday to Melbourne when I was in high school. Among the rows and rows of open air sheds you could find almost anything you wanted at a decent price. For a small town girl, it was exciting and my pocket money disappeared easily.
The novelty soon wore off. My last visit to Queen Vic was an early morning trip about 12 or 13 years ago to grab some cheap fresh fruit before a long train trip to country New South Wales. On my many trips to Melbourne since, visiting the market didn't cross my mind. I had no interest in fake clothing or tacky trinkets, so I kept well clear.
When Doug and I booked a room at the Jasper Hotel, next door to the market, I decided to revisit the attraction. I've loved visiting markets on my travels – La Boqueria in Barcelona, Granville Island in Vancouver, Pike Place in Seattle and Istanbul's Grand Bazaar – and thought perhaps I'd have a different appreciation for Queen Vic now.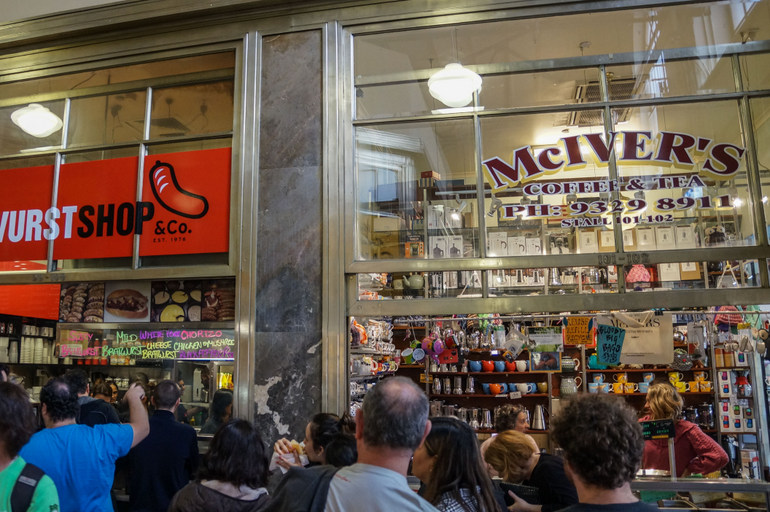 The market is overwhelming in size and history. The market opened in 1878, but some of the buildings are older than that, including the rowdy Meat Hall, which dates back to 1869. The maze of buildings, sheds and stalls cover about 17 acres on the northern edge of Melbourne's CBD. The market has its dark side too – underneath the car park rest more than 6500 bodies buried in the Old Melbourne Cemetery  up to 1917. If I'd known that as a teenager, it would have only freaked me out. (I'm still trying to forget the article I read this week where an expert suggested digging up the bodies to examine!)
At a Saturday lunchtime, the market was packed with locals and visitors alike. There are several areas of the market where you can get something to eat, but we went with the closest option – the Deli Hall.
The Dairy Produce Hall, known as the Deli Hall or Dairy Hall, was built in 1928, about 50 years after the market officially opened. Back then, the hall lived up to its name, but during the 1950s and 60s, the offerings began to diversify. Now, so many aspects of Melbourne's character – its multiculturalism, reputation for good food, and lively atmosphere – are captured here.
The Borek Shop, which I later discovered is something of a Melbourne institution, is neighboured by a stall selling fresh salads, soups and broths. Further along is the chocolate store Koko Black and in the other direction the Bratwurst Shop – another market favourite. Cured meats frame several shopfronts and the cheese samples offered outside The Epicurean and the Queen Vic Deli are popular. One store advertised Belgium chocolate brownie by the kilo ($32 in case you're wondering).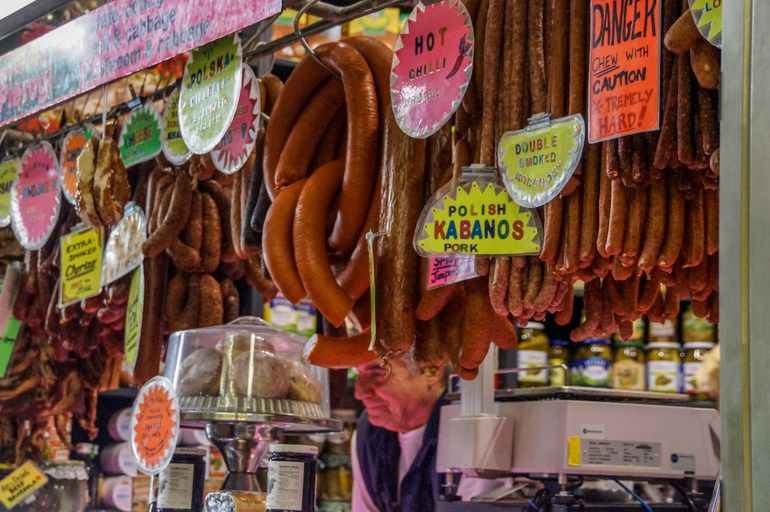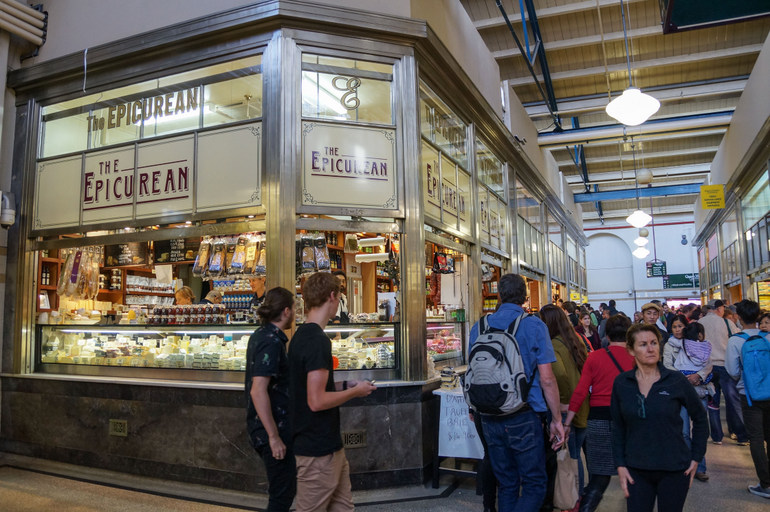 I don't remember exploring the Deli Hall on previous visits to market, and even if I had, the experience would have been lost on me. Back then, I wouldn't have cared that the hall's original art deco look and feel had been retained, along with the marble counters, initially used to keep produce cool, and nickel-coated wooden window frames.  I doubt I would have noticed the faded signage on many of the shop windows alluding to past traders.
I also wouldn't have appreciated the experience of interacting with stallholders. That's half the fun of markets (along with everything usually being cheaper than at a store). After lunch from the Borek Shop and Ladle & Tong, Doug and I slowed down to soak up more of the market. We sampled Victorian wines at Swords Wine Shop, bought tea and spices from Gewurzhaus and deliberated over our selections at Koko Black – all while enjoying long chats with the stallholders.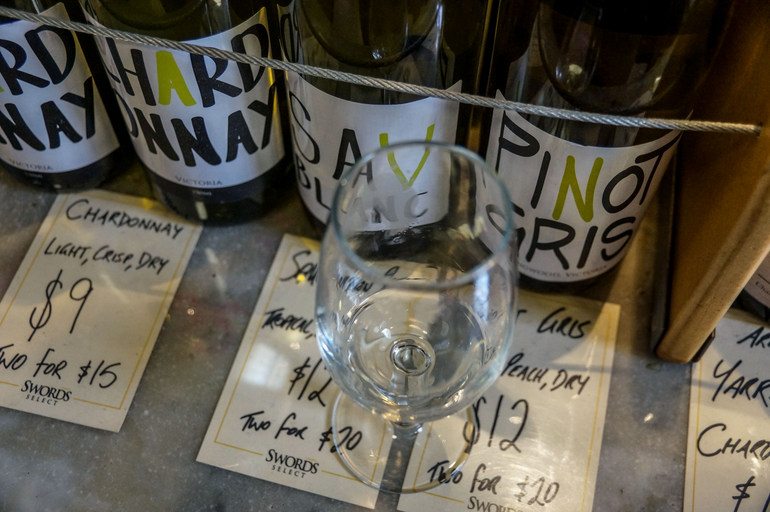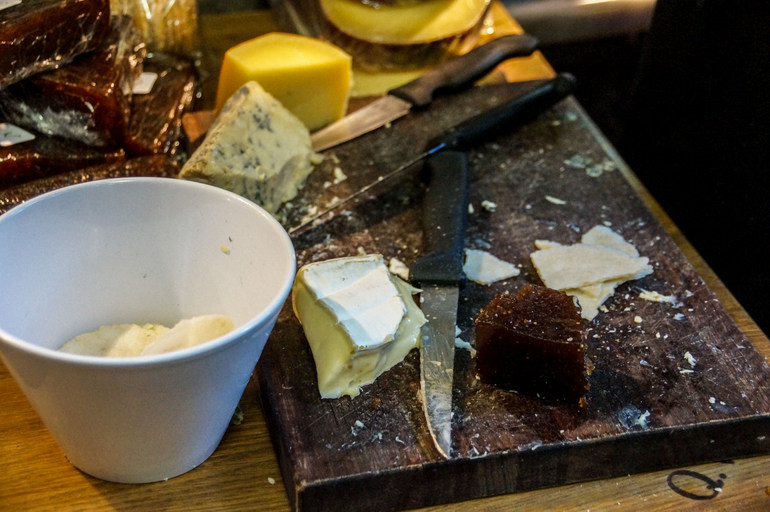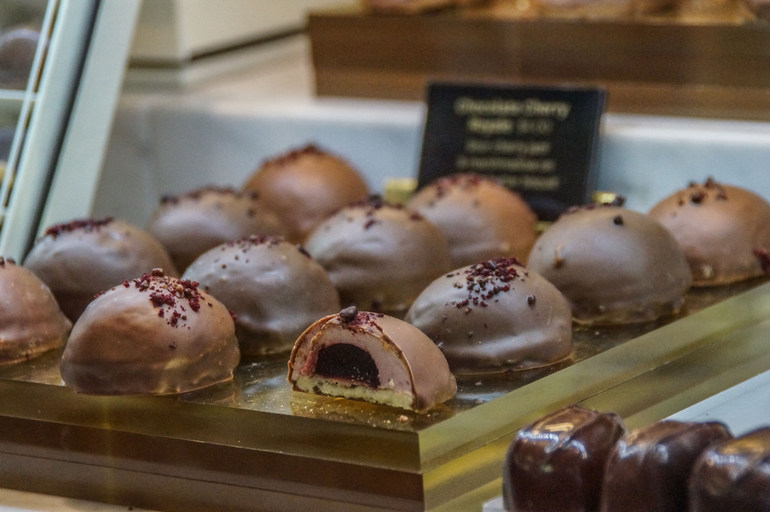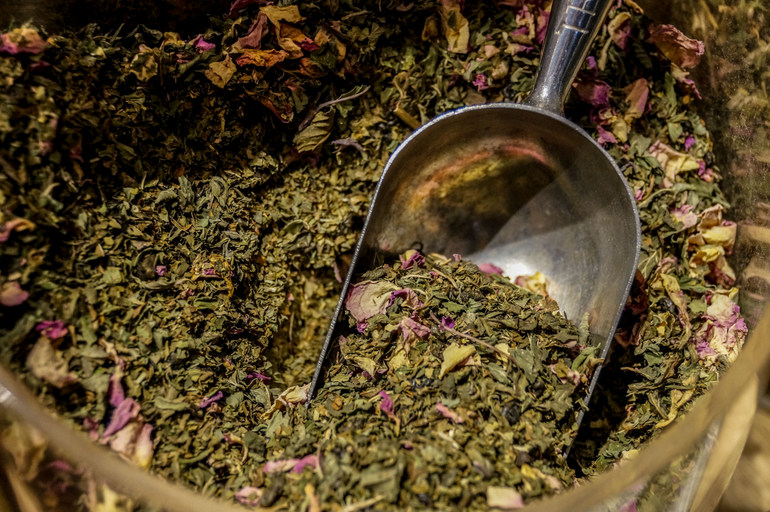 The atmosphere went up a notch when I stepped into the Meat Hall.
"Roast pork! $10 for two kilos! Cheapest in the market!"
The sound of the butchers spruiking their cuts echoed through the Meat Hall. It was almost impossible to decipher the shouting unless you stood close to the seller – otherwise they were drowned out by the butcher next door, and the one next door to that. The hall was loud, lively and bustling. While the average visitor is unlikely to pick anything up from this section, it is a lot of fun to walk through, provided the sight of beef tongues and lamb hearts doesn't gross you out.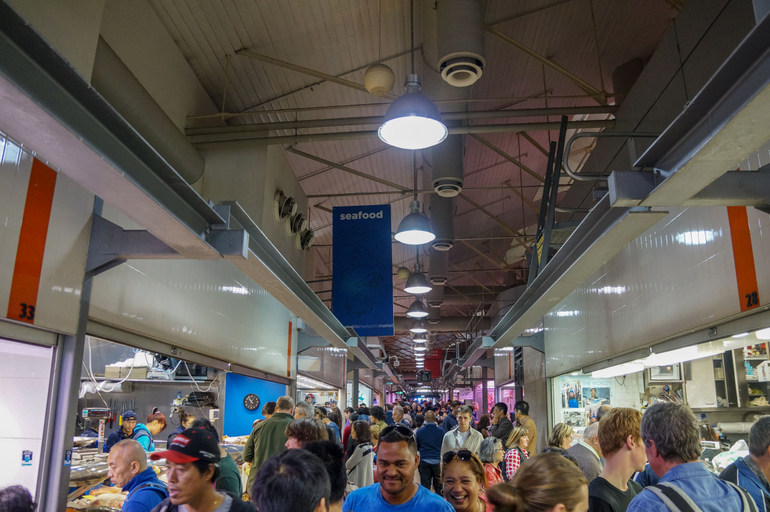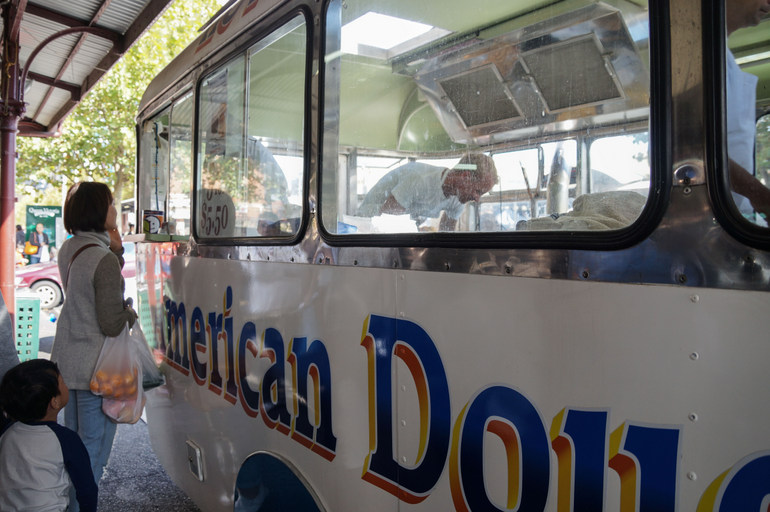 Back inside, we went hunting for American Doughnuts, having spotted lots of people eating from white paper bags bearing the logo. Our search took us through the open-air organic section to a retro white bus parked on Queen Street. The same two families have run the stall since it opened in 1950, cooking delicious jam-filled doughnuts. We lined up (yep – they're that popular), and enjoyed them sitting in the sun, next to a flower stall, watching some buskers. We finished off our market experience with a stroll down Therry St, peaking into Angus & Celeste, Crybaby records, Ten Green Balloons and stocking up on some magazines at Books for Cooks, which has moved since I last visited it in Carlton.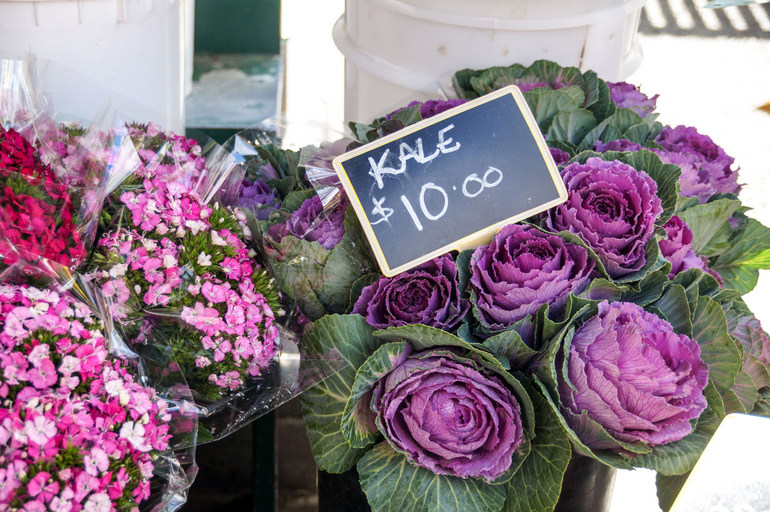 While the rows of sheds filled with clothing and random paraphernalia don't interest me anymore, soaking up the atmosphere at other parts of the market and sampling great food is right up my alley.