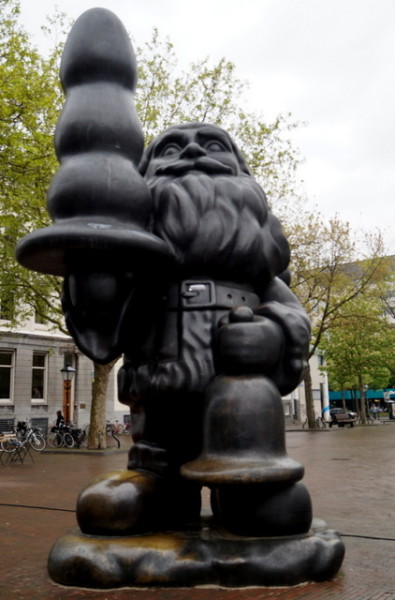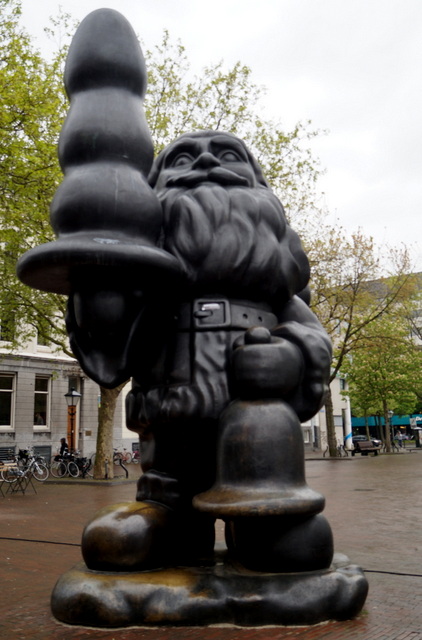 Why yes, that is what you think it is. It's Santa holding a butt plug.
Welcome to the absurd world of public art in Rotterdam.
So many cities are renowned for incredible public displays of art. Rotterdam isn't one of them, but it should be. The city has put a lot of effort into developing an intriguing catalogue of art, statues and sculptures and it's not afraid to push boundaries.
In 2007 the city hosted the work of British artist Monica Bonvicini. Don't Miss A Sec was a mirrored-glass public toilet cubicle. From the outside it appeared as nothing more than a mirrored cube, but from the inside, people could see out onto the street. The piece was set up outside City Hall in Rotterdam and the artist made a short documentary of people's reactions. Don't Miss a Sec was shown in several cities and I remember one news article about it several years ago titled "Would you use this loo?"
Random discoveries
Walking the streets of Rotterdam is a lucky dip. On a walking tour on my first day in the city, I found myself often saying "I'm sorry to interrupt, but what the hell is that?"
I've written about Rotterdam's haphazard approach to town planning, and it seems the same attitude was adopted here. There are some beautiful statues and works of art, such as Erasmus, built in 1622, or The Giant of Rotterdam – a life-size tribute to the 2.37m tall Rigardus Rijnhout. They are just your run-of-the-mill bronze statues. But turn the right (or wrong) corner and you'll see ….
Sex toy Santa
I laughed like a kid at a fart joke. You can't not.  Officially, the statue is called Santa Claus and he's holding a Christmas tree. Unofficially, he's known as Kabouter Buttplug (Kabouter being Dutch for gnome) and he's holding, well, you can see for yourself.
I'm sure you'd like to think the artist, American Paul McCarthy, was unaware of how this might be seen, but he is also the creator of a piece in Switzerland called Complex Shit so I'm pretty sure he knew what he was doing. Santa Claus was designed for Rotterdam and was initially planned for Schouwburgplein, a very central plaza lined with a theatre, concert hall, restaurants and shops. But the "sexual connotations" of the work upset a lot of people and shopkeepers. One article I read about it described the debate as a "scandal". So instead the bronze statue was installed at Eendrachtsplein instead. I consider this one of the must-sees in Rotterdam and I can't be the only one. Those shopkeepers missed a lot of passing trade.
God knows how my repeated use of the word "buttplug" will affect any readers with parental controls on their internet browser.
Find it at Scheepmakersstraat 39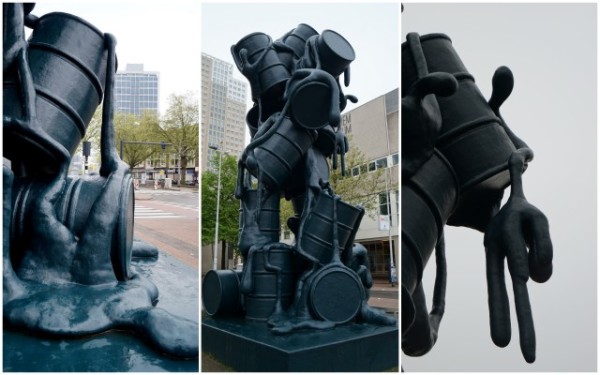 Cascade
Santa Claus really is the jewel in Rotterdam's eccentric crown, but there are plenty of shining examples. Such as Cascade, which is a very poetic title for a sculpture of oil barrels and melting figures that remind me of Gumby. This piece, by Dutch designers Atelier Van Lieshout, was commissioned by Sculpture International Rotterdam, the body responsible for the city's bizarre yet fascinating art collection. The eight-metre tall sculpture stands across from the Maritime Museum, not far from the canals. I spent a while examining this sculpture from all sides. It didn't get any less weird. I later found out it's made from polyester, but I didn't think to touch it at the time.
Find it on Churchillplein, at the junction of  Coolsingel/Blaak.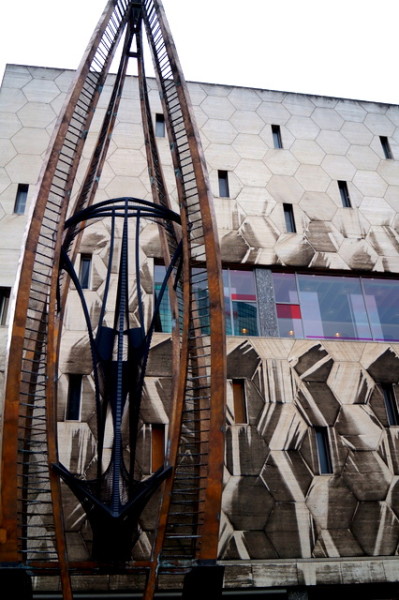 Rotterdam's sculptures and art isn't new. Some have been part of the city for decades. The untitled work above was installed in 1957. It caught my eye not far from the main shopping streets (it backs onto the De Bijenkorf department store). I think I noticed it because it looks relatively normal, especially for artwork in Rotterdam. According to the website, this piece was an 'ideological contribution to Constructivism'. Ummm…ok. What I found more interesting was its nicknames: Stylised flower, The Thing and Train Accident. There's Rotterdam's sense of humour that I love so much.
Find it on Coolsingel
Anne Grimdalen's De Beertjes (Bear Cubs) were given to Rotterdam in 1956 by The Norwegian Exporters Club. They sit in Lijnbaan, which was Europe's first pedestrian-only shopping street. Lijnbaan was opened in 1953 and although I'm not certain, I'm pretty sure the cubs have sat here since they arrived in the city. Apparently bears were Grimdalen's favourite motive.
Find it on Lijnbaan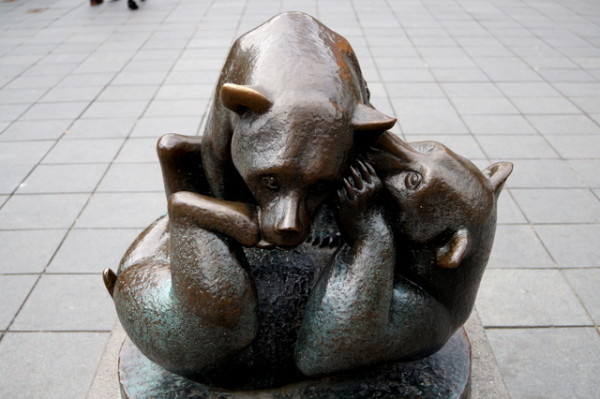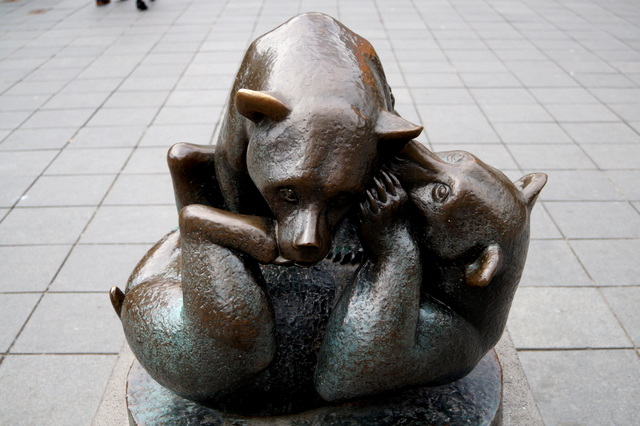 Another "what the" moment
I loved Santa Claus, but the piece that really made me chuckle was this.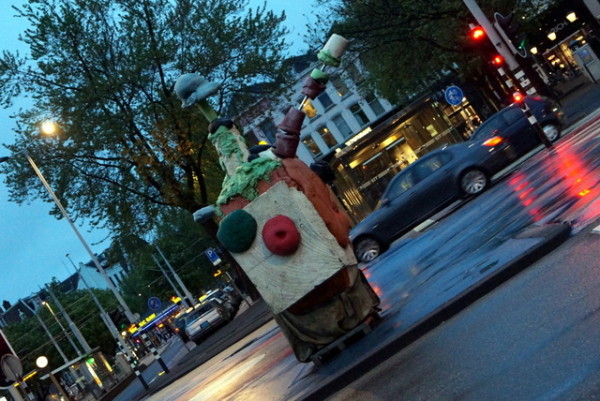 I described it as a piece of chewing gum toasting a marshmellow. The local nicknames aren't bad either: Horny Anita and crashed ice cream car. The artist, David Bade, named it simply Anita. There's a very nice idea behind it – the female form rising from a rubble sack and so on – but frankly, I only thought of chewing gum every time I saw it. It's pieces like this that cause a little "what is art" debate in my head. I still don't have an answer, but I did decide that this particular piece resembles something I made with pipe cleaners when I was in primary school. But love it or hate it, I laughed every time I saw it.
Find it on Eendrachtsplein
A bright start to the day
This piece isn't weird or bizarre. It's just hard to miss. I walked along the water and under the edge of the Erasmus Bridge every day while in Rotterdam so walked by this sculpture a lot. I love the colours. You can see how sterile the cityscape behind it looks. The river looked so industrial – the water was always beige and brown. But this was such a bright thing to look at. Especially when it was raining. Which it did a lot.
Turns out, that was the artist's intention:
In 2000, a few days before the Rotterdam marathon, a statue by sculptor Henk Fish (1950) was unveiled. The 'Marathon View' is a light-colored asphalt plain at the foothills of the Erasmus Bridge. The image is composed of angular bright patches of color placed together and stands on a low concrete slab on which the names from the marathon winners from previous years are read. Shape and color are in no way derived from the environment, but the image does not detonate. It is precisely an element of surprise to the Meuse, in the heart of Rotterdam, where clouds and water too often gray colored.  – Online database entry as part of SKOR | Foundation for Art and Public Space
Find it near Erasmus Bridge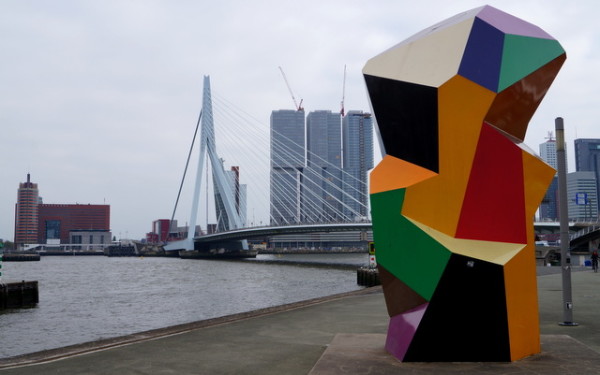 Sculpture Route
These are just the odd, beautiful and hilarious pieces of art I stumbled upon in Rotterdam, but there are many more listed on the SIR website. I would have loved to see more, but I didn't know they existed until my curiousity led me to research the works I did find. Some of the works form the Westersingel Sculpture Route, but I'm unaware of any structured tours that show off this side of the city. Now there's an idea for an entrepreneurial art or design student.