I don't write a lot of posts like this, but after several indulgent trips to Melbourne in the last year or so, I decided it was time I shared my dining discoveries. Finding good food in Melbourne is never a problem. Narrowing down your choices? Now that's tricky. Research and recommendations have led me to some really great places so I thought I'd save you some trouble and highlight some of my favourites.
In no particular order (but starting with my top choice) we have…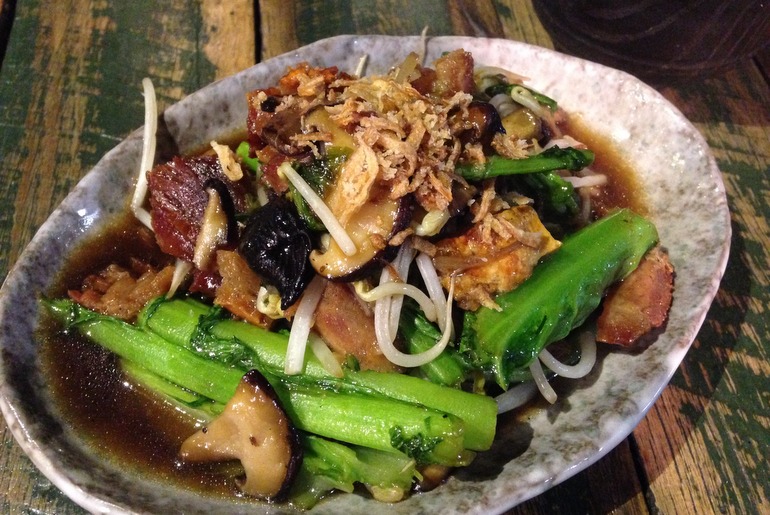 Rice, Paper, Scissors
A hotel concierge sent me in the direction of Rice, Paper, Scissors. Modern Vietnamese tapas was how it was sold to me, and that's what it delivered. It's a small place and the wait times can be long (they were averaging one hour on a Tuesday night), so I recommend putting your name down and grabbing a drink at the bar next door.
The dishes are designed to be shared and the downside of dining solo on my visit was I couldn't manage more than two. I ordered the phat gai choy (wok-tossed Asian greens) with crispy pork belly on top, and banh bao (steamed pork buns). The waiter told me it was a good choice and he was right. It was amazing.  Next time I want to try the bun thit cha (Vietnamese BBQ pork) and yam pla foo (crispy barramundi).
Rice, Paper, Scissors, 19 Liverpool St
• • •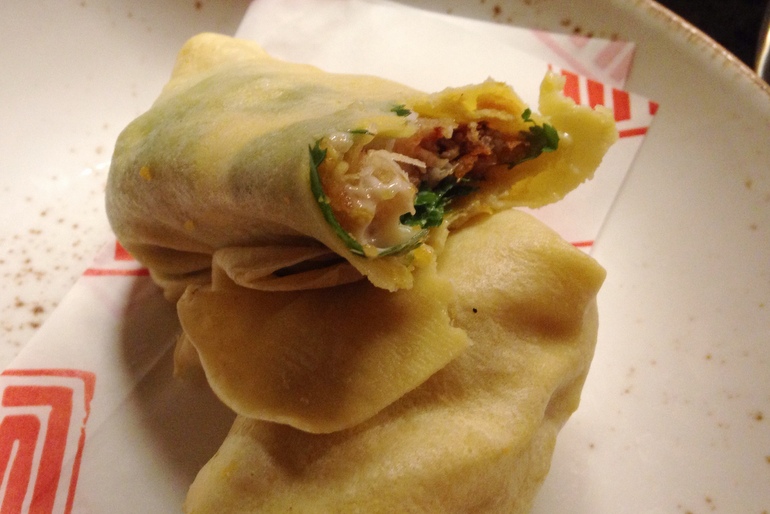 Lucy Liu
Dining alone can have its perks sometimes. When Lucy Liu was recommended to me it came with the suggestion that I should "try my luck", meaning, see if I can get in. Being all on my own I was able to skip the waitlist and was seated straight away at what I think is the best seat in the house – at the counter facing the kitchen. I flipped my 3D place mat, which doubles as the menu, and started the difficult task of working out what to order.
At first glance I thought I was going to be in trouble when nearly every dish mentioned chili or a hot, or spicy sauce. Perhaps sensing my indecision, one of the chefs leaned over and offered to help. After a playful look of horror when I said "I don't do spicy", he recommended the sticky pork belly with palm sugar caramel, young coconut salad and red chili, explaining that it was quite sweet and had a lot of lemon that would dull any spice.  Then he offered to make one of Lucy Liu's most popular dishes, the soft-shelled crab "Jianbing" pancake roll (pictured above) with mayonnaise instead of the spicy hoi sin sauce that apparently has more than a little kick to it.
When each dish was ready the chef put the plate straight in front of me (the same service I'd received at Cumulus that morning). The Jianbing was so full of flavour – the crab, the herbs, the mayo. Perfection. Part of me wanted to order another round. But I'm glad I waited for the pork belly. Both dishes seemed small on the plate but I was more than full when I was finished.
Lucy Liu, 23 Oliver Lane
• • •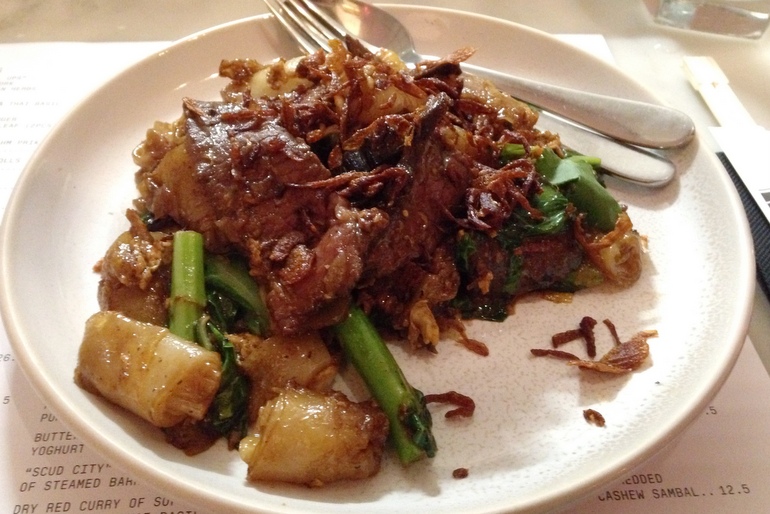 Chin Chin
The one thing I knew about Chin Chin before going (besides the fact it was really good) was that the restaurant didn't take bookings and it was popular. On my first visit, we had to wait about an hour, but like most so-hot-right-now places in Melbourne it was worth the wait. On my latest visit, which coincided with the night Chin Chin re-opened after major renovations to its downstairs bar, GoGo, I was seated right away. Ah, the perks of dining alone.
Most of the dishes are Thai-inspired, but the menu offers some pretty exciting flavours. If you're game, you can say "feed me" to the staff and they'll bring you a selection of kitchen favourites ($69).  The first time, not feeling that adventurous, I opted for the pad seuw of six-hour braised Wagyu, gai laan, rolled rice noodles and crisply shallots. The second time I ordered the same thing because it was just that good.  Some of the dishes are spicy and when the staff warn you the Crying Tiger (chargrilled Sher Wagyu) is particularly hot – they mean it!
Chin Chin, 125 Flinders Lane
• • •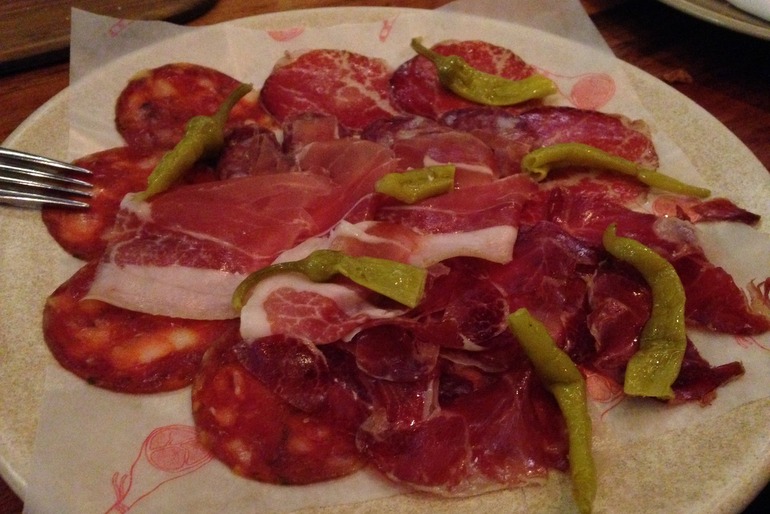 MoVida
MoVida was a recommendation from a friend who lived in Melbourne for a few years. Frank Camorra now has three MoVida restaurants in Melbourne, one in Sydney, plus a couple of airport bars. My first MoVida experience was at MoVida Aqui – the more upmarket of the three CBD restaurants. Next time, I took a seat at the more casual MoVida Next Door, the intimate bar straddling the grungy and colouful Hosier Lane.
The menu requires some navigation skills, so I always ask for direction from the wait staff. Some dishes are designed for sharing (the Raciones), others as single serves (Tapas Clasicas).  The tapas at Aqui aren't cheap so unless you want a pricey night out, choose carefully. We started with a selection of cured meats  ($29) and couldn't go past the Bocadillo de Calamares ($8.50). The size of MoVida Aqui compared to the other outlets allows them to cook and serve dishes that are a bit much in the smaller joints. I'm talking paella! That's reason enough for me to head back for a second visit sometime.
MoVida Next door has more of a focus on Conservas (gourmet tinned seafood), tapas and fresh produce.  The Tortilla was delicious, as was the Bomba (a chorizo-filled potato bomb) and I can also recommend the Pisto Manchego (braised vegetables in tomato).  I'll update this once I round out the trifecta with a visit to MoVida Original.
MoVida Aqui, Level 1 500 Bourke Street  MoVida Next Door, 164 Flinders St
• • •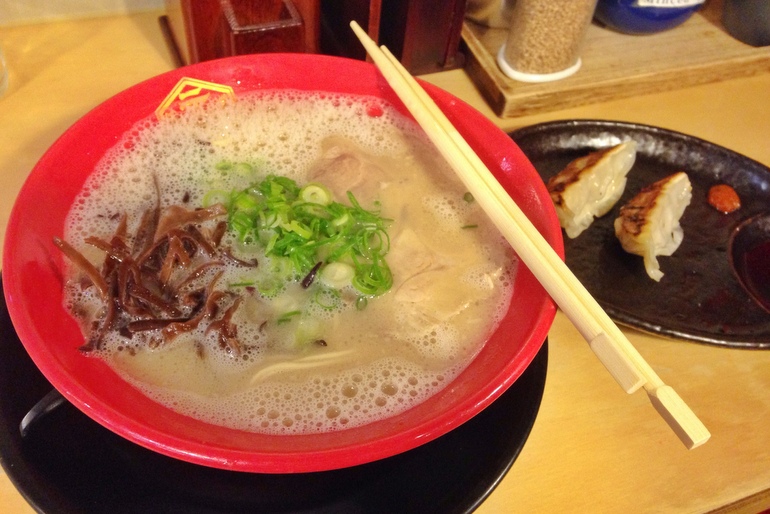 Hakata Gensuke
It was after 8pm on a Monday night and the hotel concierge who recommended Hakata Gensuke thought there shouldn't be a line. He was wrong. I joined the queue of about 10 and waited for a seat at the "ramen professionals". To speed things up, a waitress brought me a menu and order form for me to fill in while I stood on the sidewalk.
About 25 minutes later, after being welcomed into the restaurant with a thundering "irasshaimase" from the kitchen, I was slurping my way through a steaming bowl of their Signature Tonkotsu – pork bone soup, with thin noodles, pork cha-shu, black fungus and spring onions. I also ordered a side of gyoza and it was the best I've had in ages. It's been a while since I've visited Japan, but this place brought back so many memories.
Hakata Gensuke, 168 Russell St
• • •
Other highlights:
Mr Burger – Sometimes you just want a burger! I usually manage to resist but Mr Burger is a weak spot of mine. There are six food trucks roaming the city (I've been frequenting the one at Fed Square), and also four stores. It's a cheap and cheerful meal.
Rosa's Canteen – My favourite Italian restaurant in the city. We ended up here with Melbourne friends (I'll take a local recommendation over a guide book any day!) In short, it's the no-fuss food of a real Italian nonna. Rosa's Canteen is the more stylish sister of Rosa's Kitchen. Whichever one you end up in, you won't be disappointed. 1 Thomson St, (Cnr of Little Bourke) 
Pok Pok – Docklands isn't a place you need to visit on a trip to Melbourne, but if you find yourself in the area, drop into Pok Pok. It's got a funky interior and the food is great and reasonably priced.  801-803 Bourke St
Cutler & Co – A regular on lists of Australia's top restaurnats and perfect for a special occasion. In short, it's fancy. The menu has changed since my visit but still looks delicious. If you're really keen to indulge, the dry aged 1.1kg Angus rib eye ($160) and roasted suckling pig ($220) are designed to be shared.  55-57 Gertrude St
Garden State Hotel – This place is an after-work drinks hotspot in Flinders Lane. The pub has four levels and several eateries from the Kiosk where you can pick up a Grilled 3 Cheese sandwich, to the Garden Grill, where the Flinders Island lamb shoulder will set you back $60. I opted for the crowded Public Bar and enjoyed the grass fed peppered Scotch Fillet ($22) 101 Flinders Lane
+39 Pizzeria – There's a stack of great restaurants at this end of Little Bourke St, and no shortage of good Italian, but +39 Pizzeria is a great spot for a casual meal. The food was delicious, but it's the atmosphere I really loved. Noisy and bustling, it feels like an Italian restaurant should! 362-364 Little Bourke St
Got a suggestion for me to try next time? Let me know in the comments.