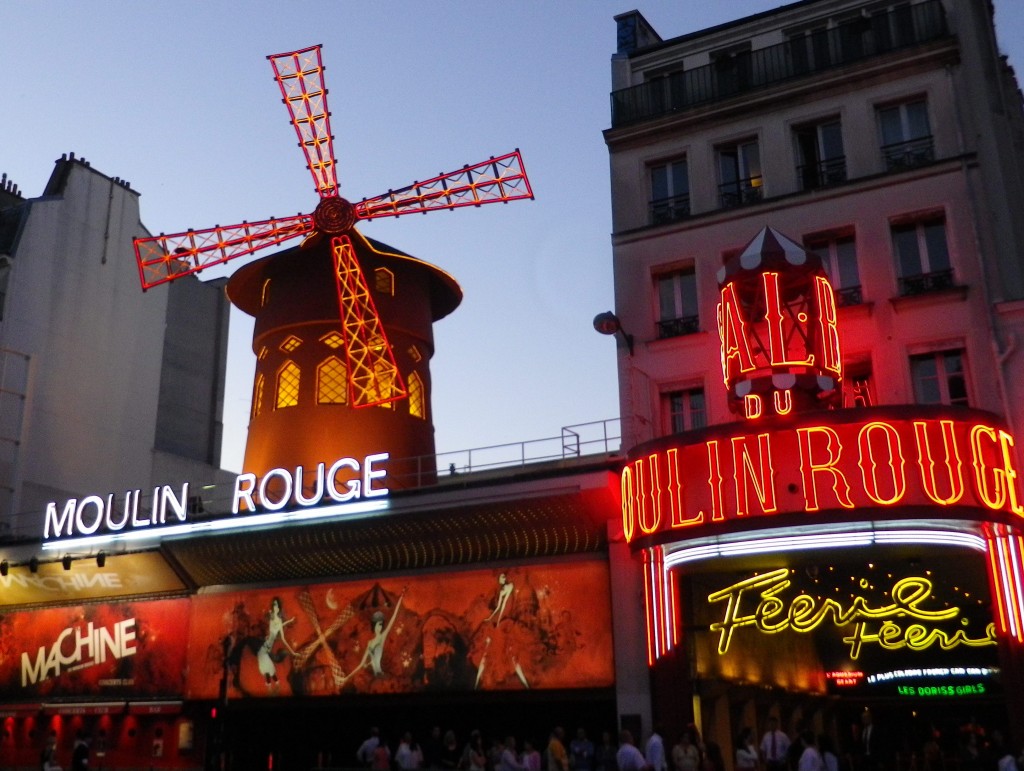 Boobs. Boobs. Boobs. If anyone is still giggling at the mention of boobs, you best move on. Because if you, and by you I mean men, thought that you could never get too many boobs, I assure you – you can!
The Moulin Rouge is a Paris institution, and a rather spectacular one at that. Singing, dancing, naked breasts, acrobatics, juggling, a talking dog, miniature ponies, swimming in a tank full of snakes and did I mention the talking dog?
One of the best (if not the only) ways to get tickets to the Moulin Rouge, especially at the last minute, is to go through a tour company. We managed to get tickets for dinner and the show the day before – when the main reservation site said there was nothing available. If you do get tickets no doubt you'll be told about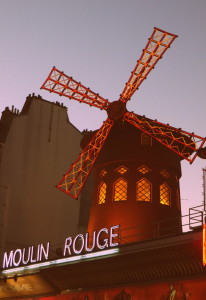 the rules. Men have to wear long trousers and you can't take your camera in etc.
So there are no photos of the amazing three-course dinner that featured rabbit tagine for entree, duck á lórange for main and a hazelnut gateaux for dessert. Throughout dinner we were entertained by some cabaret singers, but frankly, they were nothing special. Although the Japanese crowd enjoyed a couple of songs in their language.
At 9pm, the curtains went up on Feerie, the production showing there at the moment. Our guide explained it was difficult to translate, but said it was similar to 'wonderland'. The title isn't the only thing that's difficult to translate. It's hard to put this show into words. I saw more breasts than anyone needs to. Ever. And before any guys get excited – if you think about the dancing these girls needed to do without a bra, you can safely assume these girls don't have much to get excited about. A Cup all the way.
The singing and dancing was, of course, brilliant. But there were a few acts that were simply outstanding. One girl was dancing on the stage when a huge tank of water with pythons swimming around came up from the floor. She dived in, swimming and twirling around the snakes. My favourite was the ventriloquist. He brought a small dog on stage and did an act with it that was hilarious. I won't describe any more of it because I just can't do it justice.
As we left the crowd was lining up to see the late showing. The performers have to do it all over again.
Is the Moulin Rouge a must-see in Paris? Despite how much I enjoyed it I would say no. There are just as many entertaining things to be seen in the city and other parts of Europe that won't cost anywhere near as much. But if you are considering going and can afford it, you won't be disappointed.