I created my CouchSurfing account on January 30, 2011.
I didn't have high expectations. Actually, I didn't have any expectations. I was still unsure about this whole staying with strangers business, but I was open to having people stay with me – that's if any of these "CouchSurfers" passed through Burnie, an industrial city in North-West Tasmania surrounded by much more attractive places.
That night I got a message from Antje from Germany asking to come stay in two weeks. By the time she arrived I'd already had two other surfers. I remember being in awe at these people who were travelling in such a way. A few months later I stood nervously at the Saint Lazare station in Paris, waiting for Kamel, my first CouchSurfing host.
It's now three years since I joined CouchSurfing. I've lost of track of the number of people I have hosted, surfed with and members I've met along the way, but on my five-month trip last year I stayed with 25 hosts in 20 cities in 10 countries.
While not every CouchSurfing experience has been amazing, the ones that are more than make up for the ones that aren't.
I have said it before: CouchSurfing changed the way I travel. The project and people I've met through it have also taught me a lot.
You don't have to be rich to be generous
Until last year, I'd only CouchSurfed in countries I'd safely call "wealthy". That's no reflection of their bottom line, but rather a description of the standard of living in places such as Canada, Ireland and France. My hosts usually had good jobs, were living on their own and were pretty well travelled. We would eat at restaurants, perhaps head out for a drink and often their was plenty of space for me in their home.
But Eastern Europe was a different story. The average monthly wage in countries like Serbia, Albania and Kosovo ranged from €200-€300. Of course the cost of living is lower, but at the end of the day, my hosts in most of these countries were in a very different financial situation. Eating out was uncommon and many families I stayed with used every inch of their backyard to grow fruit and vegetables to eat. No leftovers went to waste. I was also often staying with people who had never surfed because they couldn't afford to travel much.
Some of these households were not what I would consider "well off". Yet here they were opening up their homes to a complete stranger. So many people insisted on paying for things for me, when I knew that I earned more money in a year than they will see in five. The generosity shown to me was overwhelming.
But being generous isn't just about money.
Most people I stayed with in the Balkans were still living at home, usually in fairly small houses or apartments. Often there were at least two, but sometimes three or four generations under one roof. Sometimes they didn't even have a bedroom as such – people were sleeping on couches in the living room which they'd pack away in the morning. In Istanbul last October I stayed with Gülçin, who lives with her parents, two brothers and her two kids in a three-bedroom apartment. During my first stay she bunked in with her kids to give me her bed. On my second visit her grandmother and cousin were also visiting and she invited me to stay anyway.
The extent to which people have welcomed me into their home and their lives continues to blow me away!
People are kind
Imagine you're at work when your phone rings. It's a friend who lives in a nearby city. They tell you someone they met a couple of days ago is arriving in your town by bus in an hour. Your friend asks you to go meet this stranger and help them catch the next bus they need.
This is how I met Jason, an American Peace Corp Volunteer based in Prrenjas, Albania, and a friend of my CS host in Elbasan, Jen. I mentioned him briefly when I wrote about my first hitchhiking experience, but didn't at all convey how grateful I was to him. After Jen called him, Jason came and found me on the main street in Prrenjas, took me out for coffee, and arranged for a bus driver to drop me at the Macedonian border. Simple actions which made a huge difference to my state of mind at the time (I was practically stranded in Albania after missing a bus and was expected in Macedonia that night.)
I sense a lot of negativity when people tell me about their experiences while travelling. My friends have been so quick to tell me how they've been scammed, harassed or robbed while overseas. All three of those things have happened to me, but I'll probably only mention them if asked. Because after almost three years of travelling and CouchSurfing I am happy to report that most people that have crossed my path have been good, kind people who will do whatever they can to help you out – whether you need it or not.
My CouchSurfing hosts have picked me up from the train station at midnight, given up their bedroom so I can have some privacy, driven me to interesting sites and refused to let me pay for petrol, helped me arrange transport, lent me their computer, cooked for me, found friends in other cities for me to stay with, shoved snacks in my bag before a long train ride and regularly gone out of their way to make my trip better.
There was Zoran, who invited me to the World Testicle Cooking Championships in Serbia and drove me to the bus station almost 40 minutes away the next day. Anastasia in Tallin, Estonia, who, after meeting me for lunch, invited me to stay with her for the night. Aleksandra, who put credit on my phone in Serbia when I ran out while staying in a rural guesthouse. Simo in Tampere, Finland, who drove 12km out of his way to pick me up when I failed to get off the bus at the right stop (doh!). Aimee in Sacramento who found me a ride to the basketball game I had tickets for (saving me what would have been at least a $60 taxi fare). And Hasan, in Adana, Turkey who changed his weekend plans and took me almost two hours from the city so I could see a bridge from a James Bond movie.
Some of these things might seem pretty minor actions, but a lot of people (even me on occasion) would feel a bit put out if a friend or family member asked us to do any of the above. Most of the people mentioned above knew me just hours before helping me out and in some cases, hadn't even met me yet!
Travel is just as much about people as it is places
Ask me about Paris, New York, Helsinki or almost any city I've CouchSurfed in and the usually the first thing I will tell you is something about my host. The people I have met through CS have turned ordinary destinations into truly memorable experiences. Remember Nenad in Niš? Yeah. Exactly. People are freakin amazing.  They really are. And CouchSurfing introduces me to a hell of a lot more people than I would meet otherwise.
The people I've met and the friendships I've made have become a huge part of what motivates me to travel. It's got to the point where I feel disappointed if I leave a country without having made a new friend. I also want to revisit my pre-CouchSurfing destinations and experience them again, this time with CS. Yes, it makes that much of a difference.
Not every CouchSurfing experience leads to a friendship – that's just life – but when it does, it's pretty cool.
Being a part of someone's journey can be just as fun as travelling yourself 
While hosting in Tasmania I gave Caroline directions to a beautiful beach near where I grew up. There aren't many signs and the access path is hidden from the road. She never would have found it otherwise. That evening she came back and said walking along that beach was one of the highlights of her trip. Caroline was from a part of France where the beaches are always crowded and she loved having such a huge stretch of sand all to herself. That was the moment I realised the power of CS. It's so much more than having a place to sleep or someone to show you around a new city. It's an opportunity to experience the world in a way you wouldn't have a chance to otherwise – and helping others do the same.
The other perk of hosting is that it brings the world to me when I'm grounded. I get the chance to learn about other countries, cultures and languages, plus meet people from all over the globe – all things I love about travelling myself. It doesn't cure the travel bug, but it takes the edge off.
Many of my hosts will probably never fully understand the roles they have played in my travels – which is a shame. Without them I wouldn't have had half the adventures and experiences I have.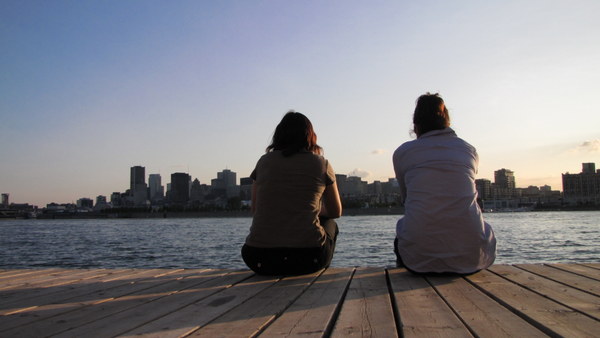 Have you tried CouchSurfing? If so, what has it taught you?