"I couldn't tell where heaven stopped and the earth began. It's so beautiful."
Forrest Gump was talking about the desert at sunrise, but this quote came back to me when I woke up and looked out my window onto a foggy Lake Ohrid. The water was smooth and the cloud so heavy and low I couldn't see the mountains in Albania across the other side. Both the sky and the water were a misty blue. It was eerie, magical and so, so beautiful.
To say Lake Ohrid is the highlight of any trip to Macedonia is a big statement, but it's one I feel comfortable making.
If visitors to Macedonia step out of Skopje, the capital, this is where they come.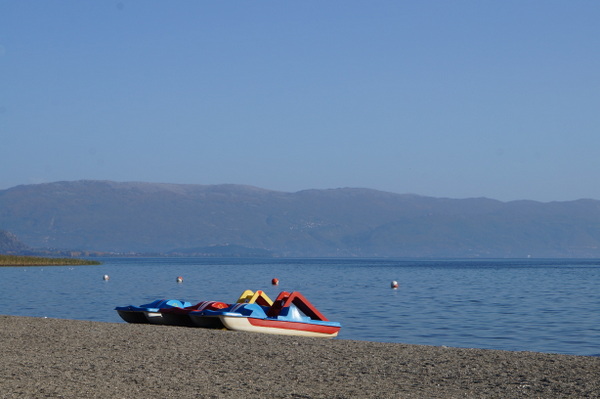 There are lots of hamlets dotted the water's edge including Lagadin (where I stayed), Trpejca (which I can't pronounce) and Peštani (where the weather app on my phone often said I was).  But most people end up in the city of Ohrid, which along with the lake is a UNESCO World Heritage Site.
If the number of hotels, guesthouses and restaurants are anything to go by, in the high season this place is insanely busy and crowded. The locals I met confirmed as much. Some people even leave for the summer and return once things get a bit quieter.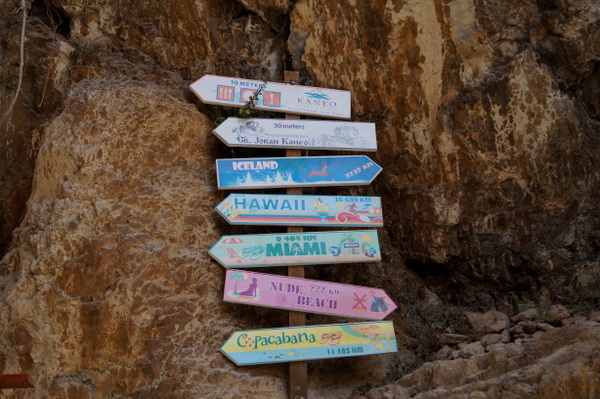 But visiting in the middle of October was perfect.
Ohrid may just be Europe's best off-season destination.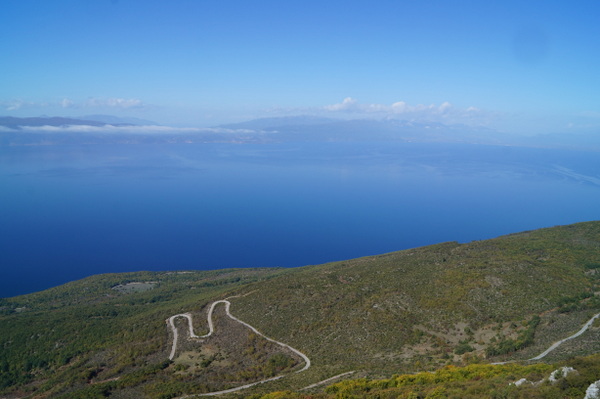 The temperature during my four days in Ohrid averaged 25C. It was often cloudy in the morning, but the sun was always out by lunchtime. I spent the days in shorts and T-shirts and even got sunburnt on a hike (opps). The evenings were chilly, but apparently it's like that even in summer. "It's good for sleeping," my CouchSurfing host said.
Peak season in the Balkans is usually strictly limited to June, July and August. Many businesses don't even bother to "see how things go", they just shut up shop come September. But in Ohrid there were still lots of people around and I think we all saw it at the best time of year.
Lake Ohrid is what draws people here, but there's a lot more to do than sit and stare at the water all day. Although that never really gets old.
Exploring beyond the lake
Galicica National Park runs into the hills on the south-east side of the lake, and it's quite accessible for a short walks that aren't too challenging. On the day I went hiking the lake, which sits at 700m above sea level, was covered in cloud, but we drove through and above it to start a two-hour return walk from about 1800m.
I reached the top of the hill at 2000m to find the clouds had cleared over some of Lake Ohrid. Unfortunately they'd remained in place over Lake Prespa to the east, but usually that's also visible from where I was.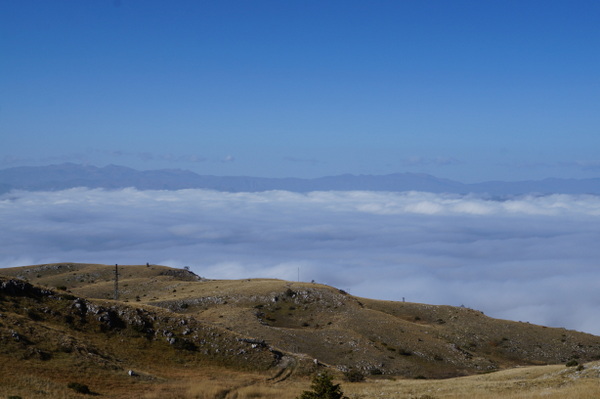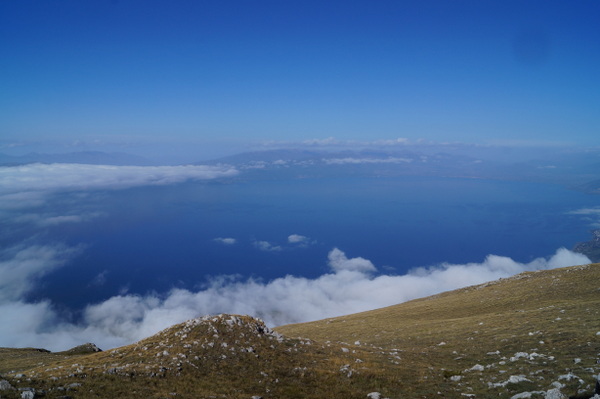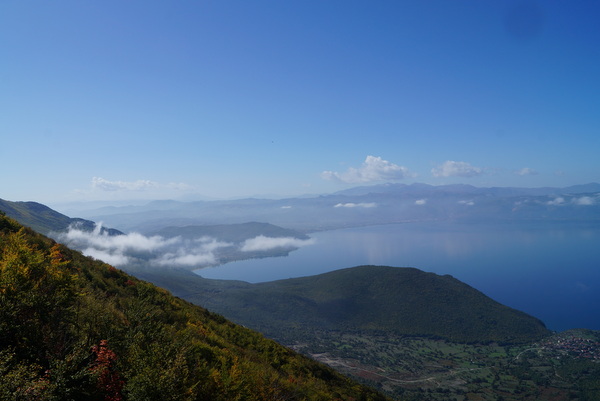 Ohrid is a pretty city. It seems to have three sides to it: the tidy, pedestrian only shopping areas where you'll find clothing boutiques, souvenir stores and waterfront bars and restaurants; the cobblestone Old Town where the streets wind up to the fortress on the hill; and the typical Balkans neighbourhoods that you'll only see if you venture away of the lakeside bubble (or to the bus station).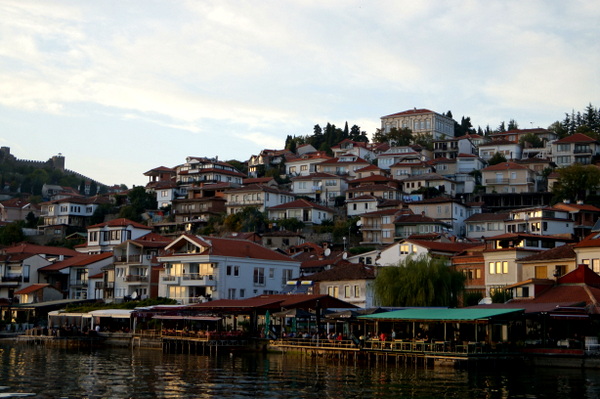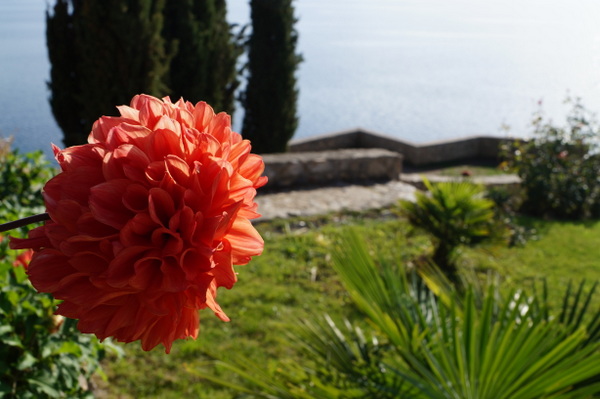 There's not a lot to explore in the city itself. A day will be more than enough to wander through the Old Town, walk to Sveti Jovan, a beautiful church on the rocks, and climb up to Samuil's Fortress and Plaošnik, an archeological site that includes St Clement's Church. The original church was built in 893 and reconstructed in 2002. I was told Ohrid had 365 churches (one for every day of the year) but even if that was the case at one time, it's not accurate now.
There's a local market behind the fountain at the non-lake end of the pedestrian strip and this is the best place to get fresh fruit and vegetables to snack on or cook with.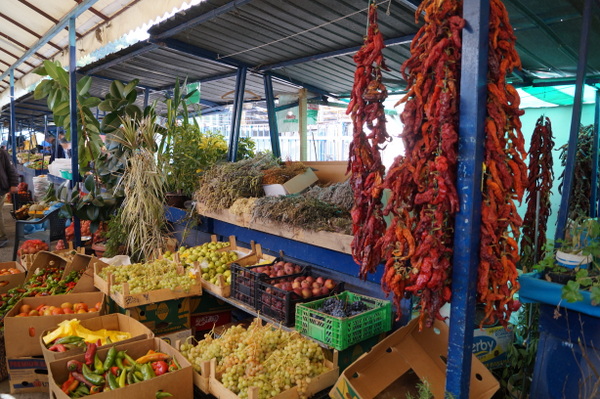 Most visitors to Ohrid will make a trip to Sveti Naum, a monastery near the Albanian border. In summer there are regular boat trips to the site. In what proved to be the only pitfall of visiting out of season, the boat rides were very sporadic. There were no trips to Sveti Naum during my visit, but I saw a sign advertising a return trip for €10 on the day I left. I could have taken the bus, which is quicker and cheaper, but I'd already travelled the twisty roads down the east side of the lake a couple of times and decided that I'd also seen enough monasteries in the Balkans.
Instead I hired a bike and rode to Struga, the other major town on the Macedonian side of the lake.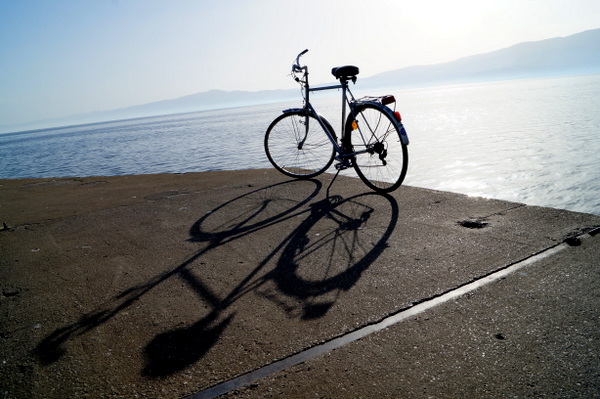 Struga is 15km from Ohrid and riding there takes about 45 minutes. Most of the route is along the edge of the lake and away from the major road between the two cities. Struga is considered an "Albanian town" in Macedonia. The population is one third Albanians, although I didn't notice anything different from Ohrid or any similarities to places I visited in Albania. Like Ohrid, Struga sits on the lake, has plenty of waterfront cafes and some nice restaurants by the river and a nice pedestrian shopping area. But Struga has one major thing going for it: it's cheaper than Ohrid!
I had a coffee and a slice of baklava on my first stop in Struga, which cost 60 denar (€1), but a coffee on its own in Ohrid cost 50 denar. Lunch during my bike ride (grilled chicken, salad and a drink) cost 300 denar (€5) and the equivalent looked to be at least 450 denar (€7) in Ohrid.
Ohrid from the water
After staring at the lake for three days, I was desperate to get on the water. A little bummed I couldn't do the return boat to Sveti Naum, I accepted that I would have to pay about €5 for a half-hour ride in a water taxi. I went to the wharf on my last night ready to haggle just as one of the larger boats that usually do the trip to Sveti Naum was leaving. "Do you want to go for a cruise?" the young guy on board yelled out as the boat floated away from the jetty. "For how long?" I asked. "One hour." "How much?" "Three Euro."
I walked to the end of the jetty, climbing up onto a stone barrier as the boat swung back around to nudge its bow close enough for me to climb on. I jumped onto the deck to receive a quiet warning not to tell the other passengers how much I was paying as they were apparently paying more.
We boarded just in time to enjoy the sunset from the water. Even if you don't get a chance to take a longer tour on the lake, I recommend even going out for half an hour. How can you pass up the chance to see this?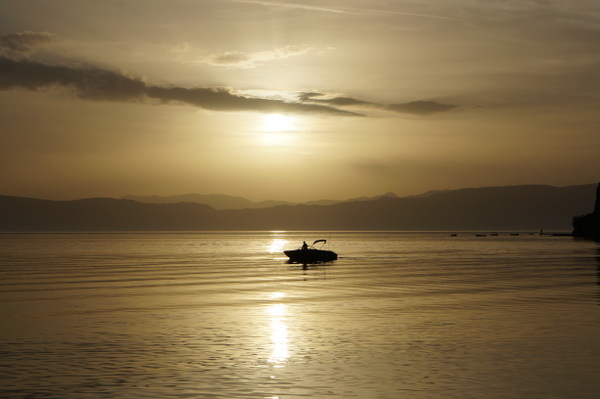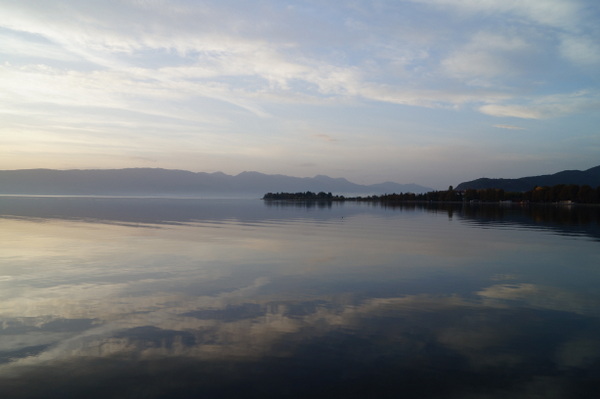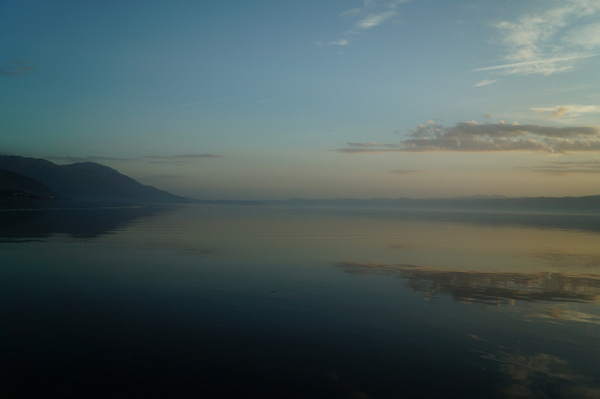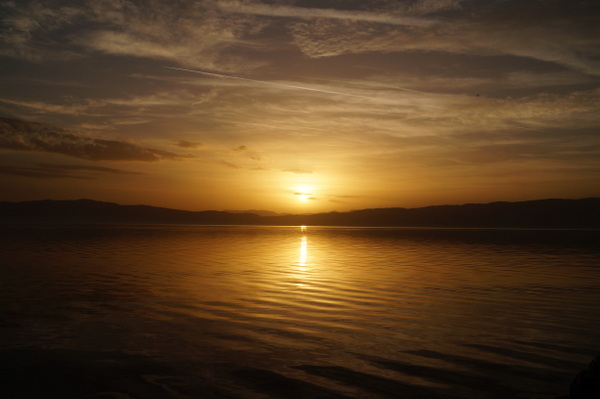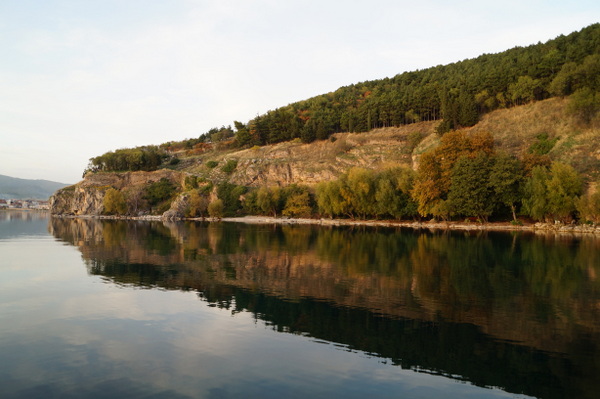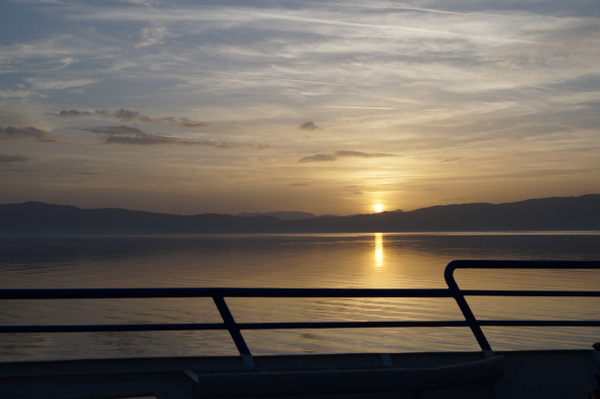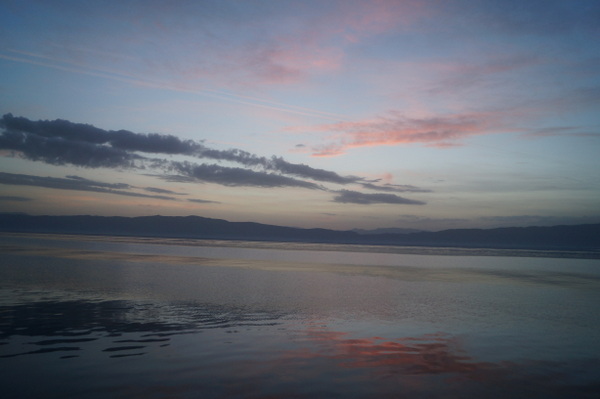 If you go:
Lake Ohrid is easily reached by direct bus from Skopje, which takes about three and a half hours. I came across the Albanian border. There are direct buses from Tirane, but it is possible to cross the border using a combination of mini bus, taxi and hitchhiking.
I CouchSurfed near Ohrid, but spent one night at the Sunny Lake Hostel in Ohrid's Old Town. A bed in a four-bed dorm cost €8. I didn't book, but if you are visiting in high season it's unlikely you'll find a bed at short notice. Ohrid is a very popular destination. I hired a bike from the hostel for €5 for the day.
Unless you want to spend you whole day walking, it's best to start any hikes in Galicica National Park from higher up the mountain. You can get a taxi to drop you up there and arrange to pick you up at a certain time. It's best to hike early in the day as even in the middle of October, the sun can get very intense at that height. It's possible to get maps for the park in town.
As I mentioned, organised boat tours to Sveti Naum are not run regularly in the off season, but operate several times a day in summer. It's possible to rent a water taxi and there will be plenty of boat owners at the wharf trying to secure your business. I was quoted €25 for a boat ride between Struga and Ohrid and the guy at the hostel said to expect to pay about €5 for a 30-minute tour on the lake from Ohrid. I just got lucky with the sunset tour I joined.