Just a couple of turns from the student-riddled streets near The University of Glasgow sit three second-hand bookshops to excite any bibliophile. Edinburgh might be the literary centre and Wigtown in the south-west has the title of Scotland's National Book Town, but Glasgow has a few gems of its own.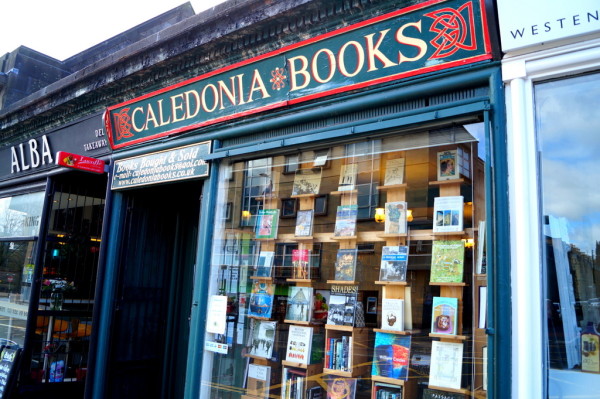 Caledonia Books
Once upon a time this store took up two shop fronts, but even though it now fills just the one (a cafe lives next door) it still holds a lot of second-hand books. The shop is on Great Western Road, towards Kelvingrove and the books on display in the window make the shop easy enough to find. Inside, it looks like any other book shop. It is actually quite unremarkable. The standard labels guide buyers along the shelves while the owner sits at the end with a book and drinking tea (making every customer wonder if they too should open a bookstore to enjoy their working hours in such a manner). A spiral staircase gives hope of treasures above – but that's off limits.
Instead a book-lined staircase leads downstairs and it's as you walk down you'll spot the travel section. While some bookshops have you browsing for hours, I felt uncomfortable lingering here. Perhaps it was the stare I got from the owner when I walked in, which wasn't followed by a greeting or the way every step echoed through the store. I quickly thumbed through the travel section and left with a cheap copy of Wilfred Thesiger's Across the Empty Quarter.
Caledonia Books • Address: 483 Great Western Rd, Kelvinbridge, Glasgow City G12 8HL • Phone: 01413 349663 • Website: www.caledoniabooks.co.uk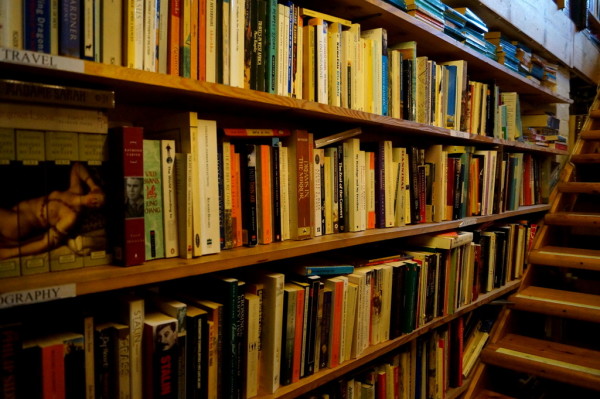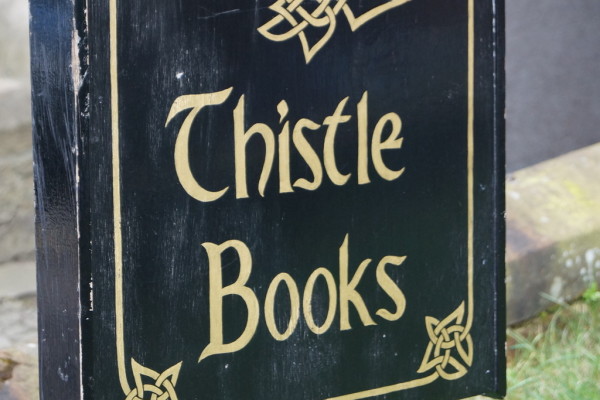 Thistle Books
I love it when bookshops are hard to find. I reason it lessens the number of people stumbling on it by chance and increases my odds of finding something good. If it wasn't for a sign sitting on a patch of lawn outside a block of flats on Otago St, Thistle Books would remain free of any passing traffic. There would be no reason to suspect anything of interest lies down the side driveway and tucked into the corner of the car park.
Thistle shares its hidden haunt with Alba Music so customers walk into a sea of sheet music poking out from the boxes on display. But beyond that lies an impressive collection of second-hand books in a relatively small space. Given there's not a huge area to explore, it's not hard to find what you're looking for – the store is also exceptionally well-organised. With High Street retailers struggling, you have to feel for owners of stores like this. Who's buying old books and sheet music these days? Business is unlikely to be booming, although I saw several people find their way to Thistle's out-of-the-way door. 
Thistle Books • Address: 55 Otago St, Glasgow G12 8PQ • Phone: 01413 348777
Voltaire and Rousseau
I'd seen the variety of books at Voltaire and Rousseau described as "dizzying" – always a good sign. But that was an understatement and also did not accurately capture the experience of venturing into this store on Otago Lane. I'm not sure if they are in the middle of a clear out or renovating – perhaps the exterior always resembles a second-hand junk yard – but neither the appearance or the small sign above the doorway warn alert people to what lies inside. The entrance is crowded with a stack of overflowing boxes with books falling onto the ground leaving customers to walk to the left (into the actual store) or mistakenly into the store room on the right. The latter is a frightening experience. If one was to trip and find themselves flung into the mountain of books, it could be the end. Who knows what's buried in there?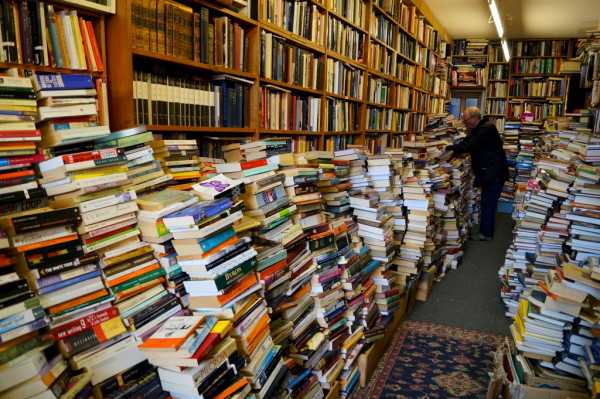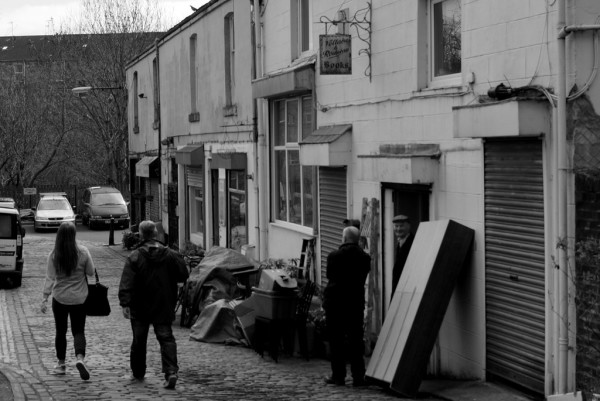 The actual shop shows some minimal signs of organisation, especially compared to the store room. The piles of books on the floor lean back into the bookcases with a noticeable level of consistency. Beyond that it is chaos – although the cat sleeping on a pile of books at the counter doesn't seem to mind.
Some shelves display subject labels, but they are unreliable and rare. Books are stacked so deep there is no chance of exploring a third of the stock without sending most of it cascading over your head. The gap between the mountains of books is narrow – often the only way around the person browsing in front of you, is to double back and find another route. Time, patience and a knack for gently manoeuvring two stacks of books to see what lies behind is what a trip to Voltaire and Rousseau demands.
Voltaire and Rousseau • Address: 12-14 Otago Ln, Glasgow G12 8PB • Phone: 01413 391811