Melbourne might be all about the coffee, but in case you need a little more sustenance, here's some suggestions of where to get the most important meal of the day.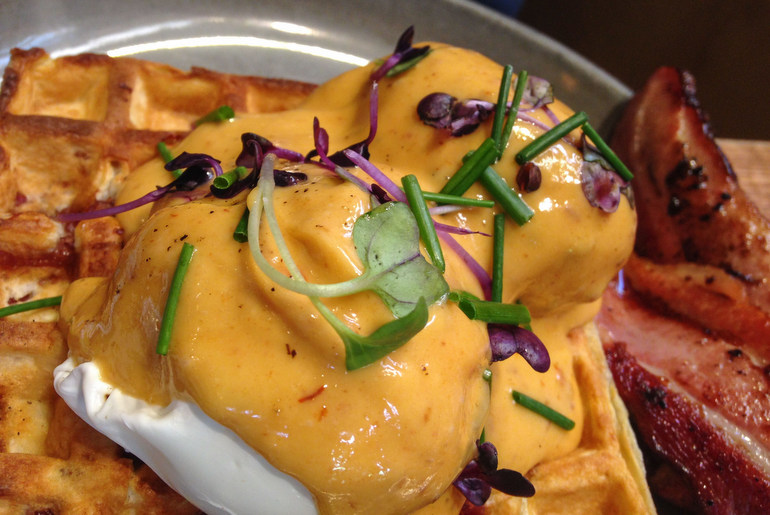 Seven Seeds
It's official. I've found the best bacon in Melbourne. Perhaps the world. And it wasn't even my bacon. I pinched it off my partner's plate because I was silly enough to order granola while he ordered eggs and waffle benedict with a side of The World's Best Bacon.
Seven Seeds, despite not being located close to much in Carlton, north of the city centre, is easy to spot by the 20-odd people waiting out the front for a table. Seven Seeds' main game is coffee – they roast their own and it's available at stockists around the city. But the food is  worth the trek to Carlton. The cafe has the hipster atmosphere that seems compulsory at all good cafes, but when you serve bacon that good, who cares?
Seven Seeds 114 Berkeley St, Carlton
• • •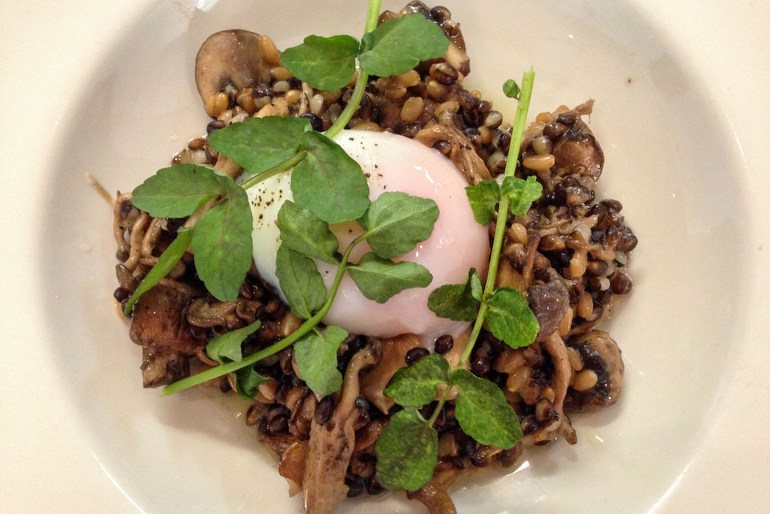 Cumulus Inc
Cumulus has one of the most interesting breakfast menus I've seen in a while. You can take a traditional route with the Full English (farmhouse slab bacon, sausage, eggs and tomato), or perhaps house made crumpets, ricotta and honey. But why would you when there's some pretty exciting dishes to start your day with, such as the oat porridge, kumquat marmalade and clotted cream (you can add a nip of whisky, if you need an extra kick).
I opted for the marinated mushrooms, black barley & 65/65 egg – a 65-gram egg cooked for 65 minutes. The result is a very soft and very runny egg.  I was seated at the counter looking into the kitchen and the chef made my breakfast and popped the plate right in front of me the second it was ready. How's that for service?
Other creations on the menu include shakshouka; Codesa anchovies on toast; and hibiscus poached pears with sheep's milk yoghurt. The menu does have a note that the dishes can't be modified, but the staff are really good if you have allergies or intolerances and can talk you through what they can and can't do to accommodate you.
Cumulus Inc 45 Flinders Lane
• • •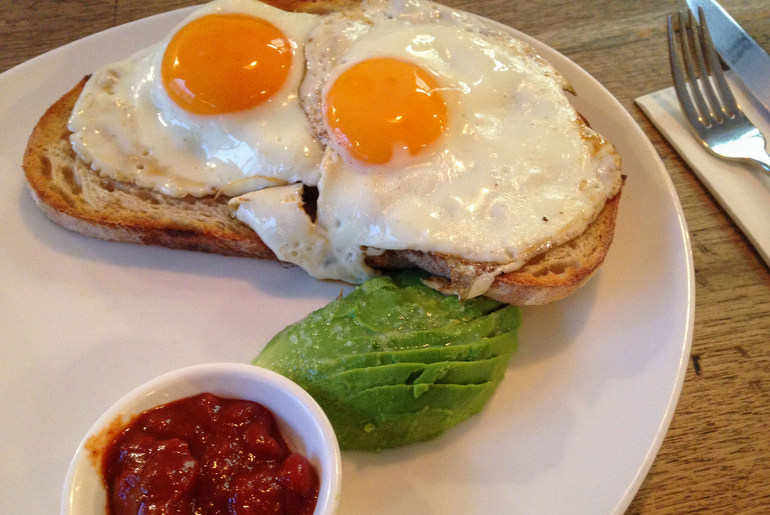 Grain Store
It's fair to say I played it very safe when ordering at the Grain Store, a busy cafe at the Spencer St end of Flinders Lane. I skipped the buttermilk brioche french toast and the coconut quinoa bircher müsli and mandarin, and instead opted for eggs and avocado. It was weekday peak hour and my eggs were at my table in minutes. I really liked the atmosphere here. It has a rustic vibe, which is also apparent in the menu, and I felt like I could have spent a few hours flicking through a newspaper before getting on with my day.
Grain Store 517 Flinders Lane
• • •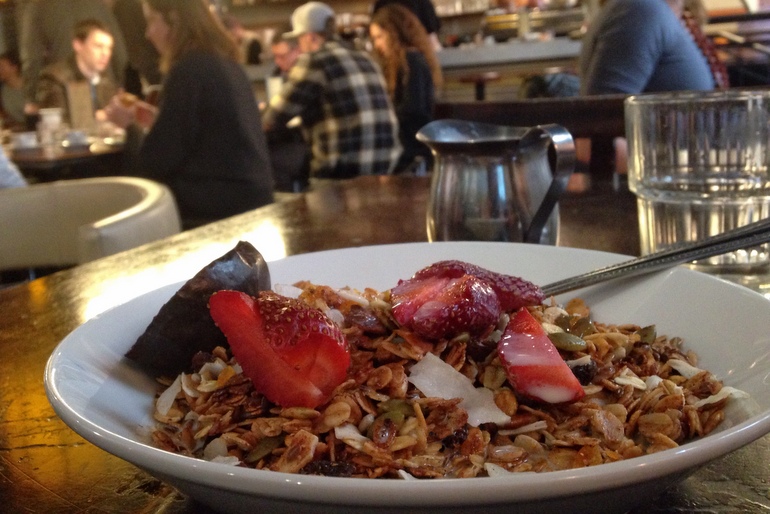 Journal Cafe
OK, I admit it. I was entice here by the mention of the bookcases around the cafe.  I really am a nerd sometimes. Journal Cafe struck me as a good spot for digital nomads. There plenty of people with laptops and who doesn't feel inspired surrounded by books? The menu is pretty straight forward: croissants, crumpets, muesli, porridge etc.  A good place to get some work done, or chill with a book.
Journal Cafe 253 Flinders Lane
• • •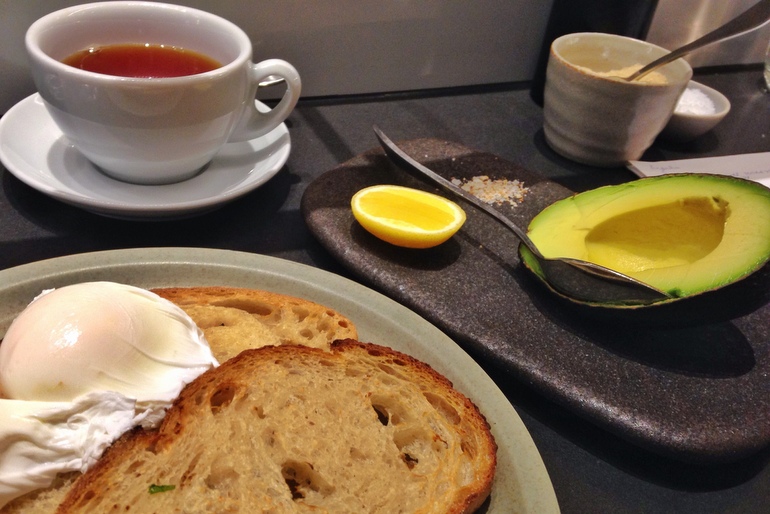 Higher Ground
I have been trying to get to Kettle Black and Top Paddock – two of Melbourne's best cafes – on my last few trips to the city. But both are in the suburbs, so it's hard. Thankfully the crew behind those recently opened a convenient CBD location. First impression? This is one of the most gorgeous cafes I've been to. The cafe is in heritage-listed 19th-century powerhouse. The space really is beautiful – high ceilings, exposed brick, stunning arched windows. Stunning!
The menu is also a delight and it didn't take me long to work out why this place was named cafe of the year in the recent Good Food Guide Awards.  Again, I played it safe (I've got to fit into a beautiful white dress in a few weeks!), but Higher Ground even found a way to make avocado and eggs more interesting than usual.  This place get busy, so expect a wait, however some of their breakfast dishes are available to go at the coffee cart out the front.
Higher Ground 650 Little Bourke St, Melbourne
• • •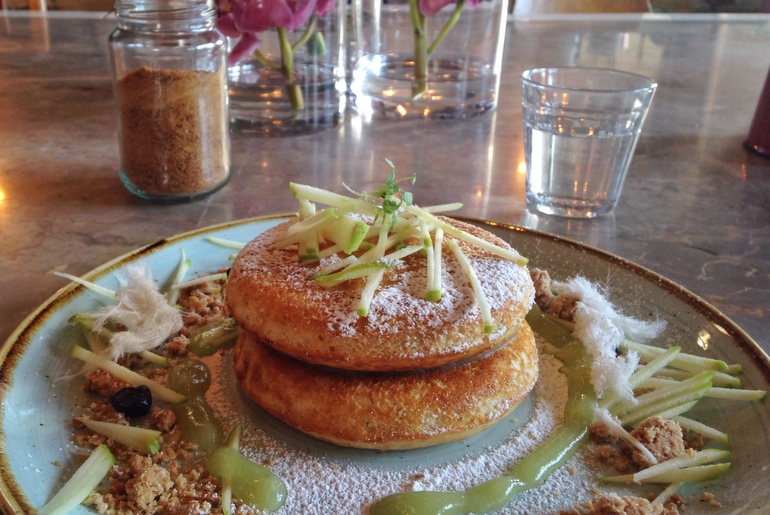 St Ali
So remember how I was being boring and ordering healthy stuff because my wedding isn't far away? Well, that went out the window when I saw the buttermilk pancakes on the menu at St Ali. This is another cafe I've been trying to get to for a while, but being in South Melbourne, it always seems a bit out of the way. That turned out to be no excuse. It took me about 15 minutes to get here from the city by tram, and it was definitely worth it. It's a very cool, open space. Not too pretentious and the perfect weekend brunch spot. I can only vouch for these amazing pancakes, but a friend from Melbourne also swears the coffee is the best in the city.
St Ali 12-18 Yarra Pl, South Melbourne
• • •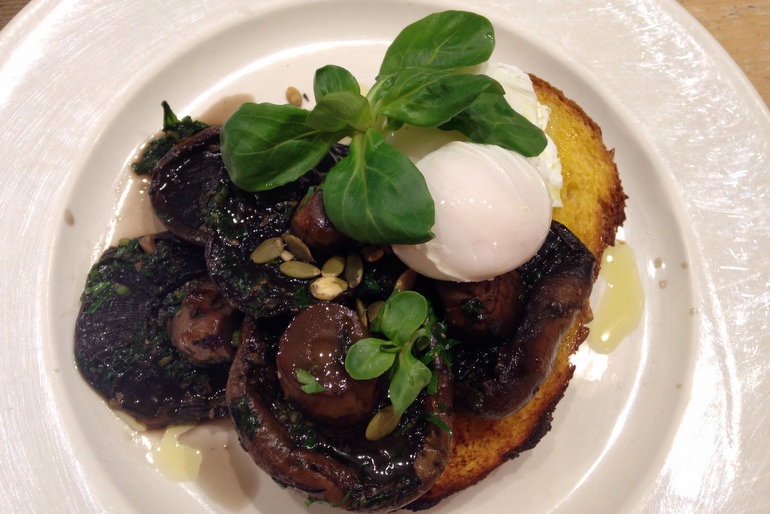 Hardware Societe
I'd heard so much talk about Hardware Societe – it was another of those cafes that took me so long to visit. It's something of a Melbourne institution and the menu has French and Spanish influences. Think baked eggs with chorizo, potato and peppers, and confit duck with orange and carrot puree.  I opted for a dairy-free version of the roasted mushrooms on pumpkin bread with a poached egg. The downside of this cafe it's pretty small and very busy, so you don't really feel like settling in and relaxing over a long brunch.
120 Hardware St, Melbourne
Have you got any breakfast recommendations for my next trip to Melbourne? Leave them in the comments.